EPM uses Kontakt's large-format GUI. When EPM is in Play mode, any one of the 15 instruments can be selected to be played live. The Dohola is currently selected, its playable range of articulations is shown on Kontakt's keyboard display. The top centre row of knobs control the tuning and envelope for that particular instrument — the Type knob selects several optional variations of Dohola.
Zero-G's new library makes it easy to add a touch of Middle Eastern flavour to your productions.
Ethnic percussion brings an exotic twist to practically any genre of music, but manually constructing authentic rhythms can be very time-consuming. The intricacies of sound and performance require a comprehensive sample collection with many articulations, as well as some idea of what constitutes an authentic rhythm. Although there are plenty of ready-made percussion audio loops out there, isolating specific instruments for treatment or altering the mix is well nigh impossible. Zero G's solution is the Eastern Percussion Module (EPM for short) which, as its name suggests, focuses on the percussive sounds and rhythms of the Middle East: Egypt, Turkey, North Africa and Arabia. The rhythms themselves are provided as an in-built MIDI groove library organised into 82 different styles, totalling nearly 1000 patterns that can be dragged and dropped into your DAW.
It certainly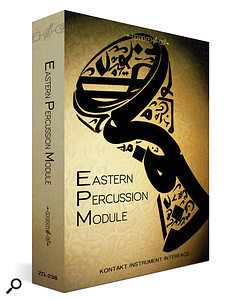 does to EPM: its super-sized GUI allows for 15 instrument channels to be displayed across its width, so no sub-pages are required — everything is visible and accessible on the one large screen. Each of the 15 channels hosts an instrument, or its size variation. For example, the Bandir is provided in four sizes, so occupies a total of four channels. These instruments cannot be substituted or moved to a different channel, however all (except the Djembe and the 'Extra') have alternative variations that can be selected via the Type knob at the top. The full instrument list and their channel assignments is shown in the 'Sampled Instruments' box.
To edit an instrument, click on its name (immediately below the graphic icon) to highlight that particular channel. Editable parameters are Type, Humanize, Tune and Attack, Hold and Decay envelope controls. Each mixer channel strip provides level, mute, solo, pan and reverb send, with four effects: EQ, Transient, Compressor and Tape saturation. The 16th channel at the far right is a global reverb return level. EPM's reverb offers plenty of scope, with 41 convolution impulses, High-pass, Low-pass, Size and Pre-delay controls. Five preset mixes show off some of the instrument's Type variations; Default, Egyptian, Turkish, Khaliji (Arabic) and North African, plus four additional presets demonstrating various reverb impulses and effect settings. There are also 30 User preset locations. These remember all GUI parameters except the MIDI Groove panel controls; curiously, the reverb's IR is saved, but not the other reverb parameters.
When selecting any of the four effects tabs, the upper area displays the parameters for that effect. The effects are applied on a per-instrument basis. Here, EQ is activated for the Dohola.Every channel's level, pan, reverb send, mute and solo, plus the global reverb return level, is assignable to MIDI controllers via the standard right-click MIDI Learn procedure. Making use of automation is the key to getting the maximum mileage from patterns, bringing elements in and out on the fly, breaking them down to focus on one instrument, or emphasising others.
Clicking on the small folder icon near the top right opens the Groove library menu. The three-column hierarchy comprises two choices of performer/programmer on the left, groove styles with information on original tempo and time signature in the middle, and the selected style's patterns on the right — double-click on a pattern to select, and audition it by clicking the Play icon. To import that pattern as a MIDI clip, click on its title bar (just below the Play icon) and drag to the appropriate DAW track. Auditioned patterns play sync'ed to DAW tempo; the bpm displayed in the menu is the groove's original recorded tempo, given as a guide. If a groove's original tempo is significantly different from the project tempo, it may sound too frantic or lugubrious for the musical context; this can be compensated for using the half-time or double-time dividers to bring it into line.
The MIDI Groove library. Two performers, 82 styles and 12 or more rhythms for each amounts to nearly 1000. Drag and drop in any combination to your DAW.Further global adjustments to the Grooves' feel are made with three controls at top right: Tightness varies the feel from hard quantised to slightly sloppy, with 'as performed' being at the 12 o'clock position. Positive or negative amounts of Swing can be applied; the Grid knob adjusts which beats are affected by the Swing, from 1/8 to 1/32, with triplet values in between. Half/normal/double time divisions and Swing parameters are carried across when a pattern is dragged into the DAW, so each bar of your finished percussion track could change feel dramatically if you want it to. The time signatures available are mostly in 4/4, with a number of 6/8, 3/4 and the occasional 5, 7 or 10 scattered about. I found that by extending and/or truncating pretty much any pattern, it could be made to fit into even the most esoteric time signature — such is the advantage of these being MIDI files. If your DAW supports time-stretching MIDI clips, try stretching or shrinking patterns of one time signature to fit bars of another — it's a great way to create interesting polyrhythms. Annoyingly, all imported MIDI clips are labelled 'MIDI file generated by Native Instruments Kontakt', rather than the name of their style or pattern, making it tricky to keep track of which ones you've used. Renaming them appropriately is tedious, but recommended as a reminder of what's what.
EPM has two operating modes, Play Mode and MIDI Mode, selected via the knob at top left. In order to play back MIDI Groove clips you've dragged into your DAW, EPM must be in MIDI Mode; in this mode, your keyboard will not trigger any sounds. In Play Mode, EPM won't play back imported Grooves, but instead allows real-time playing of whatever is the currently highlighted instrument — useful for overdubbing manual hits and fills. Each 'Play mode' instance of EPM can only play one instrument at a time, so if you want to play another you'll need to load a further instance of EPM (in Play Mode) on its own MIDI channel with the desired instrument highlighted.
However, there are 'Easter Eggs' lurking under two of the instrument channels: the Extra channel, when highlighted, gives access to seven and a half octaves' worth of Arabic and Latin multisampled percussive hits. As if that wasn't enough live playable fodder, the Darabuka boasts just over four octaves of tempo-sync'ed fills and short patterns, plus three octaves of multisampled hits. Chances are you'll find what you're looking for amongst that lot without having to load further instances of EPM.
EPM is a welcome time-saver, as easy to use as dragging audio loops to a track, but with none of the disadvantages associated with audio loops. When making full use of the mixer, MIDI automation and groove parameters, it's possible to coax a great deal of variety from the Groove library patterns, which can be further enhanced by the palette of live playable percussion provided by the Darabuka and Extra instrument channels. That deeply sampled and varied percussion collection, 41 reverb impulses, per-instrument effects, tuning and AHR envelopes all add up to a flexible system with a lot of creative possibilities.  
Sonokinetic's Sultan Drums is a Middle Eastern percussion section of up to five instruments. Single hits and loops are triggered from the keyboard; individual instruments can be muted, soloed, panned and tuned. Native Instruments' Cuba, West Africa and India virtual instruments feature extensive libraries of rhythms, powered by an in-built sequencer engine and triggered via a MIDI keyboard. Rhythms are editable, and can be saved as user patterns. Individual instruments can also be adjusted for tuning, pan, level, etc. As yet, NI don't make a Middle Eastern version. Soundiron's Riq Drum is a wide range of sounds derived from a pair of Riqs, designed mainly for manual playing, but includes an 'Uberpeggiator' and roll generator. And for those happy to create rhythms entirely by hand, NI's Battery includes a respectable collection of ethnic percussion, including Middle Eastern.
The Humanize parameter is only effective in Play mode, and is available on everything except the Extra channel, offering up to 12 (yes, that's 12) round robins, adjustable per instrument. You can dial in fewer RRs if desired — or even none if you want the machine-gun effect — but the full dozen goes a long way to adding vibrant realism. In MIDI (groove playing) mode, the number of round robins is permanently set to the full complement of 12 across the board.
These are assigned across the 15 mixer channels as follows:
Two variations of 22-inch Bandirs, (occupies 1 channel).
Six variations of 18-inch Bandirs, (2 channels).
Four variations of 16-inch Bandirs, (2 channels).
Four variations of 14-inch Bandirs, (2 channels).
Six variations of Riqs, (1 channel).
Four variations of Doholas, (2 channels).
Four variations of Darabukas, (1 channel).
One Djembe, (1 channel).
Five different Claps, (1 channel).
Seven variations of Sagat (finger cymbals), (1 channel).
Extras: seven and a half octaves of multisampled Arabic and Latin percussion including conga, bongos, triangle, shaker, cup, kasser, ras, davul, tar, daf, and other Arab gulf 'Khaliji' percussion, (1 channel).
Pros
Comprehensive, nicely detailed percussion collection.
MIDI groove library of intros, basic patterns, fills and variations totalling nearly 1000 patterns.
Quick and easy to use.
Good selection of tools and effects for sonic fine-tuning.
MIDI automatable mixer.
Cons
MIDI clip names don't reflect the names of their patterns.
Two or more instances needed for simultaneous MIDI grooves and manually added parts.
Summary
EPM is a quick and effective tool for adding authentic-sounding Middle Eastern rhythms to your productions with the minimum of fuss. Per-instrument effects and the ability to customise the mix makes for a flexible system with plenty of scope for creative input.
information
£59.95 including VAT.
Time+Space +44 (0)1837 55200