Professional Engineers Give Their Advice
Just how do professional engineers tackle the earliest stages of their mixes, and can the rest of us learn anything from their approach?
Have you ever wondered how professional mix engineers get their projects underway? I invited four of them to share some insights on both the technical aspects and the 'softer skills' involved. They each specialise in a different genre, and you can find out more about them in the 'About The Engineers' box.
We began our conversations with an exploration of some of the behind‑the‑scenes discussions that occur before a professional mix takes place, before moving on to the mix‑project preparation and the earliest stages of the mix itself. The engineers also shared some helpful troubleshooting tips, for those occasions when things aren't progressing quite as we'd like. I also invited them, where possible, to think about how their advice might apply to keen amateur engineers, not just aspiring professionals.
My first questions were about the interactions with clients and artists which usually take place before a professional mixer even thinks about starting work on a project, and obviously this begins with the question of whether it's the right project. Maria Elisa Ayerbe explained to me that "my lawyer says: 'I won't take a case if I know I won't win it,' and I apply the same philosophy to working with a customer. When a client reaches out to me, I ask them to send me a rough mix or production demo. I want to judge if I'm the right person for the job, from a craft and experience perspective."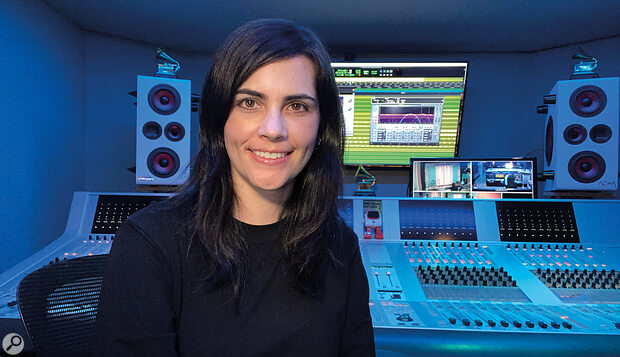 Maria Elisa Ayerbe: "Master bus processing is important to how I mix, and I find it works best when I focus on the loudest part of the song first."
But even if the project looks a good fit, there are practical issues that need ironing out. Romesh Dodangoda, for instance, stressed that: "The conversation about timescales is one my first priorities. Sometimes when it's a big project, I may have a team involved, and I need to make sure people are available. I also want to always be on time with the delivery, and that is something that's appreciated by labels and managers." Rachel Moore expanded on this side of things: "Budget and timeline of when they want the project done are the first things I discuss. I like to be as upfront as possible with expectations. Once these are agreed, I will draw up a simple contract based on our discussions. Good communication throughout the process tends to solve most things." Likewise, Dan Gresham stressed this need to have "clear Ts&Cs" and the importance of "ensuring that everyone knows where they stand from the outset".
Communication about the business side of things is clearly important, then, but I was also keen to understand how these engineers ensure they're on the same page as the artist from a creative point of view — particularly given that so much mixing is now done remotely. Rachael Moore pointed out that much depends on your degree of involvement at other stages of the project : "If it is something I didn't have a hand in recording, I like to have a discussion either on the phone or email about the vibe they are going for. If they get specific, then I ask for references to make sure we are thinking the same thing before starting any work on the mix." Maria Elisa Ayerbe also stressed the importance of speaking to artists and discussing references, especially when working with less established or more 'up‑and‑coming' acts: "I want to know what they aspire to. As well as a creative steer, I'm trying to find out if their expectations are realistic."
Dan Gresham, who works predominantly with electronic artists, pointed out that: "Many of my clients have typically worked hard to get their demo to where it is and are not looking for me to deliver a totally new vision of a track. My job is to pay close attention to what they have done already and focus on improving clarity, separation and, crucially, how the track will translate on both home setups and big sound systems."
With the business matters and creative aims addressed, I asked how 'mix‑ready' these engineers felt the recordings needed to be for them to weave their magic, and what issues they or their assistants might look out for in the raw files. Romesh Dodangoda feels it's important to establish if there are problems which extend beyond his brief: "If there are vocals that are a little messy with the timing, or noise that shouldn't be there, we are normally happy to clean this up in the mix prep. If it's anything more stylistic or production‑related, then we will flag this up with the client".
Maria Elisa Ayerbe, meanwhile, explained that "my assistant or I will check that all the files work correctly and that the multitrack matches their production demo. I've received sessions where the multitrack was 32 bars shorter than the demo, and I make it clear that it's not my job to amend the arrangement."
Rachael Moore generally prefers to oversee her own mix preparation "because I'm a bit of a control freak," and explained that she takes a little time to assess what she has been given to work with. "I look and see if any editing, tightening, or tuning and cleaning of the vocals needs to happen. If it's something I didn't track, I will either ask the client to get someone to do that, or I will give it to a few people I trust to clean."
Dan Gresham: "I know there are technical reasons why gain staging, in the traditional analogue sense, is less of an issue with 32‑bit audio, but for me it's about having the audio levels where I expect them to be with how I like to work."Photo: Garry Jones PhotographyDan Gresham also confirmed that he will "check through all the parts and make sure that there aren't any obvious issues that are going to hold things back (editing clicks, plosives on a vocal). If necessary I'll top and tail sections to cut out any hissy gaps. I'll also check timing on rhythmic elements to make sure that things are sitting together tightly (or not ­‑ if that's what's wanted!)".
I was really interested to know, once they've run the rule over the initial files and know they're ready to work with them, what any further mix preparation stages look like for our engineers, and how important they feel this is to the way they work. Romesh Dodangoda was very clear on the importance of a separate prep stage. "When I'm mixing," he explained, "I really don't want to think about the DAW at all if I can help it. I want to focus more on chasing the sound in my head. Having an assistant to handle the prep allows me to not get too close to individual elements." He was conscious, though, that an assistant is a luxury we can't all afford: "If you're on your own, try to do it on a completely different day, so you can be as fresh as possible for the mix."
Maria Elisa Ayerbe went into a little more detail about what this stage might entail: "My assistant will prep things like track names, colour coding, creating markers, and they will also take care of basic routing, gain staging and panning, and do some initial lead vocal gain levelling or plosive riding to help with compression settings. Gain staging is very important in how I mix, and getting levels in the right place is done during the prep stage, to ensure that my bus compressor is working from the moment I begin the mix".
Conscious that those ideas of 'gain staging' and mixing through master and subgroup bus processing can too easily be misunderstood by rookie home‑studio engineers, I pushed the engineers to discuss more of what they have in mind when they talk about such things, particularly for those mixing in software alone. "When I went from OTB mixing to ITB," offered Romesh, "I found it really hard to mix inside the DAW until I started having a bit of colour on the mix bus, via certain plug‑ins. It's key for me to have some excitement to feed off, and I'll always have it on from the very start. I don't get too bogged down about trying to meet any kind of specific levels; as long as the faders are playing nice and any master processing is hitting roughly where I would expect it to be, we're all good!"
Dan Gresham also...
You are reading one of the locked Subscribers-only articles from our latest 5 issues.
You've read 30% of this article for free, so to continue reading...
✅ Log in - if you have a Subscription you bought from SOS.
Buy & Download this Single Article in PDF format

£1.00 GBP

$1.49 USD


For less than the price of a coffee, buy now and immediately download to your computer or smartphone.

Buy & Download the FULL ISSUE PDF
Our 'full SOS magazine' for smartphone/tablet/computer. More info...

RECORDING TECHNOLOGY: Basics & Beyond
Claim your FREE 170-page digital publication
from the makers of Sound On Sound — CLICK HERE