I'm looking for a new monitor speaker, a single one for mono. Ideally I was hoping for something self-powered, with its own summing circuit. I had an Auratone 5C for ages, wired up to a crappy amp, but I'd like a more elegant solution. Any ideas?
SOS Forum post
If you want to check your mixes on a mono 'grot box' such as an Auratone, some monitor controllers, such as the Mackie Big Knob pictured here, have a mono switch that will allow you to connect up just one side of a speaker output to the mono speaker. SOS Contributor Mike Senior replies: If you're after a replacement for your 'Horrortone', you want more than just any old mono speaker: you specifically want a small, one-way, unported mono speaker. This narrows your field of enquiry somewhat.
There are two passive models that come to mind — Triple P's Pyramid, which we reviewed back in SOS 2004, and the Avantone Mixcube, reviewed in SOS April 2007 — but it sounds to me like you're after something active so that you can avoid using a separate amp. The Mixcube Actives have recently been launched (I have one of these on order myself!), and may provide the most 5C-like solution, but there are also some other models worth considering, such as the Fostex 6301 and Canford Audio's Diecast Speaker (which I've uses a great deal for mixing purposes).
As regards summing to mono, there are lots of things you could do. The pro studio approach would probably be to invest in a dedicated mono summing unit, but that's by no means the only option. Some monitor controllers have a mono switch, so you can connect up just the left side of one of the speaker outputs to your speaker — this is what I do on my SPL Model 2381, but units such as the PreSonus Central Station, Mackie Big Knob and Mindprint Trio all have a Mono switch too.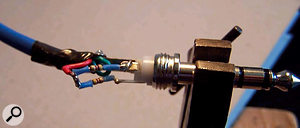 However, there are workarounds even if you have no dedicated monitor controller. For example, if you're monitoring through a hardware mixer and can spare a stereo channel with an aux send, then any stereo signal through the channel will usually be automatically summed to mono at the respective aux output. Plumbing your mix through this channel and connecting the mono speaker to the relevant aux send output should then do the trick.
If you're tempted to just wire up a cable connecting your left and right control-room outputs to the single input of the speaker, tread very carefully. I'm no electronics buff, but as I understand it there are very few pieces of equipment that will tolerate your connecting together their outputs in this way without causing some audible side-effects and possibly damage. However, if you're handy with a soldering iron and have a spare headphone monitoring output available, you can create an adaptor lead incorporating a couple of built-in resistors that should do the job fine. Recent Mix Rescue candidate David Greaves kindly wired up one of these for me so that I could easily connect my Canford speaker into his hardware mix system, and has helpfully provided full details of the lead's construction at http://koo.corpus.cam.ac.uk/mixe..., if you fancy giving that a go.