Steinberg Cubase Tips & Techniques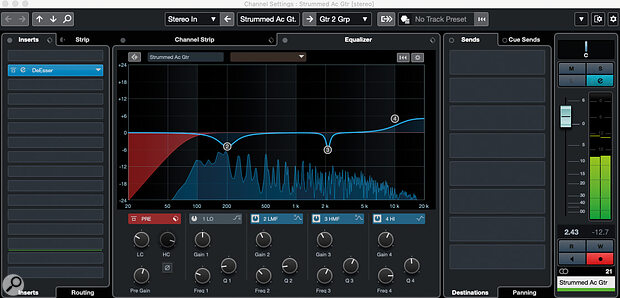 Cubase's Channel Settings window provides all the options needed for you to apply basic tonal sweetening EQ to your strummed acoustic guitar parts. As described in the main text, this might include cutting some of the low end, adding a little high‑end 'zing', and/or managing any low‑mid mud or other problematic resonances.
We offer some tips for processing strummed guitars.
I work in a lot of different musical genres and something that appears in almost all of the mainstream ones is strummed acoustic guitar. Really, to achieve a good strummed acoustic sound, the main battle is won or lost at the recording stage: right guitar, right performance, right room, right mic and right mic technique. If you need some advice on that front, I'd suggest checking out Mike Senior's SOS April 2010 article 'How To Record A Great Acoustic Guitar Sound' and an earlier one by Paul White (August 2001: 'Recording Acoustic Guitar Masterclass').
But if you have a good recording or even choose to program your parts using a virtual guitar instrument, you still need to get that part working well in your mix and to that end, as Mike outlined in his August 2020 SOS Podcast 'Troubleshooting Acoustic Guitar Recordings', some processing of such guitar parts is almost always required at the mix stage. Thankfully, Cubase has a lot of tools to help you on that front, and in this article I'll explore some strategies that Cubase Elements, Artist or Pro users can try.
For almost any strummed acoustic guitar recording, a good first step is to try applying a high‑pass (low‑cut) filter. This can easily be done in the Pre section of Cubase's Channel Settings panel or its MixConsole, using the Low Cut control. The slope of the filter means it reaches gently up from the specified turnover frequency, and if you set it around 30‑40 Hz it should take care of any unwanted bumps and rumbles that can eat up headroom and trigger dynamics processors such as compressors, without impacting negatively on the guitar sound itself. You might or might not want to roll this up higher as you get further into the mix, to carve out space for other instruments (that all depends on the mix in question) but this is generally a decent place to start — even if you can't actually hear any difference!
A further low/low‑mid EQ move might help too, and be rather easier to hear. I'll often try 'cleaning out' some frequencies in the 200‑500 Hz range. Don't get me wrong, this sort of decision is all about context, of course. But lots of instruments have energy within this range, and if it's left unchecked on all sources you'll often hear a build‑up of 'mud'. Since strummed acoustic guitars are rarely contributing much of real musical importance in this region, I usually find that cleaning them up in this region allows more prominent parts the space they need.
For such cuts, Artist/Elements users can turn to the Channel Settings EQ section — I suggest experimenting with a static cut of a few dB somewhere in this frequency range, with a Q value around 1‑2 being a good starting point in terms of bandwidth. You'll often audition the result in solo but make sure you also listen to it in the context of the mix — depending on the style of the production, you might be surprised by just how far you can go with cuts in this area before you perceive the guitar as sounding 'thin'. If...
You are reading one of the locked Subscriber-only articles from our latest 5 issues.
You've read some of this article for free, so to continue reading...
Log in - if you have a Subscription you bought from SOS.

Buy & Download this Single Article in PDF format

£1.00 GBP

$1.49 USD


For less than the price of a coffee, buy now and immediately download to your computer or smartphone.

Buy & Download the Full Issue PDF
Our 'full SOS magazine' for smartphone/tablet/computer. More info...

RECORDING TECHNOLOGY: Basics & Beyond
Claim your FREE 170-page digital publication
from the makers of Sound On Sound — CLICK HERE