Ableton Live Tips & Techniques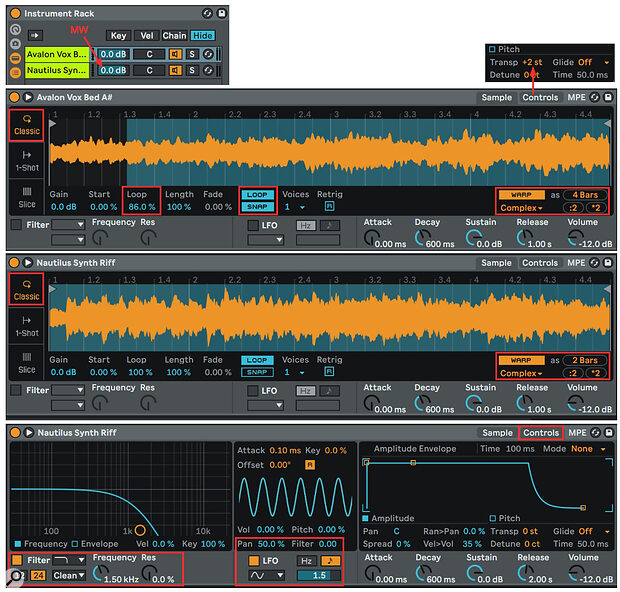 Screen 1. Drone Lab's Avalon and Nautilus samples are layered using Simplers in separate chains of an Instrument Rack.
We show you how to put your own stamp on Live 11's new sonic content.
In the December 2021 Live column we covered the new sound libraries included in Live 11. This time, we'll have a look at how to make their sounds your own. With the thousands of instruments and samples that come with Live, why bother tweaking them? Well, one reason is that sorting through all the possibilities is tedious at best and may not get you the sound you want. Another is that modifying and combining sounds helps you get a clearer focus on the sound you want and how to create it. It is also more fun.
Despite the name, Live's Drone Lab Pack offers a wide variety of sounds, and it includes the samples used in its many instruments. This example uses two samples from its One Shots/Miscellaneous folder: 'Avalon Vox Bed A#' and 'Nautilus Synth Riff' (see Screen 1).
Create an empty MIDI track and drag the Avalon sample to the drop area in the track's Detail view. This embeds the sample in a Simpler instrument whose mode will depend on the default setting in your User Library (Dropping Samples/On Device View). You'll want Simpler to be in Classic mode for this. When you play a C on your MIDI keyboard you'll hear the Avalon drone at A#, as the sample name indicates, so on the right side of the Controls panel, set Simpler's Transpose to +2 to re‑pitch it to C. To layer in the Nautilus sample, enclose Simpler in an Instrument Rack (right‑click Simpler's title bar and select 'Group'), reveal the Instrument Rack's Chain List and drag the Nautilus sample to the Rack's Drop area to create a second Chain with a Simpler holding the Nautilus sample. This Simpler should also be in Classic mode, but no transpose is necessary.
Next turn Loop on for each Simpler so that holding a note will cause both samples to loop continuously. In many cases you'll also want to turn Snap on and adjust the Start, Loop and Length settings to suit. For Avalon, a Loop setting of 86 percent with Snap turned on works well. Nautilus is OK as it is. Now play a note other than middle C and you'll hear that each Simpler's playback speed changes with the pitch — that's most noticeable with the Nautilus sample. To keep the speed constant while following the incoming note's pitch, select Complex mode for each Simpler and turn on the Warp button (bottom right).
Several modulation and parameter settings...
You are reading one of the locked Subscriber-only articles from our latest 5 issues.
You've read some of this article for free, so to continue reading...
Log in - if you have a Subscription you bought from SOS.

Buy & Download this Single Article in PDF format

£1.00 GBP

$1.49 USD


For less than the price of a coffee, buy now and immediately download to your computer or smartphone.

Buy & Download the Full Issue PDF
Our 'full SOS magazine' for smartphone/tablet/computer. More info...

RECORDING TECHNOLOGY: Basics & Beyond
Claim your FREE 170-page digital publication
from the makers of Sound On Sound — CLICK HERE