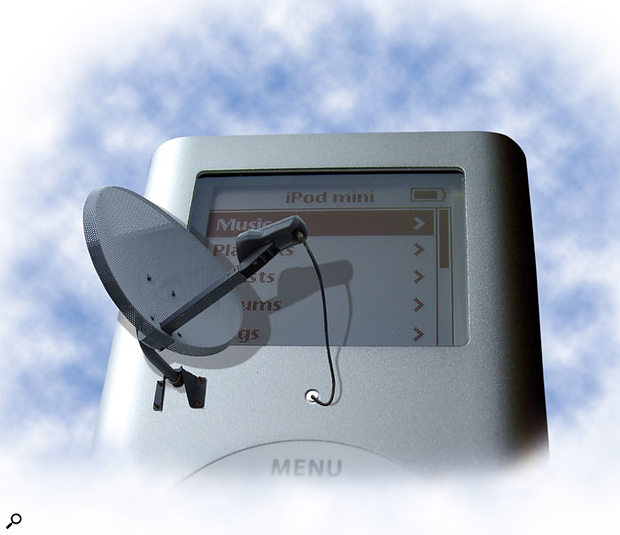 Podcasting is a powerful new communications medium that could help you get your music out to the masses – and it's accessible to pretty much anyone with a home studio and a broadband Internet connection.
Few people will have failed to notice that Podcasting is the latest tech buzzword. Everyone from independent musicians to political commentators is developing podcasts, the Internet-based equivalent of traditional radio broadcasts. Some people have even suggested that podcasting will eventually destroy the latter. But what exactly is podcasting, and why does it have such power?
Reduced to essentials, a podcast (named from a combination of 'broadcast' and 'iPod') is a downloadable audio file that may be played via any digital audio-capable computer or portable music player, not just Apple's iPod-brand devices. As a podcast is essentially only an audio file (usually an MP3), anyone with a microphone and some simple recording software can create their own content. As a result, there are thousands of podcast programs available, covering everything from political commentary to tips for basket weavers. A lack of regulation regarding indecency, content and distribution for these shows has allowed a considerable degree of artistic freedom, and podcasts have promoted everything from underground bands with raunchy lyrics to democratic speech in countries where the traditional media are government-controlled. Podcasting has also been used to distribute educational lectures, technical-support tips and religious inspirational messages (also referred to as 'Godcasting'!).
Subscribing to a podcast can be as simple as typing in a URL, as shown here with iTunes.
Obviously, the ability to record, distribute and download audio files such as MP3s has been around for years. What makes podcasting different is a more recent technology called RSS (Really Simple Syndication), which enables a type of subscription service for podcast shows. A newer, updated and more flexible version of HTML (the basic language that makes up most web sites), called Extensible Markup Language, or XML, provides the basis for RSS, which can be used for basic text or can include files such as pictures and audio. Podcasting is the process of delivering an audio file in an RSS file or 'feed'.
This sounds moderately technical, but the process for the listener is quite simple and provides a continually updated stream of content. A listener chooses to subscribe to your podcast with an RSS 'feed reader' (also called an aggregator). Subscribing is as simple as copying and pasting the URL of the RSS file into the aggregator program. The RSS file contains all the links for downloading the audio, information about the author and which shows are available, and the aggregator program uses it to automate the subscription process. As an example, in Apple's iTunes software, go to the Advanced menu and select 'Subscribe to Podcast'. Copy and paste the URL for the RSS file into the box provided and iTunes will handle the finding and downloading of the series of audio files for that show. In some cases, the aggregator software also syncs those files to a portable player (sometimes referred to as 'podcatching'). Like the automatic software update programs you may already use, such as Windows Update, an aggregator application can check for new content regularly and schedule downloads depending on your type of Internet connection.
The podcaster determines how frequently new content is available. Most shows publish new episodes once a week, but daily, monthly or 'ad hoc' shows are possible. The aggregator programs of listeners will check in periodically (depending on their users' settings) to see if there's a new show. All the podcaster needs to do is upload the show audio with the RSS file and it will be 'live'. Older shows also remain available to listeners as long as the podcaster keeps the audio and RSS files available on their server. Keeping a couple of older shows is a bonus to new subscribers, who can download these older shows along with the latest creation when they subscribe.
One of this system's best and most powerful features is the ease with which a subscriber can download new content, via the aggregator. A subscriber will receive, like a customised magazine, the content they want automatically and pretty much effortlessly; this makes it easy for podcast creators to consistently reach and expand a targeted group of listeners.
Creating your own podcast can be as straightforward as speaking into a mic and recording the result, or as complex as any large music album project. In terms of gear, it's possible to get started very inexpensively, as you probably already have the necessary elements in your studio: a microphone, computer, and some recording and editing software (see the 'Roll Your Own' box for more information). The most important elements of podcasting don't involve gear, though; they're the hosts, guests and other 'talking heads' that will commonly be the featured element of your show.
If you want to include guests who can't make it to your studio, phone interviews are a possibility. Anyone with access to a phone line or broadband Internet connection can be a potential interview target. The simplest way to add these remotely located guests is through a broadband Internet connection. Using a simple application such as Cycling '74's Soundflower with iChat and GarageBand, you can record your audio iChat conversations with guests around the world. This method has limited audio fidelity and can be prone to service glitches or delays, but can be an excellent (and free) way to get started.
For the really serious podcaster, adding a Phone Hybrid to your studio provides a more direct connection to the guest caller. Phone Hybrids, such as Telos Systems' ONE, are devices that directly connect typical audio gear to an analogue phone line, to give two-way communication. These devices provide a proper interface to the phone line while also conditioning the phone audio for your mixer or soundcard audio inputs. Some Hybrids also use internal digital processing to automatically control gain and EQ, making them especially suited to maximising the sound quality of analogue phone lines.
Another way to bring the world into your studio is with a portable digital recorder. Is there an important person you'd like to interview face to face? Are you going to a special event? Take your listeners with you. Portable digital recorders such as the Marantz line of compact flash devices, M-Audio Microtrack, Edirol R1 and new R09, Sony HMD Minidisc, PCM D1, and others include the mic preamps, level controls, recording and monitoring features needed for a studio on the go. Most portable recorders can easily transfer the audio files straight into your personal computer later for editing and mixing, usually via USB 2.0, or by transferring the Flash card's contents via a card reader. Some can even record directly in the MP3 file format for even easier integration into a podcast.
Once you've collected your equipment, it's time to get to work...
We all know you need a pop shield for recording sung vocals, but don't forget they're essential for speech recording too.
Make sure you use a pop screen on all your host and guest microphones. Before undertaking an interview, set up levels carefully for each participant. If you notice any distracting 'plosives' when your guests are talking (usually on words containing 'P's or 'B's), try angling the microphone so that the speaker talks across the microphone rather than directly at its centre. You can try moving the guest back an inch or so from the mic, too, and/or adjusting the position of the pop screen. Also consider using a little compression or limiting, because if a discussion gets lively you'll very quickly notice the large disparity between the level of normal speech and that of louder speech and laughter.
Find good-quality telephones. If you're adding phone interviews to your show, try to get the best phone line possible. You may never really have listened to different headsets and phone lines, but there are vast differences in sound quality, so liaise with your guests in advance. If available, the best-sounding phone is usually an older-style, hand-held, corded phone. These tend to provide the most intelligible voice sound. Headset phone mics, phones in 'speaker' mode, cordless phones and mobile phones should be avoided, or at least used only as a last resort.
Discover the art of the Tape Sync: Tape Sync is a radio technique used to get a good recording of a host and guests who are in different locations. While phone interviews can bring guests to your studio, a Tape Sync can give you a studio-quality recording of both sides without the need for the expensive, specialised equipment found in broadcast studios. You'll need a good quality microphone and a computer or portable recorder at both ends of the conversation. In addition, you'll need a Phone Hybrid at the studio and a good phone at the guest end. On the studio side, record both the phone audio and your own host audio on two separate tracks. Your guest will record only his/her own voice in one track. The guest then speaks into the microphone and at the same time holds up the phone handset to listen to the host and provide audio to the studio down the phone line. Bring the three tracks you have generated at both ends of the conversation together in your audio editor: you should have one track of your host, one phone track of your guest and one track of your guest's microphone. Line up the two guests tracks in your editor so that the tracks are synchronised (asking the guest for a '3, 2, 1' count-in at the beginning of the recording can help you find the correct spot). Now simply eliminate or mute the phone guest sound. Mix your host voice with your new guest microphone sound and you're done: you have a better sounding recording of both voices, without the mess of phone noise.
Once you've recorded, edited and mixed your show, you'll need to get your file ready for its worldwide debut. Here are some of the necessary steps:
Convert your audio file to a format that portable players can download and play (most commonly, MP3). Use the integrated file-conversion features of most audio-editing applications to do this, or use free software such as Apple's iTunes. You should also add your ID3 tags. These, if you're not sure, are just the Name, Artist and Album (etc) information that shows up as your audio file's label. Just use the Name field for your episode title (for example, Show 16: Walrus Songs), the Artist field for the show title (say, 'The Walrus Report'), the Album field for your show's website (walrusreport.org), and the Comments section for any additional information and a summary of this episode.
Create the RSS information necessary for subscriptions to your show. If you've never worked with a programming language like XML, don't worry — there are many applications and services available to help you in the RSS creation process. Services such a FeedBurner.com (see the 'Podcasting Resources' box) can create your feed information, test for feed compatibility and track how many people are tuning into your show. Libsyn.com, for a nominal fee each month, offers a simple web-based interface. All you have to do is fill in some basic information, use their form to upload your file and you're done! All the necessary RSS work is done for you and you can even host your files on their server and submit your work for the iTunes directory at the same time. If you're an adventurous type you can create the RSS information yourself, which provides more flexibility and power with respect to the accompanying information included with your podcast.
Find a web host for your podcast. One major consideration when it comes to hosting your podcast is bandwidth: even data-compressed MP3 audio files can be quite large. You will not only need enough storage space from your hosting service to post the file itself, but will also need to consider how many times you think that file will be downloaded. Hosting services typically charge for both storage space and, more importantly to podcasters, bandwidth. If you gain hundreds of listeners, that same audio file will be downloaded from your host hundreds of times, which increases your bandwidth bill. Think about this: with a 10MB show once a week and only 100 listeners you'll eat up 1000MB of bandwidth (10MB x 100 listeners). If the following week word gets out and you get 100 new subscribers that's 2000MB (10MB x 200 total subscribers). Maybe your new subscribers want to listen to the older show they missed: that's another 1000MB. As you can see you're already up to 4000MB of bandwidth for the month and you've only got 200 listeners! Podcast-specific hosting services also include podcast-friendly features such as integrated RSS feed generation, download tracking and other tools to help you get started, but are typically more expensive than a general web-hosting service. Price is an obvious issue, but also consider your web-hosting service's customer support options. Many less expensive services do not offer telephone technical support, or offer it only at an additional charge.
Get listed. There are hundreds of podcast directories on the web where you can find shows to subscribe to and list your own show as well. Getting your podcast listed in these directories is as easy as filling in an online form and submitting the URL link to your RSS feed. Some of the most popular directories are Itunes, Podcast Alley (www.Podcastalley.com) and Podcast Pickle (www.Podcastpickle.com).
Make some money. Most people want to make money with their podcasts but the reality is that most don't. Most podcasts are free for listeners, but clever podcasters are finding ways to fund their shows. One option is to sell audio advertisements in your show, just like traditional radio. If your show develops a dedicated following you can also sell anything from T-shirts to mugs with your show logo. For musicians, podcast shows can be a great promotional tool for selling their music.
Currently there's no easy way to set up paid subscriptions to podcast shows. Not all aggregators support secure connections, so you'd not only need to convince your listeners they should pay for your show, among the thousands of free options, you'd also have to persuade them to use a particular aggregator just to subscribe! Podcasters have tried to get around this by only giving out the URL of the RSS feed to those that have paid a fee. Unfortunately, this method has no security, as the URL is nothing more than a link that can be easily posted to a website or shared with friends.
With only the most basic digital audio tools, anyone can create their own podcasts, and any subject can become an educational, inspiring or just plain fun experience. If you're a reader of Sound On Sound you probably already have most or all of the necessary equipment and the skills to use it. So what are you waiting for?
Sherri Stacy Hendrickson is a broadcast recording technician at National Public Radio in the USA and the owner of www.tunesblog.com