Secrets Of The Mix Engineers: Rik Simpson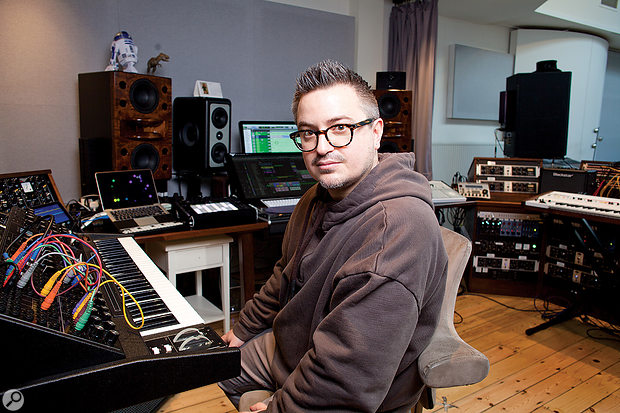 Rik Simpson in the control room at Coldplay's The Beehive studio.Photo: Richard Ecclestone
Coldplay's unlikely alliance with R&B hitmakers Stargate resulted in a truly trans–Atlantic production, which saw co–producer Rik Simpson clocking up plenty of air miles!
With over 75 million record sales worldwide, eight Brit Awards and seven Grammies, Coldplay are arguably the most popular rock band of the 21st Century. They have achieved this impressive feat through a series of panoramic, multi–coloured album productions, made with the help of well–known producers including Ken Nelson, Markus Dravs, Brian Eno, Paul Epworth and Stargate. The unsung and often overlooked hero in this context is Rik Simpson, who has worked with Coldplay as an engineer since the band's second studio album, A Rush Of Blood To The Head (2002). Simpson, who sometimes uses the pseudonym Rikademus, has also co–produced every Coldplay album since Viva La Vida Or Death And All His Friends (2008).
The band's seventh and latest studio effort is A Head Full Of Dreams, which again has been extremely successful, despite missing out narrowly on the UK and US top spots to Adele's 25. A Head Full Of Dreams was co–produced by Simpson with Norwegian duo Stargate, who share an arrangement credit on the album with the band as well. Mikkel Eriksen and Tor Hermansen (interviewed back in SOS May 2010) are experts in pop/R&B, and have (co-)written and (co-)produced dozens of hits for the likes of Beyoncé, Rihanna, Katy Perry and more.
Since Simpson starting working with Coldplay in 2002, his role has gradually extended to the point where he has become an integral cog in the Coldplay machine. Simpson helped to set up both of the band's two North London studios, The Bakery and The Beehive, and in addition to being co–producer, he also co–engineered and mixed most of A Head Full Of Dreams. Simpson is therefore better placed than anyone to lift the veil on the creative workings of Coldplay.
"I started working in studios in my mid–teens, at Swanyard Studios in Islington [North London]. I'm also a singer/guitarist and played in a couple of bands, and we had some deals on the table, but nothing took off. So I continued with engineering and production, because I found it very rewarding, and also got more and more involved in playing synths and using DAWs as instruments. Over time the whole studio thing became a band–with–one–man–and–a–computer affair. After Swanyard I worked at Eden Studios [West London], and then I became chief engineer at Mayfair Studios [North London]. I was working with some great artists there [like Kasabian and Marianne Faithful] and it provided me with a springboard for going freelance.
"I first worked with the Coldplay guys helping them record some demos for their second album. We got on really well, so I stayed when the actual recording started. On completion of that record they asked me to go on tour with them for a bit as a tech. After two months I realised touring wasn't for me — I heard the call of the studio. They were really understanding, and I continued working as a freelance engineer and producer with the likes of PJ Harvey and Portishead. A few years later I worked with Chris [Martin, Coldplay's singer, keyboardist and main songwriter] again. We wrote a song for Jamelia and did some production for Jay–Z. In 2007, Chris asked me if I was interested in helping the band build a studio, and this became The Bakery. I engineered and co–produced Viva La Vida there. Following this [Coldplay bassist] Guy Berryman and I also began the production duo The Darktones.
"Over time, Coldplay outgrew The Bakery. It's quite small and pokey, and has their management offices above it. It was good for overdubs, but it was hard to do full band recordings, even though we did do some. So when a church/village hall across the road became available a few years later, we built The Beehive there. It's a much bigger space and I can record the entire band quite comfortably here. We're all in the same room together, which is brilliant for communication. With modern technology I'm not too worried about noise floors or processing on the way in. As long as I have the right levels on the mic pres I'm much more focused on capturing a vibe and the heart of the song. Good communication is part of that."
The tracking process for many of the songs on the album began with the band playing together in The Beehive's capacious live room.
Today, The Bakery is still used for programming, editing and overdubs, mainly of guitars. Although the studio remains "fully functional, most of the best gear was brought to The Beehive," says Simpson. The latter is a full–blown 21st–century facility, with a Pro Tools HD system, a Slate Raven MTi touchscreen controller, a couple of racks full of outboard gear, and an SSL Matrix rather than a traditional studio console.
"My main monitors here are Barefoot MicroMain 27s and Augspurger Duo 8 Mini Mains. I discovered Augspurgers in the States. My favourite rooms there have them as main monitors, and they have that vintage American sound. There's nothing over–hyped, no big smiley curve, but a lot of detail in the mid range. I then heard these smaller Augspurgers, and they are amazing.
"When I'm recording I'll sum my outputs through our SSL Matrix console, but during mixing I'll go in–the–box with hardware inserts and use my Raven MTi touchscreen for fader control. I'd love to use big desks again, but today you need to be able to open a session with everything coming up instantly exactly as you left it. You can't spend 20 minutes on getting a monitor mix up any more.
"As for the gear racks, I have a whole load of 500–series preamps, and quite a bit of Thermionic Culture stuff like the Earlybird, the Culture Vulture and the Phoenix. I love their stuff: it imparts an analogue character that plug–ins have difficulty emulating. I also have gear by Neve and Helios, UA-610 mic pres, API 3124s, the Vertigo VSM2, GML EQ, the Alan Smart C2, an old LA2A, Distressors, an Eventide H8000, and so on. Plus I have my many modular synths here, by Mutable Instruments, Make Noise, Moog, Verbos, Monome, Audio Damage, Tiptop Audio and Qu Bit. They allow us to get away from the digital side of things.
"Plug–ins and soft synths are amazing, but they only go so far.
Rik Simpson has built up several large modular synth systems, all of which saw good use in the making of A Head Full Of Dreams.
Using modular synths — or indeed any real instrument — is one way of getting something that sounds unique and alive. When you create a sound with them you can never do it again, it's gone. They are temperamental and organic and chaotic, and I like that. Just make sure you're always in record! Playing things with one's hands is what touches people. That's where the emotion of music is. It's very easy for us tech–heads to forget that.
"Even a crappily recorded piano and vocal can make people feel something. When we create these big productions, we try to embellish an initial seed, but that initial seed is what it's all about, and you don't want to overdo it and lose that. Chris is exceptionally talented and his musical seeds are amazing. You let the band breathe and live with the seed and let it grow as they bring their own personalities to it, and my job as a producer is not to fuck it up. The knack is not going down the wrong path, and to help the song be what it wants to be and still retain freshness and beauty. What you don't do is often more important than what you do."
Some of the 'seeds' that would become A Head Full Of Dreams required plenty of nurturing from Simpson and the band. "The guys only did a very short tour to promote the previous album, Ghost Stories, because it was such an intimate record. We started in the studio with some ideas Chris had recorded with Dan Green, the band's FOH engineer and their co–producer on a lot of Coldplay recordings. These demos were in varying states of development, and the band came up with new ideas for those in the studio here.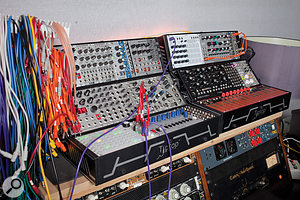 "Chris never records multitrack demos on his own. I don't think his head is geared towards that. Instead he always has his iPhone running. He has hundreds of gigabytes of voice memo files, with him singing and playing piano or guitar. He'll either send the files to us, or he'll come into the studio and will sing to us playing piano or guitar. But the band is very much a democracy. Chris might have come up with half the seeds of the songs, and other seeds develop in different ways. For example, on the last album there was a song called 'Magic' that came out of a jam by the other three band members, and Chris wrote a melody and a piano line to that. This time round we took the work we'd done in London, at The Beehive, but also some at AIR Lyndhurst, to LA where we continued working on writing and laying down basic tracks at Henson Studio A and at The Village."
"Chris lives in LA now, and the band in London, so there was a lot of stuff going on on both sides of the Atlantic concurrently, with files going back and forth. Bill Rahko was engineering in LA, and in London we had Dan [Green] and Robin Baynton. The English contingent would go to LA every six weeks or so and we'd spend a couple of weeks there to amalgamate ideas and record full band takes, and then we'd go back and continue here in London for another couple of weeks again. It was an interesting way of working, also because I'd each time ship my outboard racks and some of the modular synths to LA, and back.
"I wanted consistency between the recordings in each location, yet still be able to embrace the sonic differences of each space, not least because we were constantly switching between songs. In fact, very often bits of music would travel between songs. The first single, 'Adventures Of A Lifetime', is a good example. That's written around that guitar riff, which came from another song which did not quite make enough of that riff, so a new song was written using a stereo bounce of that guitar riff as a starting point. The original song was in a different tempo and a different key. We pushed the guitar riff up a tone or a tone and a half and sped it up from 95bpm to 112bpm, which is partly why it has that feel and groove and sounds so heavily effected and 'otherworldly'. It now almost sounds like a sample. I was worried that Jonny [Buckland, lead guitarist] would not be able to play it live, as it originally was in a far easier place on the fretboard and slower, but was very impressed when he played it effortlessly when they started rehearsals for the tour! We often slow things down or speed them up and stretch and warp them and then use them in other songs. Sonically it may not sound particularly natural, but in fact it might have come from something entirely natural. Cymbals sound amazing if you record them fast and then slow them down. They get very textured and layered.
"Another song that came together in an interesting way was 'Hymn For The Weekend'. The song had been around in a basic form since the beginning of the sessions, and it was quite hard to get the tone of it right. We ended up recording many different versions, and bars or parts of earlier versions found their way in the final version. The song ended up as a hybrid of styles, with strong hip–hop/R&B elements. If you listen to the drums in the verses in particular, they are very swung and sample–based. The main beat is a combination of live drums and programming. I think Stargate used samples in Structure in Pro Tools.
"Mikkel and Tor have an extensive sample library. The great producers that I have worked with in the past generally have had vast palettes of sounds, but often would come back to a handful of their favourites that they knew would work and also constituted part of their signature sound. Even if it is not exactly the same sound, it often shares an ethos. It's like, 'Oh, this is a Brian Eno whomp,' or 'This is a Stargate kick drum.' It inspires the people in the room. The beginning of the song 'Violet Hill' on Viva La Vida is a big ambient intro with Davide Rossi on strings and Jon Hopkins on electronics. They had been jamming and I put what they had done through an Eventide H3000 and it became this big ambient thing. When the record came out there was a lot of talk about it being classic Eno, even though he had not been in the room. But somehow the energy got tapped, and we did the sort of thing that he would have done."
Moving on to the technical side of the recordings, Simpson elaborates on his and the band's modus operandi during tracking. "In general, I try to get the band to play as a unit in the studio as much as possible, because they're a great live band, and when they play together they have this muscle–memory thing where they sound like Coldplay. To me that's a magical thing. It's like the other analogue gear I mentioned earlier, it's that thing that nobody else can do. From my end, I think I'm really good at recording the band and making them sound like themselves, and then choosing which bits are the best and making the overall picture work.
"The band sometimes play to a click track, but quite often we make a tempo map and click track from their live performances. They play a song five times, we analyse what they do, and if they tend to speed up going into the chorus, the tempo map will reflect that. I'm very excited to see how Melodyne 4's new tempo controls will help me with this process! Before they start playing I load my Pro Tools template, which has 64 tracks, all of which are in record all the time. The band themselves probably fit in 24 tracks, and then there are tons of other things, like room mics, and aux mics for if someone picks up a mandolin or a cowbell or whatnot. The template prepares for all eventualities. Disk space is so cheap now, it doesn't matter if there are 100 hours of tracks with no audio on them. And a mic that wasn't used deliberately may in fact pick something interesting that can be used as an affect or an ambience."
"The piano we have at The Beehive is an upright Yamaha Disklavier,which has a very nice sound, and the benefit of MIDI. In general it's the only time we use MIDI with Coldplay. If the band are recording a live take all together, there's no way I would be able to use the piano mics, because they would have drums all over them. So I record the MIDI at the same time, and once the takes are done and the band are out of the room, I'll record the piano on its own, playing Chris's part back via MIDI. It's the same performance, with a clean recording. I use two sE Electronics 4400a's on the piano, which are the closest thing to the old [AKG] C414EBs.
"I'll record acoustic guitars with two small–diaphragm condensers — Telefunken M60s or Neumann KM84s — pointing at the 12th fret at a 45–degree angle, and possibly an ambient mic; something crusty like a Coles 4038 is good. Electric guitar cabinets have an SM57 and a Royer on them, and the bass cabinet an SM7. I always take DIs of the bass and electric guitar as well, just in case I want to later embellish these and play them through an amp again. Synths generally went through the Earlybird, and sometimes the Rooster. The latter is quite colouring, especially on digital synths. It's nice to add a bit of crunch on the way in. The non–modular synths we used were the Moog Voyager XL, Roland Juno 60, Roland Juno 106, Sequential Circuits Prophet 6, Mellotron M4000D, EMS VCS3 and Oberheim OB8.
"My drum-mic setup mostly consisted of the usual contenders, apart from an old STC/Coles 4012 'ball and biscuit' microphone as a mono overhead that I love, and a couple of Telefunken 251s as overheads. But everything else is fairly standard. I play around with different room microphones depending on a) how many band members I am recording at the same time and b) what the song needs. I quite like Coles, which are kind of grimy and dirty, and I quite like B&K microphones which are the opposite end of the sonic spectrum, a lot more hi–fi. I have a Shure 57 on the snare, but I sometimes go for a Neumann KM84 if the song is delicate and the snare needs that tender touch. For the kick I have a Telefunken M82 dynamic microphone that is designed for a kick drum and that sounds really good. It is punchy and big but not too clanky. The AKG kick-drum mics are a little bit 'knocky' for my liking.
"Towards the end of the record we also recorded Chris' final vocals at The Woodshed, a great studio in Malibu with a view of the ocean. Beyoncé's vocals were done at Chris' house on the East Coast. It happened very quickly and was very home–grown. We built a vocal booth for her in the bedroom of Chris' kids. I just came in with a laptop and an Avalon mic pre, and she favours a Telefunken 251. It was great because she is an amazing singer. There was really no comping done. We put the bridge part in loop and she sang over that, and once she had to figured out what to do she layered her parts. I literally used all of it. I did not have to do much to it, it is how she sounds.
"Once we had settled on the direction for 'Hymn For The Weekend', we nailed it pretty quickly, recording mostly at Henson. It was still quite difficult to get the brass right, though. We tried sampled brass, we tried real brass with Bruno Mars' brass section, the Regiment Horns, who came to The Woodshed one evening, and we tried some orchestral brass players. Nothing ever seemed to quite land properly. In the end I sent the various brass parts through a Culture Vulture unit, recorded it back into Pro Tools and chopped it up to make it sound like a sample, and suddenly it clicked.
"Beyoncé's vocals also made infinite sense for the song — she suddenly was the angel lady talking to the protagonist of the song. There was a happy accident at the beginning of 'Hymn For The Weekend' where I was comping Chris's vocals and changed a word, and tried to find the same word in Beyoncé's takes. So I had all the vocal files lined up to audition them quickly, and I happened to press play with them all sounding, and that is what you hear at the beginning of the song, because it sounds amazing. You just have to keep experimenting, and be open to things happening. We ended up not using the lyric change either!"
The Pro Tools session for 'Hymn For The Weekend' contains 171 tracks, with tons of plug–ins. The session has a slightly unusual structure, and going through the tracks from top to bottom to some degree describes Simpson's mix process back to front, as his mastering tracks are all near the top. Right at the top of the session is a VCA lead vocal track and immediately below is an unusual track called 'Sync Pip'.
"Getting the vocals to sit in the right place is one of the things that gets the most attention during a mix, so I reach for that a lot, and I therefore put that at the top. 'Sync Pip' has a little square–wave 'tock' that I always put in front of any mix file. It's just a small spike, and it's invaluable in making sure everything is in sync. If I put stems down, even if the latency on the rig is not the same as it has been, I can still get it in time. Pro Tools is not as failsafe as we would like it to be. Things can occasionally subtly move either way, even with delay compensation switched on. With the pip in front of the file I can line up my drums stem and my bass stem, making sure they're perfectly in time. It's a trick I learned in the film world, analogous to the use of the clapperboard.
"The next track, in orange, is a mix print. This is not actually the final master mix, which I record via lovely analogue converters to my laptop Pro Tools 'print' rig, which runs at a higher sample rate. Instead this is my limiter 'test track'. I'll normally mix without limiting, but I'll reference this track every so often to see what it's roughly going to sound like when mastered. It's sad that we have to, because I very much like to keep records dynamic and free of distortion, so it's a balancing act. If you factor limiting into your mixing process you can minimise distortion, and make great–sounding, loud records. Immediately below is the track that I send the mix through, 'Master Out' [purple], which has the iZotope Ozone 6 set to brickwall limiting, and the result gets printed above.
"In the comment box of the limiter test track, and in the session header at the top, it says 'HenStb, RikMix, Ref8, 48k, X 20150923B'. This means that the final mix was done in Henson Studio B, by me. 'Ref8' shows that seven versions were done before, the sample rate is 48KHz, 'X' means there's limiting on it, and finally there's the date, September 23 of last year, with 'B' signifying that it's the second save I did that day. It is vitally important to have naming conventions and keep everything as organised as possible, especially as you're working with different people in different locations. We make sure everybody sticks to the same system, otherwise nobody knows when they open a session what version they're dealing with, and what was done where, by whom, and when."
Master tracks: Slate Digital Virtual Mix Rack, Virtual Tape Machines & FG–X; UA SSL G Bus Compressor; Kush Clariphonic DSP MkI; Thermionic Culture Phoenix & Culture Vulture; iZotope Ozone 5 & 6.
Rik Simpson's 'Master Out' limiting test track gets fed from the '@MasterNoLimiter' track below it (dark green), which is the last stage of a complex of four master tracks (dark blue), and 13 instrument group tracks (dark green). All individual instrument, vocal and aux tracks in the session are sent to one of these 13 instrument group tracks, and from there to '@All', which is the input of a track called '@AlltoParallel'.
"'@AllToParallel' is my main bus track, so the entire session is going to that. I have four plug–ins on the inserts of that track: the Slate Digital Virtual Mix Rack, which is a 500–series channel-strip plug–in, a Slate Digital Virtual Tape Machine, a UAD SSL G Bus Compressor, and the Kush Clariphonic DSP MkI EQ. I get everything sounding good on that track, and then I start adding my analogue bits of gear into it, pre–fader. So there are two sends to the Thermionic Culture Phoenix and the Thermionic Culture Vulture hardware insert tracks. These two tracks and '@AllToParallel' then go to '@MasterNoLimiting', and I balance these three together. Obviously things get louder and you can see that I have pulled back these three faders. There's also a VCA master track with which I can regulate the levels of the analogue parallel buses.
"On the '@MasterNoLimiting' track itself I have the Slate Digital FG–X saturator, which adds some glue, the Ozone 5 for some compression and the Ozone 6 using its EQ to boost low end and a bit of top end.There also are three sends. The first one goes to my Oppo headphone amplifier, so I can listen to the mix with some nice headphones; the next goes to the Cranesong HEDD D–A interface and the third one to a Burl D–A interface. I have two D–A converters on my laptop 'print' rig, and I choose which converter I use depending on the song. The Burl sounds beautiful, very wide and clear, but for most of this record I liked the colour and the harmonic depth of the HEDD."
Group tracks: Slate Digital Virtual Mix Rack & Virtual Tape Machines; UAD API 2500, LA2A, Pultec EQP1A & Fatso Jr; Crane Song Phoenix II; FabFilter Pro–C 2 & Pro–G
Simpson: "There are two drum instrument tracks, '@Drums' and '@Drumparallel'. The former has the Slate Digital Virtual Mix Rack and UAD API 2500 compressor plug–ins. The drum parallel has the UAD Fatso Jr. Next are two bass tracks, '@Bass Side–Chain' and '@Bass No Side–Chain'. The former is linked to the kick drum, with the bass making space for the kick during the choruses, but elsewhere that wasn't needed, hence the bass track without a side–chain. The bass side–chain track has the Crane Song Phoenix II tape–emulation plug–in (which is a bit crunchier than the Slate VTM), the Slate VMR, and the FabFilter Pro–C 2, which adds the side–chained compression from the kick. The bass track without a side–chain has the VMR, the UAD LA2 compressor, and the UAD Pultec EQP1A, which is fantastic.
"The next instrument group tracks are '@Music', with miscellaneous music stuff, '@Gtrs',' @Piano', '@Keys', which essentially combines all the synths, and '@MusicMisc', with more miscellaneous musical material that I wanted to treat differently than those sent to the '@Music' track. All these '@' tracks have the Slate VMR and VTM. I really like the VTM. It's quite subtle and really does what tape does, making things sound a bit thicker and more forward, but without crunching or distorting too much. Many other tape–saturation plug–ins try too hard and don't sound like tape. Next is the '@Vox' track, which also has the VMR and VMT and sends to '@VoxParallelCompress', with the Fatso Jr, and '@VocalLA2A', which has a UAD LA2A and FabFilter Pro–G [gate]. The 13th group track is '@VoxNoParallel', to which I sent all Beyoncé's vocals and which has just the VMR."
Drums: FabFilter Pro–Q 2 & Pro–G; UA Little Labs VOG; Brainworx BX_refinement; Kush Audio UBK1; UA Maag EQ4; Avid D-Verb; UA SSL E Channel.
Below the '@instrument' group tracks are all the individual instrument and vocal tracks. Following a few miscellaneous tracks, including the birdsong that begins the song, there are 39 tracks of drums and percussion, mostly programmed by Stargate and Avicii (aka Tim Bergling), and some live drums marked 'WC' or 'Will' for Coldplay's drummer Will Champion. One characteristic they share is that there are very few plug–ins on most of these tracks.
Simpson: "The birds at the beginning of the song are a recording from Chris' iPhone, which he emailed to me, and I stereo–ised them, making them sound like they're coming from all around you. They are sent to the '@Music' track. The drums tracks almost all have the FabFilter Pro–Q 2, which is in this case acting as a high–pass filter. Before I begin any final mix I try to take out as much low–end energy as I can. Anything that doesn't need to be there is taken off, which gives me more headroom. It really makes a massive difference. There's a 'Main Kik' track that also has the FabFilter Pro–G gate, and together with another bass drum track, is sent to the 'VOG' track, which has the Little Labs Voice Of God, which is a great harmonic sub–synth that adds some controlled low end.
"Some of the other drum and percussion tracks have greyed out D–Verb and UAD SSL E Channel on them, which will have come from Mikkel. I bounced these things down to save CPU resources. They sounded good. One of Will's crash cymbal tracks has a Brainworx BX_refinement to get rid of some harshness, and Will's toms have the Kush Audio UBK1 for some analogue colouring. There's also a UAD Maag EQ4 on the ride cymbal. I love that EQ because it has a unique top end that adds some air and just opens up the sound. There's a 'Tambourine' VCA, where all the tambourines were sent, because I wanted to be able to ride them in the track, pushing them up in the choruses and so on."
Other instruments: Slate Digital Virtual Mix Rack; FabFilter Pro–Q 2; Waves L2; EastWest QL Spaces; Avid Mod Delay; UA Roland Dimension D & SSL E Channel; Lexicon PCM Native Room; Soundtoys PanMan & Decapitator; Wavesfactory TrackSpacer.
"There are four bass tracks, including an 808 bass sample which takes over from the bass guitar in the bridges. I have the Pro–Q 2 and Waves L2 on the 808, and nothing on the other bass tracks. Then there are some piano tracks, vocal samples, guitars, brass, and Moog and Prophet 12 hardware synths. The band and I love hardware keyboards. Software synthesizers are amazing, but they don't give you the same depth as the original stuff. The 'KEGuyEndProphet' track is a Prophet 12 played by Guy [Berryman] and it has an EastWest Quantum Leap Spaces reverb on it, which is one of my favourites. There are also several tracks with a Spectrasonics Omnisphere choir, which have EQ from the Pro–Q 2, some Mod Delay, some UAD Dimension D chorus and a Lexicon room reverb. The 'Rik End Clouds' thing is a little thing I did right at the end of the song. Clouds is a modular synth by Mutable Instruments that's a harmoniser, pitch–changer and granulator. It's a great box!
"The guitars have the Soundtoys PanMan to give them some movement, and also some corrective EQ from the Pro–Q 2, and the UAD SSL E Channel strip, which is one of my go–to plug–ins, because it sounds so similar to the original SSL, a desk I was brought up on. There's also an eBow guitar hook at the end of the song that has the Wavesfactory TrackSpacer plug–in, which side–chains the guitar to the vocal, so it clears the space when the vocal is present. The brass was bounced down before this session. There's a Tim brass bounce, which was a sampled file given to us by Avicii, and there are a couple of tracks of live brass treatment, and they're all going through the Decapitator and VMR and are edited to make them sound like a sample. At the end of each phrase they're chopped off quite rapidly."
Vocals: Avid Channel Strip, D–Verb & Mod Delay; SPL TwinTube; Kush Audio UBK1; UA Fairchild 670, SSL E Channel, Pultec EQP1A & Maestro Echoplex; FabFilter Pro–Q 2, Pro–DS & Pro–MB; Waves H–Delay, Renaissance Vox & L2; EastWest QL Spaces; FXpansion Bloom; SoundToys Echo Boy.
Including aux and VCA channels, the 'Hymn For The Weekend' session includes an impressive 45 vocal tracks, and the actual lead vocal tracks contain massive numbers of plug–ins — in the case of 'LV Chorus', nine inserts and eight sends! The vocals have an atmospheric as well as a melodic function, laying over the entire song almost like stacked synths. A full description of the entire vocal treatment would take up most of this article, so Simpson lifts the veil only on his more essential treatments:
"It was very important to get the development and arrangement of the vocals right. Many of the 45 tracks are effect tracks. There's only one lead vocal track each for the verses [LV Verse], for the bridge [LV Bridge], and the choruses [LV Chorus], and then Chris sang a number of bridge and chorus vocal overdubs. The main verse vocal has the Avid Channel Strip, which is taking out some low end, an SPL TwinTube, which adds some saturation, the UBK1 compressor adding more crunch, and the UAD Fairchild 670 and SSL E Channel. I don't use a great deal of compression from each unit. I will just tickle it a little bit with each one, and each one adds a different characteristic. I could just add a whole load of compression from one plug–in, but like this it doesn't sound over–compressed. The Pro–Q 2 is, again, a high–pass filter. In the sends there's a Waves H–Delay that I recorded elsewhere, and sends to a main D–Verb and two QL Spaces aux tracks. I have different reverbs and delays for each part of the song so that the vocal sound evolves during the song.
"The main chorus lead vocal has the FabFilter Pro–Q 2 EQ, the Waves Rennaissance Vox, again the UBK1, two instances of the FabFilter Pro–DS de–esser, two instances of the UAD Pultec EQP–1A, and the FabFilter Pro–MB multi–band compressor. I like the FabFilter de–esser. I am still trying to find the ultimate de–esser, because it's quite a hard thing to do right. I have two because one is doing high top sibilance, and the other lower stuff around 2kHz. The sends on chorus lead vocal go to aux tracks with the Waves H–Delay, the FXpansion Bloom with a lush, wide stereo delay, a small chamber from the QL Spaces plug–in, a mono delay from the UAD Echoplex, and several other delays. The sends to the delays are all automated independently, with different words getting different delays.
"One thing of note is that there also is a 'Hope House M80' vocal track, recorded when Chris was still using the Telefunken M80, and it's mixed in very low. There's also a lead-vocal double that has '251' marked, indicating that Chris was also using that mic. But the main vocals were recorded using the Soyuz. There are two tracks marked '251 Melo Lead' and '251 Melo Double', again mixed in low. 'Melo' stands for Melodyne, and these tracks are raised two semitones. They were recorded in a different key for a different version of the song, and detuning them added a certain alien quality to these vocals which we really liked. At the bottom of the session are the Beyoncé vocal tracks, on which I mainly used the SSL E Channel strip, UBK1, L2, SoundToys Echo Boy, Avid ModDelay and the QL Space."
Stereo bus: Vertigo Sound VSM2; SSL Compressor; GML 8200 EQ.
"Apart from the Thermionic Culture Vulture and Phoenix, which I used as hardware inserts and ran in parallel, the other bits of outboard that I used on this session came in when I printed the mix to another laptop, sync'ed via Ethernet cable and Pro Tools' Satellite function — another trick I learned from the film community. My main Pro Tools session is 48kHz, and while I'd like to go to a higher resolution, with the track counts that I have and the amount of plug–ins that I use, I can't. I've tried, but it doesn't work. So I run my main mix through the Cranesong HEDD 192 converter, and through some outboard from my rack, and then into a Pro Tools session on the second laptop, my 'print rig', which ran at 96kHz. Everything is clocked with my Antelope Audio Trinity clock, and while it's all tight, the sync pip comes in handy here as well, because if anything drifts, I can immediately bring it back into line. The stereo mix ran through a Vertigo Sound VSM2 Satellite (which gives you switchable M–S and L–R inserts and adds harmonic stuff), an SSL Compressor, the GML EQ, and that was it."
Rik Simpson spent a lot of time rough–mixing and polishing the sessions during the tracking period, but final mixing was nevertheless still a separate stage. Two of the album's songs, 'Adventure Of A Lifetime' and 'Army Of One' were mixed by Stargate's favourite mixer, Phil Tan, but the rest was mixed by Simpson.
"By the time we finished recording, the rough mixes were very indicative of where we wanted to be. It was not a case of fixing things in the mix. I nevertheless really wanted to get my teeth into all the songs again to see how much further they could be pushed. So I booked two weeks at Studio 2 in AIR Lyndhurst in London at the end of August and I did another week and a half at Henson in mid September. I went to AIR purely because of the acoustics of the room, because I didn't use the desk, except the volume knob, and I also took my own speakers with me. It's also in part because of the head space. If you go somewhere new it gives you a different perspective and pushes you to work a little harder and see the project in a new light. For example, I managed to get the low end really tight, developed the overall 3D depth and made sure all the vocal layering was arranged as elegantly as possible.
"I took my outboard racks with me to AIR, and both my Augspurgers and my Barefoots. I also took my IK Multimedia iLoud thing, which is a great little boombox, as well as this little mono, waterproof speaker, often used in showers. It's called the Boom Movement Swimmer and it's great to check what things sound like on small speakers. I've tested 10 different mini speakers and this thing is amazing. I take it with me almost everywhere. I do quite a lot of mixing on it, checking vocal levels, and overall atmospheric stuff that you don't always hear in mono. Yes, I have had it in the shower, where it also sounds great, but not for mixing!" According to a recent survey, the playback medium used most often by American consumers is computer speakers (55 percent), so Simpson's decision to monitor on shower and iLoud speakers makes total sense.
"During the first phase, the band basically leave me to it. We have spent so much time getting the right parts and are in agreement on that, that nothing needs ditching at that point. We have already cleared out the chaff. I think I spent the entire two weeks at AIR by myself, going through the entire record, and when I sent my mixes out, everyone was really happy. Later on at Henson we were all together, and made final tweaks to everything, and then everything went straight to mastering, which was done by the wonderful Emily Lazar."
Tor Hermansen and Mikkel Eriksen of Stargate joined the album writing, arranging and recording sessions at an early stage, coming out to both London and LA. Stargate's involvement with a rock band was a surprise to many, but, says Simpson, "it worked, especially because it was not what you'd expect. Chris has worked with Tor and Mikkel before, because he's friends with Jay–Z, and Stargate used to work out of Jay–Z's Roc–The–Mic studio in New York. Chris has long wanted to get them involved, and we first worked together on a song called 'Miracles', which ended up on the soundtrack of Angeline Jolie's film, Unbroken [2014]. It was interesting to see how things worked with Stargate's minimalist pop production approach, and the band then decided that they wanted to do an entire album with them.
"If I had to pick a single element in which Stargate's contribution was the most important it would be in song structure and arrangement, and as a follow–on from their way of working with minimalism and space, never cluttering things. We always strive not to have anything in the sonic picture that does not serve a function. Everything is there for a reason. This ethos has been the same for everyone that I've loved working with in the past. Brian Eno used to say: 'Cook like an Italian: use great ingredients sparingly.' I think that's cool. Marcus Dravs and Paul Epworth have the same approach, as do Stargate, but from a different perspective. In all cases it's a matter of: don't throw the kitchen sink at it. Keep it pure. Make sure you can hear stuff. An additional benefit is that it leaves you with places to go dynamically."
"With regards to vocal microphones, we have over the years tried most things on Chris [Martin]," says Rik Simpson. "For this album we wanted a clear, vibrant tone, full of humanity and life. I did shootouts between vintage Neumann U47s and U67s, and quite few new mics inspired by the 47, Telefunken 251, and so on. I can't even recall all of them, but the Soyuz SU17 blew them all out of the water. It's a hand-made Russian mic, very artisan, and sounds fantastic, very pure and full. Sometimes he'll pick up a Shure SM58 because he loves holding a mic, with his vocals then sounding over the speakers. He can really get into the zone and perform like that. I'm obviously always trying to get him to sing into a more expensive, great–sounding mic, but if he's feeling comfortable he'll get a great performance.
"A lot of the 58 recordings did end up on the album, and I think it sounds great, though I'd never comp between the Soyuz and the 58. At the beginning of the record I asked him to use Telefunken M80 as a hand-held mic. I was trying to get something that sounded better than an SM58, but later on during the sessions we went back to the SM58 because the weight of it feels more comfortable to him. The mic pre on both the 58 and the Soyuz was a UA–610, which sounds great and is a wonderful and very reliable workhorse.