Secrets Of The Mix Engineers: Morten Pilegaard Jespersen & Delbert Bowers
Morten Pilegaard, who co-wrote and co-mixed '7 Years'.
Truly an international effort, Lukas Graham's breakthrough hit '7 Years' was masterminded by a Danish film-sound designer and a Californian mix engineer.
From a pop music perspective, Denmark has long been a backwater. This year, however, saw a band from Copenhagen enjoy a worldwide megahit. Lukas Graham — who take their name from their singer's forenames — topped charts across the globe with the ballad '7 Years'. Over a catchy, minor-key piano riff, Lukas Graham Forchhammer sings an equally attention-grabbing hook, using his soulful voice to convey an emotive autobiographic lyric that probes far deeper into the meaning of life than is customary in the fleeting world of pop. The musical arrangement is simple and straightforward, but the elements are beautifully structured and paced to sustain interest until the end. There's also some noteworthy mood-enhancing sound design going on, and the final touch is a full-spectrum mix full of attitude. Co-writer and co-producer Morten 'Pilo' Pilegaard played an important part in the production approach of '7 Years', and together with mixer Delbert Bowers, also bears most of the responsibility for the sound of the song.
Lukas Graham's lyrics often reference Christiana, the famous Copenhagen alternative/anarchist community, and most of the band's early live shows took place in a venue in the district, in 2011-12. Word of their increasingly stirring gigs got out, and a record deal with Copenhagen Records followed, as did four Danish top five hit singles and an eponymous number one debut album. A year later, in 2013, Pilegaard arrived on the scene.
"I was living with Morten 'Rissi' Ristorp," recalled Pilegaard, "who used to play piano in Lukas Graham and had co-written and produced many of the songs on their first album. At the time I was working as a sound designer on feature films at Nordisk Film, a Scandinavian film production company. However, I've been playing piano and drums since I was a kid, and went to music school, Sankt Ann Gymnasium in Copenhagen. In fact, everyone involved with Lukas Graham attended Sankt Ann ! I still had ambitions as a musician, and during the early parts of 2014 I worked with Rissi on the production of two of the band's songs, 'Mama Said' and 'Strip No More', which had been written by Lukas, Stefan 'Stefano' Forrest, and Rissi, and recorded by the band about six months earlier. We would sit at my post-production studio at Nordisk Film in the weekends and play around with it, trying to give it a little less 'live-band feel'.
"This encouraged me to get more involved in making music again, so I set up a small studio in my apartment. I bought a Mac Mini, Pro Tools and a bunch of other software, and a Roland RD-700SX stage piano. Some time before that Rissi, Stefano and Lukas had written a song called '7 Years' that they had sort of stopped working on, so I figured I would try to develop it a bit more, and took the demo home and started adding stuff to it. I spent two weeks in early 2014 doing preliminary production on '7 Years', much of which ended up in the final version."
Ironically, although Pilegaard's aim in working with Lukas Graham was to focus more on his musical skills, it was arguably his background in film sound design that made the biggest difference. "The demo recording I had of '7 Years' had just piano and Lukas's vocal," explains Pilegaard. "The lyrics were obviously amazing, so I added things to take the listener by the hand and walk him or her through this lyric and enhance the feelings that are in the song. It was like making a film. My first idea was to add a film projector sound, which I got at Nordisk Film, and the sound of kids for the intro. I then added some ticking clocks, a vinyl record sound, and some audience noises, the latter at the point where the lyrics refer to people singing Lukas's song in 20 years.
"On the musical arrangement side, I overdubbed keyboards, bass and drums, and later on also virtual strings. I was using the Native Instruments Komplete package, and some loops that Rissi brought. The drums were from Abbey Road '70s Drummer and Addictive Drums. Because I used to play drums, I like programming MIDI drums, and Addictive Drums is really easy to program. I ran different things through UAD reverbs, like the organ and some other sounds through the Lexicon 224, creating endlessly long pads. Two weeks later Rissi and I changed the harmonic structure in the bridge, instead of it always being G minor. But the melancholy of the G minor chords informed most of the soundscapes."
Lukas Graham: possibly Denmark's most successful musical export since Aqua.Photo: Chapman Baehler
Lukas Graham's eye-watering success in Denmark had already begun to attract interest from foreign record companies, and the band had signed to Warner Bros in the US in 2013. In the Spring of 2014, Lukas Forchhammer and co-writers and co-producers Morten Ristorp and Stefan Forrest (the latter two now have formed a production duo calling themselves Future Animals) went to LA to discuss with Warner Bros A&R representatives how to proceed with the making of the band's second album and to find a big-name producer.
"One night in April 2014 they called me from LA and said that they'd played my version of '7 Years' to Warner," remembers Pilegaard, "and that they loved it, and would I help them do this record? My first job as a supervising sound editor had just been postponed for half a year, so I had time on my hands, and when they came back to Denmark in May we worked together on the production of the song 'Mama Said', and in August 2014 we all flew to LA to work on the album. I came back to Copenhagen for two months during December '14 to January '15, to do the supervising sound editor job, and after that flew back to LA to help finish off the album. This included two months of me mixing the album with Delbert [Bowers]."
Lukas Graham's second album was first released in Denmark, then later worldwide, with a slightly less blue cover (right)!
'Mama Said' was released in Denmark in June 2014 and promptly went to number one. Unsurprisingly, excitement and expectations in and around the band went through the roof by this stage, yet despite their relative inexperience, Pilegaard and Future Animals kept their heads cool enough to steer the entire company successfully through the rest of the production and mixing processes while they were living their dream, partly in Denmark, but mostly in Los Angeles.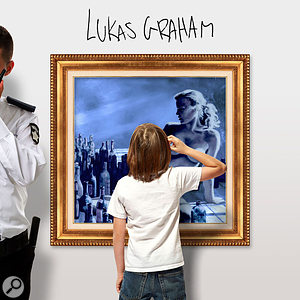 "Obviously, the success of 'Mama Said' was very gratifying for me," notes Pilegaard, "because it was the first thing I ever touched in pop music! But it's such a good song that I could have done whatever, and it would still have been great. In Denmark over the Summer of 2014, we had also done some more work on '7 Years', recording different pianos, messing with the drums, getting them to sound the way we wanted, before finally recording live strings at the amazing Vibe Factory studio in Copenhagen. We were still using Lukas' scratch vocal, recorded with a super-cheap large-diaphragm condenser microphone the day the song was written. We never tried to re-record it, because it was just great as it was.
"The vision we had for the album was for it to sound organic, alive and real, but at the same time also to be able to compete with what's on the radio, so to have influences of today's pop and hip-hop music, with punchy drums and so on. Our references were Aloe Blacc, Amy Winehouse, and also Adele. It was with this in mind for the album that we went to LA in August 2014. We had virtually finished '7 Years' in Denmark, so we did not spend much time on that in LA. We had demo versions or rough sketches for the other songs and worked mostly at Blakeslee B, Raphael Saadiq's studio. It's an SSL room with a medium-sized tracking room, in which we set up a production studio to write songs and tweak what we already had. When not writing or finishing songs, Stefano and Lukas spent a lot of time at a studio in Beachwood, where Lukas's vocals were recorded with an old AKG C12, a Neve 1073 and an LA-2A. All the sessions in Los Angeles were engineered by our now close friend, Dave Labrel.
"I'd also be working at my own studio in LA, where I have a 27-inch iMac, Pro Tools, a Native Instruments Maschine, a pair of Focal Twins, a UAD Apollo Twin and an MXL V67 — another cheap, large-diaphragm microphone. The recordings in LA were a long process, and yes, we spent a lot of money! We definitely had days when we had no idea whether we were improving a song or making it worse. The album was eventually released in June 2015, but only in Denmark. We wanted it out, and I guess it made sense for Warner to see how it would do in our home country."
The answer was, quite well: nicknamed The Blue Album, it spent 18 weeks on the Danish number-one spot. "We then decided that we wanted to release a slightly different version internationally, so we changed the production and did new mixes of a few of the songs."
Before it could be released anywhere, however, the band and Warner Brothers had to find someone to mix it. Several candidates were identified and auditioned, and, says the eventual winner, "As soon as I heard '7 Years' it gave me the chills. It was one of the three songs that they sent over, and I knew I really wanted to be part of the project."
Mix engineer Delbert Bowers trained with the legendary Manny Marroquin.
Enter Delbert Bowers, then barely two years into his career as an independent mixer and perhaps not the most likely person to be handed a large-budget project that no-one was quite sure about. But for that, Bowers's background is impeccable. He's been a musician all his life, has a Doctorate in Music from the University of California, and worked for four years at arguably the top mix studio in the world, Larrabee Studios in LA, where he worked his way up from intern to spend two and a half years as assistant with Manny Marroquin, one of the world's top mixers.
Bowers works in part out of his own facility in LA, called Clarity Studio, an entirely in-the-box place, with a Pro Tools native system, Apogee Ensemble converters and Bryston 4B and Yamaha NS10 monitoring. He spent a week mixing Lukas Graham's album there until the entire company decided to spend yet more money and move to Larrabee Studio 4, which the studio's web site bills as "The Rat Pack Room," and "by far the most glamorous studio in town and a favorite among today's music elite", with "rich fabrics, accented with granite counters, dark leather sofas and ornate sconces". The studio also, apparently, has a "private bath". Lukas Graham clearly were out to live their dream while they could! More relevant for the actual mixing process were the studio's Augspurger and NS10 monitors, and, perhaps, the 56-channel SSL G+ console, which functioned as a large drinks tray and laptop stand.
"I got all the mixes for the album in a good place sonically and vibe-wise at my studio," Bowers elaborated. "But then we moved to Larrabee, in part because of the sonics of the room, which allowed me to dial in the super-detailed stuff with more certainty, and also because this was quite an unusual project for me in that everyone who had worked on the album — Pilo, Rissi, Stefano, and the entire band — all wanted to be there. It was easier to be in a larger space with good food and drink! Plus while I was mixing at Larrabee they continued supplying me with production changes, such as touches on the vocals, changing the sound of the kick drum, and so on. This was another reason for keeping things in the box, so I could instantly change between sessions.
Party time at Larrabee Studios...
"Pilo would sometimes take over from me, to add to the production or to re-blend strings, and he is very precise in what he wants. He comes from a European perspective, which we don't have here in America. For example, he's really focused on the production stuff, the musical and soundscape elements, while I was very focused on making sure Lukas' vocal always was clear and pristine, which was rule number one working with Manny. Our two worlds sometimes worked against each other, but mainly enhanced each other, as we were working towards the same goal, just with different ears."
"The '7 Years' session is fairly compact by modern standards, at around 65 tracks. These are, from top to bottom: a mix input bus track, a music bus track through which all the music is routed, 12 drum tracks including a 'Drum Master' and an 'All Drums' bus, four bass tracks, three piano tracks including a piano aux, five keyboard tracks including 'Toy Piano', 'Wurlitzer' and organ, nine programmed string tracks including a master bus track called 'Old Strings', six live strings tracks including a master bus, a 'Strings All' bus, six sound effect tracks, five lead vocal tracks consisting of the two audio tracks plus two lead aux tracks and a lead master track, a backing vocal track, and eight aux effect tracks right at the bottom of the session. (Note that the entire session starts at 1:40, which needs to be borne in mind when comparing the timings to the released version.)
Bowers: "The session was exceptionally well-organised when I got it, so I didn't have to spend time on prepping. Instead I went straight for the piano, because I knew that was the emotional core of the song. After I'd dialled in the piano sonics, I moved on to the drums. Manny is a drummer, and I learned from him to get the drums in as soon as possible, because if you put them in later, your mix is going to be a struggle. I then added the bass, and I think I then immediately added Lukas's vocal, because I knew it was going to be fighting everything else, so it worked well to deal with that while it was still in a stripped-down version of the song. Only after that did I add the keyboards and strings."
Piano: Slate VCC; Waves Renaissance EQ, Renaissance Compressor & SSL Channel; Avid EQ.
Bowers: "I felt that the piano had a delicate emotional quality, which needed to sparkle throughout the entire mix. The first plug-in on the piano insert is the Slate Virtual Console Collection, which I use on all important elements of my mixes, any main instrument that needs help with that console-emulation type of process. It's the first version of that plug-in. I can't put it on every single track because it just kills my computer's CPU, because I'm heavily oversampling the plug-in, so I pick out the tracks that are really, really important and they get a dose of that plug-in.
"The next plug-in is the Waves REQ6, which they had added during production. It adds quite a bit of top end, and rolls off a bit of bass. Then there's the Waves RCompressor, which I use quite frequently just because it is so easy, and quick and slick. It is just doing a little bit of gain reduction to help things sit, and is followed by the generic Avid seven-band EQ with a bit of 500Hz scooped out in the middle, and next is the Waves SSL Channel, which is another one of my favourites. It's simple and reminiscent of the actual desk EQ. I am sure one could simplify the piano treatments to just three plug-ins, but what happened through the mix was that every time Pilo or I made changes, we wanted to make sure that it would be easy to go back to where the mix was. So instead of changing settings on plug-ins that we already had, we just kept adding plug-ins."
Pilegaard: "Looking at this, I recall that the main piano is actually a sample piano, from Native Instruments' Alicia's Keys. The brief section in the bridge is all we kept from the real grand piano we recorded in Copenhagen. We obviously decided that the sampled piano sounded better!"
Drums: Slate VCC; Waves SSL Channel & C6; UA API 2500; SoundToys Decapitator; Bomb Factory BF76; SPL Transient Designer.
Bowers: "After working on the piano, I got the kick drum in as soon as possible. I knew the piano was going to be predominantly mid to high, so after I had that in a good place, I brought in the low stuff with the kick drum and the other drums and bass. The main kick drum again has the Slate Virtual Console emulation. I wanted the kick drum to have a hip-hop, street quality, solid, with a round bottom, so I added 60Hz with the SSL Channel, plus the Decapitator gives it some more grit. According to Morten, the other kick track is an Abbey Road '70s sample to beef up the snare.
"There are several snare samples, all quite fat-sounding, with some more mid-rangey and some more top-rangey for the attack. If I remember correctly, all of the snares together were a bit overpowering, so my treatment on the snare was not so much geared towards EQ, but more towards compression to keep it in place. I used various compressors, particularly many 1176 emulation-type plug-ins, like the BF76. It is really about controlling the transients."
Pilegaard: "There's a sample pack loop in there that I found somewhere and cut. You can see it has many edits!"
Bowers: "The loop has snare rolls to give it lots of movement, and I again have the Slate Virtual Console, plus the SPL Transient Designer to shave off a little bit of the attack. All drums, apart from the loop, go through the Drum Master track, on which I have again the Slate VCC, an API 2500, the Decapitator, the SPL Transient designer, and Pilo put on the C6 which does a lot of 4kHz gain reduction. Any time you see a C6 it's a plug-in Pilo added! You can also see the routing on the I/O of the drum tracks. The drum loop goes directly to the Music bus at the top, to which I sent all musical elements."
Bass: Waves CLA76 & LoAir; UA Softube Saturation & API 2500; Bomb Factory SansAmp PSA1.
Pilegaard: "The bass was straightforward. There's a Waves CLA76 on the sub-bass and the Waves LoAir Subharmonic Generator, to fatten up the sound. When you're working on film you always have that plug-in on a pre-fader send, which goes straight to the sub, so whatever sound you're working with, you can always get immense power from it in your subwoofer!"
Bowers: "There's a 'Bass Distortion' track which goes through the UAD Softube collection, and then the SansAmp. When we first started working on this, both the drums and bass were very clean, so all these instances of the API 2500, SansAmp and Decapitator plug-ins were an attempt by me to give the track more street cred, ie. to put the 'ghetto' in 'ghetto pop'."
Pilegaard: "The level of the Bass Distortion track is -28.5dB, and if you were to solo it, you'd hear only grit and fret noise and distortion. It is there for texture."
Vocals: Waves C6, CLA76, C4 & Manny Marroquin Reverb; Softube Tube-Tech CL1B.
Bowers: "Could I hear that it was recorded with a very cheap mic? Yes and no. A lot of it sounded great, but in certain registers Lukas can sometimes sound really powerful, and I guess the microphone made that sound harsh. So we spent a lot of time pulling back that harshness, often using the Waves C6 multiband compressor. Whenever I came back after having taken a break, there would be another C6 that Pilo had added! There were other plug-ins doing the same thing, but in the end it was all about one question: does it feel right? Other than the occasional harshness, this was one of the easier vocals on the album to mix. It was very consistent, which is key.
"The vocals go through the aux tracks underneath, and all the plug-ins are on those. The first insert has a Tube-Tech CL1B, and then there's the CLA76.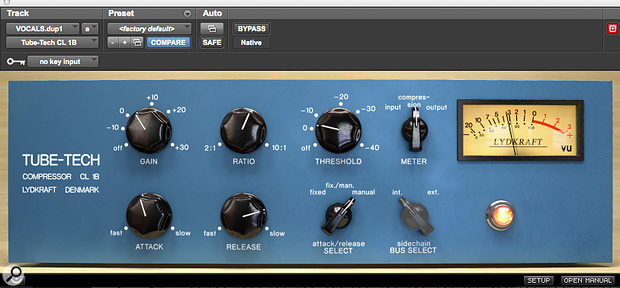 Delbert Bowers combined two compressors — a 'fast' 1176 emulation and a slower Tube-Tech CL1B plug-in — to achieve smooth vocal gain reduction.
These came from us listening to Rihanna quite a bit, and also Adele, and letting the transients go through and then quickly grabbing the vocal and pulling it down again. We played around quite a bit with the attack and release on the two plug-ins. Originally the vocal didn't have that attack. It was very linear, so to speak. Obviously everybody knows Tom Elmhirst uses two compressors, fast attack, quick release, so I dialled the Softube and CLA76 in with that technique in mind. After that there's the SSL Channel, just adding a little bit of top end and cutting out some of the harsh frequencies around 7kHz. Then there's probably the most over-used plug-in in the entire world, the Waves C4 multiband compressor, on the equally overused but very effective 'Pop Vocal' setting, and another C6, again Pilo trying to get rid of the harshness, doing a scoop at 2kHz.
To combat moments of harshness on the lead vocal, Waves' C6 multiband processor was extensively automated so that the frequencies of each band targeted different problem spots at different points in the song — sometimes even with different settings being used for individual words.
"We were going pretty overboard with the C6, and the thresholds are moving, sometimes per word.
So it would be like: this word sounds really harsh, let's automate the C6 to come in, and we would put on another C6 for a different section of the track.
There is a lot of automation on this song, not just volume automation, but plug-in automation as well. It is on everything. Once again, the vibe of the song is my guiding star, and Pilo is more focused on the minutiae, so we were constantly tweaking things. You can see reverb automation and delay automation that happens in the bridge section to create more intimacy. Reverb and delay have magical qualities to them. Many people use it for size, but I've always related to closeness. Used in the right way, you can make it feel as if the singer is your closest friend talking to you.
"The bridge still wasn't sitting right with me, because the timbre of the vocal changed here, and the only way I could figure out how to address this was to duplicate the vocal track and then re-stack the plug-ins from the ground up for the bridge section, instead of continuously adding more automation. Finally, the sends on the vocal tracks go to the green aux effects tracks, which have different types of reverb or delay, and to which music and vocal tracks were sent. The aux tracks that are marked 'dB' were added by me, the rest was done in production. I added a large hall reverb from Manny's reverb plug-in. It is a great plug-in that emulates some really high-end equipment."
Strings & sound effects: Slate VCC; Waves SSL Channel & Renaissance EQ; Avid EQ & Trim.
Bowers: "All strings go to the 'Strings All' bus, where they are all glued together with the same plug-in treatments, so they feel like a cohesive group. I again have the Slate Virtual Console, and the SSL Channel compressor, which is side-chained to the kick drum, so the strings duck out of the way of the kick drum a little bit. Other than that it was just rolling off some top end. The sound effect tracks are, from top to bottom, vinyl crackle that plays throughout, crowd noises of a large crowd that eventually shouts 'Lukas Graham!', the projector sound, a crash/hit, a ticking clock (this happens in many of the Lukas Graham tracks — the clock is a reccurring theme in the album), a weird effected string noise, and a piano interlaced with the reversed snare drum that happens in the spaces around what I call the verses in the track. The projector track has a +1.0dB Trim, and I take off 1.5dB at 500Hz with the Avid EQ3. Pilo added an REQ to the crash/hit track, doing a high-pass and adding 3dB above 800Hz, and I added 3dB at 8kHz to the clock using the SSL Channel, helping it to poke out more in the mix, plus there's an automated -4.5dB Trim before the final chorus."
Automation was also used extensively on the song's string tracks.
Stereo mix: UA API 2500; Slate VCC; Avid Trim; Waves SSL Compressor, Manny Marroquin EQ & L2; iZotope Ozone 5; Brainworx BX_hybrid v2.
Bowers: "As I mentioned earlier, all the musical instruments — bass, drums, keyboards, strings, sound effects — are routed to that 'Music' aux, which feeds my stereo bus, 'Input', just above it. I only have one plug-in on the 'Music' track, the UAD API 2500, which I added because Pilo and I wanted it to sound more street. We tinkered around with a few different plug-ins, and we finally settled on the API 2500, for the vibe and to glue everything together a bit more. The 2500 just gives me a bit of that raw heavy vibe.
"I have quite a few plug-ins on the inserts of the 'Input' stereo master track. VCC is the Slate Virtual Mix Bus, set to Brit 4k. Next is a Trim. I have found from working with Manny and on my own that sometimes the song gets so loud that the plug-ins can't function correctly any more. For example, you can't get the threshold low enough so that a plug-in compressor will work like a hardware compressor would. The Trim therefore knocks the entire mix down 6dB, which means that the plug-ins further down the chain can react more like their analogue counterparts. You also get a lot less distortion. For me this is the key to making the master bus work. I like distortion, but overloaded plug-in distortion is the worst type of distortion.
"The Waves SSL Compressor comes after that, set to 1-2 dB gain reduction, with a very fast attack and a medium release. It's not doing much until the song gets really big later on, right after the bridge. Then there's iZotope Ozone 5, which is set to a smiley EQ curve, nothing major, just 1-2 dB on each side. After that I have the BX_hybrid 2, but I don't use it for the EQ function, only for its Stereo Width knob. Most width plug-ins will tend to separate the middle, but this plug-in does a really good job of retaining the middle section, so you can pull the mix pretty far wide and still keep your middle. I normally keep the Stereo Width between 100 and 120. Modern mixing is all about being wide, with different styles requiring different types of width. '7 Years' is not a really wide EDM dance track, so I kept the width more gentle. It is still wide and modern, with a lot of top end, but it is not as wide as some other things out there today.
"Next is Manny's EQ, which is great! I love this plug-in because it EQs above 20kHz. In this case I add 2dB at 20kHz, and this helps the track relax a little bit; it helps it breathe. The session was 44.1kHz/24-but, but I can still hear the difference in the top end. It is probably more a Q function more than anything."
Pilegaard: "I remember from the time when I was playing computer games, that it was said that the eye could not distinguish more than 30 or 50 frames per second, but there is a major difference between playing a game with 50 frames per second, or one with 120 frames per second. I think it's a similar situation here."
Bowers: "After Manny's EQ I have a second Trim, which brings the signal back up 6dB to regain the 6dB that I lost at the beginning. Then I go through the Waves L2, which is set right up to the limit, zero. I come from the Manny Marroquin school of thought, which is to get the mix as loud as it possibly can be, so it is ready to be released when it comes out of mixing, even before mastering. The L2 is part of the sound of what modern records are about. Limiting is part of what people want to hear on their records. After the L2 there's a final Trim that boosts another 2dB. The L2 doesn't quite get it up to zero, and the more you pull the threshold down on the L2, the more crunchy it gets, and sometimes you can't pull it any lower, because it starts to add too much distortion."
Pilegaard: "Does that mean that you have your L2 at 0dB, and after that you are gaining to 2dB on the overall signal? So I guess that your peak level is 2dB over zero, so you're overloading the converters when the music is at maximum?"
Bowers: "That is correct. Part of the whole modern sound is how far can we go into the realm of distortion. That sound is part of what people want to hear on records now. You take that away and it just doesn't sound current. Also, when you do auditions for labels and your song is not louder than the reference mix, you won't get the job. Sometimes it is a painful job of making it overly loud, louder than it should be. But you can be loud and still have dynamics. Loud does not have to be bad, the problem is that people abuse it so much that everything is loud, and there are no dynamics. I'm not a fan of that. I like things to be loud, but I don't like everything crushed.
"Techniques can change, but loudness really is part of what people are listening to nowadays. There is distortion on everything, it is a matter of how much distortion. The plug-ins people use these days, in addition to an L2 knocking off about 3dB, are the FabFilter Pro-L Limiter or the L3, knocking off another 3dB. As soon as you put these plug-ins on a stereo bus it's instapop! But in this track, if you look at the volume automation on the 'Input' track, it stays at zero throughout the whole thing and then only in the hook after the bridge does it go up another 2dB. I don't think I hit above zero until that section after the bridge. I wanted that moment when the hook hits again to be massive. I love the song's video, because right at that moment there's a huge explosion behind Lukas. And I'm like: exactly! That is what I was going for, that explosion!"
It may seem odd for talk about mixing a ballad to be spiced with words like 'impact', 'street', 'overloading' and 'explosion', but this is 2016, and given the enormous success of '7 Years', Pilegaard and Bowers appeared to have had their fingers right on the pulse.
Delbert Bowers: "With most of the projects that I mix, there's no guidance. I'm given a reference mix and the session and then it is just a matter of: 'Do your thing.' It was similar in this situation, other than a conversation I had with Lukas during which I asked him what kind of music he thinks he's making, and he replied: 'Ghetto pop.' So I thought: 'OK, got it!' I kept that mentality on all songs: street with a little bit of grit to it, but there also being really polished elements, for example the vocals. Other than that I didn't talk much with the guys before the mixes about what they wanted done.
"As I already said, listening to '7 Years' the first time gave me chills, but it did not give me chills all the way through. So during the mix I really tried to make sure that this emotional impact happened throughout the entire track. At any point where it stopped giving me chills I had taken a wrong turn. So my main aim was to get the vibe of the song right all the way through. The song was already in a great place when it came to me. The vocals were probably the most difficult, most challenging aspect of this mix, because of the way they had been recorded. A lot of the processing we did on the lead vocal was very non-linear: we were really pushing it to the limit.
"The main thing I focused on to retain that goosebump feeling through the song were the dynamics. I just really wanted the hooks to soar, and spent a lot of time dialling them in, making sure they exploded. It gets more intimate during the bridge section, for example, and where it comes back full on, for the third hook [at 3:01], I wanted it to really explode. I spent a lot of time on building up to that moment. Until that point you feel like you're in a rollercoaster, and when you get to that moment, you're flying and the whole thing leaps out at you.
"Of course, I also paid great attention to the sonics, but because people today are listening with earbuds in trains and stuff, it makes no sense any more to approach a mix from a purely acoustic standpoint. The way people are listening today is so not about the sonics, it's about the vibe and the feeling. So I don't get too bogged down in technical details. I'm entirely focused on the sonics of the vibe, and not looking through the lens of the technical aspects any more. This is why when you look at my plug-in routing, you may wonder what's going on there. But we just added plug-ins as and when we needed them, while mainly focusing on the emotional content and intimacy of the music. Maybe the whole hi-fi thing is in the past now, but what has not gone out of the window is the emotional impact. That remains, whether you're listening to something recorded in the 1960s, or 1980s, or today. The sonics have changed, but the vibe still carries through."