Every possible action in Logic Pro that can be assigned to a key command can be found in the Key Commands menu.
Key commands can place even the most obscure Logic Pro features at your fingertips!
Audio‑related software has always made use of QWERTY keyboard shortcuts to streamline functions that might otherwise require a lot of mousing. These commands are wonderful things, of course, as they really help speed up operation and reduce the chance of getting mouse‑related repetitive strain injury. In the early days, however, they were usually limited to the stuff you might find in the menus in any music‑related program: save files, play, record and so on. Emagic, the creators of Logic, took another tack, enabling key commands not only for every menu item, but also for pretty much every procedure within the program — even if no menu item actually exists for that procedure.
What that means in practice is that over the years, Logic Pro's key commands armoury has expanded enormously, and it's easy to either get lost in, or just not bother with, exploring the options available. This is a pity, as setting up some crucial key commands can really make a difference to your everyday use of Logic Pro.
The Key Commands window can be found in the Logic Pro menu. Here you can assign commands to your physical computer keyboard and Touch Bar (if your Mac has one), or get them to respond to incoming MIDI messages via a hardware controller of some sort. You can save and load sets of key commands from the top‑left 'cog' settings icon (handy when using Logic Pro in another studio), and perform various reset, language selection, preset and printing activities here. You'll also see that you can display various subsets of key commands using the filters across the top of the screen.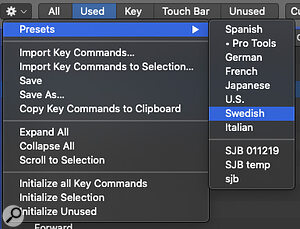 The Key Commands 'cog' menu lets you save and load your custom commands.If you select a filter and Command‑click on an arrow in the list in the window below, you can collapse or expand all of the key command 'menus', which really helps focus in on where you might want to search for useful commands. For example, if you are doing a lot of score work, you might want to explore the key commands available in that specific menu. It's quite a thing to watch an old hand create a score just using key commands! The place to find commands with no menu equivalent is in the Unused tab — though there are useful ones in most of the filter areas. If you hold the mouse over a key command, Logic Pro will let you know if it's only available as a key command or also as a menu item.
The Used and Unused filters are probably the most useful as they'll show you which key commands have already been assigned. You can assign or reassign them by selecting the command itself, clicking on the Learn button and pressing a key on your computer keyboard, Touch Bar...
You are reading one of the locked Subscriber-only articles from our latest 5 issues.
You've read some of this article for free, so to continue reading...
Log in - if you have a Subscription you bought from SOS.

Buy & Download this Single Article in PDF format

£1.00 GBP

$1.49 USD


For less than the price of a coffee, buy now and immediately download to your computer or smartphone.

Buy & Download the Full Issue PDF
Our 'full SOS magazine' for smartphone/tablet/computer. More info...

RECORDING TECHNOLOGY: Basics & Beyond
Claim your FREE 170-page digital publication
from the makers of Sound On Sound — CLICK HERE