Secrets Of The Mix Engineeers: Sean Donoghue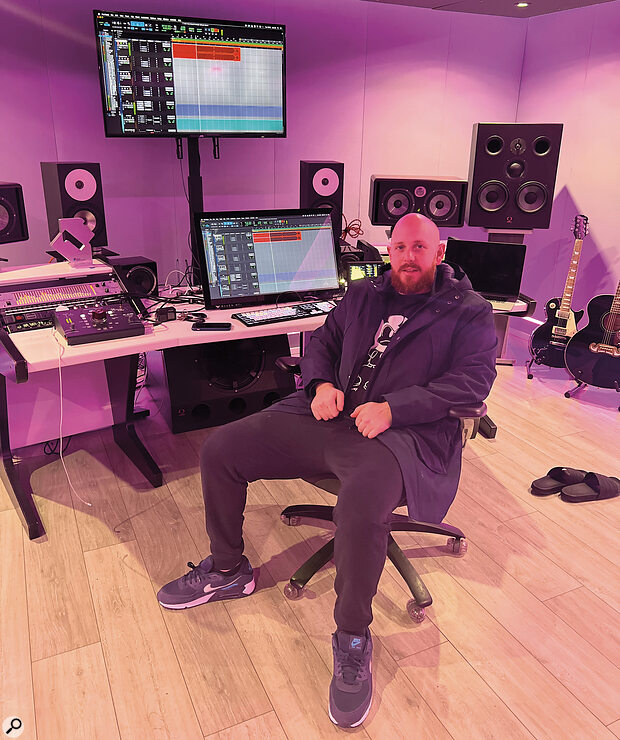 Sean Donoghue in his current studio.
Central Cee has taken drill music to the top of the UK album charts, thanks to some very fast work from mix engineer Sean Donoghue.
"When I first mixed drill, I realised that I had to break the rules a lot. If you follow the rules of how you normally mix, like with a hip‑hop record, you're not going to get that drill sound. To give the kick the power it needs in a drill song, to give it that bounce, you need to keep the sound raw and slam the shit out of it. I tend to mix with lots of buses, using gain‑staging to make sure I gradually increase the volume without red‑lining things. With drill, I had to throw that out of the window."
Sean Donoghue was, he says, "at the start of drill", and he has since become one of the leading mixers in the genre. His most recent achievement was a UK number one with Central Cee's second mixtape 23, on which Donoghue mixed 12 of the 15 songs. Better known as Sean D, Donoghue is also at the forefront of the UK grime and Afrobeats scenes and UK R&B in general, and has enjoyed silver, gold and platinum records. A year ago he started his own studio complex in London, Signature Studios, which has become a major hub for all said genres.
Central Cee's UK number one was a major achievement for the UK drill scene, as was the success of 23's main single, 'Obsessed By You' which was a UK number four. Both song and mixtape entered the top 10 in many other countries as well.
Although drill and trap are closely related, there are crucial differences, as Donoghue explains. "The main thing is that the kick leads in drill, and everything is based around that. With trap the 808 leads. With drill I will not low‑cut the kick at all, and instead I sacrifice the low end of the 808. With trap you low cut the kick and the 808 is everything. The new sound in UK trap is also characterised by distorted 808s, which comes from producers blasting the 808s so much in Fruity Loops that they distort, which gives you this kind of rumble feel. For me, it's another example of having to unlearn what you knew.
Central Cee."Another difference is that the vocals in UK trap stuff are all tuned, but with drill, tuning is rare, unless they sing rather than rap. On Central's album his vocals were tuned on just two songs, and sometimes the backing vocals were tuned. Drill really is all about the energy, and the vibe. Another characteristic element is all the effects in drill, like reverse reverb, or chop‑outs and stutters. All these little things are really important to the energy of the song.
"There is also the Afro scene, which you mix like more like a house record. It's more about pumping the bass and it's percussion‑led, with open hats, a smoother low end, and a lot of width. In general, mixing is a matter of trying to learn each genre. Mixing also is all about what the client wants, rather than about what you think the mix should sound like. I love dynamics, and prefer no distortion. But if the client wants me to push a mix, I will apply more compression, or push it more in the limiter, than I would normally do."
Learning about genres, and how to deal with clients, is something Donoghue has done for 13 years now. "I grew up in the Wood Green/Tottenham area of London and played guitar in a band as a teenager. I wanted to do something in music, and started working as a DJ on a pirate radio station. I saw some engineers at work, and started my own studio in a friend's garage. After a couple of years I created another studio in Enfield, and for seven years tried to build a career there as an engineer and later as a mixer.
"This studio wasn't very pretty, there were mice in the walls and my entire setup cost less than £500, with a self‑built PC, KRK Rokit 5 monitors and a Rode NT1A microphone. I was recording my friends, and realised I could smoke a lot of weed on the job and get paid at the same time. This was a lot better than a retail job! Everyone made a beat or two back then, and so did I, but I was more into engineering. I never had any kind of education and winged it the first five years. I literally did not know what I was doing for that time. I was watching tons of YouTube tutorials and reading a shitload of Sound On Sound! I learned on the job, with a lot of trial and error.
"I gradually managed to build a client base, and in 2014 I did a song called 'German Whip' by Meridian Dan featuring Big and JME, which went to number 13 in the UK charts. It was a big deal and kind of resurrected the grime scene. This more or less started my professional career, as I was now taken seriously. It was also a matter of being at the right place at the right time, and I worked with artists like Headie One, M Huncho and so on.
"After seven years at my Enfield studio I moved to Barcelona, where I had a studio for a while, and then I bought a flat in London where I built a studio in a spare bedroom. I also launched a label with a guy who runs weed cafés in Barcelona and Amsterdam, called The Plug Records, and we did quite well. After drifting between studios in London for a bit, I sold my stake in the record company and started Signature Studios, which opened in March 2021.
"It has always been my dream to have my own studio, and we have seven rooms here, including two rooms with recording booths. One room is my mix room, and there's an Atmos mixing room that we also use for live streaming. I'm trying to make it more of a cultural centre, a hub for the genres I'm involved with, rather than just a studio for rent. I also manage six producers, which makes sense, because I'm a mix engineer, and the producers are bringing in artists, so can we do everything under one roof. It's a whole new venture for me, and very different from all the years when I was a lone engineer!"
You are reading one of the locked Subscriber-only articles from our latest 5 issues.
You've read some of this article for free, so to continue reading...
Log in - if you have a Subscription you bought from SOS.

Buy & Download this Single Article in PDF format

£1.00 GBP

$1.49 USD


For less than the price of a coffee, buy now and immediately download to your computer or smartphone.

Buy & Download the Full Issue PDF
Our 'full SOS magazine' for smartphone/tablet/computer. More info...

RECORDING TECHNOLOGY: Basics & Beyond
Claim your FREE 170-page digital publication
from the makers of Sound On Sound — CLICK HERE