Apple Logic Pro Tips & Techniques
We explore some of Logic's lesser‑known features that you might easily have overlooked and wondered where to find them.
Logic Pro was designed to be a flexible and open‑ended piece of software. But with this flexibility comes complexity. It doesn't help that many of its features are not obvious in use and, while the basic functionality as a DAW is very easy to get your head around, getting to grips with (and finding) all the features you may find useful is very difficult — even reading the whole manual might not help!
In this workshop, we'll go through a few of these more obscure features, many of which I have stumbled across when trying to achieve something that's musically out of my comfort zone.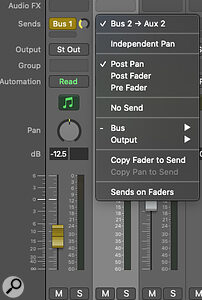 The Independent Pan option allows you to pan a source and its aux sends independently of one another.When you send a signal from a stereo track to a stereo bus, the signal panning matches the channel's settings. Sometimes this is not what you want — I'm very fond of having different effects in different places in the stereo image. I'd been setting up complex routing to achieve this before I had a Eureka (or D'oh!) moment and discovered that Logic Pro allows you to do just this right from a send itself.
If you choose Independent Pan from the Send menu, and then Sends on Faders, you'll see that the fader turns yellow. Now the pan control affects just the send and the yellow fader sets the send level. You can assign this to a Key Command to make swapping between these modes easier.
Logic Pro's MIDI features were second to none when the software was developed and while most of us have moved from using dozens of external MIDI devices to plug‑ins, there is a resurgence of interest in hardware instruments. Logic Pro's External Instrument Track can send MIDI information to external MIDI devices such as synths or hardware effects. Here you can choose the MIDI channel and port required to communicate with said instrument. However, to record the audio from that Instrument you'll also need to set up the audio inputs that the hardware is patched in to.
Ticking the Use External Instrument Plug‑in box allows you to define an audio input alongside a MIDI port when using external synths in Logic.For years I was creating extra audio tracks for these audio inputs, until I noticed that a little box named Use External Instrument Plug‑in had appeared. Checking this opens an extra audio input section where you can define both the MIDI connection and audio input for recording your hardware synthesizer.
You are reading one of the locked Subscriber-only articles from our latest 5 issues.
You've read some of this article for free, so to continue reading...
Log in - if you have a Subscription you bought from SOS.

Buy & Download this Single Article in PDF format

£1.00 GBP

$1.49 USD


For less than the price of a coffee, buy now and immediately download to your computer or smartphone.

Buy & Download the Full Issue PDF
Our 'full SOS magazine' for smartphone/tablet/computer. More info...

RECORDING TECHNOLOGY: Basics & Beyond
Claim your FREE 170-page digital publication
from the makers of Sound On Sound — CLICK HERE