Apple's new line-up of Cinema Displays feature a new anodised aluminium casing and are available in three sizes: 20-inch, 23-inch, and a new 30-inch model (above) offering a resolution of 2560 x 1600 pixels.
New Cinema displays, a new operating system upgrade, and a new iPod revision — all in this month's all-new Apple Notes column.
They say that size isn't everything. They probably weren't talking about computer displays, though, as demonstrated by the unveiling of Apple's new 30-inch Cinema display at the recent Worldwide Developer's Conference (WWDC) in San Francisco.
Apple's Cinema display line-up had long been both rumoured for and due a revision. The new models sport a redesigned enclosure with a slim, anodised-aluminium casing that has the advantage of not only making the displays look rather good — the old Cinema designs always looked a little aesthetically challenged standing next to the Power Mac G5 — but also makes it more practical to stand multiple displays alongside each other without huge bevels creating a large, annoying break between LCD panels.
The 30-inch Cinema display offers an impressive resolution of 2560 x 1600 pixels, which, according to Apple, is useful for displaying 126 Logic mixer channels at once. I wonder how many narrow-view Pro Tools channels that equates to? And, in addition to the 30-inch model, the new Cinema display range includes a (1920 x 1200) 23-inch model, and a (1680 x 1050) 20-inch model.
Getting back to the design of these new displays, the monitor itself is mounted on a stand that allows the screen to be tilted forwards and backwards, and this stand can be detached to enable a VESA-compatible (and matching aluminium) mounting panel to be attached, so that you can fix the Cinema Display to a variety of other surfaces. In keeping with the USB connections found on previous models, the new enclosure offers two USB 2.0 ports and two FireWire 400 ports.
One of the biggest changes in the new range of Cinema Displays is Apple's switch back to implementing a standard DVI interface instead of the proprietary ADC (Apple Display Connector) interface used on the company's displays for the last few years. One of the advantages of ADC was that the interface carried video, power and USB to the monitor in one cable, and although this isn't possible with DVI, the one-cable advantage isn't completely lost. There is still one cable that runs from the monitor, but it's effectively a snake that contains separate video, power, USB and now FireWire 400 connections. The new Apple Cinema Displays can be used with any computer with a DVI connection, which means that the market for DVI-to-ADC conversion is going to be drying up shortly...
The majority of DVI implementations on most graphics hardware available today, and every Mac sold up to this point, are based around the Single-Link standard, which officially supports a maximum bandwidth of 165MHz to give 1920x1080 at 60Hz (or 1280x1024 at 85Hz), even though most displays and graphics cards can usually push this to 1920x1200. Clearly, this wouldn't be enough to support the 2560x1600 resolution of the new 30-inch Cinema Display, which, instead, requires Dual-Link capable DVI graphics hardware.
Dual-Link DVI uses the same type of connector as Single-Link DVI (utilising all 24 pins instead of the 12 actually used by a Single-Link DVI signal), but, as the name suggests, carries two 165MHz signals for resolutions of 2048x1536 at 60Hz (or 1920x1080 at 85Hz). Obviously, Apple's 30-inch resolution is still in excess of these, which suggests the refresh rate must be more in the range of 50Hz.
As mentioned earlier, because all the DVI ports on current Macs are of the Single-Link DVI variety, anyone wishing to use a 30-inch Cinema display with a G4 or G5 Power Mac (Powerbook users are unfortunately left behind here) will need to purchase a new graphics card. Although there are many Dual-Link DVI-capable graphics cards available, Apple have worked with Nvidia to provide a version of the GeForce 6800 card for £449, which is actually the first time such a card has been available at this price point. However, even more interesting is that this card offers two Dual-Line DVI connections, which means you can actually hook up two 30-inch Cinema Displays for a total resolution of 5120 x 1600, or, as Apple like to point out, eight million pixels!
The new Cinema Displays are expected to be available in August and will retail at £999, £1549 and £2549 for the 20-, 23- and 30-inch models respectively. The Nvidia GeForce 6800 Ultra DDL graphics card costs an additional £449 for those purchasing a 30-inch display, and the VESA mounting panel costs £19.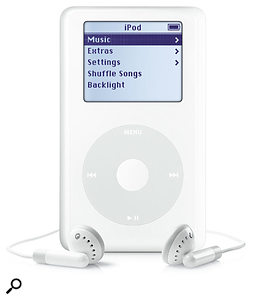 The fourth-generation iPod incorporates many of the ideas from the Mini iPod, in addition to offering improved battery life.With a suitably modest tagline — "the best just got better" — Apple introduced a fourth-generation (4G) iPod this month. The new iPod is a successor to 'the big white iPod' as opposed to the recently introduced Mini iPod. This fourth-generation device draws on many of the ideas first seen in the Mini iPod, such as the Click Wheel, which incorporates the iPod's navigation buttons into the touch-sensitive wheel previously used only for scrolling.
The 4G iPod is also marginally lighter and thinner, but perhaps the most welcome change will be Apple's attention to addressing the issue of battery life. Although the 4G iPods still don't offer as many hours of listening as some competitors, the increase from eight to 12 hours will certainly be welcome. Another interesting point about the new iPod is that it's now completely cross-platform, with both Firewire 400 and USB 2.0 connectivity straight out of the box. You can now also charge it from the USB 2.0 port, as well as the Firewire port.
The new 4G iPods retail at £219 and £299 for the 20 and 40GB models respectively. And while iPods are still more costly than some of the competitors, these new models do represent good value when compared to the previous generation, and really make you wonder whether this will reduce the previously high demand for the Mini iPods. For around £40 more the 4G model offers 16GB extra storage and four more hours of theoretical battery life in an enclosure that's hardly any bigger. Still, I think I might stick with my 3G model for a little longer...
As promised before the event, the WWDC also saw the first public demonstration of the next major release of Mac OS X, 10.4, or — to use the codename — Tiger, which isn't expected to be publicly available until sometime early next year. Although this year's keynote featured a brief demonstration of Native Instruments' Guitar Rig amp simulator, compared to last year's Logic/Mac vs. Cubase/Windows shoot-out, relatively little focus was given to music or audio. This also extends to the features demonstrated for Tiger, but although there were no direct music or audio-related announcements at this time, there are still operating system issues that will offer improvements to musicians and audio engineers when using Mac OS 10.4.
Hear it roar: Mac OS 10.4 Tiger offers new technologies for 64-bit memory addressing, image and video processing and searching. Here you can see a forthcoming version of Safari with RSS news-feed support, a new version of iChat supporting video-conferencing with up to three extra parties, and the Spotlight searching technology.Under the bonnet, Tiger features increased support for 64-bit memory addressing, allowing 64-bit applications running on the G5 to address vast amounts of virtual memory — 16 exabytes, apparently, or one million, million, million bytes. This will be great for high-performance computing, but hopefully it will also mean that audio applications such as Logic will now be able to address more of the total available physical memory for storing sample data, as an example, past the limit in Panther.
Tiger also introduces support for so-called Fat Binaries, which can simplify software distribution by allowing for an application to contain both 32-bit and 64-bit binaries, with the operating system executing the appropriate code. Long-time Mac users should remember a similar technique being adopted during the transition from 68k-based code to Power PC back in the mid-'90s. And, to assist developers in porting 64-bit code from other UNIX-based platforms, Tiger supports the LP64 programming model, which offers good interoperability between 32-bit and 64-bit environments.
Apple's preliminary information suggests that many low-level performance improvements can be expected in Tiger, but one specific improvement concerns optimised kernel resource locking. Such locking basically means that multiple processors can now access different parts of the kernel (the heart of the operating system) simultaneously, which will offer increased SMP (Symmetric Multiprocessing) performance, hopefully equating to improvements for applications that run audio-processing algorithms across multiple processors simultaneously, either on G4 or G5-based systems.
Apple's Core Audio technology, which handles all of the low-level issues of getting audio into and out of the computer, plus some processing issues, has been a success, as has the implementation of Audio Units, providing a way for developers to add algorithms that can bring extra functionality to any Audio Units-compatible host application. At the WWDC, Steve Jobs announced that Tiger will include similar technologies for digital image and video-orientated developers and applications. Core Image is a technology designed to make it easy for developers to work with image processing that's fully optimised to take advantage of the processing abilities of modern graphics hardware, without requiring specialist knowledge. Core Image offers a plug-in architecture known as Image Units, whereby third parties can develop image-processing algorithms to work with Core Image Applications, in a similar vein to Photoshop plug-ins, or, of course, Audio Units.
In addition to Core Image, Tiger also features Core Video, which does for moving pictures what Core Image does for still pictures: namely, provides hardware-accelerated video processing, to improve the performance of QuickTime video output by taking the strain off the main computer's processor). And, staying with the video theme, the keynote also included a presentation of the H.264/AVC (Advanced Video Coding) video codec (aka MPEG-4 Part 10), which offers higher-quality images at lower bit rates. Because H.264 is part of QuickTime, any QuickTime-based application can benefit from it — such as iChat AV. Jobs demonstrated a new version of this (which now supports video conferencing with up to three other parties simultaneously) at the WWDC.
The other new technology demonstrated for Tiger was Spotlight, a new way of searching for files and data on your hard drive and within apps. In the preview shown at the WWDC, a new magnifying-glass icon appears at the top-right of the menu bar. When clicked on, this displays a search field that uses metadata to trawl through data upon receipt of a search string. Conceptually, this works like searching for songs in iTunes — a comparison made by Jobs — but it doesn't only work for file names. Spotlight builds its metadata by context and can integrate with compatible applications, so if you're looking for all the information on your computer regarding a particular person, for example, Spotlight can pull together related files, emails stored in Mail, contacts stored in Address Book, and so on. It's a simple idea, but it seemed effective, and it will be interesting to see how third parties build Spotlight capabilities into their applications — especially if musically-useful metadata is incorporated.