Practical Tips & Techniques
Parallel processing while mixing is a common technique — so why not try it with your pedals when recording?
Back in SOS April 2021, I wrote a feature about mixing with guitar pedals (https://sosm.ag/mixing-with-pedals), in which I covered both how to hook them up and some reasons why you might bother to do so, as well as offering some examples. In some respects, this article follows on from that one, although it applies just as much to finessing your guitar sound when recording as it does to mixing. It's about the practicalities of applying to your guitar pedal chain some of the techniques we've all grown accustomed to when mixing in our software DAWs.
Most readers should, by now, be familiar with the idea of parallel processing while mixing. Basically, this is a technique whereby a signal path is split in two, and one path is then left untreated while the other is processed somehow, before the two are blended back together. Compressors and distortion/saturation processors are often used in this way, an approach which can raise low‑level details and/or add some colour to the sound while still retaining a sense of clarity — because whatever processing is applied, the transients in the dry signal emerge unscathed.
Other than using a wet/dry mix control on individual pedals, though, guitarists tend to shy away from this tactic, presumably because it's rather easier to set up the routing in software or on a mixing desk than it is on a pedalboard. Recently, though, I've been experimenting with ways to apply parallel processing techniques to my own pedal chain when I'm recording guitars. Initially, I was searching for a certain overdrive tone and just couldn't seem to achieve it with the effects I had to hand — a couple of pedals offered some nice characteristics but, when arranged in series, they either delivered too much drive or felt unbalanced — and I really wanted to dial in aspects of each pedal's sound without them influencing each other's behaviour. So I started to look at ways that I might combine the desirable aspects of the two by arranging them in parallel and, after meeting with success, I soon started to investigate other possibilities.
There are various products available for hooking up pedals in parallel and I started my experiments with an Old Blood Noise Endeavours Signal Blender. This is a simple but high‑quality device with a Clean channel and two send/return loops, labelled A and B. Each of the three channels has an on/bypass footswitch and level control, and each loop has its own polarity control. So it's really easy to audition or drop out specific pedals on the fly, and to set the desired balance. It's also pretty reasonably priced (£125$129).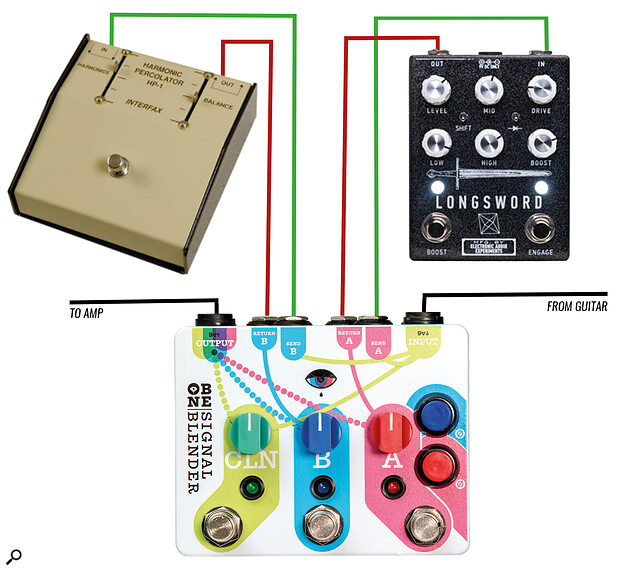 The Old Blood Noise Endeavours Signal Blender setup described in the main text, with two distortion pedals blended in parallel with the unprocessed signal.
The Signal Blender was perfect for executing my initial idea of blending two overdrives: I wanted to balance the thick, low mids from my Electronic...
You are reading one of the locked Subscriber-only articles from our latest 5 issues.
You've read some of this article for free, so to continue reading...
Log in - if you have a Subscription you bought from SOS.

Buy & Download this Single Article in PDF format

£1.00 GBP

$1.49 USD


For less than the price of a coffee, buy now and immediately download to your computer or smartphone.

Buy & Download the Full Issue PDF
Our 'full SOS magazine' for smartphone/tablet/computer. More info...

RECORDING TECHNOLOGY: Basics & Beyond
Claim your FREE 170-page digital publication
from the makers of Sound On Sound — CLICK HERE