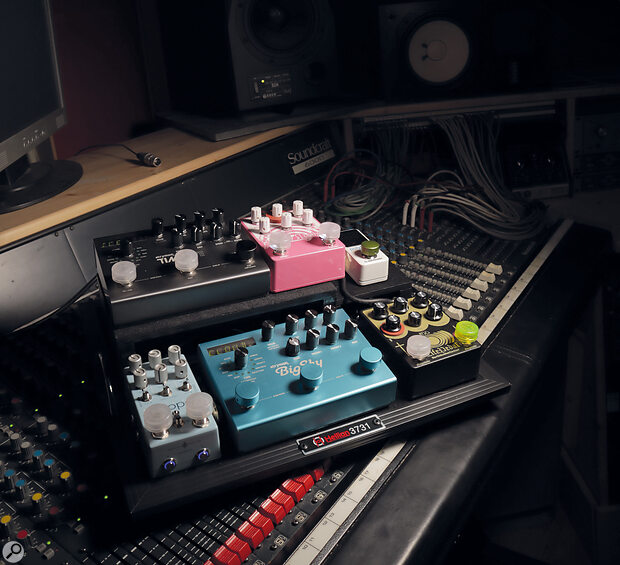 Why let guitarists have all the fun? Stompboxes can be inspirational mixing tools.
Over the last few years, despite having plenty of outboard gear and plug‑ins to choose from, I've increasingly found myself using guitar pedals while mixing. It started as a way to access specific effects that I couldn't find in software form, but my experiments have led me to realise just how much potential my pedalboard has as a mixing toolbox. In fact, so useful have I found pedals when mixing that I've developed an entirely new workflow to accommodate them.
In this article, I'll take you through what you need to know if you want to use pedals in this way, explaining how to hook them up and offering some examples of how I like to use pedals when mixing.
So what's the attraction of pedals compared with plug‑ins or rackmount gear? I still use both of those, of course, but pedals inject more excitement into the process because they give me immediate hands‑on control of all the essential parameters. There's no messing about with a mouse or configuring a MIDI controller and, unlike with rack gear, everything can be laid out in front of me. In fact, it's rather like performing with a synth. This fun, experimental approach can lead you to rewarding results when mixing on your own, but it can also be a great way to involve clients: chain multiple pedals together, invite the artist (maybe not the bass player!) to take control of one and you might just capture something wonderful!
Producer/engineer Joe Barresi uses pedals as part of his mixing process.I'm not alone in enjoying this way of working. In fact, some of the world's best‑known engineers, have been doing it for years. Joe Barresi (Queens of the Stone Age, the Melvins), for example, started down this road years ago, as he explained in a 2016 interview with pedal manufacturers EarthQuaker Devices: "Back in my early days it was out of necessity because you couldn't afford a $4000 Eventide Harmonizer, or a $6000 reverb, or whatever, so you bought a $50 guitar pedal and turned your volume down going into it. This was before reamps. We didn't know what reamps were. We just turned the signal coming off the tape machine down, or fed it off a send on the console."
But he found more to enjoy than keeping the costs low: "When you have a piece of gear in a rack, it tends to sit in the back of the room on a preset or two, but you don't really tend to play with it as much as you do when you're reamping with guitar pedals. That, to me, is definitely a more performance‑oriented way of making of music."
If you're new to using pedals in a mixing setup, you probably have questions about connecting unbalanced instrument‑level pedals to your audio interface. Googling for information might give you an idea, but there's plenty of misinformation out there, so I'll try to set that straight here.
First, note that, as when connecting any outboard gear to an audio interface, your interface must have at least three outputs, since you'll need two for stereo monitoring. I can't think of an interface with three outputs so, realistically, a two‑in, four‑out interface is the minimum requirement.
You can connect the output of the last pedal in your chain to your interface's high‑impedance (or 'Hi‑Z') instrument input, just as when recording a guitar/pedal setup direct. If your interface doesn't have such an input, you'll need a DI box between the pedal and the interface's mic input. Level mismatches are more of a problem at the other end, where the line‑level signals from a typical audio interface are much higher in level/voltage than the instrument‑level signal most pedals are designed to receive. Some digital pedals from manufacturers like Eventide and Strymon can be set to operate at line or instrument level, but really, you want the option to use any pedal. Creative distortion has its place, but feeding a full line‑level signal into a pedal that expects a much lower level will generally just sound bad. To avoid overloading most pedals, then, you need a way to turn down that signal.
Another potential issue is that professional audio interfaces are generally intended to work with balanced signals, whereas pedals have unbalanced inputs. In practice, most interfaces are happy working with unbalanced gear but it does depend on how their outputs have been designed, so it's a good idea to check the manual, to see if a specific type of cable is required.
If you intend to use pedals a lot, I strongly recommend buying a reamp box. These take care of the level drop and the (un)balancing for you...
If you intend to use pedals a lot,...
You are reading one of the locked Subscriber-only articles from our latest 5 issues.
You've read 20% of this article for free, so to continue reading...
Buy & Download this Single Article in PDF format

£1.00 GBP

$1.49 USD


For less than the price of a coffee, buy now and immediately download to your computer or smartphone.

Buy & Download the Full Issue PDF
Our 'full SOS magazine' for smartphone/tablet/computer. More info...