DIGITAL includes Web Site access + Full PDF download + Tablet app edition plus bonus Replica Digital Magazine** — and now works on Mobiles!
October 2023 Digital Issue
WEB ARTICLES
You'll always find the Latest Issue at www.soundonsound.com/magazine
LOG IN with your Digital Sub and get immediate access to our Web articles for 12 months via your browser.
Your DIGITAL Subscription** unlocks the very latest monthly Web site content, as well as our growing archive of more than 15,834 reviews, techniques, interviews and features.
LOG IN HELP: www.soundonsound.com/access-help-web-subscription
See also www.soundonsound.com/information/web-sub-faq
FULL ISSUE PDF
Go green! Download a full issue magazine in PDF format to keep/read on your computer, mobile or iOS/Android tablet device.
Includes all pages of the print magazine from cover-to-cover.
Only requires Adobe Acrobat, Apple Preview or compatible PDF reader.
Note: this product does not include any related audio or video content (that's what the main Tablet app is for) but does include links to them.
✅ WHERE TO FIND YOUR Full Issue PDF
TABLET & SMARTPHONE
v13.1 now works on most mobiles as well as tablets (iOS/Android).
12 monthly issues for you to download to your Tablet and/or Mobile for offline reading.
Experience the great enhanced content, including Audio examples in selected product reviews and technique articles, and direct links to online Video features.
Click through to each advertiser's website simply by tapping their advertisement.
Works on all iPads / iPhones with iOS 12 or newer and on compatible Android devices running 7.0+ OS.
Please install the "Sound On Sound App", available free on Apple App Store and Google Play stores, then download the free November 2020 issue to test device compatibility.
To use your SOS Tablet subscription, please make sure you have installed our free Viewer App for your device.
You can download this from the appropriate app store (just search for Sound On Sound under the Apps category).


TABLET LOG IN HELP: www.soundonsound.com/information/access-help-tablet-subscribers
See also www.soundonsound.com/information/tablet-app-faq
REPLICA DIGITAL MAGAZINE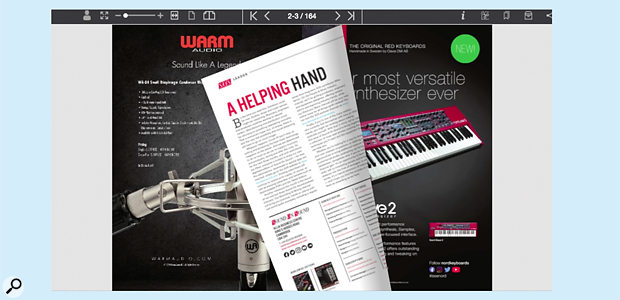 The page-turning Replica runs in your browser and looks like the full magazine.
Digital subscribers who bought their sub direct from our website will find the new edition added to your REPLICA MAG tab in My Account.
Non-subscribers can read this edition for FREE by signing up and claiming the Replica Digital Magazine on this page: www.soundonsound.com/digital-magazine
** Disclaimer: these are benefits of subscribing directly with soundonsound.com. Apple App Store or in-app subscribers do not receive these benefits, since we have no customer data supplied by Apple and we pay them commission, so SOS can only offer the extras when we receive 100% of the purchase price for the subscription, ie. you purchase your sub directly from our site.