Pushing microphone technology forward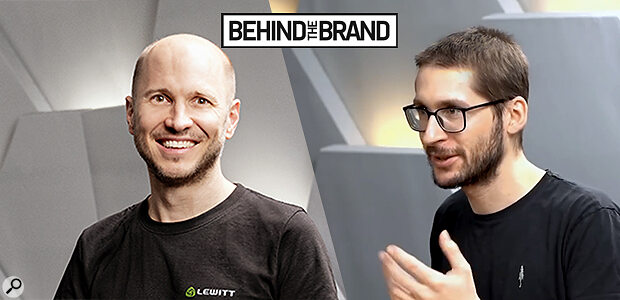 LEWITT Audio founder Roman Perschon (CEO) and Moritz Lochner (COO / Head of Product Management) chat to Hugh Robjohns about their approach to developing, innovating and engineering their range of home, studio and live microphones.
Chapters
00:00 - Introduction
00:30 - LEWITT Audio Beginnings
04:42 - Creating Unique Products
08:19 - Engineering Focused
09:34 - Circuit Control / Remote Control
11:37 - The LCT 1040 Microphone
13:35 - Working With External Engineers
14:25 - Expanding Into Other Areas
15:29 - The Electronics
16:28 - Industry Areas Needing Improvement
18:59 - Recording Environment Acoustics
19:56 - Company Expansion
23:29 - An International Team
27:12 - Development And Innovation
31:15 - The 10 Year Warranty
LEWITT Audio - Biog
LCT 1040 microphone systemDesigned and engineered in Vienna, Austria, LEWITT microphones set new standards in sound capture as a modern, innovative alternative to traditional technologies. Founded in January 2010 by entrepreneurial audio pioneer Roman Perschon, LEWITT is a dedicated and diverse team of audio experts with a passion for quality and in-house engineering capabilities to focus entirely on customers' needs. Today, LEWITT is considered one of the fastest-growing microphone brands with a diverse team of over 100 employees with offices in Europe, China, and the US. Each microphone model results from a consultative process including many of the world's most respected producers, sound engineers, and musicians — the growing worldwide community of audio enthusiasts who trust the sensational sound of LEWITT.
Roman Perschon, the CEO of LEWITT, studied Electronics and has been in the audio industry for 20 years. Twelve years ago, he founded LEWITT to push microphone design forward. Today, the brand is primarily oriented towards the user's needs.
Moritz Lochner, COO and Head of Product Management at LEWITT, studied Audio Engineering and gained experience in the studio, live, and broadcast fields. He joined LEWITT in 2015 and quickly evolved to a leading personality within the company.
Interviewer: Hugh Robjohns - Biog
Hugh Robjohns has been Sound On Sound's Technical Editor since 1997. Prior to that he worked in a variety of (mostly) sound-related roles in BBC Television, ending up as a Sound Operations Lecturer at the BBC's technical training centre.
He continues to provide audio consultancy and bespoke broadcast audio training services all over the world, lectures at professional and public conventions, and occasionally records and masters acoustic and classical music too!

About the People & Music Industry podcast channel
Listen to experts in the field, company founders, equipment designers, engineers, producers and educators.
Find more shows at SOS Podcasts
Available on Apple Podcasts, Google Podcasts, Spotify, Amazon or wherever you get your podcasts.