Stylish Class-A preamp uses Colour modules from DIYRE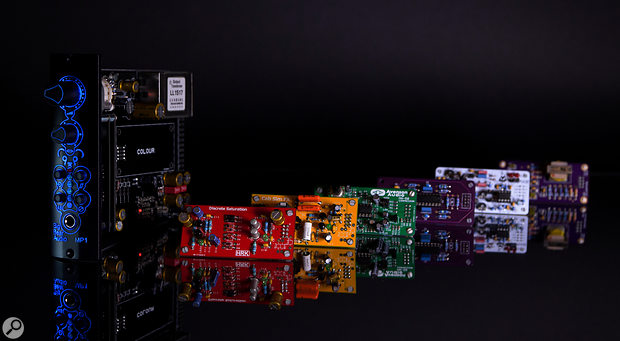 London-based manufacturers Big Bear Audio recently announced a pair of interesting 500-series mic preamps, the MP1 and the MP1+. The mic preamps themselves, which also offer a front-panel instrument input, operate in Class-A and are designed to be clean and quiet, but they each sport a slot to accommodate a Colour module — of which more below. The standard MP1 model uses highly regarded Burr Brown ICs to take care of the audio balancing, whereas the MP1+ sports a chunky Lundahl LL1517 output transformer and adds a stepped ELMA attenuator for more precise setting and ease of recall.
If you're not familiar with DIYRE's Colour format, you should check out the SOS review here, but the basic idea is that Colour is an open platform for manufacturers and DIY enthusiasts alike to create their own distortion and saturation devices. The commercially available pre-assembled modules are relatively inexpensive and the DIY versions even more so. Modules currently range from something as simple as a transformer that can be driven by the host preamp's gain stage, through a tape-machine emulation and a miniature tube amplifier, all the way to a full (albeit with limited controls) miniaturised 1176 FET compressor circuit. Replacing Colour modules requires virtually nothing in terms of technical skill — they just plug and unplug.
Big Bear say that these two products, which both come pre-assembled and are available now to pre-order at $399£369 (MP1) and $599£549 (MP1+) and will be shipping worldwide later this month, are only the first in a new range of audio products, so we'll be watching keenly for further announcements!
We caught up with Charlie Slee, founder of Big Bear Audio at the recent AES show.
http://www.bigbearaudio.com