H9 algorithm makes the jump to the DAW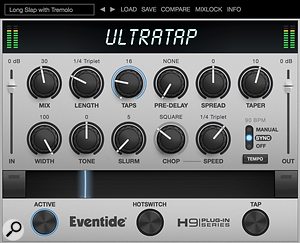 With the H9 Harmonizer, Eventide managed to design a guitar stompbox that may never become obsolete. Less a pedal than a DSP powerhouse, the H9 can be loaded with effects algorithms downloaded from an extensive library that Eventide are adding to all the time. Now one particularly popular effect is coming back the other way, as Eventide have decided to repackage the UltraTap delay as a very affordable DAW plug-in. 
Available for Mac and PC in VST, AU and AAX Native formats, the Ultratap plug-in is a sophisticated multi-tap delay line that promises a versatile range of effects. It provides up to 4 seconds of delay, with anything from 1 to 64 taps spread across that time. Pre-delay, Spread and Taper controls further dictate how these taps behave, yielding a range of swelling, evolving and rhythmic delays, while the unique Slurm and Chop controls can blur the repeats into a pad-like reverb or create glitchy, granular effects. Best of all, the Ultratap plug-in costs just $49 until September 5th ($79 thereafter).
Check out our quick overview from the recent Summer NAMM show in Nashville:
https://www.eventideaudio.com/products/plugins/delay/ultratap-h9-plugin