Compressor and EQ unveiled
Gainlab Audio are a new venture from Hungary, founded by engineers from the Budapest studio of the same name, and they've marked their arrival with not one, but two attractive outboard processors.
The Dictator is a dual-pentode variable-mu compressor, loosely based on the Fairchild 670 and Gates STA-Level, but with a few nods to modernity. Side-chain filtering can be engaged, at a range of frequencies between 22 and 200 Hz, and you can optionally link two units for stereo operation.
Compression itself is available in two levels of severity — the HiComp or LoComp modes — or you can bypass it altogether, and use the Dictator as a simple 'warming' device.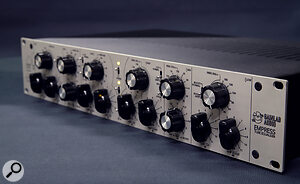 The Empress, meanwhile, is a dual-channel, Pultec-style passive EQ that likewise aims to combine classic sound with modern flexibility. To the EQP-1A's low and high bands, the Empress adds a third conventional mid band, with a standard cut/boost control. The High and Low bands, naturally, feature the separate and interactive cut and boost dials that made the Pultec so unique, but on both of those bands, you can choose to shift the relative frequencies of the cuts and boosts, for a wider tonal palette.
Both units are priced just north of €1200, and are due to start shipping from the end of January.
https://gainlabaudio.com/