Expandable up to 64 faders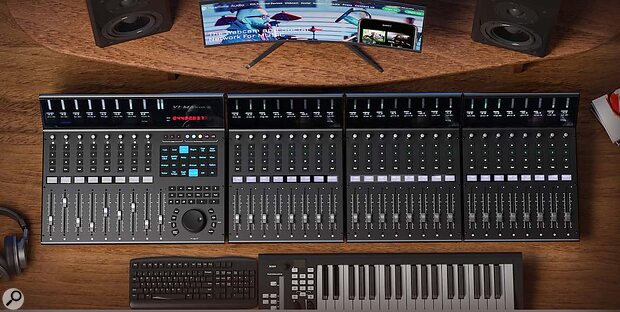 Icon Pro Audio have announced the upcoming launch of the V1-M and V1-X, a pair of new high-quality control surfaces that offer simultaneous control of up to three DAWs, and boast completely customisable layouts and plug-in control thanks to the company's iMAP software.
V1-M
The V1-M combines nine touch-sensitive motorised faders with 12-bit resolution with eight rotary encoders, mute, solo, select and record buttons, a customisable touchscreen display, a large jog wheel and transport section, and a meter bridge which offers a per-channel TFT display showing track names, colours and control values. The touchsceen display provides quick access to key DAW functions, and offers five colour-coded layers that allow users to switch between their most-used commands. A total of 120 functions can be assigned per DAW, and parameters on the display can also be paired with the unit's pan encoders, offering hands-on control over key DAW functions and plug-in parameters.
The jog wheel is based around an optical encoder, which allows it to offer a precise and smooth action, and also incorporates a push switch to allow users to quickly switch between its Scrub and Shuttle modes. Thanks to a Focus button, it can also be used to control parameters selected with the mouse on compatible plug-ins.
The unit connects to a computer via USB, and is compatible with a wide range of popular DAWs, including Bitwig, Cubase/Nuendo, Logic Pro X, Ableton Live and Pro Tools, and can be connected to any three at a time, making it possible to switch between sessions at the touch of a button.
V1-X
The V1-X then serves as an expander unit, offering an additional eight touch-sensitive motorised faders and rotary encoders, along with mute, solo, select and record buttons, and all of the same meter bridge and TFT screen features. Depending on the DAW, it allows a V1-M system to be extended up to a total of 64 channels.
Compatibility
The V1-M and V1-X are supported on PCs running Windows 10 or 11, and Macs running macOS 10.9 and above.
Pricing & Availability
The V1-M and V1-X will be shipping in December 2023, with pricing as follows:
V1-M: £1186.80 including VAT / €1307.81
V1-X: £970.80 including VAT / €1069.81
https://iconproaudio.com/product/v1-m/