Display multiple meters with custom layouts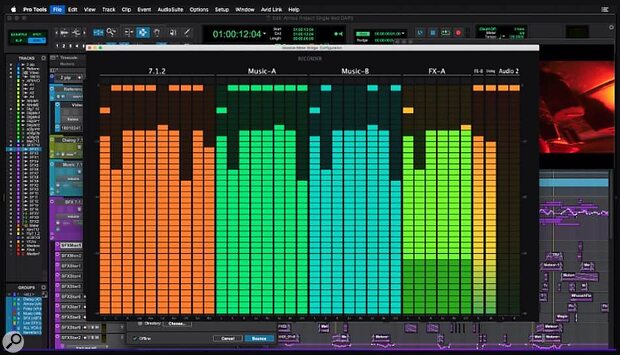 Evergreen Audio Design Group have released the Post Production Metering Suite, a software package which combines the Massive Meter AAX plug-in and Massive Meter Bridge desktop application, allowing users to view multiple meters from their Pro Tools sessions in a single, customisable view.
The Massive Meter plug-in offers Peak and RMS meter modes, and can be configured to display either gradient or segmented indicators. Each meter offers independent colouring, and the scaling can be customised to ensure users are able to focus on important ranges. Templates can be created to complement Pro Tools session templates, allowing for fast setup times, and configurations can be saved to match specific sessions.
The Massive Meter Bridge is capable of displaying multiple Massive Meter plug-ins, even if they are hosted on separate computers. No special hardware is required, allowing the suite to remove the considerable cost and complications that are often included with creating such a system. The nature of its operation also means that the plug-in can be connected to multiple instances of the desktop application, allowing large post-production facilities to configure custom metering views for each mix engineer.
The Massive Meter plug-in can be used on tracks of any channel format, and as many instances as needed can be used in a single Pro Tools system. The plug-in operates independently of the Massive Meter Bridge application and can also be used on its own. The suite provides one iLok-based license for the Massive Meter Bridge application, and four licenses for the Massive Meter plug-in, with additional licenses for the desktop application available for purchase separately, allowing the system to be expanded and facilitating multiple views of the plug-ins.
Compatibility
The Post Production Metering Suite and Massive Meter Bridge application are supported on Mac computers running macOS X 10.4 (Mojave) through to macOS 12 (Monterey). The Massive Meter AAX plug-in is compatible with Pro Tools 12 and above.
Pricing & Availability
Post Production Metering Suite is available now for an introductory price of $399 (usually $499), and additional licenses for the Massive Meter Bridge application are currently priced at $199 (usually $249). The introductory pricing for both products will end on 19 November 2022.
https://evergreenaudiodesigngroup.com/