Thunderbolt 3 Module also announced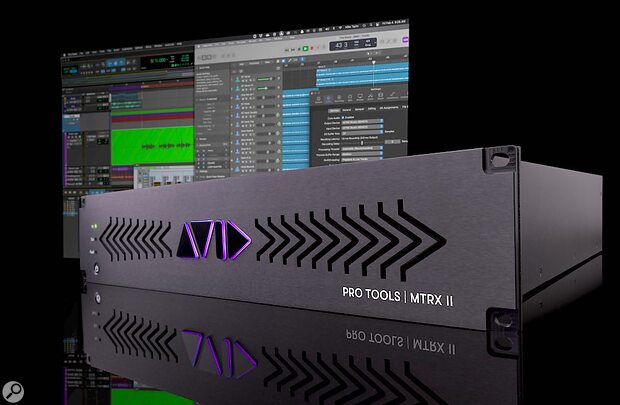 Avid have announced the release of their latest all-in-one audio interface, the Pro Tools MTRX II. Expanding on the capabilities of its predecessor, the device offers an expanded I/O count, larger routing matrix and extended immersive monitoring capabilities.
Alongside the release, the company have also announced the launch of a Thunderbolt 3 Module, allowing MTRX II and MTRX Studio interfaces to be connected to native audio applications on both Mac and Windows platforms.
MTRX II
Like its predecessor, the MTRX II is a modular interface which allows users to create their required I/O configuration using up to eight different expansion cards. In terms of analogue connectivity, eight-channel line-level input and output cards are available, along with two- or eight-channel cards that offer both line-level inputs and microphone preamps with relay-based gain circuits.
The base unit features a range of digital I/O as standard, offering 64 channels of DigiLink I/O, 256 channels of Dante, and 64 channels of MADI. This can be expanded further using a range of optional cards, with choices including 64 channels of DigiLink, eight channels of AES3, 128 channels of Dante, 128 channels of MADI and an option that adds 2x16 channels of Dual SDI / HD / 3G connectivity.
In addition to the main expansion cards, there is also a MADI Module which allows users to add an additional one or two 64-channel coaxial or optical MADI connections to the base unit, and the new Thunderbolt 3 Module.
The interface also boasts built-in SPQ processing, allowing users to calibrate their monitoring system and utilise adjustable delays and filters on a total of up to 128 channels, with up to 16 instances of filters available per monitoring channel.
The MTRX II's I/O can be configured using a variety of digital and analogue expansion cards.
Thunderbolt 3 Module
With the introduction of the Thunderbolt 3 Module, users are now able to connect an MTRX II or MTRX Studio interface to a native DAW system running on either a Mac or PC without the need for any HDX hardware, with MTRX II supporting channel counts up to 256, and MTRX Studio offering up to 64 channels.
For those who are already using a HDX setup, the card makes it possible to route audio between that system and another DAW over the Thunderbolt connection, allowing one DAW to be used for composition with the results being recorded into Pro Tools, for example.
Pricing & Availability
The Pro Tools MTRX II is available now, with pricing starting at $6999.
http://www.avid.com/products/pro-tools-mtrx-ii