Inventor of 303, 808 and 909 remembered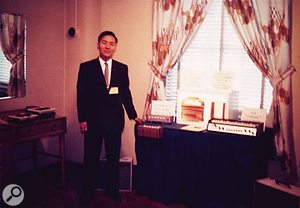 Ikutaro Kakehashi, founder of Roland, at the 1964 NAMM show with the Ace Electronics R1 and Canary.Reports confirm that Ikutaro Kakehashi, founder of Roland, Ace Tone and ATV has died, aged 87. The Japanese innovator has been credited for many iconic instruments that led to the birth of modern electronic dance music — including the SH-101, TB-303, TR-808 and TR-909. There's no doubt that Roland have had an enormous impact on all areas of music, though notably releasing the Jupiter 8, the Space Echo (integral to dub reggae), Boss guitar effects, the Jazz Chorus amplifier as well as pioneering playable electronic drum kits and sample-based synthesis.
Kakehashi founded Ace Tone in 1960, the company that launched the Rhythm Ace drum machines. In 1972 he founded Roland Corporation and was instrumental in forming the ubiquitous MIDI standard, along with Dave Smith.  
For a full history of Kakehashi's extraordinary influence during his Roland years, read part 1 of our five-part History of Roland feature, from 2004/5.
After retiring from Roland Corporation in 2013, Kakehashi re-entered the musical instruments business, founding instrument company ATV.
He had written two books, his autobiography titled I Believe In Music and another, early this year called An Age Without Samples. His influence cannot be understated and will continue to be felt for many years.
http://www.roland.com