Apple Logic Pro X Tips & Techniques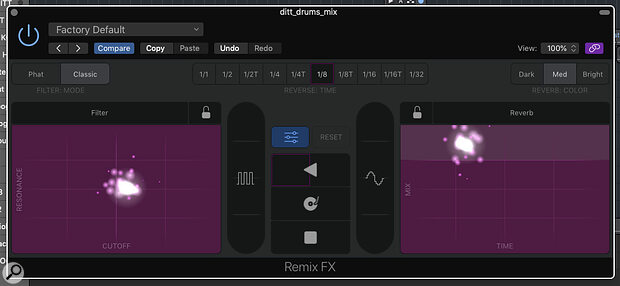 Logic's new Remix FX.
Remix FX brings together many of the real‑time audio processing tools available in Logic under a new streamlined single interface.
Version 10.5 of Logic Pro X introduced several new features designed with live performance in mind. Remix FX brings together many of the real‑time audio processing tools available in Apple's DAW under a new streamlined single interface. You'll find Remix FX in a Track's Specialized effects plug‑in menu.
The beauty of Remix FX is that more than one effect parameter can be controlled simultaneously. It features two Grids, and allows the values of two parameters per Grid to be changed by sweeping the mouse around. If you click on the name of the effect at the top of each Grid, you'll see the types of processing Remix FX offers.
Remix FX offers a choice of six different real‑time processors.It's probably a good idea at this point to click on the faders button in the centre of the plug‑in to reveal the extra parameters for each effect. Let's take the filter as an example. Two 'types' are available. Classic is a state‑variable filter with a slope of 12dB/octave, and the warmer Phat offers 24dB/octave low‑pass and high‑pass filtering. Both sound really nice, and you can adjust both Resonance and Cutoff controls at the same time. I've used this a lot to add interest to plug‑in synthesizers and drum loops — I mean, who doesn't love a filter sweep?
The Wobble effects runs the audio through a 'vintage' filter too, but it's the modulation rate and depth that the two axes control, creating an auto‑wah‑type effect, while the Time buttons set the Grid (note division, note division with an added triplet, or a triplet of the note division). I had a lot of fun with this and the Delay together, emulating the kinds of...
You are reading one of the locked Subscriber-only articles from our latest 5 issues.
You've read 20% of this article for free, so to continue reading...
Buy & Download this Single Article in PDF format

£1.00 GBP

$1.49 USD


For less than the price of a coffee, buy now and immediately download to your computer or smartphone.

Buy & Download the Full Issue PDF
Our 'full SOS magazine' for smartphone/tablet/computer. More info...