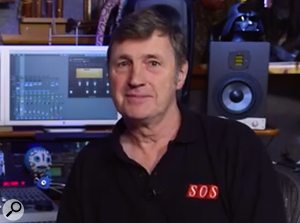 I've grown up with Apple computers and have a kind of love/hate relationship with them, as I suspect many of their users do. Although Macs are simply wonderful when they are working properly, on a bad day they can be just as frustrating as their counterparts. When my 2012 MacBook Pro decided to play up, I elected to see what I could do without spending a fortune. The machine had slowed down to London M25 rush-hour speeds, sometimes refusing to open windows or applications at all. When it was working, the Wi-Fi would drop out for no good reason and then display a message saying that the selected network could not be rejoined despite an apparently strong signal. Mmm, time for a clean install?
It could be a challenge getting hold of a Sierra or High Sierra installer as Apple have just upgraded to Mojave and removed the High Sierra installer from the App Store, and even I'm not rash enough to install a brand-new OS until I get the all-clear from everybody else who has. If you want to restore the operating system you had before, then you can use the Restore function but if you root around on the Apple website you can find legacy installers.
There are various instructions online on how to turn an installer into a bootable drive, but I didn't need to do that as I had previously made a bootable El Capitan USB drive. So, I booted from the El Capitan USB stick, reformatted the main hard drive after backing up stuff I wanted to keep, then ran a High Sierra installer I'd saved to a memory stick on a previous occasion. At first this seemed to do the trick, but after a short time the slow behaviour returned.
At this point I figured it must be the hard drive starting to die (though Disk Doctor didn't find anything wrong), which gave me an excuse to replace it with an SSD drive to see if that would improve matters. Changing the hard drive in a MacBook Pro is a five minute job (if you first watch the YouTube videos showing you how to do it), so in went a 500GB SSD drive. I formatted it using Apple's Disk Utility, then went through the whole OS install procedure again. And it worked — now the computer boots up in no time, windows open as if by magic, and it feels like a new machine. If you have an old MacBook Pro that needs a new lease of life, I'd definitely recommend fitting an SSD drive, and you can always restore from Time Machine if you don't want to do a clean install.
And the Wi-Fi issue? I changed the channel on my router and that fixed it. It must have been interference from one of my neighbours with a super-powerful BT box. Happy now? Nearly, but I still have to find out why my Time Machine drive unmounts itself without permission every few hours, causing the Mac to put up a message blaming me. How very dare it!