Dan Smith & Mark Crew: Producing Wild World
Cologne, March 2014: Bastille frontman Dan Smith lays down a keyboard part, in one of many impromptu sessions from the band's years on the road.
Like their debut, Bastille's Wild World was recorded in a South London basement — but this time around, the band were global superstars.
During the early months of 2013, innovative indie-pop outfit Bastille seemed to surge from nowhere to take the UK, USA and the Western world by storm. The band's catchy fourth single 'Pompeii', released in February, soared to number two on these shores and number five across the pond, while also denting Top 10 lists in 17 other countries. Debut album Bad Blood, which followed in March, likewise explored the upper echelons of charts across the globe, helping to establish Bastille as one of the biggest new acts around, and the four-piece duly claimed the British Breakthrough Act gong at the 2014 Brit Awards.
Since then, Bastille have hardly had a moment to draw breath, embarking on a life of incessant world touring and prestigious festival slots. Even so, the band still found time to record, mix and release a third mash-up 'mixtape' in 2014 as well as their second long player Wild World, which hit the shops just last month.
Wild World is arguably a more experimental proposition than Bad Blood, featuring more guitar lines, film samples and genre-hopping than its predecessor. Like Bastille's debut, the new record was co-produced by lead singer and songwriter Dan Smith and his long-standing studio collaborator, Mark Crew, who is often referred to as "Bastille's fifth member". The success of their first album meant Bastille could, no doubt, have worked with anyone they wanted to this time around, but Dan Smith emphatically rejected this idea, preferring to keep things in-house and organic. "We never pat ourselves on the back, ever," explains Smith. "We rarely talk about achievements or anything like that, but I remember there was a point when we were in America and one of our songs was doing really, really well and sitting high up in the charts, which is a place we never expected to be. The single was alongside songs that we love but which were produced by teams of people and written by double figures' worth of people, and yet we had the knowledge that everything we've done so far is basically between a maximum of five people. There's something really nice in that and how untampered the process is. We don't bang on about it but knowing ourselves that Bastille just literally comes from a handful of people is quite reassuring."
Originally, Bastille was a Dan Smith solo project, both in terms of live performance and recording, but Smith started recruiting band members around the same time he also met his future co-producer and engineer, Mark Crew, who went to college with Bastille drummer Chris 'Woody' Wood.
"Initially, I was doing solo stuff and it was me and a loop pedal live, which is obviously quite limiting," says Dan. "And because I used to record by myself and play by myself, I think there was a slightly pig-headed mentality of, 'I can do this on my own' — but then I discovered the joys of collaboration, which is what most people get pleasure out of in music. That's when Bastille expanded, and I met Mark through that process. I had sort of worked with a couple of other engineers before, but never really a producer. I like the idea of a working relationship where you can disagree quite a lot but also agree on a lot of stuff, in order to make something that references things that you're both interested in while also trying to sound like something new. When we met, Mark really helped me, because I'd always been trying to translate what was in my head, but I was not technically and musically able to."
Ever since they met, Smith and Crew have continued to develop their tag-team DIY partnership while recording, producing and shaping Bastille tracks in the studio. "I think, in that period, there were probably a few acts where a similar process became a way of working," says Mark Crew. "Obviously, there's loads of great bands that go into a rehearsal room and jam out a song and it's amazing, but there's also a lot of music now that is more of a laptop setup, where things can be a bit more experimental and you can incorporate other influences. It's interesting for me as well because, having recorded a lot of band setups, which I do really enjoy, this project in particular is a really good balance for the way production can be done nowadays. It's coming more from the geek side rather than the two of us being particularly good musicians.
"It's good to find a partnership where all the areas are covered between you, and you can bounce off each other. There's not really any limitation on what's possible, because we have the other guys in the band, or we know someone who plays a particular instrument and we can get them in, or it's in the computer. Like Dan said, we're on enough of the same page for it to work out. If you're working with a six-piece band and everyone's got a massively strong opinion and they're all pulling in different directions, it really can slow stuff down. A lot of people are working like this now, and it can be really good."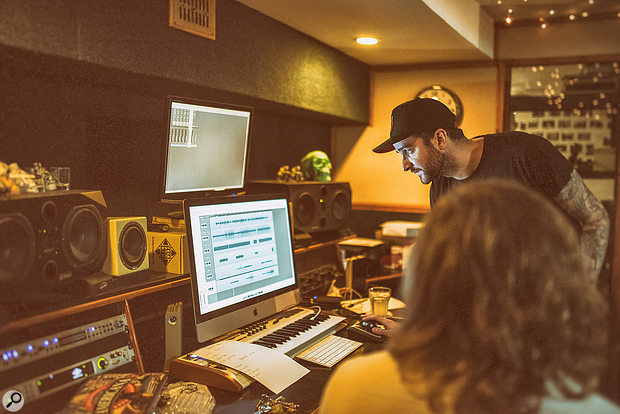 Mark Crew has engineered and co-produced both Bastille albums in his South London basement studio.
The band's different circumstances meant that the writing and production of Wild World didn't exactly follow the same path as that of Bad Blood. "With the first album, a lot of the ideas started with rough demos," explains Dan Smith. "Literally, it was GarageBand and then it became Logic and — at varying points of completion — I would take it to Mark, who's an amazing source of quality control. Then we'd work on ideas together, sometimes taking some MIDI programming that I'd done and making it sound better... but, more often than not, recently we've been a lot more collaborative on producing tracks from scratch. And often — on this album and previously — production ideas have kind of come alongside songs before they're necessarily finished."
"The first album was 99.9 percent song first, and then we'd expand on what might have been there," says Mark Crew. "Whereas Dan was a lot busier this time, so maybe there wasn't as much time to get songs finished before we started working on the production, so I guess — through circumstance more than a decision — there was a lot more messing about in the studio than there was on the first album. It's been a different approach, but then that's maybe why it's taken a bit longer, too."
Like its predecessor, Wild Wood was mostly produced and mixed at Mark Crew's small basement facility in South London. "My studio's a tiny little space," explains Mark. "It's got a booth big enough to do drums in it, but only just, and then we also can do vocals in there. And we just work on the computer, really. It's literally all in the box with a few keyboards and stuff out, but it's very, very basic."
This time round, however, additional material was brought in from a couple of sessions at The Pool in London, as well as various on-the-road recordings from locales as various as Berlin, Edinburgh, Manchester, Leipzig, Cologne and Buenos Aires. "We set up a little studio on the bus for about two weeks back in 2014, I think," recalls Mark. "They were really lucky to be playing mostly decent-sized venues on that tour, so we were always able to find a room somewhere but then, in the slightly smaller or more remote places, there was less promo and stuff to do so actually Dan had loads of time to kill during the day... so we were probably more productive in those places than we would have been in London where there's always stuff going on."
"It was brilliant, and a really, really creative time," adds Dan. "We made 'Two Evils' and wrote a song called 'Shame', that's on the long version of the album. There's a bunch of writing that happened there. And then there's a song called 'Four Walls [The Ballad Of Perry Smith]' on the record and there's this sprawling guitar solo at the end. Will, our guitarist, is like a lot of guitarists: the second he has one in his hand, he just will not stop noodling. At times, it's just frustrating and you just want him to shut up — in the most affectionate way I can possibly say that! But, I think we'd been listening to [Frank Ocean's 2012 album] Channel Orange quite a bit, and had made this quite sort of moody song that's essentially about Death Row and In Cold Blood by Truman Capote, and we wanted to have this guitar moment so I said to Will, 'Just let rip and go for it!' And that solo literally comes from the tour bus.
Another day, another show, another session in the tour bus: Bastille at work in Edinburgh, February 2014.
"That venue was in Germany, between some docks and a giant Primark warehouse. There's this huge venue hall and a superclub next door. It was such a memorable day, because it was pouring with rain and it was all grey outside, and I'm really happy that that sort of survived. It kind of adds to the collage feel of this record, of being able to pinpoint different places around the world and different times in which we recorded certain bits and did certain things. In the same way, we did the Lollapalooza Tour in South America last year and spent some time in a studio in Buenos Aires, and some of the songs, like 'Snakes' and 'Winter Of Our Youth', actually became clearer there."
"The songs breathed air," continues Mark Crew. "They're definitely not super-happy songs, but you can hear the difference between a raining German car park and a pretty, sunny Argentina!"
The sessions at The Pool in South-East London again involved the other members of Bastille: Will Farquarson (bass, guitar, keyboards), Kyle Simmons (keyboards) and Chris Wood (drums). Much of what was laid down was used further along in the mixing process, sometimes after varying bouts of creative tinkering and sonic manipulation.
Bastille: from left, Chris Wood (drums), Will Farquarson (bass, guitar, keyboards), Dan Smith and Kyle Simmons (keyboards).Photo: Wolf James
"We recorded loads of drum, organ, piano, guitar, bass, synth and keyboard stuff at The Pool," explains Dan Smith. "Part of our approach was we almost wanted this album to feel like a textured, sampled record, but with us making our own samples in a lot of ways."
"A lot of those sessions were almost performing the songs at a pretty finished level," Mark says. "A lot of them weren't dissimilar to how they've come out. We recorded loads of live instruments, and they had a really good selection of synths there, and we were running guitars through loads of fun stuff that we didn't have at the smaller studio to get certain sounds. When we got back, it wasn't just a case of 'Well, let's just put those things together and mix it.' There was quite a lot of kind of pretending that we had found a part on a multitrack of another song, and then messing with it and using it as a sample. A lot of the parts were used, but maybe it was about 50/50 of whether it was kept as it was recorded, or whether it ended up being quite mangled and chopped into new patterns.
"Towards the end, I think Dan realised that he'd also put most of the songs in quite a high key and it wasn't going to be ideal, but actually, it worked out quite well, because on the 'mixtapes' we did a lot of pitch-shifting of old strings or old guitars and stuff like that. So we went back through stuff that we recorded at The Pool and, by the time we'd changed its key or its tempo and messed with it, sometimes it sounded a lot cooler than when we'd started, so nothing was wasted in that sense."
Gear-wise, Mark Crew likes to keep things pretty simple during the recording process, bearing in mind that the pure sounds that are laid down initially are often subjected to radical treatments when Crew and Smith come to mix. "When we went on the road to record, I think we took a [Shure] SM7 just to get some vocals done, and I think we had a condenser mic with us as well for some vocals," explains Mark. "We took a pair of the smaller speakers that Genelec make, so we could actually plug them in on the bus, as well, and then we just had a MIDI keyboard and my laptop. Nothing fancy, but then the tour stuff was there too so that was quite good.
"At my studio, all the lead vocals would have been a Telefunken AK47 going into a [Universal Audio] 610. Outboard-wise, in terms of everything we've recorded, I've got some Neve pres and some Great River stuff. We've got some nice instruments and some nice channels to get in, and then everything is done in the computer. Recording-wise, it's always just a case of capturing it pretty well. There was a period where we were listening to a bunch of more indie-leaning stuff. We're both fans of the Killers and what Brandon Flowers was doing, but every time we tried to record the vocals with a cool mic or do something a bit more interesting with them, it just wasn't really working. So we used the AK47 across the first album and stuck with it for this one. We haven't tried many others.
Apart from Mark Crew's studio, the main 'proper' recording venue used for Wild World was The Pool in South-East London.
"Coming back to where we were wanting everything to sound like a sample when we were at The Pool, we always made sure we were recording 'rubbish mic' versions of stuff, and that got used quite a lot. We might have just had something like a [Shure SM] 57 pointing at the floor in front of the kit as well as all the fancy expensive stuff. And then, when we got back, we were like, 'Ooh, yeah, let's just use the one trash mic!' because we would have been excited if we'd heard that and wanted to sample it. It was cool when we went into The Pool because it was the only time we really allowed ourselves to play with some things. There were some really interesting synths but, again, it was a case of going, 'Oh... that thing that we liked which we sampled or that thing that we referenced that we really liked — they must have had this! Let's do some stuff like that!'"
One particular area of experimentation undertaken during The Pool sessions was an unconventional approach to creating percussive beats. "In at least two beats on the album, we used a whole load of pint glasses and cups and mugs and stuff, and sampled them," says Dan Smith. "We used a lot of the time at The Pool to just make our own samples and then go back and then use them to program. In the same way, with the first album, we really liked making beats with like weird leg-rubbing and trouser-rubbing. We were just trying to get those kind of rhythmic friction sounds. So [Wild World] is a big traditional album, with real drum kits and electric guitars and acoustic guitars and the grand piano that was there, but there's also quite a few found sounds."
The final song-shaping and mixing process for Wild World was neither the simplest nor speediest of tasks due to the huge number of sketches and wide range of recording material Dan and Mark had amassed during the course of the prior three years, but the pair certainly enjoyed the challenge.
"The pulling together of this album in Mark's studio, and being able to be in London for three months, was brilliant for me, as someone who'd been touring for three years," enthuses Smith. "We all live in South London, and the studio is in South London, so I was able to jump on my bike and go in there every day, or get the bus or whatever. We had such a wealth of stuff that we'd made, and we had to kind of self-curate it all and go back through things and self-sample and finish stuff off... and then realise that we've done seven versions of a particular song! It was a really healthy process, and I think there was a batch of five songs that came about from the writing in December that we had to start completely afresh, as well. Then also there was this wealth of stuff that had come from hotel rooms and tour buses. But, also, any time that I was back in London over the past few years, we were in the studio working on things. It was a very gradual process."
"Everything mix-wise is all the UAD plug-ins," says Mark. "With Dan's vocals, it's 1176 or Tube-Tech or Fairchild. It's like a traditional setup brought into the box."
As well as Bastille, Mark Crew and Dan Smith also work together on a number of other projects, including producing acts for their own independent record label, Best Laid Plans. Like all successful production partnerships, the pair enjoy a shared, overarching philosophy. "I guess, at the end of the day, we've got a lot of similar favourite projects or favourite albums and stuff," says Crew. "We both get really excited when someone does something really interesting and exciting, but it's also a really great song that you can sing in your head afterwards. Our end goal is always the same. We're not trying to push or test people with Bastille... but we always think how great it is when people really like a song but don't realise that it's actually quite weird underneath!"
"And that it's talking about something very obscure!", adds Dan Smith. "You know, our biggest song to date ['Pompeii'] is about ashy corpses and the aftermath of a volcano, and there's something — not in a mean way — but there's something quite funny about playing to 50,000 people in a field and they're essentially singing along to an imaginary conversation between two dead people. There's a slightly Trojan Horse element to being in this band. We're drawn to big melodies and we're drawn to choruses that are memorable and all that but, also, the songs are not about your everyday subject matter."
Bastille's second album Wild World features the guitar much more prominently than the band's debut, with 'Two Evils' and 'Blame' being particularly guitar-oriented. "With the first album, I can think of songs where I guess what would have been a guitar riff or a keyboard riff ended being a vocal line, because not having guitars and not leaning back on other instruments was like a mission statement for the first album," says frontman Dan Smith. "But, this time around, we wanted to step away from that. We wanted it to feel like a progression and a different album, and so that's why we incorporated guitars, which — for everyone else in the world — is completely bread and butter. For us, not having guitars last time around meant we could allow for them this time around, and we also wanted to make a feature of them when they were there.
"With 'Blame', we put the riff very front centre, but then we also mangled the guitar a bit so it could even be a synth. With 'Two Evils', I wanted there to be a quieter moment on the album, but that song would have very much been a piano on the first album because that's the instrument I can play. We forced ourselves into different textures with this album by using different instruments."
"For me, doing other stuff, the easiest way to make a chorus massive can be to have guitars in it," adds Mark Crew. "You just know how certain things work, but my references coming from listening to rock bands and stuff would have not been things Dan was into at all — but that was not the aim of that first record. We sampled a lot of guitar on the 'mixtapes' and I think Dan was like, 'Oh, actually, if it's a cool guitar and you chop this bit and reverse it, it can work really well.'"
"With the track 'Power', there's a guitar riff that leads into the chorus," Dan continues. "A few of the songs on the album were mixed by other people as well and I remember a mix of that song came back and I think they'd just kind of assumed, 'Oh, it's a band, let's make it rocky!' And our comments back to them immediately were like, 'No, no, no — that guitar was very much meant to feel like we had it originally!' We wanted it to sound like it was in a hip-hop track, where an old rock riff has been sampled.'"
A feature of Bastille's Wild World is its impressive string arrangements, achieved by layering just two players — violinist Gemma Sharples and celloist Verity Evanson — at Mark Crew's studio.
"We could have easily got a big string section and gone into a big studio and recorded them, but I think I prefer building things from small constituent parts rather than going and spending a day somewhere and you're kind of fixed with what you've got," explains Mark. "I mean there is an element of, at some point, you've got to man up and decide what the parts are going to be; but because they are mates of ours, we know we can just hang out for a couple of hours and then they can come back down the line if we need them. I think it works better for us to build things up that way."
A significant influence on the new Bastille album has been the almost continual batch of so-called 'mixtapes' that Mark Crew and Dan Smith have been producing since Bastille's early days. The most well known of these are the Other People's Heartache trilogy, the first two of which were released in 2012 and the third — VS (Other People's Heartache, Pt. III) — in 2014, a year after Bad Blood. The basic gist of the series was, in Dan's words, to "take other people's songs and other people's relationship breakdowns and reimagine them with our own music, and also nodding towards our love of film and my film geekery. Then it became about incorporating film soundtracks that we love, and scores, and reinterpreting stuff."
These 'mixtapes' can include clever mash-ups of everything from indie track guitar samples, classical string steals, R&B beats and dialogue clips from famous war movies, all aligned with sections of Bastille songs. The VS album also involved guest artists and collaborations with everyone from Haim to Skunk Anansie. "The mixtapes were definitely on our minds while this album was happening, because we really enjoyed making those, and really enjoyed how they came out," explains Mark Crew. "And they kind of got a good response and a lot of those tracks were played live and they went down really well. So that approach of thinking of the album as not just individual songs, but a complete flowing piece of work, definitely influenced certain decisions."
A case in point concerns the placing of 'Two Evils', the tremolo-drenched bluesy guitar ballad that is the seventh track on Wild World. "'Two Evils' has always been about where it was going to fit in and trying to use it most effectively to bring out the most of that song, but also what came before and after it," says Dan Smith. "I love the fact that the song that comes out of that is 'Send Them Off!', which has ridiculous horns at the beginning and this quote from this old '70s sci-fi film. It was very intentional to almost take the album to its biggest peak and then pull it back down, to make the most of this really quiet moment and then cut across it and go back out again."
A feature of Wild World's 14 tracks is Bastille's seemingly effortless genre-hopping, a product of Dan Smith and Mark Crew's love of contemporary hip-hop as well as their beloved film scores. "I think the revelation in this record came in realising that the thing that anchors everything and makes it our band is my vocal and the songwriting," explains Smith. "I felt quite liberated in realising that, outside of that three-and-a-half-minute or four-minute space we've got, we can do whatever the fuck we want! If that's a ridiculously massive string arrangement and a hip-hop beat, or if it's something that sounds like a live band or is a live band, or just a guitar and vocal — that realisation was quite liberating. And also, thinking about it, there was a reaction maybe from when we were making our first album, when we wanted to go off and make heavier rock stuff, and that comes across through a song we've got called 'The Draw', which came out with our first album [All That Bad Blood, the extended edition]. With this album, I think it's really obvious in 'Blame' and maybe a couple of others, but that was all from one period of time.
"There was also a much darker electronic R&B period, which would have made for an incredibly dark and different-sounding album, but moments of that did come through. There was also a renaissance in our love for cinematic-sounding stuff and the kind of hip-hop production that we're obsessed with.
More scenes from the road: from top, backstage sessions in Berlin, Leipzig and Manchester.
"Talking about this album, I have been referencing modern hip-hop, but mainly because there's a lot I admire about something like My Beautiful Dark Twisted Fantasy [Kanye West, 2010], in that there are no set parts for it, and it can go off on any tangent that it wants. It can bring in an old rock sample or there can be a reinterpretation of this or that and there can be loads of different production styles involved. Obviously, I don't want to draw any parallels whatsoever between us artistically or in terms of albums, but at the core, those albums have Kanye as the overseeing producer and the voice that runs the whole way through. Gorillaz work in a similar way as well. I love those albums by these artists who don't really give a fuck about particular styles or genres. It's just about a love of influences and a love of wanting to do your own thing and making it your own. That was where a lot of this album came from and it was really liberating."
"I really hope people can hear that," adds Mark Crew. "I don't think there's a lot of repetition across the album in terms of production ideas and, as Dan said, we realised that the vocal needs to be upfront, selling the song first and foremost, and that is the key, because it isn't an obscure project. It's not like we set up a drum sound and that's across the album or anything. I think Will has a real distinctive way of playing bass and the kind of melodies or riffs that Dan goes for can be distinctive. There's definitely stuff that threads it together, but there's some pretty drastically different productions on there and I think it all works. I just hope that comes across."
Published November 2016