Songwriting today is about collaboration, capturing moments of inspiration and polishing them 'til they shine. Blake Slatkin is a master of the art.
For most of October and November, 'Unholy' by Sam Smith and Kim Petras was the number one song in the world. The sparse, bass‑heavy nature of the arrangement, with influences from trap, combined with the stylised vocal melodies, make the rather unusual song more about attitude than emotive vocal performances. As such, it's a new direction for Smith, who had been known for, well, emotive vocal performances, usually in ballads.
'Unholy' was co‑written and co‑produced by seven people: Smith, Petras, James Napier (aka Jimmy Napes), Ilya Salmanzadeh, Henry Russell Walter (aka Cirkut), Omer Fedi and Blake Slatkin. Slatkin has also been involved in the writing and production of several recent big hit songs, including Lizzo's 'About Damn Time', Lil Nas X's 'That's What I Want', the Kid Laroi and Justin Bieber's 'Stay' and 24kGoldn and Iann Dior's 'Mood'. At the age of just 25, he's one of the world's leading songwriters.
Talking of how 'Unholy' came to be, Slatkin says: "Sam is one of my favorite artists and voices of all time. The first time we worked together it was so easy and natural in a way that felt like we had been working for years. Sam had the idea of going to Geejam Studios in Jamaica and working on their album while different collaborators came and went. I spent the week with Sam, Ilya, Cirkut, Omer Fedi and Jimmy Napes, and we barely left the studio. It was very cool to make music in such a different environment. We had planned to be working in different rooms, but all of us are really close, so we decided to make music together in the main room and make it feel like one big party.
"When we came up with the idea that became 'Unholy', it felt crazy to us, but in the most fun way. It was so different, but in the moment, none of us thought twice. Everyone was shouting out melodies, lyrics, or things like 'Put that sound there!' or 'Let's have an 808 and a bass on top of each other.' We all trust each other, so trying all of our crazy ideas never felt unnatural. It was pure creativity."
Because there were several production drafts and lyric and melody changes, getting the song right took several months. Petras added a verse, and, recalls Slatkin, "We finished the song at Capitol Studios. They have one of the best‑sounding rooms I've ever been in. One of the engineers there said, 'You guys should try running some stuff through the Fairchild.' The one in that room has a magic to it. It adds harmonics in a way that gives everything you send to it more life and excitement."
When Sam Smith presented the song to his management and label, they initially had no idea what to do with it. The singer explained in a recent radio interview: "My team was like, 'What is this?' They were confused. They were like, 'What is the brand? What are you trying to do here?' This is not 'Stay With Me'. I said, 'I'm the brand.' Just like my gender really, I can be anything. I can sing anything I want to. And I want to lean into that with my genres."
Slatkin comments: "All props have to go to Sam. For an artist that big to have the courage and commitment to put out a song like that, and tell their label, 'I don't care what anyone says, this is my single,' makes Sam the once‑in‑a‑generation artist they are. It's the coolest thing that it paid off and became such a huge hit. I hope it shows other artists that you can take risks and be rewarded for it. Honestly, even if it had not done this well, I would still be so proud to have been part of something that was so outside the realm of what people expected from Sam."
Although the song itself is unusual, the process behind 'Unholy' is fairly typical for Slatkin: writing quickly and collectively with a group of friends, before spending many months finishing the song, working mostly in the box. Most of the other songs mentioned were written in this way. You could see this as evidence for a stereotypical view of modern pop songs being written in conveyor‑belt mode by committee, but Slatkin sees it very differently.
Blake Slatkin worked with fellow writer and producer Ricky Reed to help create Lizzo's monster hit 'About Damn Time'."My process is getting together in a room with people who I'm a fan of, and making something we all love. It's a collaborative process that happens in the moment. It's like a modern version of being in a band. What's really cool for me is that I get to be part of so many different bands. Like with 'About Damn Time' I had been working for a while with Lizzo and we had our own sort of band going. But I'd never worked with her and Ricky Reed together. She and Ricky have such an amazing collaborative relationship, so joining in on their process was super‑exciting. I get to wear different hats than when we work with other collaborators."
Ricky Reed described his experience of working with Slatkin on 'About Damn Time' in the November issue (www.soundonsound.com/people/ricky-reed-producing-lizzo). Slatkin recalls the same session thus: "Ricky and I were in the studio, working on a different idea, and I was just messing around and played some chords on the piano. Ricky suddenly was like 'That's it!' and I thought, 'Really?' From there we made the chords of the whole song. Ricky then picked up the bass and hit that bass line, and I was like 'Oh my God we have something!' Lizzo heard it, loved it, and laid down her ideas. It was like a performance. It's so impressive watching an artist like her create.
"After that, Ricky, Lizzo, Theron and I spent months and months getting the song and production perfect. All of us knew 'About Damn Time' was special, and we were very serious that every lyric had to be exactly what she wanted to say, and every melody had to be exactly perfect. We had an entire horn section come in to play just two notes! We made that song in many different places. We went to the Village to record a specific piano that Ricky loved, we went to Westlake because we love the energy and we love being in the Thriller room, and to a few other studios that Lizzo loved."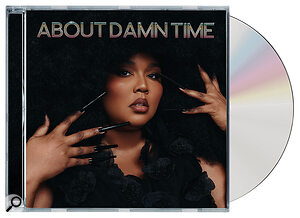 According to Slatkin, every person in each ad hoc 'band' brings out different things in the others, but because of his focus on the collective band mentality, he's reluctant to elaborate much on exactly what each person contributes to the process. "I don't like to talk about how this person did this and that person did that, because I love making music in a way where no‑one's thinking about that. I don't want anyone to focus only on what they think they are there for. The best idea always wins; we all simply want to make the best song...
You are reading one of the locked Subscribers-only articles from our latest 5 issues.
You've read 30% of this article for free, so to continue reading...
✅ Log in - if you have a Subscription you bought from SOS.
Buy & Download this Single Article in PDF format

£1.00 GBP

$1.49 USD


For less than the price of a coffee, buy now and immediately download to your computer or smartphone.

Buy & Download the FULL ISSUE PDF
Our 'full SOS magazine' for smartphone/tablet/computer. More info...

RECORDING TECHNOLOGY: Basics & Beyond
Claim your FREE 170-page digital publication
from the makers of Sound On Sound — CLICK HERE