Songwriting today is about collaboration, capturing moments of inspiration and polishing them 'til they shine. Blake Slatkin is a master of the art.
For most of October and November, 'Unholy' by Sam Smith and Kim Petras was the number one song in the world. The sparse, bass‑heavy nature of the arrangement, with influences from trap, combined with the stylised vocal melodies, make the rather unusual song more about attitude than emotive vocal performances. As such, it's a new direction for Smith, who had been known for, well, emotive vocal performances, usually in ballads.
'Unholy' was co‑written and co‑produced by seven people: Smith, Petras, James Napier (aka Jimmy Napes), Ilya Salmanzadeh, Henry Russell Walter (aka Cirkut), Omer Fedi and Blake Slatkin. Slatkin has also been involved in the writing and production of several recent big hit songs, including Lizzo's 'About Damn Time', Lil Nas X's 'That's What I Want', the Kid Laroi and Justin Bieber's 'Stay' and 24kGoldn and Iann Dior's 'Mood'. At the age of just 25, he's one of the world's leading songwriters.
Talking of how 'Unholy' came to be, Slatkin says: "Sam is one of my favorite artists and voices of all time. The first time we worked together it was so easy and natural in a way that felt like we had been working for years. Sam had the idea of going to Geejam Studios in Jamaica and working on their album while different collaborators came and went. I spent the week with Sam, Ilya, Cirkut, Omer Fedi and Jimmy Napes, and we barely left the studio. It was very cool to make music in such a different environment. We had planned to be working in different rooms, but all of us are really close, so we decided to make music together in the main room and make it feel like one big party.
"When we came up with the idea that became 'Unholy', it felt crazy to us, but in the most fun way. It was so different, but in the moment, none of us thought twice. Everyone was shouting out melodies, lyrics, or things like 'Put that sound there!' or 'Let's have an 808 and a bass on top of each other.' We all trust each other, so trying all of our crazy ideas never felt unnatural. It was pure creativity."
Because there were several production drafts and lyric and melody changes, getting the song right took several months. Petras added a verse, and, recalls Slatkin, "We finished the song at Capitol Studios. They have one of the best‑sounding rooms I've ever been in. One of the engineers there said, 'You guys should try running some stuff through the Fairchild.' The one in that room has a magic to it. It adds harmonics in a way that gives everything you send to it more life and excitement."
When Sam Smith presented the song to his management and label, they initially had no idea what to do with it. The singer explained in a recent radio interview: "My team was like, 'What is this?' They were confused. They were like, 'What is the brand? What are you trying to do here?' This is not 'Stay With Me'. I said, 'I'm the brand.' Just like my gender really, I can be anything. I can sing anything I want to. And I want to lean into that with my genres."
Slatkin comments: "All props have to go to Sam. For an artist that big to have the courage and commitment to put out a song like that, and tell their label, 'I don't care what anyone says, this is my single,' makes Sam the once‑in‑a‑generation artist they are. It's the coolest thing that it paid off and became such a huge hit. I hope it shows other artists that you can take risks and be rewarded for it. Honestly, even if it had not done this well, I would still be so proud to have been part of something that was so outside the realm of what people expected from Sam."
Although the song itself is unusual, the process behind 'Unholy' is fairly typical for Slatkin: writing quickly and collectively with a group of friends, before spending many months finishing the song, working mostly in the box. Most of the other songs mentioned were written in this way. You could see this as evidence for a stereotypical view of modern pop songs being written in conveyor‑belt mode by committee, but Slatkin sees it very differently.
Blake Slatkin worked with fellow writer and producer Ricky Reed to help create Lizzo's monster hit 'About Damn Time'."My process is getting together in a room with people who I'm a fan of, and making something we all love. It's a collaborative process that happens in the moment. It's like a modern version of being in a band. What's really cool for me is that I get to be part of so many different bands. Like with 'About Damn Time' I had been working for a while with Lizzo and we had our own sort of band going. But I'd never worked with her and Ricky Reed together. She and Ricky have such an amazing collaborative relationship, so joining in on their process was super‑exciting. I get to wear different hats than when we work with other collaborators."
Ricky Reed described his experience of working with Slatkin on 'About Damn Time' in the November issue (www.soundonsound.com/people/ricky-reed-producing-lizzo). Slatkin recalls the same session thus: "Ricky and I were in the studio, working on a different idea, and I was just messing around and played some chords on the piano. Ricky suddenly was like 'That's it!' and I thought, 'Really?' From there we made the chords of the whole song. Ricky then picked up the bass and hit that bass line, and I was like 'Oh my God we have something!' Lizzo heard it, loved it, and laid down her ideas. It was like a performance. It's so impressive watching an artist like her create.
"After that, Ricky, Lizzo, Theron and I spent months and months getting the song and production perfect. All of us knew 'About Damn Time' was special, and we were very serious that every lyric had to be exactly what she wanted to say, and every melody had to be exactly perfect. We had an entire horn section come in to play just two notes! We made that song in many different places. We went to the Village to record a specific piano that Ricky loved, we went to Westlake because we love the energy and we love being in the Thriller room, and to a few other studios that Lizzo loved."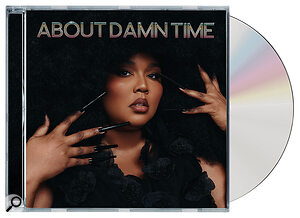 According to Slatkin, every person in each ad hoc 'band' brings out different things in the others, but because of his focus on the collective band mentality, he's reluctant to elaborate much on exactly what each person contributes to the process. "I don't like to talk about how this person did this and that person did that, because I love making music in a way where no‑one's thinking about that. I don't want anyone to focus only on what they think they are there for. The best idea always wins; we all simply want to make the best song possible. My role is different every time. Sometimes it's only writing lyrics, sometimes it's only writing melodies, sometimes it's only being on the computer, sometimes it's all of those combined. Bar a few exceptions, I tend to be the one at the computer. I'm very particular about vocals, so I like to be able to record and comp."
Slatkin's predilection for being hands‑on at the computer and doing lots of the engineering and mixing has its roots in his love of music technology, and his discovery of a certain music technology magazine in his formative years. Originally from Los Angeles, Slatkin started out playing the guitar, but it soon became apparent that making music was about much more than that for him. "While still at school, I joined all the jazz bands and played live a lot, and I was super into gear and pedals and stuff. Then I found out what a producer did, and initially I didn't even believe that such a job existed. You can work with all your favourite artists making all these different types of music? I immediately realised that it was what I wanted to do with my life.
"I was 15 when I found Sound On Sound, and a whole world opened up for me. I was like, 'Holy shit, I have so much to learn!' I used to read the magazine religiously. I'd read articles like 15 times and cut them out! I still read the magazine avidly, and am super‑honoured that you guys are interviewing me.
"When I was in high school, I would also host parties and charge kids to attend them, and from that money and from bar mitzvah money I saved I bought my studio gear. I think the first things I bought were KRK Rokit 8 monitors, a small Universal Audio Apollo, and a Steven Slate modelling mic. I still have and use all of them. Then I just started making music with my friends and anyone who would work with me."
Slatkin highlighted how the changes in music technology and music culture have made it possible for budding engineers and producers to learn from the top people. Decades ago, studio professionals were reluctant to share what they regarded as their professional secrets. Today it's a completely different world. "In addition to reading Sound On Sound, I of course spent a lot of time on YouTube, and watched things like Pensado's Place. There are so many resources for young producers, I think it's the coolest thing in the world. It's amazing to have all these tools, and the secrets of how to use them, immediately available to everyone. But I think the smartest people realise that it's not the plug‑in setting that makes a hit. Your exact setting on the Soundtoys Decapitator may be important, but it's not what makes a great song."
Moreover, despite the wealth of know‑how that is now available at the press of a button, there clearly is still no substitute for being in the same room. "I was a huge fan of Benny Blanco and really wanted to work with him," recalls Slatkin. "One day I saw him on Instagram in the back of a picture posted by someone I knew. I begged them to introduce me to Benny and I eventually got to meet him and ended up becoming his assistant. That was the best teaching you can get. I learned a lot from that."
Blanco is one of the most successful songwriters/producers of his generation, and has been involved in hits for everyone from Justin Bieber to Ed Sheeran, and also has a career as an artist. Slatkin spent a couple of teenage years at Blanco's side before he dared to play his boss his own material. Half a year later Blanco had arranged a publishing deal for Slatkin with Universal Music. It led to Slatkin working with Omar Apollo and having track placements with Rod Wave and Lil Tecca.
Slatkin went to New York at one point to study music at New York University, but dropped out fairly quickly and returned to LA, where he was involved in countless writing and production sessions. Artists he worked with included Gracie Abrams, Melanie Martinez, and Juice Wrld. "I was doing session after session, sometimes two sessions a day, just trying to find that kind of magic."
I hate rooms that feel very dead. I wanted the studio to feel like a living room, so it was very important to me that we kept it live enough. Studios that are completely dead feel like a mental asylum.
For many years, Slatkin conducted most of his sessions from a studio located in his mother's house in LA. "It was the best vibe at my mum's. Some of the biggest artists in the world would walk through the door, and my mum would say, 'Hey, you guys want snacks?' It made everyone feel very comfortable. One week before everything went into lockdown because of the pandemic, I met Omer Fedi, KBeaZy and 24kGoldn, and we had an amazing session. Then everything closed down, and within a few weeks we thought, 'What are we going to do?' And then we were like, 'We got to make some music.' Omer and Goldn were in an Airbnb, and because I was scared of them picking up the virus in an Uber, I would pick them up and drive them back to my mum's house. That's when we made 'Mood', which was my first big song."
24kGoldn and Iann Dior's 'Mood', Justin Bieber and the Kid Laroi's 'Stay', Lil Nas X's 'That's What I Want' and the Kid Laroi's 'Without You' were some of the bigger hits that were made in part at Slatkin's mother's home. The songwriter emphasises again that feeling comfortable in a home environment is an essential ingredient of making great songs.
"Making music has always been about working with my friends for me. It's just people coming over. One Sunday in 2021, Omer, Charlie Puth and I were just hanging out at my house, and Laroi texted me saying he was coming over. We ended up writing 'Stay'. There was no manager telling us to get together at 1pm. It just happened, because we like to hang out. Being comfortable like that is so conducive to making amazing music.
"I don't want to feel pressure when I'm working. That's why I love being in a home studio, because you don't have this feeling of, 'Someone's paying five grand for this room, so we'd better make something great.' The best moments for me are when something just happens spontaneously. My entire process is centred around the idea that sometimes these amazing moments happen and sometimes they don't. The magic of working with your friends is that if nothing happens, it's not a big deal. Yesterday I was in the studio with some friends, and we tried some ideas, and nothing stuck. So we went to watch a movie."
'Stay' went to number one in 22 countries, and became the fastest‑ever song to reach two billion streams on Spotify. It also won an ARIA Award for best pop release and the APRA Music Award for Best Song Of The Year. Slatkin recalls its germination: "Charlie sat down at my [Roland] Juno‑60 and the first thing he played was that main riff. We didn't change it at all. It's what you hear on the record. Then he had the idea of these clicky double‑time drums, at which point Laroi said, 'I think I hear a melody with that,' and he did all his parts in an hour. It was insane. We did the rough sketch of the song in an hour.
"From there it was months and months of getting the production right. Justin added his incredible verse later, and I could not believe how good it was. Cashmere Cat added some great parts to the production as well. I think Picasso once said that the most daunting thing is an amazing start. You know something incredible has happened, and you're like, 'How do I keep this amazing?' How do you not screw up the original intent? We spent ages getting the production perfect. I have 60 or 70 different versions of the production on my computer, and Serban [Ghenea] did 10 to 15 mixes after that."
Blake Slatkin: I think Picasso once said that the most daunting thing is an amazing start. You know something incredible has happened, and you're like, 'How do I keep this amazing?'
Slatkin is a proud user of Pro Tools, which is ideal for his way of working. "I feel like I'm one of the last ones of my generation still working with Pro Tools. I started using it because on YouTube I'd see my favourite producers working with it. For me it works great, because I am almost always working with audio. I use very little MIDI. Working with audio gives your productions a character that you cannot get any other way. I love the idea of someone not being able to pull up the exact same sound that I used. I don't want it to be easy for people to go: 'Oh, I know exactly what that preset that is.'"
When Slatkin mans the computer during the writing process, he uses a template, with several options ready on the vocal record track. It is, he says, "about having all inputs ready so that as soon as inspiration strikes, all I have to do is just click Record. It's less about sonics and plug‑ins, and more about having everything ready to go. When I record vocals I always use Antares Auto‑Tune, unless the vocalist asks me not to. I don't want the singer to be worried about their pitch, I want them to be focusing on their performance."
Slatkin is also often hands‑on with Pro Tools during the weeks and months it takes to create the finished productions, a process that ends with him doing pretty advanced rough mixes. He often collaborates with Fedi during this time. "We've spent years in the studio by now, just getting things absolutely perfect. We're usually in my place. I'm lucky to work with people who have the same dedication to getting things great. It's fun to be working with people towards the same end goal, with everyone bringing their own perspective. I love spending all these months, and I love listening back to old versions after hearing the final mix and the final master.
"When we're creating initially, I don't care about the mix. I care about the sonics, of course, how things sound, but it really is about the song, the melodies and the lyrics. And then there are the months of going over the arrangement and production. I start to focus on the mix after the songwriting is done. It's about getting that as perfect as possible, and getting every sound and every part to count. Everything in the production and mix has to have a purpose. Everything is there for a reason. And if something is not perfect, it's not perfect for a reason."
When Slatkin gets to do the rough mix, he tries to, he says, "get it as far as possible to the finish line. I care about these mixes a lot because it's an extension of the production. And then when I get the final mixes back from Serban, Spike [Stent], Manny [Marroquin] or Jon Castelli, it's always exciting, because they always have ideas I missed. When mixing I mess around with plug‑ins a lot. I use many Soundtoys plug‑ins. I'd say there's a Soundtoys plug‑in on every mix I do. I really love harmonic saturation, and I love saturating a bass or saturating a vocal. Anything that can lift something out of the speaker and bring more life to it.
"I also love the UAD stuff, and the FabFilter Pro‑Q, of course. It just depends on what I'm trying to do. I really like the new Baby Audio stuff. They have a really cool delay, a really cool reverb, and their Super VHS is great. Many Pro Tools stock plug‑ins also are favourites. The Pro Tools [AIR] Spring Reverb is incredible, and I use the Lo‑Fi on a lot, which again relates to the saturation thing. I love weird plug‑ins too. Like what I said before, I don't like people to be able to easily identify sounds in my production, so I'm always trying to find ways to make things unique. Even with a standard bass or a standard guitar, I want it to sound like we care about every part."
Spending "months and months" polishing allows Slatkin and his collaborators to treat each song differently. "It's different every time. It's more fun for me to treat every song like a new experience, a new thing. I want to do what's best for the song. So the same plug‑ins aren't always going to work. Having said that, I will always have FabFilter Pro‑L on the master bus, and some SSL‑style compressor. My mixes normally are pretty loud, which is the result of me learning how to get things right. But these days I don't really care about having them loud, because Serban, Manny, Spike or Jon are going to do a much better job of that."
Despite the intensity of his songwriting, production and/or mixing schedule, and currently having the world at his feet in terms of success, Slatkin is not resting on his laurels. Instead, he's busy every day to see how he can improve. "I'm such a nerd! Every night I watch interviews on YouTube of people in the studio. I'm constantly trying to learn and get better. I never want to get to a place where I can think, 'I'm good now.' I keep reading Sound On Sound for new plug‑ins and new stuff that I may learn from the interviews.
"I feel like I have the best job in the entire world. I still can't believe that it's my work. I just want to keep making great music, and I want to keep going into a room with artists who are amazing and inspire me, and to keep getting better!"  
In the Spring of 2022, Blake Slatkin moved out of his mother's house, and built a studio in his new place. "The studio that I'm in now is just like the old one, but stepped up a little bit. 'About Damn Time' was the first song I worked on in here. My new place has the same vibe, but the gear has changed a bit. There was no outboard in my old studio, but I had the Roland Juno‑60, which is one of my favourite synths. It's been on every song I've ever made. I now have a Roland Juno‑106 as well. I love both of them, for different things.
"I'm hugely into outboard synths. I don't really use too many soft synths. I've got a bunch of little toy keyboards by Casio and Yamaha that I love. After my Junos, my main go‑tos are a Prophet 5, which I think it is one of the best synths of all time, and a Moog Voyager or Moog Model D. I also have a Prophet 600, Mellotron, ARP Omni, which is a great, Joy‑Division‑sounding string synth, and I just got an Oberheim OB‑X. The OB‑X is super fucking cool.
"I'm also big into great‑sounding guitars, and great‑sounding mics. I switch between a Sony C800G and a Heiserman H47 for vocals, depending on the singer. The Heiserman is my favorite U47 clone, in most instances I like it more than the original. Those mics go through some BAE 1073 mic pres. Other preamps that I have are a Chandler TG2, the Undertone MPDI‑4, and Spike Stent gave me a rack of old Calrec pres, which are amazing, especially on live drums. I DI all my guitars and basses, and the Undertone really beefs up my synth sounds in a cool way. I also just got a Roland Chorus Echo. It's one of my new pieces of outboard things I've begun messing around with. But I'm still mostly in the box.
"I just switched to the PMC8‑2 monitors. I had the ATC SC45As at my mum's house. When I moved to this room I wanted to change, and I love the PMCs so far. I still have the KRK Rocket 8s that I bought nearly 15 years ago and use them to reference all the time. The studio at my mum's was not great-sounding, the acoustic panels did not do too much, but it didn't matter, because I knew the room well. And in the end, none of the gear really matters. I've been lucky enough to make big songs with the worst gear, and the best gear.
"My new room sounds a bit better. The room was designed by an amazing company called Unfuck Projects. It was very important to me when I was designing my room with them to make something that didn't feel like a studio and was acoustically great, but not too great. I hate rooms that feel very dead. I wanted the studio to feel like a living room, so it was very important to me that we kept it live enough. Studios that are completely dead feel like a mental asylum. It's so uncomfortable."