Creating The DX7 Factory Presets
The following is a short piece of audio that was edited out of the original podcast interview with Don Lewis back in November 2020, where he discusses his time programming the Yamaha DX7's factory sounds. In the wake of Don's passing, we decided to publish this excerpt and put on record his important contribution to this iconic synth.
Chapters
00:00 - Introduction
02:29 - Yamaha DX7 And DX9 Demo
03:02 - The Beginnings Of FM Synthesis
09:26 - Working For The Competition
12:26 - Yamaha DX7 and DX9 Demo
Don Lewis - Biog
Don Lewis was a gifted musician and educator whose mission was to inspire and empower audiences to achieve their dreams. Whether presenting a solo concert or collaborating with other musicians and artists, Don's music brought a message of hope, respect and community. Don began playing piano as a Dayton, Ohio high school student. Later, at Tuskegee Institute, he accompanied and sang with the Tuskegee Chorus and played for Dr. Martin Luther King Jr's Freedom Rallies.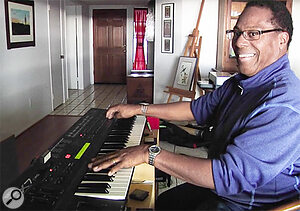 Uniting his interest in engineering with his musical talent, Don became one of the pioneers in synthesizer use and technology. In 1977, he designed and built a synthesizer system, called Live Electronic Orchestra (LEO), that was an inspiration for the Musical Instrument Digital Interface (MIDI); it's now on display at the Museum of Making Music in Carlsbad, CA.
Don performed at concerts worldwide and appeared as a soloist with many symphony orchestras. As a studio artist, he worked with such greats as Quincy Jones, Sergio Mendez and Michael Jackson. Don also created scores for film and television productions including the award-winning Rainbow's End and Were You There series, featured on PBS. In addition he scored commercials for such clients as Nissan, Pacific Telephone, and Digital Equipment Corp.
Also an enthusiastic teacher, Don taught courses in the history of gospel music, multimedia, and synthesizer technology at University of California at Berkeley Extension, San Jose State University and Stanford University. In 1987, Don combined his love of children, education and music to create 'Say "Yes" to Music!'. He delighted thousands of students, teachers and school administrators across the United States and Canada with his inspiring musical assemblies.
Throughout the years Don had been a concert artist and consultant with various musical instrument manufacturers including Hammond, ARP, Yamaha, Roland Corporation, and Rodgers Instruments. He continued to delight and touch the hearts of his fans in his concerts at home and throughout the world until his untimely passing on November 6th, 2022.
Links / Credits
donlewismusic.com
www.donlewisleo.com
www.augustenborgproductions.com
Interviewer: Rob Puricelli - Biog
Rob Puricelli is a Music Technologist and Instructional Designer who has a healthy obsession with classic synthesizers and their history. In conjunction with former Fairlight Studio Manager Peter Wielk, he fixes and restores Fairlight CMIs so that they can enjoy prolonged and productive lives with new owners.
Rob also writes reviews and articles for his website, failedmuso.com and has guested on a number of music technology podcasts and shows. He can often be found at various synthesizer shows such as SynthFest UK, where in 2019 he delivered a talk and demonstration on the history of the Fairlight in conjunction with producer Steve Levine.
About the Electronic Music podcast channel
On this channel we feature some of the pioneers of the industry, interview musicians, and talk about retro and current gear.
Available on Apple Podcasts, Google Podcasts, Spotify, Amazon or wherever you get your podcasts.