Lauren Mayberry, Martin Doherty & Iain Cook: Producing Every Open Eye
Chvrches: from left, Martin Doherty, Lauren Mayberry and Iain Cook in Alucard Studios, where both of their albums were recorded.Photo: Rachael Wright
Like any good SOS readers, Scots electro-pop trio Chvrches used the success of their debut album to buy more synthesizers...
Emerging in 2012 from Glasgow's post-rock indie landscape, synth-based trio Chvrches were a very different musical proposition from the shoegazey scene which spawned them. The propulsive, smart electronic pop of Lauren Mayberry (vocals, synths), Martin Doherty (synths, vocals) and Iain Cook (synths, guitars, bass, vocals) quickly proved to be highly successful, with their 2013 debut album The Bones Of What You Believe becoming a Top 10 hit in the UK and reaching number 12 in the States.
It was a remarkable turn of events considering that the members of Chvrches had for some years been operating in relative obscurity in a variety of Glaswegian indie bands. In addition to film and TV scoring work, Cook was a member of both Aerogramme and the Unwinding Hours, while Doherty was the live keyboard player for the Twilight Sad. Both had known each other since university and had worked together in the studio on and off.
"We've been friends for 10 years," says Doherty. "We'd always worked on different projects, but never really done anything that we could both put our names to. And then I guess it was 2012 when we eventually got in the studio and just thought, 'Let's throw some ideas around.'"
"When we were working together on other projects, we knew that there was a good sort of dynamic between us creatively," Cook adds. "But we never got to really properly explore that until we eventually just sat in the studio."
The two began working on sketches for electronic tracks at Alucard Studios in Glasgow, a facility Cook was initially renting for his scoring work. "We had two synths at the time, the Moog Voyager and the Prophet 08," says Doherty. "We were using a lot of softs as well — all the Arturia stuff, the Korg Legacy stuff, some of the GForce stuff. Stuff that we coveted as hardware, but couldn't afford at the time. GForce have got a really lightweight version of the Minimoog [the Minimonsta] that I used to use a lot 'cause my computer was shit. And the Arturia one, for all it's incredible, is pretty hungry on the CPU. There was a time when if you used the soft clipping, that was the only synth you could use."
The success of Chvrches' debut album allowed the band to indulge their passion for synths. At the front of the picture are a Korg MS20 Mini (just visible at top), Korg Polysix and Roland Jupiter 8; behind them are the Moog Sonic Six, Roland Juno 106 and Moog Voyager.
When thinking about a potential singer to front these new tracks, Cook suggested Mayberry to Doherty, having recently produced an EP for the band she was in at the time, Blue Sky Archives. "I had cheekily played Martin a couple of rough mixes," Cook laughs. "We were both like, 'Holy shit, she's got a brilliant voice.' I asked her if she wanted to come down and listen to some stuff. At this time it was just a studio project with no aspirations of it being a band or anything more than just us sort of fannying about in a basement."
If, from the outside, the newly formed Chvrches seemed to be a huge stylistic leap from its members' previous bands, they insist that it wasn't entirely so. "I was always in that post-rock world but playing keyboards throughout," says Doherty. "I was always 'the synth guy' in the shoegaze band. You were kind of tarred with that a lot because you understood computers. And in those bands I'd played in, I'd never been a writer. I'd always just kind of watched and listened and wrote in my spare time."
"Similarly," says Mayberry, "I played synth in Blue Sky Archives, and I've always been the person that would write the vocal parts or the lyrics. So really it was just taking those skills and putting them in a different context. I guess when Iain asked me if I wanted to try out stuff, it just seemed like a good thing to do, kind of a learning thing. I guess Blue Sky Archives was alternative indie with a kind of post-rocky rhythm section. And it was like, 'Maybe it'd be quite nice to actually have your vocal heard over the mix! We'll take out live drums and see how that works.'"
Both The Bones Of What You Believe and, now, Chvrches' second album Every Open Eye were recorded at Alucard, situated in a basement flat on the south side of Glasgow. "After we'd finished the first album, the band kind of took it over," says Cook. "We're still renting it, but we've made it our own now. There's an old Asian couple who live upstairs and they're fine. Once in a while they'll come down and be like, 'Ah could you turn it down a wee bit? We're trying to sleep.' That tends to have been only the once or twice that we've forgotten what time it was and we've ended up working on drum loops at half 10 at night."
While the success of The Bones Of What You Believe afforded Chvrches the opportunity to work in pretty much any studio they wanted to for its follow-up, they decided to stay at Alucard. "We did the first album there out of necessity," says Cook. "We had the choice of recording anywhere really for the second album, but we wanted to go right back to where it all started. Partly, I guess, superstitiously. There's something in the room that we didn't want to lose, and we'd rather invest the money that we had available into upgrading the gear and patching it all in — just making it exactly the way we wanted it, rather than giving it to some other studio and another producer in LA or wherever."
"The crux of why we're in that place is that it affords you the freedom to burn an entire day and not be afraid to do that," says Doherty. "Not be thinking, 'Woah, that just cost us £500 farting about with a snare drum all day, and here I am at the end of it going nah, I was right in the beginning.' If there's a financial weight on all of those decisions, it changes the way that you interact with the studio. You take less risks. It's not in a great area in Glasgow so the rent is cheap. So we worry about a small amount of rent and we work as long as we like and when we like. That's absolutely essential if you want to make electronic music."
For Every Open Eye, Chvrches also took over the second room at Alucard, at the time occupied by an engineer called David Simpson, who ended up working on the album. "We didn't evict him," Doherty stresses, "but we asked him if we could take over the other room, and traded that for a job on the record. He's a great guy, a supreme talent. He's the only person that we trusted to come in and take charge of some of the technical aspects of what we were doing.
"Basically, making this record we had two suites running in tandem. So he was able to track a lot of vocals with Lauren whilst we were polishing things, refining things, putting down keyboard parts, experimenting with sounds, doing all the kind of production stuff. If we only had the one room and the one rig, it would've taken us much longer to put the record together. But it's nothing special really. It's just the other bedroom in the house!"
"Most of the time it's all right," says Mayberry. "But sometimes like there was a day where you guys thought there was something wrong with the bass in the speakers and me and Dave just had to stop for an hour, 'cause the rooms are soundproofed, but not completely noise-resistant."
"We were tuning a sub at max volume through the wall," Doherty grins. "Not conducive to vocal recording."
The main studio at Alucard was already fitted out with a box-in-box floating room, and very little was done to the second studio for the vocal recording on Every Open Eye. "We bought a prefab vocal booth off a web site," says Doherty. "It's basically a big foam shed that goes over mic stands and turns into a kind of enclosure. It sounds great. Sadly, it doesn't have a door."
"Yeah, it's a bit weird," adds Mayberry. "It looks like it's supposed to slot into the corner so it forms a full square. And it has a little gap at the bottom and a gap at the top and a plastic window, but no real door. So in order to get in everyday, I put my water and the tea on the ground, and then go through step by step. But I'm pleased with what we got out of it."
One feature of the setup in the main room that Chvrches chose not to change for the second album was their Neumann KH120A monitors. "Great wee speakers," says Cook. "They're easy on the ear as well. I've heard people criticise them, saying they're a little bit soft up top. But we wanted something that was kind of easy to get along with, but at the same time quite representative of what's going on. We had a Tannoy sub on the first record, but we upgraded to the proper matched Neumann sub on this one."
The Bones Of What You Believe was made using Steinberg's Nuendo, but for Every Open Eye, Chvrches shifted to Cubase, feeling that the former had a lot of features that weren't necessary for them. And whereas the beat programming on Chvrches' first album was mostly done using a sample library of classic drum-machine sounds, for the second, the band invested in a Dave Smith Instruments Tempest analogue drum machine. "It's great," Cook enthuses. "It's really flexible and it's got a pretty straightforward workflow. And we have the [Roland] TR-8. It runs internally at 96k which is a weird thing for effectively quite a lo-fi piece of kit."
In the beat-making process, this time around, they preferred to record audio snippets of patterns running from the machines, rather than triggering them using MIDI. "What we tended to do is grab little loops or hat patterns and bits and bobs," says Doherty. "We were never actually fully producing rhythm tracks. All those beats happen on the page, for a number of reasons. Like, we want them to be a bit rough around the edges — we don't perfectly shape every single sound — snare drums cutting off in weird places, fills that have got deliberately cut-up samples. But more importantly, I want to see, 'Here's my verse, here's my chorus.' I find it a much more musical way to write drums if you can see what's going on and refer to the rest of the song at the same time. So we've maintained that philosophy throughout."
Most of the bass parts on The Bones Of What You Believe were created using a Roland Juno 106 with, says Doherty, "the sub-octave ramped right, right up. The chorus module in it really brings out the top. Nice fat bass. An incredibly stable sub. I think all of the big sub lifts are between that and the Moog."
Rather than go over the top adding layers upon layers of sounds from their new synthesizer collection (see box), Chvrches say they decided to be more economical in their overdubbing on Every Open Eye. "I think that's the main difference between the two records," says Cook. "On the first one, we only had those three synths — the Voyager, the Prophet 08 and a Juno 106 — and we were trying to make the most out of them by layering them and distorting them. With the second record, we wanted to make it more stripped-back, so less elements in the mix, but allowing them to breathe and allowing the character to come out a bit. We had a lot more synths to play with on the second one, so we were able to get something that slotted right into the mix that worked, rather than try and make something that wasn't quite right work."
The need to do the latter on The Bones Of What You Believe meant that their Moog Voyager was often routed through Cook's guitar pedals, including an Electro-Harmonix Memory Man delay and Holy Grail reverb. "But it was all covering up the fact that we were still finding our feet, layer upon layer," Doherty admits. "This good sound on top of this good sound we thought equated to one great sound. You've got to go there and make those mistakes to realise that's not really how it works. We were still finding our feet as electronic musicians, y'know. We were still basically indie guys delving into electronic music for the first time in a serious way. So when we came back around to record again, I think we succeeded in making a bigger-sounding album with less than half of the elements, for the most part."
In that, they were inspired by listening to Quincy Jones's productions for Michael Jackson. "Listening to those records," says Doherty, "and just going, 'How are these so massive and there's nothing here? It's a drum beat and one bass line and singing.' We were just trying to borrow that sense of economy, those lean arrangements, understand why that worked and try and apply it to what we were doing."
On The Bones Of What You Believe, vocal recording was done using an Advanced Audio CM48 — in effect a U47 clone — positioned inside an SE Electronics Reflexion Filter, in the same room as the recording equipment. "I guess now we complain about our little foam vocal booth," Mayberry says, "but we didn't have anything on the first record."
The vocal recording setup used for first album The Bones Of What You Believe: an Advanced Audio CM48 mic and SE Electronics Reflexion Filter.
For Every Open Eye, the band invested in a foam vocal booth and a Blue Bottle mic. The only down side was the lack of a door, which made getting in and out of the booth rather challenging!
Keen, as Doherty puts it, to have a "world-class vocal chain" for Every Open Eye, Chvrches purchased a Blue Bottle mic and ran it through a BAE Audio 1073 preamp and Tube-Tech CL1B compressor. "We tried a couple of different capsules for the Blue Bottle," says Cook. "The C6 and the C7. But the C6 was the one. We did some blind tests with different signal chains and compressors and then we arrived on one that everybody agreed was more suited to Lauren's voice. We weren't smashing the vocals too hard on the way in, just kind of 3:1."
The emotive vocal on pared-back closer 'Afterglow', for instance, was nailed in one take, whereas the multi-voiced middle-eight of 'Down Side Of Me' required far more effort. "Sometimes you get it right totally the first time," says Mayberry, "but then there's other ones that are just more challenging in terms of the actual vocal part. With 'Afterglow', I think if you had a really over-produced, overdone vocal on that song, it would be too much. It needs to have that rawness about it.
"On 'Down Side Of Me', there's that kind of round-singing middle-eight and there's harmonies in each part. Dave and I — just 'cause you can't do eight hours of singing a day and expect to get a good take — we made a really boring vocal studio schedule where we were like, 'OK, so this is what those guys are working on, so if we do the verse for this song today then I have time to look at the lyrics for this and just do half a day on a Saturday and half a day on a Sunday.' Just so you're working over the course of six or seven days, but not all day, every day."
"Because the role of the producer has changed in the modern era," adds Doherty, "you forget about the fact that production used to mean scheduling things as well. It used to be a big part of the process. 'Producer' now just seems to mean a guy with a laptop that makes beds for rappers. So we were having to spend a lot of time figuring out between Iain and I what we were doing and between Lauren and Dave what the hell they were doing, and trying to come together and meet every couple of days and talk about what we were doing — how we all felt about what was going on in this studio, and how we all felt about what was going on in that studio. It was a lot of spinning plates."
Still, it wasn't exactly lost on Mayberry in the second room with her Blue Bottle and foam vocal booth that most of the second album's budget had been spent by the boys with their new toys in the main room. "Yeah, they gave me and Dave a computer and a foam booth," she grins. "And you go next door and it's walls and walls of synths. I just kept reminding myself, like, 'My instrument is inside myself.'"
A large part of the success that Chvrches have enjoyed can be put down to their relentless touring, which in the wake of The Bones Of What You Believe included seven tours of the US within the space of two years. With the release of Every Open Eye, they will be returning to the road with a similarly tireless schedule, and at the same time working up ideas for their third album with their portable recording rigs.
"The back end of the last campaign, I kind of threw myself into that stuff," says Doherty. "Iain and I both have mobile rigs. I'm just running Cubase on a Mac with all the soft synths. No hardware on the road really. Iain's got a Prophet 12 module that he uses, but I'm not so bothered, 'cause I'm not thinking about sounds all the time, I'm just thinking about getting as many ideas worked up as possible. I'll go with an interesting drum beat, one element and then a vocal, like a verse/chorus, draw the line under it and onto the next thing.
"I use it as a means of therapy over anything else. When you've been on tour for two years and you haven't flexed a creative muscle for months, then you just feel like a promo machine that plays gigs. I'd go in in the morning, say my hellos and then just retreat to the corner of a venue and write and mess around and try things. When you're on tour for as long as we are, you have to evolve to an extent. Otherwise you won't write for two years."
Which begs the question: how do Chvrches imagine themselves developing musically from this point? Given their post-rock background, might that experimental genre begin to creep more into their sound? "You mean, are we gonna chuck out all the synths and get back to the guitars?" asks Doherty. "I dunno. By the time we get there, it might feel right for the proper departure."
"So," Cook grins, "it'll be banjos on album three."
For both of their albums, Chvrches have made the decision to bring in an outside mix engineer. On The Bones Of What You Believe, it was Rich Costey (see the Inside Track feature in this month's issue). "I love what Rich did on the first one," says Martin Doherty. "We specifically went to a guy with a rock pedigree because, to us, we're still an indie band using keyboards, instead of an electronic dance outfit. We feel like an indie band, we write like an indie band. But his classic thing when you got in the room with him was, 'Don't look at the meters, man, listen to the thing.' So he was smashing it all over the place. I don't know exactly what he was doing. But that had a massive part to play in what people eventually heard on the record."
The band chose to hand over the Every Open Eye tracks to Mark 'Spike' Stent, who has of course overseen mixes for everyone from Madonna to Depeche Mode to Beyoncé. "It was important to us on the second one to go to somebody who was a bit more versed in the electronic world," Doherty explains. "His CV is ridiculous."
The band left Stent for 10 days to mix the album, before they travelled to his studio to go through the various tweaks they had. "He was cycling between three or four different references the whole time," says Doherty. "We came down and smashed a full album's worth of notes in a day and a half or something. I think the vocal sound that he's delivered on this record is outstanding. It's not always brickwalled, it's quite dynamic at times. We spent the whole time we were there trying to figure out what he was doing. And if he reads this, I'm sorry, but we were trying to steal your ideas, Spike! But eventually you have to concede that it's not just about what gear somebody like that's using. It's the kind of confidence and expertise that 30 years in the business gives you."
"I think what I really liked about the vocal approach especially," says Lauren Mayberry, "is that even though he did certain things to it, he still kept the character and the personality of the vocal. I think the rough bits around the edges are very important to the sound of the band. There's a lot of times you turn on the radio and there's a kind of electronic act with a female vocalist and it all sounds super-Auto-Tuned, super-clean, super-shiny, and it sounds like it was grown in a lab, y'know. It doesn't have any personality, it doesn't have any guts really. I like that he technically has all this stuff that he could apply to it, but he totally got what we were going for and left enough space around it."
The most tantalising aspect for Chvrches in the making of their second album was the fact that they were finally able to afford an array of the vintage and new synths they'd always lusted after. Among their prized purchases were a Roland Jupiter 8, an Oberheim OBXa, a Korg Polysix and a DSI Prophet 12. "I'm more than happy to go on record and say that the software Jupiter 8, however capable it is, is nowhere near as good as the hardware," laughs Martin Doherty. "It's in another realm."
"I like to think of them as being separate instruments," Iain Cook says. "'Cause there's a lot you can do with those soft synths. And they have a character of their own, but they don't have that undeniable quality."
"The Jupiter 8 ended up all over the record," adds Doherty. "It became a thing where I just naturally gravitated towards that synth every day. Iain would be like, 'Get away from that thing!' 'cause it was in danger of just being the whole album. So we stepped back a bit. It still kind of is all over the album, but it's feature sounds, really deliberate stand-out moments."
The Korg Polysix is likewise a source of contention between Doherty and Cook. "I'm absolutely obsessed with it," says the former. "Iain hates it. I just love it. It sounds broken, but so obviously a Polysix as soon as you hear it. Like those bell sounds. All those synths were trying to make those bell sounds, but if I heard a Polysix doing it, I'd know that's what it is immediately, 'cause it's got that crackly kind of muffled top end and the filter only works to a certain level. It just has so much personality to it. So we found a few moments for it on the record where we were like, 'This is a Polysix moment.'"
Elsewhere, Korg's new ARP Odyssey is, they say, "peppered throughout" some of the tracks, although another purchase, the blue-faced, suitcased Moog Sonic Six [a forerunner of the classic Minimoog] proved to be a far trickier synth for them to coax a sound out of. "You can get a sound out of it, but not a usable one," Cook laughs.
The Moog Sonic Six: deep!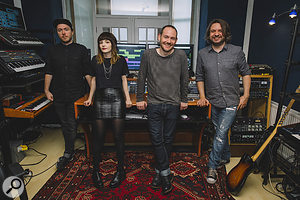 Needing to take over the second room at Alucard, the band cut a deal with engineer David Simpson (right) who handled a lot of the vocal recording. "It's mental. It's so complicated. The first day we got it, me and Dave [Simpson] sat with it and it took about two hours just to get a note out of it. I got a really nice gnarly bass sound, and I wish I'd left it, 'cause I could never get it back. But I'm gonna persevere with it because I think there's some real hidden depths in that thing."