John Schroeder, Alan Florence & Isi Clarke: Recording A Simple Act Of Faith
The old team reunited: producer John Schroeder (left) and engineer Alan Florence.Photo: Dan Donovan
When cult funk band Cymande returned to the studio, they insisted on hiring the same production team — 41 years after their previous album...
In recent years, reunion tours and comeback albums have become commonplace, but the tale of cult '70s British funk-soul pioneers Cymande is definitely not your run-of-the-mill story of hiatus and reformation. Their fourth album A Simple Act Of Faith comes a staggering 41 years after its predecessor Promised Heights first hit the shops in 1974. Like their recent live shows, the album features six core members from the original Cymande line-up. It was also produced and recorded by the same studio team responsible for the band's first three iconic albums, all those years ago: producer John Schroeder and engineer Alan Florence. And before the Faith sessions, Florence hadn't actually worked in a recording studio since 1979, having moved to television work instead.
If you haven't heard Cymande's '70s output first-hand, it's highly likely you'll have heard elements of their songs sampled by hip-hop and rap artists. The Sugarhill Gang, De La Soul, Wu Tang Clan, Gang Starr, MC Solaar, Ruthless Rap Assassins and, perhaps most notably, the Fugees are just a few of the hundreds of acts to have taken Cymande grooves, bass lines and beats to help craft their own tracks.
In fact, it was the hip-hop connection that first clicked for recording engineer Isi Clarke, who owns Grange Farm Studio, the Norfolk residential facility where A Simple Act Of Faith was laid down. Isi still vividly remembers the day Alan Florence and John Schroeder first visited Grange Farm back in 2010 to check out the setup and vibe of the place. "I did a lot of hip-hop DJing in the '90s, so when they mentioned Cymande, I actually knew them from their samples," enthuses Clarke, who assisted Alan Florence in engineering the new album. "My experience of Cymande was through the people who were sampling them, and that is probably a lot of people's experience of Cymande. When I was listening to their early albums, I was like, 'Oh my god — this is this!' and 'This is this!', recognising all these songs that had been sampled."
Cymande morphed out of Steve Scipio and Patrick Patterson's jazz four-piece Metre in 1971 and originally included a medley of nine British-based but Caribbean-born musicians. Under an overarching funk and soul vibe, the band fused a kaleidoscope of different influences, as they still do, and their first three albums — Cymande (1972), Second Time Round (1973) and Promised Heights (1974) — not only inspired rap and hip-hop artists but enjoyed fair success in their own right, particularly the self-titled debut and its lead single 'The Message'.
"Some of the jazz material that we used to use with Metre, we converted into Cymande material," explains Patrick Patterson. "That was just a short while before we first met John [Schroeder] and went in to start recording stuff, so Metre was definitely the genesis of it."
The new album saw the original line-up of Cymande reunited, but with original lead singer Joey Dee dead, vocal duties were shared by bandleaders Steve Scipio (left) and Patrick Patterson.
Forty-four years separate Cymande's self-titled debut and new album A Simple Act Of Faith."We also had some African influences," adds Steve Scipio. "Patrick and I played with a Nigerian band, Ginger Johnson's African Drummers, so we got some of the influences coming out of there. African music was quite prominent at the time with Osibisa and Assagai and all those bands that were Afro-rock. Also, there was the influence of the Caribbean with the calypso, and at the time you had ska and bluebeat and then rasta rhythms, which I think came out through Pablo [Gonsales, Cymande percussionist]'s playing. We deliberately set out not to do covers, and that was a deliberate choice because we wanted to do original music and we wanted to do different music."
"I think so many things impacted the flavour of the music," says Patrick. "But we didn't sit down and think, 'This is what we're trying to do. We need to fuse these different styles of music.' It was just a product of all our experiences, musical and otherwise, that brought that out."
It wasn't long after they'd begun gigging around London that Cymande encountered record producer John Schroeder in the basement of a Soho club where they were rehearsing. By 1971, Schroeder had already enjoyed significant success; in the early 1960s, while working as assistant to Colombia Records A&R manager Norrie Paramor at EMI, John discovered 13-year–old singer Helen Shapiro, for whom he co-wrote a series of hits including 'Walkin' Back To Happiness'. While A&R manager at London independent label Oriole Records, Schroeder secured the licensing rights to release Tamla Motown recordings in the UK for the very first time (although getting British DJs to actually play US soul 45s in 1962 and 1963 proved a very difficult proposition!). John's other achievements also included discovering and producing Status Quo and enjoying a top 10 US smash with his own musical project Sounds Orchestral and their version of 'Cast Your Fate To The Wind' in 1965.
"I was impressed with the infectious rhythm of the band," explains Schroeder, who started Cymande's UK label Alaska Records in 1972, after enjoying eight years as manager of Pye's Piccadilly Records imprint. "I think the essence of Cymande is that their music is addictive rhythmically and addictive melodically as well. After I first heard them play, I thought, 'We'll put them in the studio and we'll try something.' I think I selected two or three songs specifically to take into the studio, one of them being this track called 'The Message'. We basically made a demo, which I put on cassette.
"I then took that cassette to MIDEM in France, the music festival. I had a particularly good contact with a guy called Marvin Schlachter, who was the head of Janus Records, which was associated with Chess Records in the States. Marvin asked me what I was currently doing and I said, 'I've just got involved with a really good black band and we've put two or three tracks together.' He said, 'Well, can I hear it?' so I gave him a cassette and he took it back to the States with him. I thought that was it but three weeks later I got a telegram saying, 'Love the tracks. Want to release The Message' and that was the beginning of it. Janus released 'The Message' and it became an underground hit on American college radio. Then it started to snowball from there and actually got into both the R&B charts [number 20] and the national charts. Cymande were the first British black band to conquer America! Next thing I knew they were doing a tour of America with Al Green. They didn't know what hit them. But we went to America and I remember seeing them in Philadelphia and they played the Apollo Theater in Harlem, which was an experience, and we recorded in Chess Studios... it was the beginning of a wonderful relationship that I have with this band, and here we are again working together 40 years later."
Despite the unexpected US levels of interest, Cymande never really took off in the UK, and in 1974, Patterson and Scipio regretfully decided to call time on the band. Guitarist Patrick and bassist Steve then spent the following decades carving out successful careers in the legal profession, but never turned their backs on music entirely. Patrick was a member of '80s soul troupe View From The Hill while Steve spent the late '70s and early '80s playing in notable London-based exiled South African outfit Jabula. So why, 41 years after Promised Heights, make another album?
"Unfinished business," say Patterson and Scipio in unison, before Patrick continues: "It feels like when you leave something kind of hanging out there but you still have something to say that's worth saying and something to comment on that's worth commenting on."
"I think also the continuing interest in the music, with some of the more modern musicians sampling and keeping it fresh, has helped as well," adds Steve. "I mean, if it had been completely dead, we might not have had such a strong interest in coming back, but there has been a lot of interest in the band, and we've also been used in many films too — but we didn't want to come back and just do the same as the Monkees and some of the old bands have done, simply come back and just say 'We're doing all the old stuff.' We said, 'No, if we're coming back, we've got to come back with an album and it's got to be an album for now!' That was a difficult task for us, because you want to maintain some of the essence of what you had with the first three albums but, at the same time, you don't want to do what you were doing in the '70s because people might say 'What are you doing? You haven't moved!' So we've tried to marry what we did in the '70s with what we wanted to do now, to get a kind of a modern Cymande sound."
It was around 2007 when Steve and Patrick started seriously talking about the possibility of putting together what would become A Simple Act Of Faith. The first step was to see if the group's other original four core members would be enthusiastic about the idea. Drummer Sam Kelly, percussionist Pablo Gonsales and sax/flute player Mike Rose had all continued performing music over the years. Kelly is a prolific professional sticksman and bandleader, who's drummed for artists including Robert Plant, Gary Moore, Roger Chapman, Billy Ocean and Imelda May
, while Rose played with Scipio in Jabula in the '80s and has long been an integral member of Jools Holland's Rhythm & Blues Orchestra. All, along with alto sax player and percussionist Derrick Gibbs — who had retired from musical performance decades earlier — agreed to get involved with both the new record and future touring. Sadly, however, Cymande's main vocalist from their '70s heyday, Joey Dee, was no longer alive, so Steve and Patrick took the decision to share lead vocal duties, with support from Pablo.
With the band on board, the next step was to convince John Schroeder to take the production reins once again. In Patrick and Steve's minds, there really was no other option. "John's an integral part of all that we have done, not only in terms of his love of the band and the band's music, but also his commitment to it," explains Patterson. "What John did when we met was that he fell in love with that music, put his money where his mouth was, and he put all his energy behind getting the project off the ground. He was very supportive and it felt the same way when we came back and started to talk to him about the new project. He was just as excited. And, you know, his ear for Cymande's style, sound and music is as keen now as it was then. He's been very important and, if you look back, he's been like a seventh member of Cymande. And Alan Florence as engineer has been so important too. Alan and John have a great understanding of what the Cymande sound is and an understanding of us as people also."
"I was a bit worried when they first asked me!" laughs John. "For a start, they hadn't played together for 40 years, and they hadn't got a lead singer! I didn't say I didn't feel we could do it, but I was certainly concerned about it... but then I started listening to the material, and they had both written a lot of songs! Unless I had heard strong material, I don't think we could have done it. Believe you me, they gave me a lot of stuff that was completely out the window because it was not Cymande. I had to find the material that in my head was Cymande or 'the new Cymande', if you like. And I did find it and I think we've got 10 great tracks. It always starts with the song, for me, and the magic with this band starts with what they do with the material that they write. They take songs into a little demo studio and they lay down tracks and they create feelings in the songs. They're so good at making even their demos infectious. They had little hooks here and there — bass lines, lead guitar and keyboard — that I heard, little tricks within the songs that I listened to again and again.
"Once I had chosen the material, I played them and thought about them again and again and again until, in my head, I had sketches of the arrangements, the routines and the solos, which I then put to them. Dare I say, I think many of those ideas for the arrangements seem to have worked."
Once he'd agreed to produce Cymande again, one of John Schroeder's first concerns was to find a suitable recording engineer. Ex-IBC, De Lane Lea and Pye Studios stalwart Alan Florence, who spent eight years working on hundreds of John's sessions — including the three Cymande records — during the late '60s and '70s, was John's number one choice. The fact that Alan hadn't engineered a session since 1979 didn't faze Schroeder.
"When Alan came on board, I personally felt a certain amount of security," explains John. "Alan knows what my mind is thinking and he is also technically incredibly reliable and brilliant creatively. He comes up with some extraordinarily good ideas and, of course, he was also part of the old team. It feels like a family, and somehow we've created the magic again that was there 40 years ago. I do want to say that I'm of the old school as well, brought up at EMI in the days when the producer always worked with an engineer. All I was concerned about was creating what I heard in my head, so mine was always a creative role when I was in the studio. But then technically, I had this guy next to me, the engineer, to turn what I heard in my head into sounds. Of course, in modern-day recording, you've got producer/engineers, and with Pro Tools and stuff, it's become a whole different world. But Cymande were produced in the old way, which is the approach I understand the most, where I'm the producer and I work with someone who can twiddle the knobs and get the sounds that I want. Alan really is the best at that and that's why we worked together for so many years. And, when it came to the Pro Tools aspects, we had Isi there to help us out."
"I was absolutely delighted to be asked and was happy to come out of retirement for this," enthuses Alan. "John's like a brother, and we've always worked great as a team.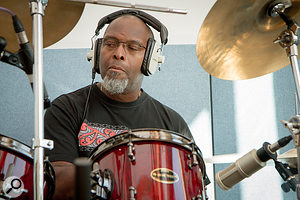 Following Cymande's original split, Sam Kelly has worked as a session drummer for the last four decades. I was absolutely delighted to not only work back with the boys but to get back doing something I loved and I've missed for so many years. Our recording business, as we knew it in the '60s and '70s, was a wonderful business, but it went away. It's very hard to explain to younger people now what the business used to be like, but it was just magic. It was just great to get back in the studio again making a record the way we used to, and I think we've really got to be thankful that we found Grange Farm Studio, because I think the sound that we got has beaten what we did previously. Isi is another member of the Cymande team now and she's been as important as John and I in this process."
The recording sessions for A Simple Act Of Faith actually commenced at Monkey Puzzle House in Suffolk towards the end of 2010, but they continued with Isi Clarke at Norfolk's Grange Farm Studio in 2011, recording on and off until 2012. Mixing was completed in April 2013. One of the main reasons that the sessions were so protracted was the challenge of getting all the members of Cymande together in the studio at the same time, due to their busy non-Cymande schedules.
From the very start, John Schroeder, Alan Florence and the band insisted on recording exactly as they had in the early '70s: everybody in the same room, tracking live as far as possible, with the same miking techniques to those they'd utilised all those years ago.
"I know the boys' sound of old, obviously, and we approached the miking in exactly the same way as their early albums," says Alan. "I would always go into the studio at the point where the boys were starting a run-through so I could hear what they were playing in there and get an idea of the sound. I knew the sound we were looking for on each instrument, so I would communicate that to Isi and the mics would be chosen based on that. You've got to create the sound in the studio first to make it right and then you've got less work to do later on. That's the secret."
For Isi Clarke, who worked closely with Alan every step of the way during the recording process, this proved to be both a refreshing and enjoyable approach. "John and Alan were keen to make this record like they would have in the '60s and '70s, and I think the band were keen to bring it back to their roots as well. It was a really interesting process, because it was quite different to a lot of records that are made at the moment. Everything was recorded live, pretty much, with the only overdubs being vocals and brass. It was just about getting the band set up in the room and feeling comfortable and using fairly simple mic techniques and stuff. Alan kept stressing to me, 'Keep it simple! Keep it simple!' all the way through the sessions.
"In this modern era of unlimited tracks, there is a tendency to put 10, 12 or 15 mics on a drum kit when you just don't need to. There are so many options now that you can end up over-complicating things and actually making your job harder. With this record, we just put up something that sounded nice, ran with it, and when we came to mix, we had 16 or 20 channels instead of a hundred channels to play around with. If it sounds great, there's no reason not to take that approach. 'Keeping it simple' has certainly been a good lesson for me and one of the big things that I've taken from working with Alan and John. I've taken that approach forward into different sessions as well. When you have unlimited tracks and unlimited plug-ins and what seems like unlimited options, it's quite nice to actually just go back to basics and record a band live in a nice room."
Alan, for his part, enjoyed having Isi as a capable assistant and colleague. "For me as an engineer, it was a perfect situation. I would tell Isi how I wanted the mics lined up and the kind of sounds I was looking for, but then I would take Isi's guidance on which of her mics to use. Then, once we got the sound I was looking for and we were happy and the boys were happy after hearing a playback, then I could just sit back and look pretty while Isi did all the work at the desk! She was as important as anybody on this album because she did all the hard graft, all the drop-ins and drop-outs, and things like that during tracking.The three of us made a great team. I loved that combination and I wish I'd had it years ago!"
The rhythm tracks were all recorded live with everybody in the same room, as far as humanly possible, with overdubs kept to a minimum.
"We've got a big live room here and they were all set up in the live room, except Pablo [Gonsales, percussionist] was sometimes put in a booth for some of his percussion," says Clarke. "But, even then, we actually opened all the doors to the booth so technically it was still in the same room. Because they were set out that way together, they were reacting to each other live and working out the gaps so it all fitted together nicely. That's why you get such a nice vibe, I think, which you wouldn't get if everything had just been layered."
"Basically, if you've got a really good rhythm track that breathes and has got tremendous feel in it then you can put other stuff, like the vocals and brass, onto it and they'll breathe as well," adds John Schroeder. "But unless that basic rhythm track excites you and has got the magic, you've got nothing. That has to be your foundation for the feel of the track. It has to have that magical 'oomph' and only then can you put other sounds on top of it."
Mixing began in January 2013 and continued intermittently until final mixes were agreed in April of that year. "We worked as a team and respected each other's positions, but ultimately, in the mix, the final decision really was in my court as the producer," explains Schroeder. "But I don't dictate. I'll always give a good reason as to why I don't feel right about something and Alan is the same. We're a team, we're a family — in the studio, when the basic tracks are being recorded, and also when the mixing is being done."
"Alan is quite instinctive when he's mixing," says Isi. "What he'll do is he'll just flatten all the faders, start from zero and then very quickly pull up the faders one by one, work out where everything is, and just instinctively set them. He might pull in some echo reverb on things but he won't spend loads of time sculpting an EQ on something. It was literally: fader up, that's where it should sit, pan it, does it need echo? Yes or no, right, next channel! He would go back once he'd built that main sculpt of it and slightly move things but, actually, the main part of his mix was built pretty briskly. We also used automation a bit and that was clearly a thing that he appreciated. With a vocal, for instance, he would manually set the volume with the fader throughout the track so it could move depending on where it should fit. After building his mix, he'd then say, 'OK, we need just a little point of interest,' as in an engineering point of interest. I don't necessarily mean changing the song, but just maybe adding an effect that would take the vocal off into space for just a couple of seconds! These were just his little engineering embellishments, his own imprint on the record, like putting a phaser on percussion to just to give it a different texture."
"One of the good things about working with Alan is that he has really nice ideas for adding to the sounds that we made," adds Patrick. "He just throws these little things in that make a lot of difference in the final tracks."
Grange Farm has a 36-channel, 24-bus Soundcraft 6000 analogue console and a Digidesign C24 control surface, with PMC TB2SA main monitors.
The major new member of the team for the recording of A Simple Act Of Faith was engineer and Grange Farm Studio owner Isi Clarke (left, with Alan Florence).A lot of the EQ on the album came from the Soundcraft desk, while other outboard utilised included a Drawmer 1960 valve compressor, an A-Designs Hammer EQ and a Great River MP500NV preamp. A few simple Pro Tool plug-ins were also used.
"Again, we kept things fairly simple," explains Isi. "Just because you've got all these things, it doesn't mean you need to use them all. You're using instinct and starting with some good raw sound. It makes it a lot easier when you come to mix if you've actually just used a nice clean microphone on a well-played nice-sounding instrument."
So, 41 years after their third album, Cymande finally released their fourth at the end of November 2015. Might there be a fifth record in the pipeline at some point?
"If we're still alive, I think that's the plan!", laughs Steve Scipio. "The gigging is really important too. Since we came back together, the crowds have been fantastic, but a lot of people's knowledge of the band is the 1970s. We wanted to bring them into where we're at now but not by making any sharp transition. We're trying to bring them gradually into Cymande as a 2015 band, not a 1975 band, and once we've done this, I think it gives us a bit more freedom with the next album."
"We're just looking forward," adds Patrick Patterson. "And we hope that we will get the support of the old fans and the continued support of the new ones going into the future."
A Simple Act Of Faith is available now through Cherry Red Records.
Percussionist Pablo Gonsales sings a harmony.One thing that particularly impressed engineer Isi Clarke was the way Cymande worked on arrangements while set up in the Grange Farm live room. "There's one thing that I really noticed the first afternoon they came here and it continued throughout the sessions," Clarke recalls. "We set up, we got a sound and then they talked between themselves. Rather than jamming out a section, there would be lengthy discussions about the different sections of the arrangement. Then, all of a sudden, they'd just play it and it was perfect. Almost everything was captured first or second take. Some bands will come in and jam through sessions or go over a section a million times but Cymande would play two or four bars then talk about it, play another two or four bars then talk about it. I found that strange at first because I wasn't used to seeing that approach. For them, it was all about establishing that groove and discussing where each of them needed to play, what the accents were and where they'd each be filling in. Then they'd just go ahead and nail a perfect take."
With the band set up all together in the Grange Farm live room, musical arrangements were often developed and finalised during the sessions.Recording engineer and Grange Farm Studio owner Isi Clarke runs through the microphones used during Cymande's A Simple Act Of Faith album sessions: "We used the [Neumann] U87 on vocals. We went for something that sounds natural and wasn't too stylised. Then, we used a Royer ribbon mic, the R121, for guitar, because they've got a warmth and presence. That was screened, close-miked and maybe just slightly off axis. Everything was being recorded together, so we had to keep everything close-miked. I think we probably used a Heil [Sound] PR40 for bass.
"Drum mics were just so simple. We had a Shure Beta 57 that we'd use on snare — just one snare mic — and then just one kick mic, an [AKG] D12. And then we used AKG C414s for overheads. Alan said early on, 'We don't need any more than that,' although we did start using a bottom snare mic on a couple of tracks later on, just to give us a bit more depth. For percussion, I think we just used a stereo pair of AKGs and even then, sometimes we'd only use one mic off it anyway. And, with brass, we used the Royer [R121] again."