An explosive Glastonbury performance and acclaimed second album have propelled Georgia Barnes into the mainstream.
Few electronic solo projects find themselves at the top of BBC Radio 1's A List, and fewer still are fronted by female drummers. But Georgia Barnes, a DIY producer, self-confessed studio nerd and brilliant drummer and vocalist, is like few other British music makers. Turns out, she was almost born to do it.
"I was brought up in central London in a co-operative living scheme with my parents," she says. "My dad is Neil Barnes from Leftfield, so my bedroom was actually the band's studio where they wrote Leftism."
Her love of clubs should perhaps come as no surprise. She aimed to distill this heady, spinning world of bright lights, beats, and sonic sensations on her new second album, Seeking Thrills. Featuring killer tracks such as 'About Work The Dancefloor' and 'Starting Out', the record draws extensively on Georgia's twin loves: the thumping, minimal world of Chicago house and cooler pop productions of auteurs such as Kate Bush or Soft Cell.
"Some of my motivation came from imagining the '80s, dancing in a club and hearing a track like Donna Summer's 'I Feel Love' for the first time," explains Georgia. "That was the drive for me, for people to feel like they were hearing something new yet at the same time familiar and capable of transporting them to this euphoric dancefloor state."
Despite her dad being a titan of British rave, Georgia never had music thrust upon her by her parents. Rather, she was exposed to studios and live shows, then left to make her own choices about where she wanted her life to head. "My parents bought me guitars and keyboards, and being around Leftfield was obviously very inspiring," she says. "As a kid, I'd get to go to shows and see how music could bring people together in a really positive way.
"But my dad never had too much to do with my own journey as a musician. He let me decide for myself what I wanted to do, which was an attitude I really respected. It meant I had to find my own way."
The gift of a four-track recorder proved to be a pivotal moment for Georgia. She played drums from a very young age but cites getting to grips with the intricacies of recording as a real epiphany.
"Learning the basics of working with tape just blew my mind," she laughs. "Instead of going outside and playing with other kids, I'd spend hours inside learning covers and putting them onto tape. It really set me up for when I began thinking about my own projects. I was able to manage the production side of my music, as it had alway been a part of me."
Georgia's excursions among London's vital underground music scene during the early 2010s coincided with her finding a niche as a session drummer. Balancing an experimental style with enviable skills meant many underground artists sat up and took notice of her talents behind the kit. Suddenly opportunities began appearing.
"By the time I was 18, I was at a good standard as a drummer and started investigating how I could use electronics to enhance my music. I bought an Alesis MIDI module on eBay and came up with a way to hook it up to my computer and kit," she explains. "I was exploring cutting up 808 and 909 samples, then adding them to my playing. I thought it was a pretty unique approach at the time and it made me think I could perhaps make it as a session drummer."
While she was busy refining her musical style and approach, a friend started dating off-kilter singer-songwriter Kwes, an eclectic artist signed to the Young Turks label. Through her new friendship with Kwes, Georgia met many underground talents in the capital who'd go on to become global stars.
"I was at an early Boiler Room session in Hackney Downs sat next to [now Hollywood composer] Mica Levi," she recalls. "Hype Williams, who's now known as producer Dean Blunt, Sampha, who at the time was playing piano but blending it with electronics, Jessie Ware, Jamie XX, Hudson Mohawke, Skream!, James Blake. All these people. I remember thinking, 'Wow, the future of music is in here.'"
Through some canny networking Georgia managed to find herself working with some of these new friends, starting relationships which blossomed into collaborations across London. Working with Streatham-based producer Dan Carey led to Georgia playing drums for Kate Tempest, which pricked up the ears of the A&Rs at indie label Domino Records, who were intrigued by her own solo music.
"The scene was very inspiring. Everyone was so proactive and working on interesting projects," Georgia states. "There was this attitude of, 'Anything is possible, we can do mixtapes, art installations, whatever we put our minds to.' It just made you want to grow and evolve as fast as possible."
Simultaneous session work with a newly signed pop group on Island Records reinforced her desire to kickstart her artist project and source backing for her own music.
"I could see the possibilities of what a deal would mean, and how important being nurtured by a label could be. I wanted to start my own music and have a go at pushing it into a more mainstream route. Getting a deal seemed like my way in."
There's a beauty in creating music out of mistakes. When MIDI goes wrong, it might create a weird rhythm that I'll love.
The debut album, the self-titled Georgia, was the first time she put her head above the parapet as a signed artist on Domino. Stitched together on her own, usually during nocturnal recording sessions, the energetic collection of tracks was made up from fleshed–out demos she used to showcase her talents to the label. It's a striking collection, full of intricate rhythms, sounds and electronic textures.
"My debut was an experiment really," reveals Georgia. "It was me putting myself out there, to show the world I had something to say and had this energy to bring in the production and the songs."
The record was made from snatched time in studios, including her dad's, as well as laying down beats and sounds in her bedroom. One track, 'Digital', was put together during a train ride between Manchester and London.
"I made it all on my laptop, using a Focusrite [audio interface], a few synths and a drum machine. It was limited but I'm proud of it. When it came to the follow-up, it meant I knew where I needed to be more disciplined and concentrate more on the writing. It needed more finesse."
Seeking Thrills was released in January 2020 on Domino and is certainly a more polished, assured affair, ably showing off her evolution as an artist and lauded by critics for its fizzing electronic zeal. Georgia believes a more structured approach to its creation, both in how she worked and the hours maintained, helped give the songs more rigour. Gone were the late–night sessions, replaced with regular daytime recording, while this time the process aimed to showcase her winning way with a melody rather than idiosyncratic sonic bubbles and strokes — although its songs still shine with plenty of personality and character.
"With the first record, I wasn't really sure what I was. A drummer who could sing? A producer who could drum?" she recalls. "It was just a creative release where I threw everything I could think of at each song. There are so many layers of sound, my vocals had to fight to be heard. On the second album, it was more about me working as a singer with something to say. So the creative process, the sounds, songs and the writing, this was all structured around the vocals."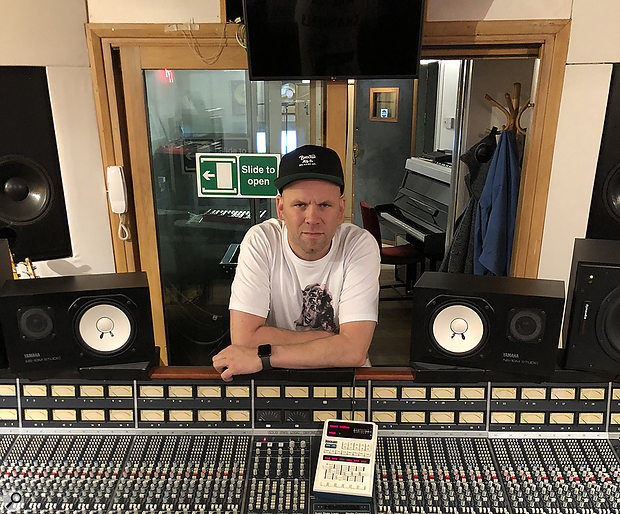 Producer Mark Ralph in his studio.
There were other changes Georgia incorporated into her creative process and setup to enhance the music she wrote before and during studio recording. Engineer Sean Oakley, with previous credits on projects with Kanye West and Rick Rubin, was brought on board by Domino Records' Laurence Bell to help refine the first demos. An expanded collection of gear including more outboard machines and a faster computer also gave Georgia more confidence to take her songs up a notch. The final recordings were made with super-producer Mark Ralph, the musical brawn behind huge hits for Clean Bandit and Years & Years, in his Queen's Park studio.
Georgia Barnes' second album Seeking Thrills was recorded at Club Ralph Studio, and made extensive use of Mark Ralph's collection of '80s outboard.Photo: Tom Fuller"I learned so much about writing and production from the year and a half I spent in the studio making Seeking Thrills," says Georgia. "Mark's involvement was the final sprinkling of magic to transform the demos into full on great songs. We've become a great collaborative duo.
"His spectacular studio was also really important to the process," she continues. "He has an SSL desk which many incredible '80s bands have mixed through. Much of the aesthetic and time period we were drawing on is down to some of the equipment we used there."
While Georgia cites '80s synth-pop greats such as Depeche Mode or the Eurythmics as songwriting inspirations, it's house and techno producers from Chicago and Detroit who shaped her creative process. She poured the best bits of her record collection into many of the album's most realised moments, something you can hear in standouts such as 'About Work The Dancefloor' and 'Never Let You Go'.
"The Chicago house scene was really inspiring in how they would use certain machines like 303s for bass, then just put vocals over the top. This was the kind of simplicity we were after," she says.
While the record is undeniably far more than a homage to the dancefloor's past glories, Georgia wanted to ensure the free spirit of those halcyon club moments was captured as authentically as possible, and it runs right through the record.
"We made most of the songs using this huge amount of outboard gear Mark had in his studio. Some of the interesting vocal textures and drum/percussive elements were made in the computer through sampling my own vocals, but everything else was outboard gear. This was very intentional to its authenticity."
Georgia has been meticulous in her analysis of the favourite musical moments to ensure she knew how to capture the essence of these tracks: "I found originality through understanding how these great records were made. I realised that if I used an AMS delay, it's going to have the ethereal Kate Bush quality to the vocal. By immersing myself in the sound recording traditions of the '80s, I was able to come up with my own way forward."
While outboard gear was the focus of Seeking Thrills, it's equally clear how computer software has its part to play in Georgia's creative process. "Logic is my go-to writing tool. I used it to make the demos, then we stemmed them and they went to Pro Tools for Mark. I got to know Pro Tools in some detail through working with him but now I'm looking to go even deeper into it."
Barnes' studio is based around Logic Pro X and a selection of analogue synths, all hooked up via MIDI.
When it comes to expanding and fleshing out sounds, a hybrid approach appeals to her, with outboard equipment feeding into her musical brew of squelching synths and beats.
"In my studio, I like using the computer to its fullest capabilities but I have my gear set up all around me. Everything talks to each other so it feels like a working lab. I've always had a bit of a mad professor about me," she continues. "I like being surrounded by equipment and love being hands-on. Some of my friends who make music love the efficiency and speed computers offer. And that sometimes works. But there's a beauty in creating music out of mistakes. When MIDI goes wrong, it might create a weird rhythm that I'll love."
The Clavia Nord Wave synth is Georgia's favourite musical weapon in her sonic armoury. Its fingerprints are all over her new record. "I couldn't be without it. I have more expensive synths in my collection but I love it as it's a key writing tool for me."
The Clavia Nord Wave is Barnes' go-to keyboard synthesizer.
Another key element in the make-up of Georgia Barnes' success has been her drumming. While playing live, she's now front of stage, singing behind a striking red Simmons kit. Adopting this equipment has proved to be an effective way to bring her music to life, leading to huge shows at Glastonbury and the Reading and Leeds festivals.
The current setup has been some time coming, with Georgia's live incarnation initially stepping out as a full band, then a duo, before she eventually lighted on this solo guise.
"It just felt right for me to be up there on my own. But I had to find the right equipment," she explains. "I came across some live clips of Depeche Mode and reggae artist Barrington Levy playing with Simmons kits. So I started to investigate and eventually managed to get my hands on one from Madrid. Everything else fell into place around it once we'd found it."
Georgia Barnes' live show has evolved from a full band, via a duo, to its current solo incarnation. At its heart is a Simmons electronic drum kit.Photo: Alice Backham
Although the Simmons kit is at the heart of Georgia's live show, she also uses Ableton Live to trigger loops and other sounds, meaning the performance almost takes on the feel of a DJ set: "Much like the album, the gigs take the audience on a journey similar to a DJ. It's been so well received we ended up doing 130 shows last year. And after I played on Jools Holland, Dave Simmons from the company contacted my management to tell them how excited he was by the kit being used."
High praise indeed. But with a whole year of touring now shelved due to the COVID–19 pandemic, Georgia has had to recalibrate. Instead of playing festivals, she's hosting Instagram Live sets in her home studio and working on new music, something she's found challenging.
"To be suddenly thrust into the studio with a live head on has been tricky. And the notion of isolation doesn't really sit well with me," she explains. "The one thing we need to hold on to is that when we're allowed back, and live music hopefully returns, it should be more special than ever before." Fingers crossed, we'll be seeking thrills on the dancefloor sooner than any of us could dare to hope.
'Started Out' is the album opener and lead single on Barnes' second album Seeking Thrills, and it set the tone for both Georgia's studio sessions and the unveiling of new material. Picked up by tastemakers including BBC Radio 1's Annie Mac, it helped up anticipation levels around the full length album release.
"We made the song in a similar way to how legendary house producers such as Frankie Knuckles or Mr Fingers might work," says Georgia. "We had the sequencer coming from the computer, which then went from the MIDI to the 909. We actually used the Roland SH‑101 for the bass line on the track. It also featured a Moog, a Jupiter, and an OB‑6, the machine I created the main chord sequence on.
"We would do a session using all this gear, then I'd freestyle a vocal over the top in a similar way to these dance producers. It was really inspiring and changed my thought process on how you can make music, as well as the capabilities of working outside the computer."
With such a passion for recording history and her extensive experience as a performer and artist, it's unsurprising Georgia believes an effective knowledge of the rudiments of recording will stand any fledgling producer in good stead.
"You need to find a process you're comfortable with. But understanding the very basics of sound recording is a really good way in. Using a four-track is a brilliant way to learn of how to work within a certain audio situation," she states.
"I was in Africa two years ago working on the Africa Express project. I remember walking into Damon [Albarn]'s hut and he was laying down all his ideas on a four-track. Having those limits is a great way of getting into it. From there you can take whichever route is best for you."