Craig Parker Adams at his studio, which is based around a Pro Tools setup and incorporates some choice outboard, including a Manley limiter, Shadow Hills summing mixer and compressor, Avalon and BAE EQs, and a pair of Universal Audio LA-610 channel strips.Photo: Craig Parker Adams
Frank Zappa was as fastidious about cataloguing his recordings as he was about making them. The task of mixing this enormous archive falls to one man...
In 1989, Craig Parker Adams was working at a music store in Hollywood when, by chance, he met Dweezil Zappa. This would change his life. These days, Craig is the leading engineer for the Zappa Family Trust, which controls the regular releases of Frank Zappa material drawn from the vast, meticulous archive that Frank left behind when he died in 1993.
The latest set, The Mothers 1970, released in June 2020, is a look back at a classic line-up of Frank and his Mothers Of Invention, including George Duke and Ian Underwood (keys), Aynsley Dunbar (drums), and Flo & Eddie (aka Howard Kaylan and Mark Volman of the Turtles; vocals). Among the archive-sourced offerings are a dozen tracks cut at Trident in London with an engineer by the name of Roy Thomas Baker, unknown at the time but who would of course go on to fame with Queen, Alice Cooper and more.
"I still carry the same stunned grin as when this project was first mentioned, and it just won't go away," Craig says. "The first thing that danced blissfully across my mind about Roy was Benjamin Orr and the first two Cars records." The session tapes gave some insight into Roy's methods. "From the Trident masters, the first thing I noticed was the pace of the session. I know from my own work recording bands that the flow of the session is an absolute art form, and that it's most effectively done when the artist, the players, have no clue how it's happening, other than everything is simply moving smoothly."
Craig traced what he calls a subtle briskness in Roy's work. "He was playing chess with everybody, in the sense that he was responding so quickly to direct that flow. In my various experiences with Frank's studio session recordings, I can tell the engineers were reacting to Frank's direction. For Roy's recordings, I sensed that he was acutely sensing Frank's wants, and then on his own he would intuitively make moves that were correct and were simpatico to what Frank wanted. Roy's recordings here were just drenched with that thing that I call British precision."
Let's cut back to that Hollywood music store in 1989. Dweezil's minder came over to store assistant Craig, said he was going to lunch and, in the meantime, would Craig look after his client? Oh, and did Craig know who Dweezil Zappa was? "Oh yeah, I know who he is," Craig replied, with admirable understatement.
Craig's brother had been a big fan of Dweezil's dad, Frank Zappa, and as the two kids grew up back in their rural hometown in Minnesota, Craig heard a great deal of Frank's music with and without the Mothers Of Invention. One day, Craig the budding 13-year-old guitarist was practising his Van Halen licks when his brother burst in and shoved a newspaper cutting under his nose — a picture of 12-year-old Dweezil Zappa with a guitar given to him by Eddie Van Halen, no less. Craig's brother laughed and said: "There's your competition!"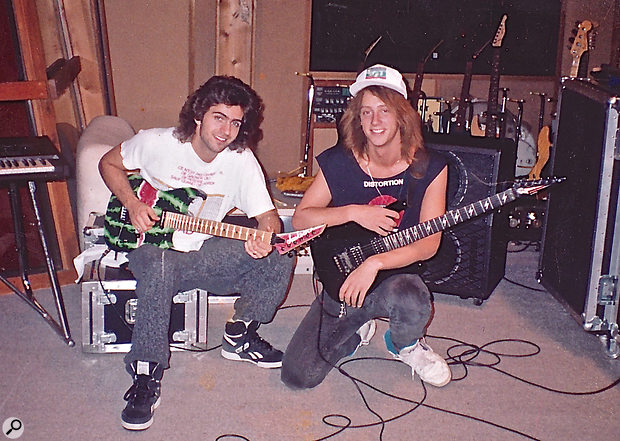 Dweezil Zappa (left) and Craig Parker Adams at the Utility Muffin Research Kitchen in 1989.Photo: Moon Zappa
Who was this Dweezil Zappa? Craig knew all about Frank, whose heavy-duty music spoke to him. And he was impressed by the almost scientific approach Zappa expressed in interviews. Craig saw Frank live for the first time in 1984 and, more familiar with big-production concerts, was intrigued by this remarkable guitarist and his band of elite musicians who simply stood there and played. And played. But he had no idea about Dweezil.
And now, years later at that Hollywood store, here was Dweezil, in Craig's charge for an hour. "We hit it off," he recalls. "He was so nice to me, and he goes, 'Man, you know a lot about me and my music and my dad!' And then I said 'Hey, I just moved to town, don't have a lot of friends here, and I'd really like to be your friend.' And he says, 'Sure, I'll be your friend.' A week later, I'm standing in their kitchen with Frank and Dweezil. And that was 30 years ago."
Craig and Dweezil remained friends, exchanging notes as guitarists do, and in 1997 Craig became a studio owner, with a space at first simply intended to be somewhere to record and play around with his own music. The studio was located on Santa Monica Boulevard in Hollywood, not far from the Paramount movie lot, in a very old...
You are reading one of the locked Subscriber-only articles from our latest 5 issues.
You've read 20% of this article for free, so to continue reading...
Buy & Download this Single Article in PDF format

£1.00 GBP

$1.49 USD


For less than the price of a coffee, buy now and immediately download to your computer or smartphone.

Buy & Download the Full Issue PDF
Our 'full SOS magazine' for smartphone/tablet/computer. More info...

Published August 2020