Photo: Mr Bonzai
Harry Gregson-Williams's drive to explore original ideas and sounds has made him one of Hollywood's leading composers, scoring everything from romantic comedies to spy thrillers and historical dramas.
"In an odd sort of way, I think I'm aiming to perfect one composition through this entire journey," says Harry Gregson-Williams. "There are certain chord changes that move me — I don't know about anybody else, but there are ways that a melody can move from left to right that appeal to me, that attract me and let me sound like me. Why this is, who can say? You can trace things back to God knows what, but I come back to them time and time again, and the joy of working on such a variety of films is that the music's always going to come out differently."
With more than 40 movie scores currently to his credit, Gregson-Williams has learned not to over-analyse the creative process. His track record includes animated blockbusters Shrek, Shrek 2, Antz and Chicken Run, a trio of Tony Scott actioners — Man On Fire, Spy Game and Enemy Of The State — and Joel Schumacher's Veronica Guerin and Phone Booth, while his most recent projects include Tony Scott's Domino, Andrew Adamson's The Chronicles Of Narnia: The Lion, The Witch & The Wardrobe for Disney, and the Ridley Scott epic Kingdom Of Heaven. The man is on a roll, and for now he's happy to proceed with the journey, wherever that should take him.
Photo: Mr Bonzai
A native of Chichester in the south of England, Harry Gregson-Williams learned to read music by the age of four and toured Europe as a choirboy with an ensemble from the music school of St. John's College in Cambridge. By the age of 13 he had been on over a dozen recordings, and he went on to study music at the Guildhall School of Music and Drama in London before spending a few years teaching music to children in England, Egypt and Kenya. Thereafter, Gregson-Williams's professional career was launched as an orchestrator and arranger for well known composer Richard Harvey, before he went on to score Nicolas Roeg's Full Body Massage and Hotel Paradise. Following his relocation to Los Angeles in 1995, he became a protégé of Oscar winner Hans Zimmer, providing additional music for films such as The Rock, Broken Arrow and Armageddon before spending the past decade involved with the aforementioned diverse list of major projects.
Harry Gregson-Williams's work area at Wavecrest — featuring no fewer than five Yamaha 02R mixers (right).Photo: Mr Bonzai
"So," I ask, "while the time and the place in which a movie is set obviously help define the instrumentation and the arrangements, how is the music itself conceived inside Harry Gregson-Williams's head?"
"Oh hell," comes the reply, "I'm often concerned that I've forgotten how I do that, and it terrifies the crap out of me! The process is always pretty identical, and Veronica Guerin was a perfect example in this regard. That Joel Schumacher movie was alarming for me, because here I was, a skinny white English boy, being asked to score this film that was entirely set in Dublin with an Irish cast. However, rather than try to put a different hat on compositionally and think of myself as Irish, I used my own wherewithal and compositional technique, sprinkled liberally with what I perceived to be an Irish influence. The same thing happened on Kingdom Of Heaven — my process was just the same. By utilising different forces and melodies, I could duck and dive slightly differently to something that was entirely Western.
"When I worked on Shrek, the director really liked the tune but he chucked it out because it didn't suit the main character. Shrek was kind of lumpy and clumsy and a bit shy and unsure of himself, and suddenly I was stuck, wondering where the hell I was going wrong when the tune was perfectly good. Well, it turned out that the orchestration that I'd chosen was the problem, so overnight I had a friend of mine — a wonderful cellist — rent a double bass and come in and play the theme on that. He was not a double-bass player, he was a cellist, so he found it quite difficult, but what came out was lumpy and a little bit halting, and there you go, Bob's your uncle. I played it for the director the next day and he thought it was great."
OK, but what is the compositional process that runs through all of HG-W's projects?
"An intense period of calm before the storm," he responds, somewhat enigmatically. "I frequently run the film in my studio and try to pick out the nuances that might give me a clue as to where I can go with certain characters. I write at a grand piano, a Disklavier that I often turn on to record everything I do, because frequently during inspirational moments when I hit on something I don't want to stop playing, and 10 minutes later I'll be wondering what the hell I played. It's good to have method to one's madness, and I spend quite a lot of time thinking about what I'm trying to do before I actually do it."
So, he doesn't fall out of bed with a tune in his head... "No, not at all. I bloody force it, banging my head with a hammer until something comes out. It's music to order. I've got a deadline and I've got to come up with it. To come up with something original, all one can do is draw on one's own experiences, so thank God I've done such a variety of work — if all I had done during the past 10 years was romantic comedies instead of all these different films, I'd probably just be repeating myself time and time and time again. I know I've got one or two decent ideas, but I'm not a bottomless pit.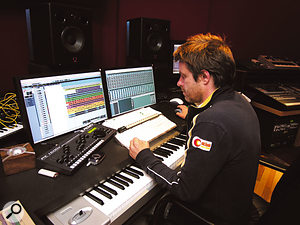 Gregson-Williams's main sequencing tool is Steinberg's Cubase SX.Photo: Mr Bonzai
"I remember last year, doing Bridget Jones's Diary 2 and being very worried to begin with that all I could do was write a conventional romantic comedy score with orchestra, strings and piano. I beat myself up for months, thinking 'How can I avoid doing that? What is it that I can do that's going to give the audience the same feeling, give the director what she wants and still come away thinking that was an original thought?' In the end the director came to my rescue, because I'd written some fairly decent cues already for her, but I wouldn't orchestrate them in the way that they wanted to be orchestrated. I felt that was just too conventional. However, there was nothing wrong with leaning on convention in that score at all, and although what I did in the end didn't break down any new barriers, and no one wrote to me saying 'You've reinvented film scores,' it worked perfectly for the film, and I realised that as long as it feels right for the film and feels original to me, that's fine.
"I mean, you can sit there and say 'Well, look Harry, you've never written anything original in your life,' and I'd have to disagree with you — I did recently when I finished Domino. I've never done anything like that before. There was little orchestral writing, I wrote and recorded a song with a friend, Lisbeth Scott, which was sung by Macy Gray, and it was just a totally different beast: much more eclectic and much, much more contemporary. I love that variety.
"One minute I'm doing a Fatboy Slim hat and the next thing I'm doing Kingdom Of Heaven or Shrek 2 or Man On Fire. They're all so very different, and I think that's the only thing that keeps me from a collision course with myself, having a problem with trying to knock out something original. If I can feel that something's original for me, that's very different to what you might perceive as original, because for me the experience is original — I've never done something based entirely in the 12th century before, or that heavily concerns religion, as was the case with Kingdom Of Heaven... I never got to work with so many choirs or with Turkish musicians before."
Kingdom Of Heaven, co-starring Liam Neeson, Jeremy Irons, David Thewlis and Orlando Bloom, released in May 2005, focuses on a 12th-century blacksmith named Balian (Bloom) who, having lost his family in medieval France, travels to Jerusalem, gets drawn into the Crusades, tries to broker peace between the Muslims and the Christians, and strives to establish... yes, a kingdom of heaven on earth. Replete with the ingredients that appear to be de rigeur for modern-day historical epics — a sweeping narrative, spectacular battles, exotic landscapes, a cast of thousands (many of them computer-generated), plenty of heroics and just as much blood and guts — the movie also benefits greatly from Gregson-Williams's soaring musical score, a masterful blend of the new with the not-as-old-as-you-think that does the job in terms of capturing the essence and conveying the feel of Dark Age intrigue.
Photo: Mr Bonzai
"When I joined the project, which was six months before I finished it, Ridley Scott already had a pretty good cut of the film," Gregson-Williams recalls. "It was about three and a half hours long, and that's the version I began scoring, but the film ended up being under two and a half hours, so quite a lot of music ended up on the cutting-room floor, along with quite a lot of footage that'll probably pop up on the DVD. In that kind of situation I'm often playing catch-up, but it's all part of the process. No one is trying to trip you up, even if it might sometimes feel like that. The film-maker's got to be allowed to make his movie.
"Ridley had a very open mind about it all. He was full of encouragement and he left it open for me to discern the scenes I wanted to start with and then directed me from there. He was very clear about what he wanted to achieve, which basically related to the main character, the Orlando Bloom character, who starts off as very naive and pretty anonymous, while filmically the screen is filled with blues and whites while it is snowing constantly in northern France — very cold and a lot of blue light. Ridley therefore asked me to make the music as chilly as the footage, and to that end I used a consort of viols, which were basically forerunners of the violin, viola and cello."
Initially unfamiliar with the viol, a six-stringed instrument with a fretted fingerboard, flat-backed body and curved bow that is played underhand, Gregson-Williams came upon it during the course of his research and, despite the fact that it was popular during the 16th and 17th centuries, used it anachronistically within the 12th-century context of Kingdom Of Heaven. After all, aside from attentive music historians, who would notice this musical sleight of hand?
"OK, so the viols are not absolutely authentic in terms of the date," the composer reasons, "but then neither are orchestras, and if I was only going to limit myself to 12th-century instruments, we would have ended up with pretty much a racket on screen. Viols have this rather coarse, edgy sound, played without any vibrato, and I decided they would be perfect for the beginning of the film. Look, this is a movie, and there are no prizes in Hollywood for being authentic. As long as something provides the listener and the viewer with the right feeling, that's all that matters."
Harry Gregson-Williams's LA studio complex, Wavecrest Music, commenced operations in Venice Beach in August 2003, and comprises three floors of editing suites, mix rooms and a live room, as well as Harry's own studio on the top level. This houses the following gear:
Sequencing and digital audio
Steinberg Cubase SX and Ableton Live running on dual 3.6GHz Xeon server with 4GB RAM, two RME HDSP 9652 soundcards, 75GB mirrored SATA system drives and 400GB mirrored SATA audio/sample storage drives. MIDI is streamed over LAN to Gigastudio PCs, and an Emagic Unitor 8 and AMT8 are used for hardware synths.
Pro Tools HD Accel system running on dual 2GHz Apple G5, with one 192 Analog and seven 192 Digital interfaces.
Samplers
14x Emu E4X.
24x Roland S760.
7x 3.0GHz Pentium 4 PCs with 80GB SATA system drives, RME HDSP 9652 soundcards and 250GB SATA sound drives with custom and commercial sound libraries, running Tascam Gigastudio 3.
Software synths and plug-ins
Arturia ARP 2600, Minimoog V and CS80.
Antares Filter and Auto-Tune.
Applied Acoustics Lounge Lizard.
Gmedia Imposcar and Oddity.
GRM Tools.
Korg Legacy Collection.
Native Instruments Absynth 3, Battery 2, FM7, Kontakt 2, Pro 53, Reaktor 4.
Ohm Force Ohm Boyz.
Spectrasonics Stylus RMX, Atmosphere and Trilogy.
Steinberg D'Cota, X-Phraze, Virtual Guitarist, VG Electric Edition, Groove Agent and Halion.
Hardware synths
Access Virus, Indigo 2 and Redback.
Clavia Nord Rack, Nord 3 KB and Nord Modular.
Korg Trinity Pro X, Wavestation A/D and M1R.
Novation Supernova II Pro.
Roland JP8080, JD990, JV1080 and MKS80.
Studio Electronics SE1, ATC1 and Omega 8.
Waldorf Q, Microwave II, Microwave XT and Pulse.
Recording, mixing & outboard
Avalon 727 preamp.
Eventide DSP4000 effects.
Lexicon PCM80 and 90 reverbs.
Quested HQ108 speakers in 5.1 setup.
5x Yamaha 02R digital mixers.
Accordingly, Gregson-Williams turned to Fretwork, a six-piece ensemble of highly acclaimed London-based musicians who, over the course of nearly 20 years, have performed English music for viol consort on radio and record, as well as in concert halls around the globe.
"It's kind of odd to see and hear these stunning, world-renowned players performing on really outdated instruments," he remarks. "However, I plonked them in the middle of Abbey Road Studio One and got a crash course in how to write for viols from their leader. I mean, if I was trying to write for a flute and I was writing really low notes, a flautist might turn around and say 'I don't have that note on my instrument.' So, in this case, I had to be careful and take note of the viols' range and ensure that I wasn't writing anything that would be impossible to play. Obviously, if we were using traditional orchestrations I'd know where I was, but I'd never studied viols and so this whole exercise was pretty fascinating to me. Instead of using them by themselves I kind of surrounded them with a regular orchestra, and that seemed to work for the first act of the film. They made a glorious sound.
Other rooms at Wavecrest include the 'blue room' (top), editing suites (middle) and a large live area (bottom).Photo: Mr Bonzai"Ridley wanted me to musically track the movements of Orlando Bloom's character. He starts off in this chilly, grubby place and arrives in Jerusalem, where the sights, sounds and smells are all new to him. You know, he touches silk for the first time, he sees beautiful women who aren't dirty, he hears instruments playing in the marketplace that he's never heard before, and so musically I was able to transition from northern Europe to more Middle Eastern sounds. And that was a wonderful thing to hang onto, because as long as I charted Balian's progress through the film, I felt that I had a secure anchor on where I should be musically.
"As the action progressed I introduced these more ethnic and Middle Eastern sounds, and I spent two or three days with a small group of Turkish percussionists and singer at Abbey Road. That was interesting. Starting to write music around what I heard them do, I integrated them into the score, and then as we got deeper into the film an emotional tug took place between several of the central characters, particularly Balian and his father, who dies in the film's second act — everything that the young crusader does is for his father, and this tight bond between them carries us through as we go towards the battle for Jerusalem, when it was necessary for me to lean more heavily on traditional orchestrations to give me the power that I needed to illustrate what was going on. I went for a lot of authentic percussion instruments and also started doing quite a lot of choral writing. After all, it was Kingdom Of Heaven, and there's a certain thing that choral music can bring that instrumental music perhaps doesn't sometimes.
"I utilised two very different choirs that had two very different effects. The first one was very small, with 16 singers, called the King's Consort, performing in eight-part harmony that I wrote for the more tender and reflective moments, two on each part. That provided a very intimate, extremely church-like sound. It had to be very accurate, and they were very, very, very good singers. Then, I also hired London's Bach Choir simply because there were 120 of them, enabling 30 or 40 to sing each part, and I utilised their power and their gravitas to give a greater focus to the battle scenes later on in the film.
Photo: Mr Bonzai
"In amongst all that I also worked with a number of different soloists and various extraneous singers whom I found — I wrote a hell of a lot of music for the movie, and that's not the sort of thing that one would want to be doing too often. It's quite a lot to take on. And technically it was very difficult for me, too. You know, I've spent 10 years over here in Hollywood, doing my thing, and when I've worked in London it's been to record the orchestra after I've written the music. In this case, however, I was required to be in London during the writing process, and that meant I had to freight my studio over there, find someone to set it up, hire a whole load of technical assistants, find somewhere to live and so on. It was quite an undertaking.
"During the course of all my previous scores I had felt my way and got into a pattern, setting conditions to bring out the best in myself, and I can assure you it isn't easy to freight an intricately balanced studio over to a new location, set it up, hire a whole new support staff, and walk in and expect it all to work and sound as great as it usually would. That's what I had to do, because since it was an entirely English production I wasn't allowed to have any of my own trusty guys who have worked with me for years, as they aren't English for the most part. It was very challenging. What's more, I'd never written with Ridley before — I'd only met him a couple of times. Still, the whole exercise was fantastic, trying to integrate sounds and instrumentation that I'd previously never had the chance to do. I mean, I have scored some movies that, for one reason or another, have required me to take in the Middle East, but not ones that were set entirely in the 12th century."
All of which brings us back to the ongoing process that Harry Gregson-Williams mentioned at the top of this interview — the unwitting journey towards the one perfect composition.
"There's a score that I wrote for a tiny little independent movie called The Magic Of Marciano," he says, referring to a 2000 film written and directed by Tony Barbieri, starring Natassja Kinski. "I just hit upon a theme on that movie that I sometimes come back to and feel drawn towards — it sticks in my mind as probably the most lucid piece of composition that I've done. It's so clear and so clean, when I listen to it I can hear what I was trying to do. And I've drawn on it from time to time, as I still think that I can improve on that first idea that appeals to me.
"You see, I nearly 'did it', and it's probably a good job that I didn't completely do it, otherwise I don't know what I'd be doing now — when I say 'do it', I don't necessarily mean the melody or the harmony, but a combination of the two and the way it speaks to me. There's something about it that reassures me I'm not completely in the wrong job here, and it eggs me on to do better or to complete the germ of an idea that was enough for that film but can still be expanded upon."