Singer, Composer, Multi-instrumentalist & Producer
Dazzling harmonies, complex arrangements and ambitious production have made multi-instrumentalist Jacob Collier a unique phenomenon.
The music industry is currently awash with successful artists who got their break by uploading videos to YouTube, but few have done it with quite such style and panache as Jacob Collier. From 2012 on, the now 24-year-old singer/musician/producer began to earn a growing reputation for his dazzlingly inventive cover versions, multi–part harmonies and split-screen videos in which he could be seen playing an array of different instruments in his small studio at his parents' house in North London. Before long, these videos were going viral and racking up hundreds of thousands of plays.
Eventually, it was his highly creative funk-jazz arrangement of Stevie Wonder's 'Don't You Worry 'Bout A Thing' that struck gold. Featuring a choir of Jacob Colliers performing a cappella before cutting to the musician playing double bass, piano, congas, synth and assorted percussion, it caught the eye of none other than Quincy Jones. The veteran arranger/producer promptly signed Collier to his management agency.
"'Don't You Worry 'Bout A Thing', that was the one," says Collier with a wide smile. "I don't know why. I mean, y'know, for me, I wasn't really concentrating on reaching people, I was concentrating on making the thing as best I could. My technology at that point was very unrefined. I had one [Shure] SM58 and Logic and a MIDI controller. I had my sister's iPad and I had a copy of Final Cut Express. And I had a lot of attention span. I had a lot of imagination.
"So, I would sit down and make these arrangements, and that one just hit a nerve. I mean, it's pretty extremely reharmonised and I think that took a few musicians by surprise. A lot of initial fans were everything from young music students to veterans, y'know. People like Herbie Hancock and Quincy Jones and Take 6 and Pat Metheny. I remember getting these emails in my inbox and just thinking, 'Are you fricking kidding me? Is this really happening?'"
Jacob Collier came to the world's attention with his remarkable interpretation of Stevie Wonder's 'Don't You Worry 'Bout A Thing'.
Seven years on, Jacob Collier has released three albums — 2016's In My Room, and the first two volumes of his planned Djesse four-album series — and has collaborated with everyone from Laura Mvula to the Metropole Orkest to Take 6 to Steve Vai. He's also received standing ovations the world over for his cutting-edge technological live performances. Collier seems to have taken all of this in his stride and remains so grounded likely because of the fact that he still mainly operates out of his home studio.
"I never fancied I was having a career," he stresses. "I just knew I was learning at the pace I was willing to learn. I was experimenting with the tools I had before me. I was pushing my own knowledge to the end of where it would go and beyond. And the cool thing that I still feel to this day is that that process hasn't changed. It's the same room, it's the same imagination."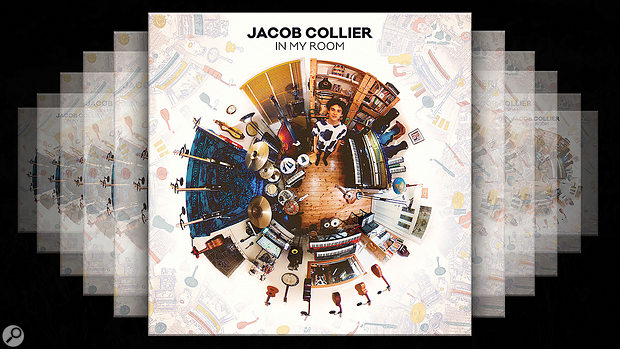 True to its title, Jacob Collier's debut album was recorded in his music room at his parents' house, as were the YouTube videos that made him a star.
The room that was to become Jacob Collier's studio at his parents' house has, in one form or another, been the family's designated music room for his whole life. "Literally 24 years, which is the length of my life thus far!" he laughs. "I've always lived in the same house, which I feel really lucky about. So, that was the room where the piano lived and I would spend a lot of time there just messing around with chords."
Further sparking Collier's imagination as a kid was the fact that his violin tutor mother taught her students in that room. "I would sit on her lap," he remembers, "and watch her and listen to her teaching and sort of began to get the themes of music in my head. She'd be playing everything from Bach to Beck to Prince to Bartok. Folk music, rock music. So, I didn't see any reason to exclude different styles from others. I just sort of absorbed the whole thing."
Collier started dabbling with making music on computers, using Cubase, at the age of only seven. By the time he was 11, he'd moved onto Logic. "By the time that came along, I knew I'd found my home and I've been using Logic therefore for 13 years, so just over half my life. Being in that room is so much about the software and I would say that Logic is very, very much a primary canvas. Almost a primary instrument for me, in the sense that if I think about a sound, I tend to be able to achieve the vague sound that I'm going for using those tools, simply because I've been spending so many years working with that skill set and working towards strengthening different kinds of sounds.
"Y'know, I...
You are reading one of the locked Subscriber-only articles from our latest 5 issues.
You've read 20% of this article for free, so to continue reading...
Buy & Download this single article in PDF format

£1.00 GBP

$1.49 USD


For less than the price of a coffee, buy now and immediately download to your computer or smartphone.

Buy & Download the Full Issue PDF
Our 'replica SOS magazine' for smartphone/tablet/desktop. More info...