Interview | Engineer & Producer
Twenty-five years ago, studio legend John Wood retired from the music industry. In a rare interview, he explains why he's making a comeback, and lays bare the techniques behind some of his greatest recordings.
During the '60s and '70s, the records John Wood made with artists such as Nick Drake, Fairport Convention, Pink Floyd, Kate and Anna McGarrigle, John Martyn, Squeeze, Richard and Linda Thompson and Sandy Denny garnered him a richly deserved reputation as one of the greatest sound engineers around. The characteristic perspective, depth, space and clarity of his recordings and mixes was second to none, while Sound Techniques — the Chelsea studio Wood co-founded and managed between 1965 and 1976 — was widely regarded as one of London's finest independent recording venues. By the mid-'80s, however, a combination of increasing record company interference, excessive multitracking and the dominance of computer-aided mixing meant that Wood no longer found the process of making records as enjoyable as he once had. As a consequence, he decided to embark on a new — and completely unrelated — business venture.
For over a decade, John barely set foot in a recording studio, instead concentrating all his efforts on converting an isolated Highland shooting lodge into a small exclusive hotel with his long-term partner Pam. However, a second similar venture was beset with problems during the late '90s, and the pair were left exhausted and somewhat poorer. Wood duly returned to the recording studio, renewing his long-standing partnership with producer Joe Boyd, and to enable him and Pam to remain in Scotland, he combined recording work with them running a small bed and breakfast business. Since John's sabbatical, some of the more well-known artists he has been working with include Kate and Anna McGarrigle, Loudon Wainwright III, Boo Hewerdine, Beth Orton and Chris Difford. He has also been remastering earlier work, such as albums by John Martyn, Nick Drake and the McGarrigles. But 2011 marks the beginning of a new era for John, as he unveils a new analogue mixing facility at his beautiful home near Fraserburgh, Aberdeenshire.
John Wood's new mixing suite is designed with the specific intention of allowing him to mix digitally recorded projects in the analogue domain.
The new venture was prompted mainly by the sweeping changes that have occurred in the recording industry over the past decade. "Anybody who has worked in the industry for the past 25 years or more has seen very dramatic changes in the last 10 or 12," explains Wood. "The way records are marketed has changed, and labels have withdrawn from funding original, interesting projects and are not sticking with artists. But technology has enabled artists to cut their costs and do their own thing. The majority of records now are not made in conventional high-end studios, because nobody can afford them, and that's obvious by the number that are falling by the wayside. There are very few major studios left anywhere — in New York, London, Los Angeles or Nashville."
With this in mind, Wood's plan is to offer his services to artists who have a limited recording budget, but still seek the sonic excellence of the records he and other leading engineers made during the music industry's heyday. While John's suite in Scotland does not offer recording facilities per se — he doesn't even have a microphone in the house — he is still more than happy to get back behind the board at other studios if someone wants him to take charge of an entire recording project. However, he expects to be concentrating mainly on providing a cost-effective analogue mixing service to artists who've recorded their own projects on digital systems. For John, 'mixing in the box' — which he has extensively dabbled with — just doesn't compare, especially for more traditional styles of music.
"The majority of people I know admit that mixing in the analogue domain is superior," explains John. "There is a lot of doubt about 'mixing in the box' from people of my generation and the next, who've worked a lot in analogue. You just don't get the breadth, space, perspective and warmth that I like from a digital mix, particularly with acoustic instruments. What I and a lot of people who deal with acoustic music don't like is the hard-edged transients that you hear with digital. That's fine for drums, maybe, but not so good for acoustic guitars or strings. Using plug-in EQs in the digital domain is very different to their analogue counterparts. In spite of their manufacturers' claims as to what piece of classic equipment they're replicating, they always sound totally different, and it seems you tend to use more EQ than you ever would with an analogue counterpart. Another concern is that although many of the previous limitations of digital recording can be overcome with higher sampling rates, the higher-definition rates will require more processing power, and the more processing power you're using, the more corruption there seems to be. The more you do, the slower things get and — because it's not all happening at once — the software seems to make decisions about what it does and when it does it. My feeling is you're moving more and more away from what was happening during the recording, because of the amount of processing that's going on. Those marketing digital software will no doubt say that this is just analogue dinosaur prejudice and there is no scientific basis for this view, but if that's so, why are they now endeavouring to market plug-ins to make your digital mixes sound as though they had been mixed to tape? I can only trust my ears and those of other professionals whose opinions I respect."
A young John Wood at the lathe in Levy's Sound Studios.Wood adamantly believes that the only way to achieve the highest mix quality is to transfer each and every recorded track of digital information to the analogue domain. "People started taking their mixes and then recording them on tape because they thought they sounded better," he says. "And I'm sure they did sound better, but then, if you think about it, you're still using all these digital devices within the computer. If you're really going to mix in the analogue domain, you need to independently convert and route as many tracks as possible into your analogue mixer. But the current cost of converting analogue to digital isn't cheap, particularly if you're using high-cost converters and high sample rates. I can handle 32 channels of D-A up to sample rates of 192kHz. Now, that's unusual. Most people with a home-based facility are doing it on eight or 16… and I have the additional benefit of a half-inch tape machine."
Building the new facility has taken John some time, especially to source some of the gear he deemed essential. However, one decision that was pretty straightforward was choosing the best space for the job. Not only was the second-floor room in his spacious 1820s former B&B already an office, it also happened to have a rather familiar acoustic shape to it. "It's very similar to the Sound Techniques, Chelsea control room," says Wood. "Chelsea also had a coombed ceiling like this, although it only had it on one side. It wasn't as wide as this, but they have very similar dimensions. Having spent much of my recording career in the days before control rooms became large spaces, were built around the monitors and had fancy acoustic treatments, I do like the feel and sound of this room."
Choosing the right desk was obviously a high priority, and he ended up with a second-hand, 32-input Neotek Essence. "I spent a long time talking to a couple of people about having something custom-made, as unfortunately nobody currently makes exactly what I wanted," explains John. "What I was looking for was a very clean stereo mixer: every channel with a pan, every channel with two or three auxiliary sends, nothing very complicated in the monitoring and some equalisers. After discussing my requirements at length, I started looking at second-hand stuff that was around, and this Neotek had been around for quite a long time at Funky Junk. They'd used it in their short-lived re-mixdown facility. It's very well made and — like all Neoteks — very clean, and the other thing is that it has a really small footprint, so it fits into the room easily."
Meanwhile, John got hold of both his Lexicon 480L digital reverb and his Ampex ATR102 half-inch tape machine through an online resource that's no doubt rather familiar to the readers of this magazine. "It was the last great tape machine made, the ATR102, but they're pretty hard to find," Wood enthuses. "You just have to sit and wait and wait, but I bought that within a day of seeing it and several people have tried to buy it off me since. I found that in the Sound On Sound classified ads — as I did the Lexicon 480, which, for me, is the still the best digital reverb."
After the sale of Sound Techniques, John Wood went freelance in the late '70s.
John Wood fell in love with classical music at a very early age, and this passion, combined with his father's obsession with hi-fi equipment, helped to give his ear an early grounding in sound. After a few unhappy years training to be a metallurgist, John duly quit his placement and decided he would do everything he could to forge some kind of career in classical recording. He sent job-seeking letters to Phillips, Decca, EMI's Abbey Road and the BBC, and ended up with interviews at the latter three. The BBC turned him down, EMI told him they had no vacancies, but Decca offered him a job on the spot. Funnily enough, a few weeks after he accepted the job at Decca's Broadhurst Gardens studios, he received a belated job offer from Abbey Road. Working in one of the stereo mastering rooms at Decca — where John not only cut the label's classical catalogue, but also masters from innumerable other genres and labels — widened his musical knowledge and helped him understand the key components of a great-sounding record.
"I started learning the basic tools of the trade," Wood explains. "Mastering work was split up by labels, and I used to do the whole of the London American catalogue and RCA Victor, and then I started doing Warner Brothers when it arrived. And, of course, you'd notice all the differences. You were exposed to a lot of different styles and you could tell the difference between stuff that had been recorded for Atlantic and stuff that had been recorded for Kapp or Liberty — there were all these little labels on the London American label in those days. Then, if I'd done the month's releases, I might go off and edit some classical A&R stuff. I'd go and edit up the mono version of The Marriage Of Figaro with an A&R man, a razor blade, an editing block and some sticky tape!"
In 1960, only 18 months after joining Decca, John Wood was offered a lucrative deal by the Top Rank record label to manage and build up their fledgling stereo mastering business. Frustrated by not being able to get into one of the Decca classical recording teams, he took the job. Six weeks later, Top Rank was sold to EMI, and Wood was made redundant. "[EMI] took all the equipment but they didn't want me!" he sighs.
The Neotek Essence desk fitted John Wood's requirements for a mixer that was small and very clean-sounding.However, Wood soon found himself another job, at Levy's Sound Studios on New Bond Street, an independent outfit owned by brothers Maurice and Jacques Levy, who had two record labels and a production plant in addition to the studio. The Levys had just bought themselves a Neumann lathe, and had been looking for someone with the right skill set to help launch them into the burgeoning stereo mastering marketplace. John Wood ticked all their boxes.
"The work was twofold," explains John. "I was mastering the studio's recordings for their own Embassy and Oriole labels, but I also built up quite an interesting clientele for independent mastering, as at that time, the only other independent stereo mastering room was at IBC, who used a Lyrec system. I was mastering a wide range of genres, including the Savoy Jazz catalogue, Riverside Jazz, World Pacific, Westminster Classics, all sorts of stuff… and I was cutting for Pye, whose work included the Reprise catalogue. I was listening to new and interesting stuff all the time, and I suppose — to some extent — that affects the way you think about things and then shapes the way you want to do things. Sometimes, you would hear stuff and you'd think, 'Jesus, that's amazing, what's all that about?' The Reprise catalogue was like that. When the first Reprise Sinatra stuff turned up, I remember thinking, 'God almighty, what's that?'"
Aside from helping expose him to another slew of great international recordings, the four or so years Wood spent in New Bond Street were significant for several other reasons. Firstly, it was there that John met Geoff Frost, Levy's Chief Engineer, with whom he would set up the Sound Techniques studio in Chelsea in 1965 (for the full Sound Techniques story, see SOS October 2008: /sos/oct08/articles/soundtechniques.htm). Secondly, it was during this time that Wood started doing his own recording sessions, some for the Levy Brothers' own label imprints and some at the behest of the labels for whom he was mastering. Early pre-Sound Techniques John Wood clients included Memphis Slim, the Downliners Sect and the Swingin' Blue Jeans.
The "last great tape machine": Wood's Ampex ATR102.
John Wood played a key role in building Sound Techniques, a converted Victorian dairy situated just off the King's Road, and in designing the gear with Geoff Frost. Wood was also Studio Manager and, in effect, Chief Engineer from the day it opened its doors in the summer of 1965 through to the time it was sold to Olympic in 1976. Although Wood also recorded and mixed in other studios in London and across the States throughout the '60s and '70s — sometimes simply because Sound Techniques was fully booked — it was at Chelsea where he really developed the recording and mixing philosophies that he's always held dear. Throughout John's recording career, he's always favoured capturing everything live in the same room at the same time, despite the limited separation. "I'm not a slave to separation," John explains. "Usually, you've got to isolate the vocals, but it depends who you're working with. Invariably, you're going to have to do something with the vocals later, but — as regards everything else — I quite like the sound of spill! When I started, about the only person who got a pair of headphones was the drummer. Now every person with a pair of headphones has their own mix and absolutely everybody wears headphones. Nowadays, everybody thinks they must have total control throughout the recording process. One of the other things that's changed in studio design — and not for the better, in my opinion — is that now you have a room to put the drums in… so you can make them sound like a bunch of kitchen cupboards falling downstairs! Then you'll have another room for acoustic guitars, and so on. The idea of having one acoustic space to record in, possibly with a vocal booth, has gone out of the window. But why? For me, music is meant to be played as an ensemble, not instrument by instrument and created piece by piece as a kit of parts."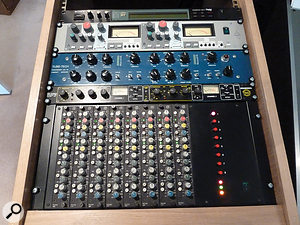 As well as his mixer and tape machine, Wood's new studio includes a small amount of select outboard: from top, Sony DPSR7 reverb, Amek 9098 compressor, Tube-Tech LCA2A compressor, Drawmer 1968 Mercenary Edition compressor and eight channels of Calrec PQ1459 EQ.This philosophy had become unusual even by the late '70s, as Wood discovered during the sessions for Sandy Denny's final album, Rendezvous, at Island's Basing Street Studios. "We decided we would record three titles completely live ['Full Moon', 'No More Sad Refrains' and 'I'm A Dreamer'] with her playing the piano with the rhythm section and the strings," says Wood. "We did it in Basing Street One, which was a fairly live big room… and surprisingly, the assistant had never seen a session with everyone playing simultaneously before! On 'I'm A Dreamer', there's one point where the strings go to a solo, and I just whacked the string mics up in the mix and you get this fantastic drum sound because it's all blasting round the studio. It sounds great — I love it! Not only that, but after three hours we had 85 percent of the recording finished!
"When I'm making a record, I like to be able to hear everything that's going on and, when I've finished the mix, I like to be able to pinpoint everything. I like things to be in some kind of perspective. It's not something that I consciously go out to do, but that's the way it ends up — but then, having said that, does Squeeze have that quality? I don't know, and I don't know whether 'Arnold Layne' [Pink Floyd's debut single from 1967] does either. I think maybe — more than anything else — I like to be able to hear everything in its place. I just do not understand why people compress the life out of things. That flat, loud sound is anything but the [Phil] Spector 'wall of sound'. If you listen to Spector's recordings, they've got a lot of air and space around them, and the reason is because they recorded the whole damn lot at once in a very small room, and everything's going down everything else!"
John Wood in the control room at Sound Techniques, 1974.
When asked about his favourite microphones and techniques, John responds: "People do seem to be obsessed with microphone selection and microphone placement. I still get people contacting me, asking, 'What microphone did you use on Nick Drake's guitar? What microphone did you use for Sandy Denny's vocals?' But I know I used three different microphones for recording Sandy's vocals over the years, for all sorts of different reasons, changes in her voice with age and room acoustics being a couple.
"I'll use [Neumann] 67s, 47s and [AKG] C12s for vocals but, being valve ones, they go noisy. In fact, I used to own a couple of U47s with Nuvistors [as substitutes for the original and extremely rare VF14 valves] in them. People said, 'Oh, they're not as good,' but the thing about them was that they didn't have noisy valves. Now, I'm not going to junk vintage microphones, but one of the problems is that you may start doing vocals in a studio and only have one 47. And during the session it'll go noisy, so you'll switch it off, and sometimes it will recover — but often it won't. Then you're stuck with a change in the vocal sound, which isn't good, as it's usually the focus of any record. There's this whole nonsense surrounding valves that people go on about. If they'd been brought up in the era of valves, when you had them in tape machines and you had to change them every five minutes because they were going noisy or microphonic, they wouldn't be so keen on the damn things! But I still think that valves were better than anything else in limiters — the sound of the Fairchild and the early Teletronix. There is one recent valve mic that I am very fond of — the Sony 800 — which is a rarity in UK studios… but, alas, as with so many of their audio products, just as everyone discovers how good they are, Sony discontinue them.
"My favourite ribbons are RCA 77BXs, but you virtually never see them over here. They used to be used in American broadcast studios for speech, but over here the only old ribbons that you get and I'm familiar with are Coles/STC 4038s. You do get them knocking around now, but you don't see a lot of them. I'll use those sometimes. The only current ribbons I have had any experience with are made by Royer, which I find a little too bright for my taste and not as smooth. As far as what I use ribbons for… well, I don't think I'm going to tell you, as I've got to keep a few things up my sleeve!
"When we started Sound Techniques, we hadn't got much option other than to take a minimalist approach to drum miking because, quite honestly, we hadn't got that many microphones. It was very noticeable that when you'd got a good drummer, you didn't need many microphones, and if you had a bad drummer, you would start putting extra mics up. Until 16-track arrived, I don't think I bothered to put mics on the tom-toms even, unless you wanted one for an effect or something. I still won't use hi-hat mics. They just sound so bloody intrusive and horrible to me. Initially, when Sound Techniques started, we used to use a bass-drum mic and an overhead mic, and then we probably started using a snare mic as well, and later with stereo I might've miked the tom-toms and used an overhead pair — but once you started miking tom-toms, then you'd have to start thinking about noise gates, because the way most drummers tune them, they will have a bit of ring in them every time the snare gets hit.
"If I set up a drum kit now, I will use six or seven mics maximum. Hopefully they've only got two toms — a rack and a floor — but if they've got three, I'll use three mics. If they had more than three, I'd tell the drummer to take the bloody things down! Then I'll have a bass drum mic, a snare mic and two over the top. Invariably, I will use a [Neumann] U47 FET on a snare drum, and I have done for years. Sometimes we used one underneath, but I'd sooner get more snare in the overheads. I'll do that because it gives it a fatter sound. The U47 FET stands a very high sound-pressure level and it works. Drummers hate it because it's a big microphone and it gets in their way, so there are occasions when I'll back off. I've never felt the need to mic up cymbals or the underneath skins of toms.
"When I was mixing the McGarrigles album at the Hit Factory in New York in 1976, this hotshot heavy metal engineer had been in one of the studios and the drum kit was still up. He had 15 mics on the drums and I just thought, 'For fuck's sake, what's that about?'"
Ultimately, although he will always prefer working with analogue equipment, John Wood is keen to emphasise that the gear is secondary. "People talk a lot of nonsense about microphones and equipment and recording techniques but, at the end of the day, the most important components are the artist's performance, the material they're performing and the people they're playing with," says Wood. "Everything after that is secondary. You try and use a really great room, you try and get all the mics you possibly could want, but you never get everything you want. You just use what you've got to the best of your ability. Also, the people you're working with have got to know you're doing the best for them as well, otherwise they won't give you their best."
So no chance the DIY recording world might see a John Wood plug-in? "I'm not in the business of being a confidence trickster, would be my answer to that!" laughs Wood. "If people think a magic box is all you need to make a record sound a certain way, then they've got their heads up their arses… there's no hope for the world!"
Check out www.analogmixing.net for more information on John Wood's new analogue mixing facility.  
Although John Wood has enjoyed success as a record producer in his own right, it is arguably the long players that he engineered and mixed with independent American producer Joe Boyd that are his most renowned. Nick Drake, Fairport Convention, Sandy Denny, Incredible String Band, Richard and Linda Thompson, Kate and Anna McGarrigle and Pink Floyd — to name but a few — were all initially 'discovered' and nurtured by Boyd, and duly introduced to Wood. While Joe would take a more than active part in the mixing process, it was usually John who would have the lion's share of responsibility for the actual recording.
"Joe and I devised our own way of working, and out of that, presumably, our own characteristics, sound-wise, I suppose," explains John. "Joe is very steeped in old records, but is not a great connoisseur of sonic quality. When it comes to the sound of instruments and, to some extent, voices, he just sits and takes very little notice. At the start, I tended to get things sounding the way I wanted them to sound at the end. In other words, I wasn't going to wait to the last minute to try and screw things around, so when we got to the mixing stage of the process, we would pretty much be only concerned with balance."
Joe and John had a very specific way of working together when it came to the mixing process, and their discussions were always open and honest, if not a little fractious. "Joe has very definite views on the ways he likes to hear things balanced," says Wood. "We set great stock by panning, as well as by level. Sooner than ride things around a lot, we would change the panning and maybe even tweak a little bit of EQ. And generally I would put the mix up the way I found I liked it sounding, then we might argue about the balance, and then I might leave the room and he might have a go. The more tracks we had, of course, the more these discussions would go on and, in the end, we'd arrive at what we both liked. Occasionally, he would do something that I thought was awful and we'd have a big argument about it. Sometimes he'd back off, and sometimes I'd back off!"
Back in 1977, John Wood was drafted in by old acquaintance John Cale to help mix Squeeze's debut album, and would go on to engineer and co-produce both the Cool For Cats (1979) and Argybargy (1980) albums for the band. John recounts how he came to produce the Deptford new wavers' first hit single, 'Take Me I'm Yours'.
"I came to produce Squeeze by default, almost. What happened was that they were making an album for A&M which was being produced by John Cale. I'd not worked with John since his solo albums — the last one being Helen Of Troy — and I suddenly got this call saying, 'Oh, I'm mixing this album, would you like to come and work with me on it?' and I said, 'Sure.' I duly rolled up at Morgan Studios a few days later and John was fiddling with the last overdubs, being particularly manic and trying to stimulate or prod them into larger-than-life performances. He was pretty much out of control. As time went on, the sessions became more chaotic and his behaviour increasingly eccentric. Then, after a couple of days of this, he never turned up again. I don't know whether he retired hurt or got retired, and I can't remember if we had started mixing — but the one thing that transpired was that none of the material was a single, and they needed to record another title.
"They said, 'We've got this song "Take Me I'm Yours".' In a major departure from the rest of the album, which was very much 'punk' in style, Glenn [Tilbrook] announced he wanted to use a sequencer. Never having had to work with them before, I found a session muso and booked him. I think he arrived with a Minimoog and sequencer and — under Glenn's direction — off we went! The vocals had the octave split between Chris and Glenn, and I don't know what made me try it, but I used an Eventide flanger on the vocals. I never could quite get the sound again, or could never find an Eventide flanger that sounded like it. That was actually the first thing I produced with Squeeze, although I never got any points. Until then, Squeeze had always been regarded as a new wave punk band, but 'Take Me I'm Yours' proved that there was a lot more to them than that."