Writing & Producing in LA
The Matrix: Scott Spock (with sideburns), Lauren Christy and Graham Edwards.
The success of Avril Lavigne's debut album Let Go catapulted The Matrix to the front rank of songwriters and producers. Since then, they've moved in ever wider musical circles, culminating in their work with nu-metal pioneers Korn.
Scott Spock from St Louis, Missouri, Lauren Christy from Croydon, South London and Graham Edwards from Aberdeen, Scotland make up one of the most successful songwriting and production teams in the business today. Jointly known as The Matrix, they have been burning up the charts and scooping top industry awards courtesy of work with everyone from Avril Lavigne, Liz Phair, Michelle Branch and Hilary Duff to Ricky Martin, Robbie Williams, David Bowie and, most recently, Korn. That's right: the same team that was responsible for Lavigne's 'Complicated' and 'Sk8er Boi', as well as Branch's 'You Get Me' and Duff's 'So Yesterday', is also behind all but one of the tracks on Korn's acclaimed new opus, See You On The Other Side. Shocked? The Matrix certainly were.
"We couldn't believe it when we got the call," Lauren Christy admits. "We were like 'What? Is this real?' It turns out they were actually doing this experiment, working with a whole load of leading pop writers like Glen Ballard and Linda Perry. We went in there thinking 'Yeah, right, this is really going to work out,' but three days later they were actually so amazed at how we all clicked that we got the gig. They called up and said 'OK, let's start making a record on Monday.' That was a real surprise.
"They had already spent time with pretty much everyone else in town and not had positive experiences," adds Scott Spock. "So, their guard was really up when we came in. That made it even harder for us to break through and bond with them, but luckily we did and it really happened and we're very happy about it."
"It was just kind of weird that a band as big as Korn would want Avril Lavigne's writer-producers to get involved," says Graham Edwards. "I thought we were being punked."
"When they realised we're sick, messed-up puppies, they probably felt comfortable with us," adds Christy, who swore after her marriage to Edwards that, for the sake of marital harmony, they would never work together. Things change...
Having attended stage school, played piano from an early age and gone through a Kate Bush phase, Christy moved with her spouse to LA in 1991 and subsequently made a couple of solo albums on the Mercury label. "Lauren's first album was very polite, very A/C, and her mum and dad really liked it," Edwards recalls. "Then came her second album, which was kind of rude and alternative, and her mum and dad didn't like it, but a lot of other people did. You see, Lauren's always had that thing — if you listen to those two albums you'll hear the vast openness in her writing. She goes from writing the Enya-type heartfelt song to singing about chicks having periods. It's like wow. And she's my wife. I don't know where she gets the lyrics from — she's certainly a sick puppy. I don't think I could get that sick with lyrics. I mean, I'm a sick puppy in real life, whereas she is lyrically."
The main outboard rack at The Matrix's studios. For his part, Edwards's musical initiation came at the age of 12 when he played guitar in his father's band, covering standards by Nat 'King' Cole and Frank Sinatra. "My first instrument is the bass, but I play a lot of guitar, too," he says. "As a bass player I worked with loads of '80s bands, from Adam & the Ants to Haircut 100, so between that and all the pop standards I performed with my dad, the library of music in my head is huge."
It was in 1998, after Edwards had formed an electronic pop duo named DollsHead with singer Sierra Swan, that he first encountered Scott Spock when the latter remixed one of their tracks. Edwards subsequently asked Spock to join DollsHead, and it was at this point that the band's manager, Sandy Roberton of World's End Management, spotted the possibilities and suggested that the two men start writing together for other people.
"I started as a jazz trumpet player in school, and I have a degree in jazz arranging," explains Spock, whose chin-length sideburns somehow match the Vulcan-sounding surname. "However, having gone down that road, I realised there was no money in being a trumpet player for the rest of my life — at college, I got into the whole computer side of arranging, learning how each instrument is portrayed in a mix and how it's played correctly. After that, I also got into writing and producing and remixing, and that led me to LA."
Spock and Edwards began collaborating in early 1999, and then, during the summer of that year, Christy broke her marital vow when she joined her hubby and his sidekick to form a songwriting triumvirate. They would never look back. Today, based out of their own two-studio facility in the San Fernando Valley, The Matrix are one of the industry's most in-demand production/songwriting teams.
"As we come from such different musical backgrounds, we approach the music differently, yet we always end up in the same place," Spock explains. "I bring my musician's sensibility to whatever I do. Graham approaches things very organically, from a guitar and bass point of view, and Lauren develops melodic ideas on the keyboard. Since she's such an amazing singer, it's real easy for her to convey those ideas."
"Our roles overlap," Lauren Christy adds. "We all have things that we're really, really strong at, but we also involve ourselves in all aspects."
One of The Matrix's first assignments was to write and produce a song for Christina Aguilera's Christmas album. Then they wrote and produced several cuts for Irish artist Ronan Keating. However, their first really big break arrived when Roberton put them together with an unknown Canadian teen signed to Arista Records. Her name: Avril Lavigne.
"Avril was 16 when we first met her and she'd been signed to Arista for two years," Christy recalls. "I don't think the label could find the right direction, so our amazing manager Sandy Roberton said 'Why don't you put her together with The Matrix for a couple of days?' We'd been listening to the kind of stuff she had been doing — it had a Faith Hill kind of vibe, and as soon as she walked in the door we knew this was just wrong. This kid had melted toothbrushes up her arm, her hair was in braids and she wore black skater boots. She didn't seem like the Faith Hill type. And after talking to her for about an hour, we cottoned on that she wasn't happy but couldn't quite figure out where to go."
That all changed after Lavigne played The Matrix a song that she had recorded and really loved, a rock track in the vein of System Of A Down.
"The lyrics were kind of 'I hate you, I hate you, hate you,'" Spock recalls. "We were like 'OK, we get where she's going.'"
"What happened was incredibly lucky," adds Christy. "Before we formed The Matrix, Scott and Graham were involved in the DollsHead project, while my most recent record, Breed, was in a pop/rock vein, so we knew exactly what to do with Avril. After that initial meeting, we said 'OK, come back tomorrow,' and we came up with 'Complicated' and another song, 'Falling Down'. Then, when Avril came back the next day, we played her the material and said 'This is where we think we should be going,' and she loved it."
'Complicated' commenced with Edwards, as usual, playing acoustic guitar, while Spock and Christy both sat at the piano. "I was just jamming around the chorus," Edwards recalls, "kind of playing it straight like a rock song, and Scott said 'No, man, you can swing that.' I swung it, and then Lauren said 'No, it's got to be like this.' So, we all got involved and the song evolved."
"The verse we came up with was completely different to the one that ended up on the record," notes Christy. "We wrote the whole song and then went 'You know what, the verse is just not catchy enough.' So we came back into the studio and rewrote the verse, and I now love it. To me, it's as hooky as the chorus. In fact, when we were originally singing the chorus 'Why do you have to go and make things so complicated,' the words just popped out, and it was at that point we started to think about the lyrics and why the song would be called 'Complicated'.
A Mac G5 / Pro Tools rig provides the main recording setup."I always try to channel how old the artist is, and I recalled a boyfriend of mine when I was 16 — he could be really romantic with me, but every time any of his friends showed up he'd immediately remove his arm from around my shoulders, put it in his pocket and light up a cigarette with the other hand. I remembered thinking 'Wow, that's amazing. He's so insecure about being himself around me.' Scott and Graham had been through similar experiences..."
"It was all about trying to be cool," Spock explains. "That was the key. However, we tried to pull the number in a direction where it was not such a 16-year-old song — we tried to make it appeal across the board so that no matter if you're 16 or you're 30, you relate to that whole concept. Life is complicated."
Christy agrees: "The part that goes 'Life's like this. You fall and you crawl and you break and you take what you get and you turn it into honesty...' That was us trying to take the song to a deeper level, saying it doesn't matter how old you are, you are probably gonna fuck up and have bad things happen to you, but that's OK. You'll have to deal with it."
When Josh Sarubin, the A&R executive who had signed Avril Lavigne to Arista, first heard 'Complicated', he immediately knew it was right for her. And when executive producer Antonio 'LA' Reid concurred, the track became her first single and The Matrix were given carte blanche to write and produce another 10 tracks. "After that, it was fun," says Christy, "because we knew what we were doing, we knew the direction and we just had a blast. We spent two months writing 10 songs."
The Matrix write exclusively together, and they're almost always assigned to do so, rather than trying to place material after it's been conceived. "In most cases, we're sent CDs to show us who these artists are, and we kind of get a rough idea in our head as to where they're at," says Graham Edwards. "There's always a formula. I mean, hardly anything that's sent to us is really, really individual, like a Björk, for instance. Everything is formula for me, and when I hear the formula I just go 'OK' and kind of know what direction I have to write in. That's not to say that people aren't unique; it's just to say that I can write in any style... Well, I try to write in any style.
"I love bands like Coldplay, Travis and U2, and I find it fairly easy to write those kinds of songs and melodies. However, as far as R&B goes, I played in a lot of soul bands, so I'm more old-school when it comes to this type of music — I'm not very good at just coming up with a beat and some nursery rhyme-style melody. There's a real art to simplicity, and while some people are great at doing that kind of music, I don't think I am.
"When I was younger, I used to stick in as many chords as I could. I was a big fan of Steely Dan and the Doobie Brothers, and I was a real chordy guy, but then I played with the Rembrandts for a while. They were very Beatles-y, and I wasn't really a big fan of the Beatles — I respected them and I thought they were amazing, but I was more driven towards soul music. However, after playing with the Rembrandts, I really got to like theirs and the Beatles' music. I thought 'Wow, this is so cool, because it's really simple,' and I started writing a lot more songs with major chords."
These days, Edwards finds himself part of a team whose success is partly due to the fact that each member respects the others' tastes and opinions. If two of them like a song idea but one balks, it will either be discarded or reworked. And while each of them come up with lyrics, they often do so in conjunction with the artist.
"We always like to get inside the artists' heads and figure out where they're going and what they want to do," says Scott Spock. "What they want to do musically, what statement they want to make. So, part of that first day or two is just us really getting to know that person, instead of 'OK, you're here, it's three o'clock, let's write a song!' I've heard about Nashville writing sessions being booked by the hour. That's not music to me, man. Music is the interaction of souls. It's an art. And when you sit down with artists and they start exposing themselves to you — their intellectual side, their spiritual side, their inner emotions — that's when you really get the good stuff."
"Everything that we do is melodically and lyrically strong," adds Edwards, "and we try to make the tracks really fit the song. I think if you were to sit down and play our songs on an acoustic guitar or a piano, you'd be able to sing them. They're not based around a drum beat. They're properly written songs, and once the song's written we kind of really mould the track around the vocal. I think that's what sets us apart. To me, it sounds like it's all been done in the right way, and that's because I think the way to write a great song is to do so with a guitar or at the piano, put down a skeleton track, put the vocal on there and then mould the track around the song and the singer."
The success of Lavigne's album brought with it the danger that The Matrix would be pigeonholed as pop-rock specialists, which was one of the major reasons why they were keen to work on Korn's See You On The Other Side. "It was to prove that, hey, we rock," Spock confirms. "Prior to working with Avril Lavigne we had worked with Christina Aguilera, which was a complete R&B thing, so we really wanted to expand our horizons by saying 'Look, obviously we've had big success with pop-rock, but check out what we do with alternative, check out what we do with R&B.'"
The band, too, were clearly looking for a slight change of direction, and they certainly found one with See You On The Other Side, not only in terms of their status as a quartet following the departure of born-again guitarist Brian 'Head' Welch, but also in terms of the record's more slick and electronic veneer. "I think that's our influence as well as Jonathan's," says Scott Spock, referring to the band's lead vocalist. "He had a vision for where he wanted to go. He really wanted to keep Korn sounding like Korn, and he was very good at putting up the boundaries in terms of 'Oh, OK, this is cool, but we can't go past this point,' while at the same time he was also very, very open to trying new things as long they still fit into the realm of what Korn is as a musical force."
See You On The Other Side was recorded at Korn's LA studio, formerly known as Music Grinder, where five rigs were operated at the same time. The Matrix's own facility, meanwhile, consists of an A Room where most of their initial writing sessions take place and a B Room that is often used for vocal and guitar sessions.
Scott Spock: "When you're writing a song and you're developing it, 'production' is sort of an old word. To us, it's just one thing — you develop an idea into one piece of art and production is part of that songwriting process.""We have a lot of gear," says Spock. "In our main room we have a Pro Tools rig, a huge, huge MIDI rig, and we also have a small Logic rig. Mostly, things are put together in Pro Tools, and we've pretty much got every piece of software and synthesizer hardware. It's quite a playpen. Then, the other room has got another Pro Tools rig in it, so in total we've got three pretty good-sized Pro Tools rigs — the writing rig with Logic on it is used off-site when we travel somewhere and can't take a large rig with us."
The Matrix's studios are also used as a test-bed for new products from Apple and Digidesign. "We're such avid Apple and Digidesign users, over the course of time we've met the people who design the products and are interacting with artists," Spock explains. "The circle is so small out here, you end up meeting those people, or if you have a problem you end up calling somebody who knows somebody and you eventually become friends with them. Then they go, "Hey, you've got so much going on, you've got a couple of extra rigs. We're gonna send you the beta version of the new Pro Tools — you might just take a look at it and give us some feedback." We might find things that go wrong with it because we're really tapping out the power of some of these rigs. We run so much stuff that sometimes one thing doesn't work because it's interacting with something else.
"Our history goes way back in that regard. Just on a personal level, I had consulted for Microsoft when VLS technology first came on the scene. So, there are a lot of technical things that go on here in addition to the songwriting, but we try to only focus on the creative muse and leave the technical stuff behind.
"We start ideas here and do a lot of pre-production here, basically just building up the songs to a certain point. We have a bunch of retro keyboards around the studio, as well — we've got a brilliant suitcase Rhodes from 1974, we have an old Wurlitzer, and then on the main rig there's a Yamaha Motif which is just a controller for all of the other synths that are hooked into it. So, at any one time, Graham will be sitting with his guitar while Lauren and I are jumping from keyboard to keyboard. We'll also use Battery or BFD for drums and throw together a quick beat — if the song calls for a live drum sound, we'll just throw that down real quick and start playing ideas over it. Maybe throw a guitar track on top just to skeletonise the idea and really start developing it.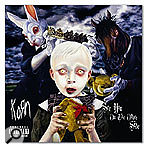 "There is always magic in the initial ideas, so whenever we record something we always record it at the highest quality, no matter if it's just a beginning, an acoustic guitar track or whatever. Because you never know if that'll end up in the final mix. Like the acoustic guitar on 'Complicated' — that was the original part that Graham played when we were just throwing down the idea, and it is elements like that which contain magical moments that you don't want to lose.
"The three of us play together as a live rhythm section all the time, and we also have a pool of great players who work with us — guitarists like Corky James and Randy Jacobs. It all depends what we're working on. Obviously, when we're working with a band that has its own players, we have them play, but most of the stuff is put together here. Graham does a lot of the guitar and bass work on the records, I do a lot of the drum programming and keyboards, and Lauren sits down and puts in her ideas via piano, et cetera. So, there's a lot of interaction through various instruments.
"At the end of a project the three of us turn in our Matrix mix, and most of the time that's what is used, although sometimes they'll want the mixer du jour, whoever that might be. At the time of the Avril Lavigne record, Tom Lord-Alge was the hot guy, so he got to do the mix, but it was still our mix of 'Complicated' that mostly ended up being played on the radio. We're all very versed in terms of how a studio works, and we've got pretty much all the vintage gear you can think of preamp wise — Neves, API's, etcetera. We also love Manley Vox Boxes for vocals, and we use predominantly Blue microphones, although we've got a couple of vintage mics laying around as well depending on what is needed for the sound of the vocal.
Most of The Matrix's productions feature plenty of real instruments."We do everything here. We've got a guy working for us who came in as an assistant and is really getting better by the minute. He's amazing. His name is Christopher Homes and he did some great work on the Korn record with his programming. So, we've got a little team here, but three of us definitely man our own stations."
And they all take care of vocals, too, stepping forward to get the right performance out of whoever they are working with.
"Sometimes Graham's in a different studio doing a vocal, sometimes I am," says Lauren Christy. "As we have a second studio, whoever's best for a particular artist will take the lead — sometimes, if it's like a rock thing, it might be really good if Graham does it, whereas Scott's brilliant at working with R&B singers and getting people to be good in the pocket, and sometimes I'm good at working with the younger artists, making them feel more confident if they're really shy. So, we all try to pull the performances out of artists, and the three of us are often all here to produce someone's vocal."
"Whenever the artist is here, we tend to try to work as a team," Spock confirms. "It's rare that we split up, and when we do it's because one of us might feel a little more comfortable with a particular artist. Most of the time it's the three of us together."
In the past, The Matrix produced other writers' material, but this is no longer the case. "When you're writing a song and you're developing it, 'production' is sort of an old word," asserts Scott Spock. "To us, it's just one thing — you develop an idea into one piece of art and production is part of that songwriting process. You know, it's about where the track is going and where it's going to end up, until it ends up with the one final vision that the three of us and the artist have. It's not like we write the song and then go 'OK, now let's produce it!' It all happens at the same time, so it's really hard to separate the two.
"When you're dealing with someobody else's song, they have their vision of what it is, and then suddenly we have our vision, unless we're just going to completely rip off their demo, which a lot of guys do. They get a demo of something and they basically just re-record it so that it sounds better. And maybe that's not a bad thing, because if the demo has some magic to it, you kind of want to keep that magic there. So, I'm not saying that negatively, I'm just saying that most of the time that's what happens. With us, the only time we would ever choose to produce someone else's song is if we feel 'Wow, there's something really cool here,' and we're already working with that person. In that case, we'd make an exception."
Something the world at large has yet to hear is The Matrix's own album. Having signed a deal with Columbia Records to put out a record in their own right, Spock, Christy and Edwards recruited singer/songwriters AKA and Katy Perry to help them out and then got on with the job... only to shelve the project once the recording was in the can. "We pulled the plug because we didn't want to be out promoting it," Christy explains. "We really feel more comfortable being behind the scenes, but as far as we're concerned we made a record and we love it... We've had several people approach us and we're still considering possibly doing something with it. We're not sure. We're are just really proud of it and kind of like listening to it on our own time — we call it the greatest album never heard.
Guitar and bass cabs set up for recording at The Matrix's studios.
"You know, it was frustrating to us, because we found ourselves having to do two-day-long video shoots and day-long photo shoots. We'd all worked really, really hard to get to this place behind the scenes, and our own project just took way too much time and actually kind of affected our career for a little bit. We therefore decided to pull the plug on it and get back to doing what we love to do. It was probably the best thing that ever happened to us, because it made us really feel like we had to just kick arse again. After that first big round of success that we had, we might have got a little bit complacent, but after doing a Matrix record we really felt like we wanted to get back on top again."
Having ridden the crest of the pop-rock wave for the past few years, what are The Matrix's ambitions for the future?
"Porn!" says Spock. "No, I'm kidding."
"I would love to just keep stretching what we do to places where people will be surprised," adds Christy. "In fact, my dream would be for The Matrix to become like Rick Rubin..."
"Or even Mutt Lange," Spock interjects. "You know, somebody who's had extreme success with various musical styles. We just want to be known as a great production-songwriting team with no boundaries."
"I just want to keep being diverse, I want to keep writing good songs and I'd like to keep going for as long as we can," adds Graham Edwards. "I'm pretty happy with where we're at right now. The Matrix has been on this wave of success at a time when the music industry has been on its knees. All of which goes to show that, if you get a great song with a great artist and you put the proper care behind it and give it a chance, it's going to happen. I refuse to sit down and just churn out crappy little songs to make money. If a song isn't right to me and they still want to pay, I don't want it to go out. It doesn't represent anything. It's a piece of shit. Let's start another song. We've done that many times — 'Well, the record company's willing to accept the song...' 'No, no, no, we're not putting it out. Let's write a better song. We can do it.'
"That's what we'll do, and usually we'll succeed. I was recently on a songwriting panel of four guys for this big seminar for ASCAP — the place was full and there was all this talk about using Digi and using this and using that and how this makes a song sound. They moved along the panel and finally they got to me and asked 'So, what do you use to write songs?' I just said 'A guitar, a cup of coffee and a Marlboro.' That's it. If you can't get a song out of that, then don't even bother." 
COMPUTER RECORDING
Apple dual 2.5GHz G5 with 8GB RAM, running Pro Tools 7, Live 5 and Logic Pro 7.
Apogee AD16x (x3), DA16x and Rosetta 800 converters.
Digidesign Pro Tools HD5.
Magma 64-bit 8-slot expansion chassis.
SPL Mixdream summing amp.
SOFT SYNTHS & SAMPLERS
Arturia ARP 2600.
Fxpansion BFD & BFD XL.
Gforce ImpOSCar & Mtron.
Hartmann Neuron VS.
Korg Legacy Collection.
NI Battery 2, Kontakt 2, B4, FM7, Pro 53, Reaktor 5 & Absynth 3.
Novation Bass Station.
Synthogy Ivory.
PLUG-INS
Digidesign Smack!.
GRM Tools.
Line 6 Amp Farm & Echo Farm.
Massenburg EQ.
McDSP Filterbank.
Metric Halo Channel Strip.
NI Guitar Rig.
Serato Pitch 'n Time.
Sony Oxford EQ.
Sound Toys Filter Freak.
TC Master X.
Wavemachine Labs Drumagog.
Waves IR1.
PREAMPS
API 512c (x2).
Brent Averill Neve 1272 (x2).
Manley Voxbox.
Neve 1073 (x8).
Universal Audio 6176.
COMPRESSORS
API 2500.
Empirical Labs Distressor (x2).
MONITORS
Adam S3As.
Yamaha NS10s.
KEYBOARDS & MODULES
Clavia Nord Lead.
Emu Mo'phatt & XL1.
Fender Rhodes
Korg MS2000R, Triton Rack & M1R.
Oberheim Matrix 1000.
Novation Supernova.
Roland JV5080, VariOS, V-Synth, XP8080, D550, JD880, JD990.
Sherman Filterbank.
Studio Electronics SE1.
Wurlitzer
Yamaha Motif ES7.
MICROPHONES
AKG C1000s, D112 & C414.
Blue Bottle, Mouse.
Neumann U87.
Royer R121.
Shure SM57 (x5), Beta 52 & SM7.
Sennheiser e609 Silver (x2) & MD421 (x2).