Musician, Songwriter & Producer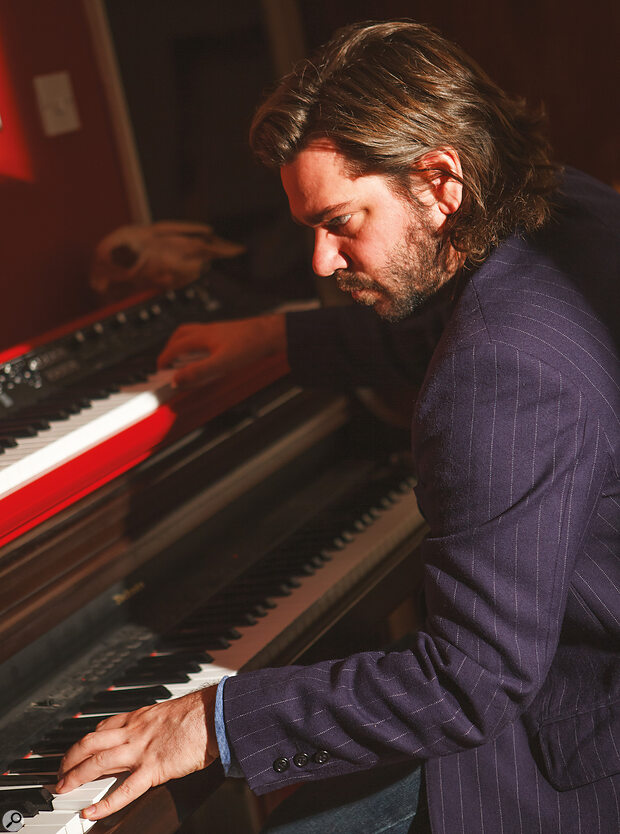 Photo: Matt Berry
Perhaps best known for his television work, Matt Berry's true love has always been music and the analogue instruments he uses to make it.
Matt Berry may be one of Britain's best‑known comedy actors (Toast Of London, The IT Crowd), but ask him whether his heart truly lies in his other creative life as a musician, songwriter and producer, and he gives a very telling response.
"Well, I've never dreamt about comedy," he says. "I don't dream about jokes and things. Whereas I have dreamt about guitars and equipment [laughs]. I think that answers it.
"I mean, I'm very lucky to be able to do both," he adds. "I get satisfaction out of comedy when it goes right and you feel like you've said what it is that you wanted to say. But, y'know, there's something kind of magical about doing music, and music in general. It's much more of an immediate artform than comedy for me — much as I love doing both, and I'm very, very grateful for what comedy has let me do."
Berry's music down the years has seen him veer between various different genres, from authentic‑sounding '60s Northern soul to the British pastoral folk and '70s psychedelic pop of his 2011 album Witchazel, to the Bob Dylan circa John Wesley Harding‑inspired sounds of his latest record, Phantom Birds. One common thread running throughout all of his productions, however, is that (aside from drumming contributions) Matt Berry generally works alone and works fast.
Stressing that he never does "90 takes" of anything, he admits that there's a real speed and impulsiveness to his recording process.
"Absolutely," he says. "And that's the same with comedy. If you have to do it that many times, then I think there might be something slightly up with the idea itself. Everyone works in different ways, but I'm only interested for a certain amount of time. And if I don't say it after one or two takes, then it's probably not a great idea and I should do something else.
"But the thing is, the comedy and the music are kind of linked in the form of timing. That's the thing that knits them both together for me. The main similarity between the two for me is that timing is everything with both of them."
Growing up in Bedfordshire, Matt Berry's initial inspirational figure around the age of 12 was Mike Oldfield, who attracted him to the idea of being a musician who plays virtually every instrument on their recordings.
"The first thing that caught my imagination would have been Tubular Bells," he remembers. "I bought that album and it was like nothing else because it was long‑form. I hadn't listened to any classical music at that point, so I didn't know that you could have an album that was one track for all of one side. That was fascinating.
"Then the fact that he was 18, 19 when he recorded it, and 17 when he wrote it, that was intriguing. But, more importantly, when you turned the record over and you looked at the back there was a list of all the instruments that he played. I didn't think you could do that — be in literally two places at once. So, then that got me sort of interested in how you record."
Further remote instruction from Oldfield came when the multi‑instrumentalist appeared on Blue Peter in 1979, in a section filmed showing him multi‑layering, on 24‑track tape, his version of the show's theme tune. "To then see him on Blue Peter," Berry says, "where you actually saw him build it track‑by‑track, I had more of an understanding."
Berry's sole instrument at the time was a domestic Hammond organ, which his parents had bought him. To emulate Oldfield, he bought a Tascam 424 Portastudio and began layering up his own recordings, using the Hammond's basic beatbox and feeding its various flute, strings and oboe sounds through cheap guitar effects pedals.
"They weren't even Boss," Berry points out. "They were Orion, and I had a stereo delay and a flanger. By that point I was obsessed with Oxygène by Jean‑Michel Jarre — mainly that string sound that I know now is a phased string sound. I thought that was an expensive keyboard that could make that sound. I didn't realise it was a string synthesizer that was effected by a cheap guitar pedal. If I'd have found that out a lot earlier, my search would've been complete at age 14 or whatever."
Not knowing any other musicians, Berry progressed to guitar, and was further animated by the fact that Mike Oldfield had written Tubular Bells at 17. Aged 14, he decided he'd better get a move on. "That is exactly what I thought," he laughs. "I thought, 'If he can do that, then I have no fucking excuse whatsoever.' So, I just got on with it."
The comedy and the music are kind of...
You are reading one of the locked Subscriber-only articles from our latest 5 issues.
You've read 20% of this article for free, so to continue reading...
Buy & Download this Single Article in PDF format

£1.00 GBP

$1.49 USD


For less than the price of a coffee, buy now and immediately download to your computer or smartphone.

Buy & Download the Full Issue PDF
Our 'full SOS magazine' for smartphone/tablet/computer. More info...