Paul Boothroyd: Engineering Shows For The Stars
With a stellar client list that now ranges from Sir Paul McCartney to AC/DC, Paul Boothroyd has risen to the top of the live sound industry.
Over the last 30 years, live sound engineer Paul 'Pab' Boothroyd has worked with some of the world's greatest artists, including one of the 'fab four'.
Paul McCartney's return to touring after a 10-year break was big news back in 1989. With his best album in years on sale, the most successful songwriter of all time previewed his hot new band at an invitation-only pair of shows, in London's compact and bijou Playhouse Theatre.
It was at the second of these previews, on July 27, that I first shook hands with Paul Alexander Boothroyd, also known as 'Pab', Paul McCartney's new front-of-house sound engineer. He would not only soon embark on a world tour — the first of many with the later-to-be-knighted icon — but also go on to mix AC/DC, Michael Jackson, the Eurythmics, Paul Simon, Eric Clapton, P!nk and country star Faith Hill.
More than 20 years on, Pab continues to push the faders for his fellow native Merseysider, a length of unbroken, loyal service that few professionals have equalled, let alone surpassed. Given McCartney's status, it's easy to see how the hysteria surrounding each stop on a tour schedule often compares to that of a state visit.
While Pab is completely aware of the frenzy his employer's presence induces, he remains 100 percent focused on the job in hand: to deliver world class sound to the audience and, in one instance, the crew aboard the International Space Station. All in a day's work. After McCartney completed his recent On The Run tour of American stadium shows, Pab returned to Blighty for a well-earned rest, and spoke of his enviable career trajectory.
Interestingly, Pab's entry to live sound was accidental. At the beginning of his working life, he had no significant interest in audio and was only a casual music listener. In fact, he looked likely to progress as a mechanical engineer, which is how it all started.
"Around 1978, someone asked me to fix a van that belonged to a local group, The Dick Smith Band," Pab recalls. "They had a gig in Scotland and weren't too confident that the van would make it there, so they asked if I'd mind going with them. It turned out to be a bit of a boozy affair. Pretty soon, I was hanging out with them on a regular basis, and I ended up running their lights."
Three years later, after the demise of The Dick Smith Band, Pab met the man he describes as his mentor, Peter Granger. Peter was the sound engineer for Dire Straits from their earliest days until 1986 when he was tragically killed by a hit and run driver. He was closely involved with Luton sound rental company, Concert Sound, and together they would steer Pab towards a career few could even imagine.
"I was riding my motor bike past the New Brighton Floral Pavilion one day and noticed some road crew tipping some very familiar Martin Audio bass bins and horns that they were using for a gig by the pop act Tight Fit, who were backed by Paul Young and the Q-Tips," he remembers.
"So I asked if I could help them with the load-in. That was not only my first encounter with the lads from Concert Sound, but also Peter, who later offered me some work when one of his crew left.
"Peter invited me to a few gigs, like Leo Sayer at Blazers nightclub in Windsor, and also some Dire Straits shows, including one at Hammersmith Odeon. It was at this gig in July 1983 that Mick McKenna recorded their live album, Alchemy, in the Rolling Stones Mobile studio. I studied Mick at the console very closely, observing how he would reach for the EQ on a particular channel and raise a fader at a certain moment. It was fundamental stuff, but watching someone at that level operate a desk was a real eye-opener.
"If there was any turning point for me it was that gig. I'd done a bit of homework and got to know Peter's pals at Concert Sound: Geoff Hooper and Robert Collins who, like Peter, have inspired me over the years. They gave me my first real touring work, with Tom Jones and Leo Sayer. I ended up mixing Leo when Geoff caught chicken pox! Peter also got me on Dire Straits' crew as the PA tech for the European leg of their Brothers In Arms tour in 1985, which was great experience."
Pab moved behind the monitor console for a brief period with Julian Cope, Big Audio Dynamite and The Psychedelic Furs, but it was through promoter Barrie Marshall that he received his major career break. Marshall, a partner in Concert Sound — now Concert Sound Clair, following its acquisition by the giant American rental corporation — was an influential force behind persuading Paul McCartney to go back on the road for the first time since the break-up of Wings. Marshall recognised Pab's potential as the Fab One's future front-of-house man.
"There were two preview gigs at the Playhouse Theatre — one for the fan club and one the next day for international promoters and special guests. After the first, Barrie told me that Paul's engineer from Showco had to fly off to the States to work with Mike & The Mechanics, and asked if I would step in the next day.
"I was a bit taken aback, because, you know, this was Paul McCartney! But I just did my thing and the band were very happy. They said, 'We'll see you in America then', but I didn't want to assume anything. Some time later, Paul was having a board meeting with Barrie and the tour director, Gerry Stickells, and they remembered this little Scouse git, and offered me the next tour — I was gobsmacked. Breaks like that don't grow on trees."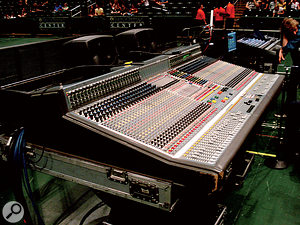 Pab's favourite mixing desk remains the Midas XL4. An analogue desk launched in 1995, it's not exactly state of the art, but he swears by the musical EQ and solid reliability.Born in Birkenhead in 1959, Pab has, at one time or another, worked on virtually every major mixing console on the market. Even though he claims that analogue remains superior to digital, he admits that he often can't tell the difference.
"Some of my contemporaries insist there's a notable gap between them in terms of quality, but they must have bat's ears! I've done the analogue versus digital A-B tests between major console brands, and there's not much in it," he says.
"When it comes down to the basics, if you go to a gig to have a great night out, to see your heroes and sing along to 'I Saw Her Standing There' or 'Back In Black', you're there for the full experience. As long as it sounds good, you're not going to spend all night analysing the EQ.
"Still, my favourite desk of all time is the Midas XL4, and though I can't see a time when it won't be, I try to keep an open mind. It's old technology now, having been launched around 1995, but it's a very reliable tool and, as so many engineers of the 'old school' appreciate, the EQ is unique and unbeatable."
Although he has been a user of analogue Midas desks throughout his whole career, Pab has been enjoying a clandestine affair with digital, via the Avid Venue 'Live Environment' system: "It enables you to instantly recall snapshots of previous mixes that worked well, and a whole lot more besides. It's like having a big mouse on the end of a cable, with strange, mushroom-shaped knobs!
"The plug-ins are fantastic. It's an ever-growing library including Fairchild, TG, Joe Meek, Pultec, Focusrite and Eventide, and they're so easy and quick to programme, then save to a channel. Everything from reverbs to delays and chorusing to compression can be done inside the desk.
"I don't get too hung up on processing when I'm mixing Paul and the band [currently consisting of Wix Wickens, Abe Laboriel Jr., Brian Ray and Rusty Anderson], because what's coming to me from the stage is already fantastic. I do like to use the Oxford EQ plug-in, plus a bit of compression on Paul's vocal, the drums and the bass."
Pab was first introduced to the Venue system by way of a summer tour with The La's in 2005, on which he used the original, full-size Venue D Show console. He went on to harness its Pro Tools facilities on that year's US tour with McCartney, making reference recordings of every rehearsal, soundcheck and concert efficiently and with great control over all mix aspects.
"Until the Venue came out, I had my doubts about having anything to do with digital boards. Choosing to go with it was all part of providing Paul with the best solution," he says.
"I'd become very used to Pro Tools through another job working in AC/DC's studio, and Paul is hip to what plug-ins can do because he has his own studio, so I didn't need to convince him. As soon as I suggested the Venue concept and let him know that Pro Tools could record everything on the stage, he knew exactly what I meant and just said, 'Cool, Pab, we'll have it'."
The Avid Venue Profile system allows plug-in emulations of classic effects on every channel, as well as full recall of sessions. Controls include many distinctive, mushroom-shaped encoders!McCartney is known for his fastidious archiving and it's important to him to have every performance documented fully and accurately. Previously, Pab's method was to record onto Tascam machines and submix down to 48 tracks — a labour-intensive job that needed masses of cable patching.
"Using the Pro Tools HD setup, I was able to record 74 tracks every night. I could assign a track for anything that was happening on the stage and forget about it. It was so easy and it opened up a huge range of possibilities."
Recently, Pab has made practical use of Pro Tools-recorded tracks with Avid's timesaving Virtual Soundcheck feature. "It comes in handy sometimes, such as when we pay a return visit to a venue. I can refer to the previous recording and pretty much instantly match it with a rough mix."
With Clair providing the touring PA systems and crew, Pab now appears to have settled to mixing on the Avid Profile, the smaller of the Venue range, on which he controls around 70 inputs.
"The great thing about the Profile — apart from Avid's excellent support — is that because of its small size, you can normally find a broom cupboard somewhere to go and get something dialled in," he says. "That's almost the case down at Paul's private studio in East Sussex, where I literally fit in between a couple of garage doors for rehearsals.
"I got into using the Profile after doing a show in Paris in a smaller theatre. I enjoyed using it so much that I decided to stay with it for the many one-off shows we've done. It was just so easy: dump the program back in there, boot it up, and it was ready to go.
"The other reason why digital is a good choice for Paul is that he plays such a wide range of styles in a 35-song set — from rock songs to very simple, quiet songs and all things in between — so it helps to pre-programme those dynamics into the board. If you consider that in his last encore he'll go straight from 'Yesterday' to the almost heavy metal 'Helter Skelter', then you'll get the picture!"
As anyone who has seen McCartney live will know, there's a certain James Bond theme that shakes the room and pins the VU meters. "I tend to bump up the sub-bass a little for 'Live And Let Die'," Pab reveals. "That's the moment when my system — and pretty much everything on the stage — will be running at its max."
Mixing AC/DC is quite a different task to mixing Paul McCartney. Pab has to deal with an extremely loud backline and some very loud monitoring too.Pab spent most of 1996 on the road with AC/DC's heavy-duty Ballbreaker live production, three years after McCartney's last tour with wife Linda. It was the start of another relationship that continues today.
"I put my name forward and got the job… it was as simple as that," says Mr Boothroyd. "The band are a fantastic bunch of guys, all of them, right down to Maurice, brother of the frontman Brian Johnson: he runs the band's tour catering company, Gig-A-Bite... get it?," he laughs.
Prior to AC/DC's most recent tour, Black Ice, Pab witnessed the genesis of the songs that formed the 2008 album of the same name, on which producer Brendan O'Brien helped to recapture their early rock sound. You can read mix engineer Mike Fraser's account of the recording of Black Ice in SOS January 2009.
"I can often be found at the band's London studio, where I engineer Malcolm and Angus Young's songwriting demos. It's fascinating to watch them work close-up: right from the start you can get a good idea of how the album will turn out, and being involved in that early process is great, because I'm already beginning to work on the live mix in my head. I can't help it!"
The Black Ice tour saw Clair supply Pab's — and the band's — choice of an Electro-Voice X-Array PA system. This system had been put into service on the Stiff Upper Lip tour after débuting on the Rolling Stones' Bridges To Babylon tour in 1997. It served as hard evidence that the very latest cutting-edge technology isn't always the ideal sonic solution.
"The band like the look of a big, classic rock & roll PA," said Pab. "Line arrays are great and we've played through them before, but they didn't want the thin pencil look and it doesn't suit them. Fortunately, the X-Array rig, comprising 96 cabinets driven by EV P3000 amplifiers, sounded really good on the last tour."
"On a musical level, it's almost the polar opposite of working with McCartney, though Paul can really rock out. With AC/DC, you're not dealing with lush vocal harmonies, piano or acoustic guitar ballads; this is full-on, balls-out rock & roll. Sometimes it's so powerful that I think the PA's going to get blown to pieces, and I'm holding on to the desk for dear life: subtle is not a word that applies here! But seriously, I 'feel' my way with AC/DC's live mix, rather than approach it delicately."
Mixing live for AC/DC is quite a different prospect to mixing Paul McCartney. The emphasis is on a solid, powerful sound, and this ageing Midas Pro 40 desk fits the bill.On the Black Ice tour, Pab's venture back to the analogue domain had something of a nostalgic twist. He was mixing on a vintage Midas Pro 40 console, hand-built by the manufacturer in 1985 and previously used by Peter Granger on Dire Straits.
"The band and I work with an old Neve console in their studio, and I thought about what the live version of a Neve would be. The older Pro 40 was the obvious solution and I happened to know where I'd find one."
"Getting behind the Pro 40 felt like putting on an old pair of slippers that I hadn't worn for years!" says Pab. "Tim Boyle, Pete Cornell and I spent many hours at Concert Sound, restoring it with cotton buds, wiping away the years of dirt. We had access to lots of spare parts and modules and made the best we could out of what we had. I'd actually used this desk many times in the past."
"This Pro 40 desk was built for Concert Sound specifically. They worked closely with Midas to get what they needed, listening to feedback and ideas. It's what I started off using, but a lot of younger engineers have grown up on Yamaha PM1Ds and other digital consoles, so they'd be understandably nervous about suddenly being faced with a very manual, analogue alternative that requires them to turn real pots and switches"
The old Pro 40 wasn't the only front-of-house console touring with AC/DC. To the left of it was a sparkling new Pro 6, the second-generation networked digital mixing system from Midas. This is used to record the shows, and as a backup.
"It's interesting that, despite the age difference, there are many similarities between the two consoles from user experience and audio quality perspectives,' observes Pab. "There's very little difference in the EQ. With the Pro 6, they maintained that character of sound that comes from the main bus. It's very smooth, and the high frequencies are more precise and authentic.
"The thing about going back to analogue, of course, is that I suddenly needed outboard racks containing things like Drawmer DS201 noise gates, Dbx 160SL compressor/limiters for the bass and BVs, and my lovely Radial Phazer Bank that enables you to phase-align two devices to make them sound like a single sound source.
"I'm very careful with EQ, so that when the volume picks up, nothing nasty starts to ping around the building. That's where good system management is vital. If you have that sorted out correctly and the desk is settled after a few shows, 90 percent of the time it'll sound fine when you push the faders up.
"You just need to listen to your board tapes, as well as bits and pieces that might turn up on the TV, and make judgement calls. After that, it's just a question of how the building you're in will dictate the subtleties of your mix."
Pab makes use of a set of Audix drum mics when miking Phil Rudd's kit for AC/DC, and also uses some of them when miking Abe Laboriel Jr's kit for Sir Paul's shows.The Shure Beta 58A remains Pab's first choice of vocal mic. "I stick to the standard Beta 58A for vocals, and the people I work with are usually happy with that choice," he says. "Let's face it, the 58 is still the classic rock & roll microphone, it's very robust, and with most singers, from Paul McCartney and Brian Johnson to Annie Lennox and Paul Simon, I can tell what I'll get from it.
"I've got no problem trying out new microphone models, and there's virtually no manufacturer out there that hasn't tried to persuade me to stick one of their mics in front of Paul's or Brian's face because, for them, it's the money shot. I will very rarely make a change, though, mainly because certain artists become accustomed to working with the 58s: they'll instinctively sing off-axis to achieve an effect they want. It's a learned technique that you can't mess with.
"With Brian, you don't need anything above 4kHz or below 150-200Hz, and that's being nice about it! You just need a product that will grab the information for you at the desk and help you punch your way through a wall of guitars.
"You also have to respect the monitor engineer. If he is putting a high SPL through a pair of wedges, it's no good using something like a Shure KSM9 for vocals. It may sound beautiful but it's way too sensitive for that situation."
Pab's microphone preference for McCartney's grand piano is a pair of Audix SCX25As, to which he has stuck since he was first introduced to the brand six years ago. "They reproduced the natural sound of Paul's piano like no other model I'd tried before. They're very smooth, I can achieve good gain and the range from the high to the low notes is very consistent, without being too critical about where you position a pair.
"After that very positive introduction, I started to look at other Audix models and ended up using more of them for Abe Laboriel Jr's drum kit on the McCartney tours. Drummers being drummers, they'll sometimes whack mics with their sticks and you need to plan for that. Being small and neat, the Audix mics are less easy to hit, and you have flexibility in angling them precisely over the drum skin.
"We have a massive video screen behind the band on the McCartney tour, and the neat-looking mic arrangement including the Audix models is aesthetically pleasing and doesn't interfere too much with the audience's line of sight.
"I then went a bit further on AC/DC's Black Ice tour and covered Phil Rudd's entire kit with Audix mics. I put a Micro-D underneath all seven of his cymbals as an alternative to conventional overheads, mainly because they're low profile and minimise bleed from the 10 million dB of monitoring on stage! Phil's kick drum had a D6 on it, which produces a killer sound. We also put an i5 on the snare, D4s on toms and an SCX1-HC on his hi-hat.
"Every drummer plays differently, which is why I take a different route for Abe's kit. To mic his cymbals, I put DPA 4061 mini-condensers underneath in an on-axis pattern and sum them to a stereo pair. I achieve better separation that way, and it removes a lot of the unwanted phasing as the cymbals move around."
Likewise, the needs of guitarists vary wildly. In the case of McCartney, who straps on a Les Paul several times during his shows, Pab goes for an authentic 'period' approach. "It doesn't take a lot of thinking," he says. "Paul plays a lot of Beatles numbers through a Vox AC30, and back in the day you'd mic a Vox with a Shure SM57, so why spoil a great formula? It sounds just as it should, even in 2011. I also mic bass cabs with a 57 and get a very good result."
There are a few differences for AC/DC, whose Marshall stacks appeared to be — you guessed it — set to 11 on the Black Ice tour. "Malcolm Young wanted me to use an SM57 on his cabinets, but I decided to go for Audio-Technica AT4047 large-diaphragm condensers on his and Angus' guitars.
"I was aiming to capture a wider range of dynamic information than the 57 could offer, and when I searched for a suitable larger diaphragm model, the AT4047 came up trumps. It really suits their sound, and although the on-stage SPLs are very loud I'm still able to get warmth from those mics."
Being Pab's main client, Macca's demands naturally come first, but this limits the potential for other sources of work. "I'm fortunate to have established myself quite well in the industry and I often get calls asking if I'm available for a one-off here or a handful of shows there, but if I'm offered a three-month tour with a major artist, I have to be pretty sure of Paul's movements before I accept.
"It was pure coincidence that Paul was off the road for some time when I started with AC/DC, and it was also the case when I set up the sound with Harry Witz at Clair for the Black Ice tour.
"That was the saving grace, because just as we were getting ready to go out, Paul announced that he was also about to play some dates, and the detail that went into the Black Ice sound design meant that I was able to hop between both tours and do as much as I could. It was very unusual to be out with two massive acts simultaneously, but it seemed to work OK and I earned a lot of Air Miles!
"Paul doesn't need to tour, but he loves it. He really likes his band and while he's still having fun, he'll carry on. The last shows were probably the best-sounding ones he's ever done.
"I've been very lucky with my career and I don't take anything for granted," he says, with genuine humility. "The artists I've worked with are wonderful and one of the things about that is that I have the greatest source material to work with. The better the performance, the better the result."
"It's a luxury to work for someone so legendary, talented and committed. Even all these years on, I remind myself that I've only got to step out of line once and it could be all over tomorrow. I never take anything for granted."
From squeezing himself into a closet at The Cavern in Liverpool, to mixing a McCartney rooftop performance for the David Letterman Show, literally on Broadway, Paul Boothroyd has coped admirably with all working scenarios.
"I am left very much to my own devices when it comes to tailoring a mix for an artist, but occasionally they bring up something that you've overlooked," he says. "It goes without saying that you should always listen closely to their recorded work in advance of rehearsals, so that you arrive for rehearsals well informed.
"McCartney, for example, sticks very closely to his original versions — and keys — of his songs, plus with them being so familiar anyway, you know what to expect. But country singer Faith Hill was someone I didn't really know too much about before I worked with her, so I had to do some research.
"With Faith, I got all her CDs and listened to them for days while driving my car, until that style and flavour of sound was embedded in my brain. Audiences generally go to shows expecting to hear something that at least approaches the records they've bought; they want to hear all those famous hooks, so there's a sense of duty to give that to them.
"Sometimes an artist can take a different view, and they want a concert to be a different experience. When I was rehearsing with the Eurythmics for their Peace tour, Annie Lennox and Dave Stewart were very keen to get away from an authentic reproduction, and started experimenting with the band on alternative arrangements of well-known songs like 'Here Comes The Rain Again', even though the band had already learned the original parts. This puts pressure on an engineer to react quickly.
"Paul Simon is another great example of someone who will adapt classic songs for the live environment. He's a genius — one of the most talented musicians I've ever worked with, and he doesn't do soundchecks, at least not on the Surprise tour I was on in 2006. He does full-on rehearsals, complete with a microscopic analysis of every part of every song.
"There were two drummers [including maestro Steve Gadd] and you had people who swapped from guitars to accordion, keyboards to sax, guitar to cello. All of this affected the dynamics of the whole sound, which varied from pin-drop quiet to full-on. I rode all this variation at FOH, which was quite a challenge.
"The other scenario is the one-off special, which can force you to up your game instantly. Robert Collins and I mixed The Concert For George [the star-studded tribute to George Harrison at the Royal Albert Hall in 2002], which was an object lesson in how to factor last minute guest performers into your mix.
"We had to be able to cater for every change as soon as we were told. Oh, another couple of microphones, more DI boxes and, of course, an extra drum kit. The channel count was getting out of hand and we'd suddenly realise we needed an additional console or two. It was a beautiful event and a huge privilege to be a part of, but absolutely crazy to handle from a sound engineering perspective."
"The quality of live audio equipment has come on in leaps and bounds since I started out in the late '70s," says PAB. "Back then, the 'craft' was a very manual one and you learned something new at every gig, especially from the way you set up and positioned a PA system according to the shape and dimensions of the venue in order to get the best response.
"It was always trial and error, but very exciting because you never knew what you were going to get. You also only had three-band EQ and very little in the way of outboard processing — maybe a reverb, a compressor and limiter, and a delay if you were lucky. A good result that pleased the band gave you a huge feeling of relief and pride.
"Today it's a different world. The loudspeaker systems, particularly the latest line arrays, are designed in such a way that it's very difficult to make them sound awful. They are all very, very good, and from there it's just a case of how good. Most of them come with dedicated, computer-driven processors and controllers that have venue-specific prediction software to aid set-up. I tend not to rely on them too much but they do get you in the ballpark of where you need to be, and then you can adjust to suit your personal requirements.
"That would be my advice to anyone coming into live engineering: use the resources available to get your sound and mix together, but always trust your ears. Just because a clever device is telling you something, don't automatically rely on it. Oh, and get yourself an Ivie IE-30A spectrum analyser to help tune your PA. I never leave home without mine."
When Sir Paul performs his 1965 classic 'Yesterday' — officially the most covered song of all time — it is one of his live show's most intimate numbers, featuring only himself on vocal and acoustic guitar, with Wix Wickens authentically reproducing Sir George Martin's string quartet arrangement on his Yamaha Motif ES7 synthesizer and Kurzweil controller.
Pab's front-of-house treatment for 'Yesterday' is a fine example of a pared-down mix, and one that needs to reach out to — and be heard over — an average of 40,000 adoring fans per show.
"We'll probably have come out of a rockier song just beforehand and the crowd will be shouting. For a quieter song to follow it, you have to increase the presence," he says. "It's amazing how much interference is caused in a stadium by rustling crisp packets or general background noise when the audience numbers are that high, so I give the master faders a bit of a nudge, and push Paul's vocal channel up a little.
"The vocal has to be clean, clear and sit forward in the mix. Paul's guitar is more of a comfort blanket that keeps the tempo and it doesn't need to feature, whereas Wix's keys are key to what people remember of the song. I ride the fader up and down so that the high, thin-sounding violin doesn't cut too harshly and the low end of the cello doesn't get lost. You have to balance the sounds quite delicately.
"I'll sometimes pop out a few high-pass filters on the vocal and guitar inputs to help the channels breathe more dynamically when Paul's playing softly. There's certainly no compression going on at that point though, which gives the sound a little more sparkle, with more vocal information passing through the PA."
"Some of AC/DC's up-tempo numbers can really hit you like a train!" says Pab. "But I use very little in the way of processing to control their sound. I do apply a bit of compression to the bass guitar just to hold it steady, otherwise it'll be a problem.
"Similarly, with the vocals, you need compression to keep it tight, so I use a Summit TLA100 tube levelling amplifier to help project Brian into the front of the mix.
"I'm manually riding Brian's vocal all the way through something like 'Whole Lotta Rosie', up and down in 5-10dB flicks and ducking when he's not singing, because with AC/DC, if you leave Brian's mic open and he moves it just a few inches from his face, it sucks in so much from the backline and monitors that it sounds like a chainsaw.
"Once you've worked with an artist for a while, you get to learn regular vocal ad-libs and know when to flick the fader to catch them, and then pull it down quickly. For the same reasons, backing vocals get muted, too often between each word or line being sung."