Many classically trained musicians have ended up playing rock. Ólafur Arnalds' career has gone in the opposite direction...
Photo: Marino Thorlacius / Mercury Classics
Maybe it's something to do with the dramatic, otherworldly landscape that surrounds them in their native land, but Icelandic musicians always seem to want to create music on a grand scale, whether it's the post-rock soundscapes of Sigur Rós or the ambitious blend of electronic and orchestral elements in much of Björk's work. Continuing in the latter tradition is 26-year-old composer Ólafur Arnalds, whose epic synth- and string-laden music has featured in the soundtracks for The Hunger Games and Looper, and whose third album For Now I Am Winter is a work of slow-burning, atmospheric beauty.
Strangely, given the stately nature of his music, it's perhaps surprising to discover that Arnalds started off his musical life as a teenage drummer in a succession of hardcore punk bands, with names such as Fighting Shit and I Adapt. "To me, it seems super-normal" he laughs, "but everyone thinks that's very surprising. It's funny and I can see why."
At the same time, however, he was studying music theory and listening to minimalist composer Arvo Pärt. "I was analysing a lot of Bach works and stuff like that," he remembers. "I loved it, and that kind of influenced me, 'cause I was having so much fun." Quickly, his two musical worlds collided when, on a tour with I Adapt supporting German metal band Heaven Shall Burn, the headliners asked him if he could provide orchestral passages for their 2004 album Antigone.
"I'd just started doing this instrumental music as a hobby on my own and I gave the demos to the guys," he remembers. "I had Cubase on my parents' home computer and the demos used MIDI strings. Pretty horrible-sounding stuff. But they liked the compositions, so they gave me some budget to record real strings. I got my violinist and cellist friends to come over and we recorded real strings in the living room. I had one [Shure] SM57 [laughs]. Everything sounded a bit funny. So I guess I was always doing this a little bit on the side and it took over. I got more and more interested in this intricate way of writing music."
Ólafur Arnalds' room at E7 Studios is based around a Pro Tools HD rig and Barefoot monitors. There's no desk, but quite a bit of vintage outboard.
These unlikely beginnings led to London label Erased Tapes getting in touch with Arnalds, with a view to him recording an entire album of his instrumental compositions, which in 2007 became his debut, Eulogy For Evolution. He finds it hard, however, to explain exactly why he became fascinated by the idea of mixing classical influences with technology.
"I suppose I never decided what kind of music I was doing," he says. "I wasn't thinking, y'know, 'This is classical music,' or, 'This is electronic music.' I just took what was right next to me and I used it. I got a laptop when I started working on the first album and there were some electronic sounds in there, so I just used the tools that were in front of me."
Arnalds' compositions, he explains, typically begin with him at the piano. "Usually, not always," he says. "But yeah, usually I will sit down at the piano and just improvise until I have some melodies or ideas. Then I immediately go to the computer and start programming everything. So that melody that came on the piano might not end up on the piano in the end. It might end up being a synth and then I write the main piano melody."
Following Eulogy For Evolution, in 2009, Arnalds set himself the task of writing a track a day and then putting each one up online immediately. He says that not only was it an interesting discipline to impose upon himself, but also, it served as an exercise in clearing out a backlog of musical ideas.
"I was working on an album and I knew that these songs would not fit on that," he explains. "I wanted to get rid of them, in a way, so that I could have a clean slate and my head would be empty of all those ideas. That was the initial idea, but it became about much more. It really helps you get rid of all of your perfectionist ideas. Which is healthy, y'know. 'Cause nurturing songs for years doesn't always make them better. They might lose their soul and spontaneity in the process, although they might sound more perfect or whatever. And it also became an experiment in social media."
The fully restored Bechstein piano, miked with pairs of Coles 4038s or Neumann KM84s, is central to most of Ólafur Arnalds' recordings.Arnalds encouraged his fans to use his music for their own purposes, including short films, resulting in hundreds of thousands of downloads and an interesting creative synergy. The tracks were subsequently released in 2009 as Found Songs. Two years later, he embarked upon the similar, if more ambitious Living Room Songs. "This time we actually video-taped everything," he says, "and I released the songs as YouTube videos. That made it even crazier, 'cause we had to not only write and record the song each day, but we also had to edit the video too. That was a 24-hour operation."
Following the success of his second full album, 2010's …And They Have Escaped The Weight Of Darkness, however, and in beginning what would become For Now I Am Winter, Arnalds hit a period of writer's block. "I just kind of got stuck," he admits. "I didn't know where I was going with it for a while. I had six or seven songs and I just couldn't find a way for them to fit together and I didn't even like all of them that much at that point. So I kind of just stopped for a little while and went on tour and cleared my head. Then actually when I came back I realised that the problem was not all of the songs. The whole problem was this one song, and I removed it and then all of the others suddenly made sense. In a matter of a few weeks, I had the whole album together."
Arnalds now says he thinks the problem was that he was afraid of becoming stuck in a creative rut. "I think it was too much like my last album," he confesses. "That was the problem. In my mind I was trying to recreate the success of particular songs from my last album, 'cause I didn't know what else to do. Sometimes you can get a little bit afraid to leave your comfort zone. If you've done something which has been successful, it's hard to suddenly decide to do something completely different. So it just took me a little while to leave that comfort zone, and in the end I did experiment a lot more than I thought I would."
Arnalds says that the breakthrough moment in the making of For Now I Am Winter came with the frenetic shapes and uncharacteristically heavy distorted beats of its second track 'Brim'. "I remember that being a moment when I was like, 'Yes, that's it, that's the direction I want to go in!'," he recalls. "'Cause at that point I was just experimenting. I was thinking, 'What if I just do a really heavy drum beat, something completely different from what I do normally?' And when I felt that working, I suddenly got encouraged to finish the album and I reworked a lot of my stuff."
Ólafur Arnalds' favourite synths are the Roland Juno 106 (shown) and 60. The Jen string machine (top) is an oddball and surprisingly useful instrument.
In approaching the piano and string quartet recordings for the album, Arnalds relocated to the nearby Studio Hljodriti, before realising that the latter parts needed some bolstering. And so he brought in American composer Nico Muhly (Björk, Antony & the Johnsons) to arrange the quartet parts for orchestra.
"I guess this was a part of this whole experimenting thing," Arnalds reasons. "I wanted just a different sound. I already knew what it was going to sound like if I had done it, y'know. I was feeling predictable to myself, so I wanted to get someone else's touch and get something completely different and Nico is definitely that person. We're very unlike each other in our writing styles. He's just not very subtle at all in his arrangements [laughs]. While I would do something very simple and minimalistic, he would maybe go crazy and do something with big textures and screeds of sounds and rhythms. The other thing was I wanted to learn that. What better way to learn than to have another composer work on my own songs and see how he would do them? It gives me a reference for the future."
For the one-day orchestral session, Arnalds and Muhly hired the newly built, state-of-the-art Harpa Concert Hall in Reykjavik, employing part of the Icelandic Symphony Orchestra and recording them in their rehearsal room.
"It's a great concert room as well," Arnalds points out. "You can control the reverb by pushing some buttons and it changes the walls. I don't really know how it works [laughs]. But there's reverb rooms on the other side of the wall and you can open them and close them. Also, there's curtains on the walls that come down and make them less reflective. But the great thing is you don't see anything change. It's really wonderful. The walls are multi-layered and there's just something inside the walls that changes. We tried a few things and I think we ended up on the middle setting — we didn't want it too wet because then it becomes so uncontrollable in the mix, but we didn't want it too dry either, 'cause then what's the point of going into this wonderful concert hall?"
An impressive rack of API preamps goes a long way to making up for the absence of a conventional mixing desk in Ólafur Arnalds' room. The pair arranged the 33 players in three trios of first, second and third violins, with the same amount of violas, while making up the numbers with cellos, clarinets, French horns, flute and trombone. Struggling to find enough mics to record the orchestra, Arnalds called in favours from all of his friends at the E7 studio complex, using Neumann KM84s to close-mic the strings and Royer ribbon mics on the brass.
"It's a really viola-heavy arrangement," Arnalds says. "It's just something that me and Nico came up with. I love violas, this kind of big and deep string sound. Also, when they play up high, they sound sharp and cut through quite a lot. Nico's job was mainly to take those melodies of mine and spread them around different instruments of the orchestra and maybe add some textures."
The two composers now found themselves with the original string quartet parts and a full orchestra that they had triple-tracked. "We mixed my arrangements really close and centre," Arnalds says, "and his orchestral arrangements are very wide and a little bit more distant. It's kind of like the blanket surrounding and covering everything."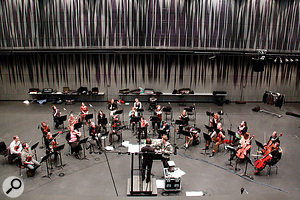 The single day's orchestral recording for the new album took place in the impressive Harpa Concert Hall, with its state-of-the-art remotely variable acoustics.
In the mixing stage of For Now I Am Winter, it was the slow-building, cinematic 'A Stutter' that was to prove the trickiest proposition. "It took ages to finish," Arnalds admits. "The biggest trouble with that track was I started to realise that there was so much stuff in there, the attention was divided between so many things. There was orchestra, there was some electronics, there was vocals, there was piano and there was a string quartet.
"In the end, when I was starting to mix, I had no idea which element should be the leading part of the song, which element should be the focus of the mix. There was way too many things and I couldn't sacrifice any of them. So it was a very difficult mix. Just that song took quite a few days and at the end, you don't know what you're doing any more and you're going in circles. The last two days I was just changing things back and forth and nothing new was happening [laughs]."
Aiding him in his efforts was Icelandic mix engineer Addi 800 (Blur, Björk). "He's a veteran," says Arnalds. "He's been in the business for 30 years. He would start each song and clean it up and get rid of all the ugly frequencies, then he would pass it on to me to polish it and do the balancing and everything. I needed him because they were huge mixes and I just felt a little bit overwhelmed by it all. I needed some help to go through all those channels. Quite a lot of the songs were like 180 tracks. It was mixed in the box completely, mostly using UAD plug-ins. I'm totally addicted to them."
In general, finding the balance between the electronics and the orchestrations was the hardest part of the mixing process. "Especially 'cause we had so much orchestrated stuff," he stresses, "and they're kind of equal in the mix. We also have the piano, which is very close-miked. Like, the mics are almost touching the hammers. Then the orchestra is in this big room and sounds much further away. And the electronics obviously are very close and dry. The challenge was to balance these things out and make them work together: to have something which sounds so distant and reverberant work with something so dry and up close."
Once the mixing was finally completed, Arnalds and Addi 800 flew to London to master the album with Mandy Parnell at her Black Saloon studio. "She did an impeccable job," the composer enthuses. "She totally understood exactly what we wanted. I didn't want to get rid of any of the dynamics, so she wasn't over-compressing anything. But still, when we wanted things loud, she could also do that. Sometimes just running things through her incredible [EMI TG] desk made them instantly better. She sometimes didn't even need to touch a button to make things better."
Looking to the future, Ólafur Arnalds is decidedly in two minds as to how he wants to approach his next album. "Last week I wanted to do a completely minimal ambient album," he says. "Then the week before that I wanted to do a really poppy album. I really don't know yet."
In the meantime, he is branching out into soundtracks, and is currently working on the score for an Icelandic film, having produced four-and-a-half hours of music for the David Tennant-starring ITV crime drama Broadchurch, screened earlier this year. It's an area that Arnalds wants to explore further, finding it entirely liberating and inspiring. "The only message from the network and from the producers when I did Broadchurch was, 'Be as bold as you possibly can'," he laughs. "Which, of course, is what every artist wants to hear."  
Ólafur Arnalds still lives and works in Iceland, operating out of a studio complex by the harbour in Reykjavik called E7, which houses various production suites, a mastering room and even a cinema mix room. In his studio, he runs Pro Tools HD 10, using Mytek 192 converters and Barefoot MicroMain 35 monitors.
The centrepiece of Arnalds' studio is his 1903 Bechstein piano. "It was just restored," he points out, "so everything inside of it is kind of brand new. But the whole body has the character of a 110-year-old piano." For composing, however, the flexibility of MIDI takes precedence. "When I'm writing, usually from the very beginning I start doing a mock-up. I have string libraries and sample libraries, and I do mock-ups of the full production and then later I just start replacing things. Like, I replace the strings with real strings and the piano with real piano. Even though I do have a grand piano in my studio and I write stuff on that, I actually play it in MIDI in Pro Tools to finish writing the song. I guess it gives me more control over it. If I want to change one note, I don't have to record the whole song again."
When it comes to microphones, Arnalds relies mostly on a pair of Neumann KM84s that he bought from the estate of Hansa Studios owner Peter Meisel. He is tickled by the notion that they were most likely used on some of the classic albums made in Berlin by the likes of David Bowie and U2. "They're in perfect shape and they're marked with his name," he says. "They're my go-to condensers, but I also have a pair of Coles 4038 [ribbons], which I use a lot on the piano." Like many producers these days, he favours vintage preamps over a mixing desk, including a pair made by WSW Studio Verstärker. "Amazing Austrian tube preamps from the 1950s," he says. "But most of the album was recorded through API 512 preamps, just because they're more clean and easier to deal with sometimes."
Naturally, given the strong electronic elements of his music, analogue synths are very important to Arnalds, his two favourites being the Roland Juno 106 and Juno 60. "I think they really just fit my sound. The 106 I use if I really need to MIDI program something, the 60 if I can play it. I prefer the sound of the 60. It's easy to make a Juno work with strings. If you put the filter really low, they become really warm and soft. I almost always track them through the [Roland RE201] Space Echo — it's like my automatic thing — and that combination, it always works. And it works wonderfully along with strings and piano.
"I also have an old Korg MS10 which is falling apart. I use it mostly for bass and if there's some rhythmic stuff. And of course, that filter is just the best filter ever made. I'll even put one of the Junos through the MS10 filter. Then I have an old Jen [SM-2007] string machine. They're really rare these days, but they're really wonderful. It really sounds like Air. I think it was originally marketed as a consumer product. It has really simple settings like Cello, Viola, Violin and it has these really super-bright, fantastic-sounding string sounds. It's horrible in a way but it's very beautiful in its horribleness."
In terms of in-the-box effects, Arnalds is a great lover of UAD plug-ins, particularly the EMT 250 reverb and the Moog Multimode Filter. "I do a lot of side-chain filtering," he says. "I might have a drum beat and send it out to an external bus as well with a filter and distortion and just layer that on top of the drum beat to give it a little bit more character and life. I like the Sound Toys Decapitator for distortion."
When it comes to programming drums, the composer has an unusually simple approach. "I actually just put sounds on the timeline in Pro Tools," he explains. "I don't use any drum machines or any beats programs. I either make or find samples and then I just put them on tracks in Pro Tools and arrange them like that. It's often just sounds from techno or trance sample banks, very heavily processed. I might even re-amp them or run them through some spring reverb or tape echo 'til they come alive and don't sound like techno."
For Now I Am Winter also marks the first time Ólafur Arnalds has worked with a singer, having decided to bring in fellow Icelander Arnór Dan Arnarson of the band Agent Fresco for four tracks. "I think again it was just a part of me wanting to branch out and try new things on this album," he says. "I've done quite a lot of instrumental releases and I would always be asked in interviews, 'Why don't you have any vocals?' Then one day I just thought, 'Why not?' I wanted to try it out. Initially we tried out with one song, which was 'Old Skin'. We just loved working with each other and his voice fit perfectly to the music. He has this classically trained voice, but he uses it like a pop singer. So he's kind of like me — he's a mix between two worlds."
Arnalds admits that adding vocals to his music proved to be the greatest challenge for him in the making of the album. "Because we didn't want the vocal to become the way it is in pop music, where people only listen to the vocal and don't listen to everything else that's around it. We wanted the vocal to be equal to all the other instruments in the song. So we tried to write melodies that were not overbearing. I guess we wrote the vocal melodies just like we would write a violin melody or whatever."
When recording Arnarson, Arnalds put up two microphones: an AKG C12A and a Telefunken AK47 Mk II with an M9 capsule, both fed through API 512 preamps. "Then in the mix, depending on the song," he explains, "I just chose which mic to use. I ended up using the Telefunken in three songs and the C12 on 'A Stutter'. What I like about the C12 is that it is a little bit rough. We had such a huge mix on 'A Stutter', and the Telefunken is very clean and clear, so it was much easier to somehow fit the C12 into the rest of the mix."