You could be forgiven for wondering what the hell an experimental hip-hop artist from Southend would have to write about in his music. Blue rinse? Too many ice-creams? The Pier being too long? The sea being too wet? I must admit that when I discovered where he was from, I half expected the album to sound about as 'real' as one from a 12 year-old hell-bent on singing about being left by her husband for another man (see Dionne Bromfield).
Thankfully, however, it would appear that Southend has had little or no (make that 'no') influence over The Weir's debut album, and it actually makes for a pretty interesting listen overall. Taking influences from the likes of DJ Shadow and RZA, it's an ambitious project, not least because it was clearly made against the backdrop of quiet tea-rooms and a lot of mobility-vehicle avoidance. But let's be fair, The Weir is a promising producer, so whatever style of sound he decides to make, it will most certainly beat listening to the Bingo being called.
Sarah Bowden
Receiving a large quantity of demos and self-released albums allows you to get a good grasp of the overall standard of music that's out there, as well as how few acts really manage to set themselves apart
As a result, it's unfortunately quite rare that you'll mention an artist to all of your best friends, rarer still that you'll bemoan the fact that they're on the other side of the world to you, because you want so much to go and see them, play a support gig for them, or join in on a song or two!
Well, that's just how I feel about Lucy Wise & The B'Gollies and their first album. This 11-track, self-released affair combines English and Celtic folk with American mountain-folk, throwing in universal narratives to wonderful effect. It's very easy to listen to, and often quite moving.
Lucy's voice is charming. She's an Australian with a very English delivery and an individual mix of pronunciations in there. Her vocal delivery is so soft and touching that I found myself tearing up during some tracks. Yes, this Sound On Sound editor has a heart.
My only sonic criticisms relate to the choice of vocal recording equipment: whatever combination of mic and preamp is used for Lucy has a little bit too much 'cut' on many tracks, while an alternative selection is a bit 'honky' and resonant on others, 'Missing' in particular sounding a little too thick. Some tracks could do with a little more bass depth and body, for me, but it is a very natural, clean and pretty sound overall, and immaculate in terms of performance.
If you're over in Australia or New Zealand where the band are touring, go and see them! But whatever you do, don't tell me about it; I'll be too jealous.
J G Harding
This debut album from Book Of Birds is an alt-folk record that blends echoes of Nick Cave with a bit of stoner rock. The atmosphere is dark and the tracks are recorded and mixed very well, with particular attention paid to the vocal, which is nicely saturated.
Lovely use of double bass on tracks such as 'Box' makes this album something of a successful fusion, a relative rarity. Taking it to the next level would require a combination of fairly obvious tactics: adding a few more hooks, and enhancing the most individual characteristics of the vocal performance.
Since we received this CD, founding member Robert McCracken has been working on a second album, which apparently twists the sound in the direction of Bleach-era Nirvana as well as Queens Of The Stone Age. It'll be interesting to see how this works out, as elements of these genres are evident in the debut and were clearly waiting in the wings to be expressed more fully. I really did enjoy Luthiern Lullabies from end to end, and it's a great example of how to produce and mix alternative folk-rock.
J G Harding
Me And The Mountain are a female-fronted rock band from Essex who have been making waves recently on the likes of Kerrang! and Lava TV. Putting aside the rationale of releasing a slightly flabby seven-track EP (why not just release an album, or a really great EP?) the songwriting is actually quite promising.
Singer Laura is comparable at times to Paramore's Hayley Williams, but seems to lack the singing experience to really deliver power on the crucial high notes. That's not to say that she won't get there: it may just be that she needs some work on her top range and her 'rock vibrato' — see multi-platinum selling band Heart if you don't know what I mean.
Sound-wise, it doesn't really punch hard enough either, so if I had any recommendation it'd be to look at a production along the lines of Lacuna Coil or Fireflight, and commit to being properly 'rock' before releasing anything else.
Sarah Bowden
www.facebook.com/meandthemountain
Flintology is a Belgium based electronic artist whose musical style is best described as '90s industrial hardcore. Clearly influenced by the likes of Nine Inch Nails and Ministry, Flintology hasn't really digressed much from the sounds embodied by these acts. It's a shame, because the production on the album isn't actually that bad, for someone who's clearly trying to emulate an old style.
Looking at this from a modern perspective, however, it all feels a bit, well… dated. The musical equivalent of hanging around Camden with a balding 50 year-old who's still dressed like a Goth. It's not hurting anyone, but really it'd be better for everyone if you just moved on and tried something a little bit less 'moody teenager.'
Not least because the moody teenagers are probably feeling embarrassed by the fact that their dad's still dressed like Robert Smith and is sleeping in a room that's painted black. And has a coffin for a wardrobe.
Sarah Bowden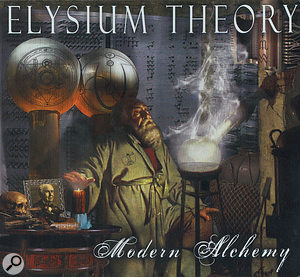 Sometimes you spot the genre of an album from the cover artwork and the name, and the epic prog wyvern that I imagined was indeed the very beast that was conjured forth from the silvery disc.
The lyric "The Lure Of Gold, as in times old, gone the ancient ways... " combines with just the sweeping power chords and vocal wail you'd expect to kick off track two, which is, naturally, the first song after the instrumental intro. Before I could reach track three, the MacBook (which as regular users will know, feasts upon optical media) stopped playing and decided to entomb the CD for all eternity, deep within the gloomy chasm of 'Matshita optical media drive'. The problem was, I really wanted to know what was going to happen next. Would lead be transformed into gold, de-stabilising one of the few safe investments in an already fragile global economy?
Luckily, I could stream some tracks online. OK, so I have a (pseudo-ironic) soft spot for this kind of epic metal. The classic prog angle here, with fantasy imagery and sweeping reverb, is pretty fun.
Production-wise, the vocals are a little quiet and the mix is lacking in separation in places: for this genre, the drum sound could do with airier cymbals and a more open snare too. It's still a pretty fun listen, though, as fantasy prog rock goes!
J G Harding
It's been a while since I heard music that immediately transported me back to the time when I used to think Prince was sexy, as opposed to a small man in high heels. Well, other than the music of Prince, that is. So when I first put this record on I was amazed at how much attention had been paid to mixing all the right ingredients, emulating that musical era in the most incredibly perfect way.
The arrangements are absolutely faultless, from the keyboard sounds to the precision funk-jazz drumming, so much so that it felt at times as if Stevie Wonder had been watching (well I say watching, but you know what I mean) over the production, personally. As for the songwriting and the lyrics, they too are exemplary, albeit unflinchingly retro at all times.
So is this a good thing? Well, if you close your eyes and pretend you still fancy Prince, then yes, it absolutely is. If, however, you like your new music to sound a bit more current, then maybe not. Unfortunately, this may be Matti Roots' downfall: not everyone wants a trip down memory lane. But on balance, this record is definitely worth a listen, because if nothing else it's a master-class in accurate retro production.
Sarah Bowden
Bob McCarroll's CD, That Old Feeling, is a collection of jazz standards that he's rearranged and recorded. His style is quite lounge-like, and as I listened I imagined myself in the lobby of a hotel, on holiday and pretending to be rich.
Clarke Rigsby and Kyle Harris of Tempest studios in Arizona have done a great job of capturing the band, and the result is phenomenally natural and unobtrusive. Bob's vocal, in particular, sounds syrupy-smooth and warm, and I'd bet that one or more of Tempest's impressive array of ribbon mics was used during these sessions.
It's clearly a record made by highly experienced musicians who've honed their craft playing in bands over many a year. Jerry Donato's tenor sax, in particular, is great to listen to, but I feel bad picking someone out of a band that gels so well.
I wouldn't usually spontaneously choose to listen to this kind of music and, like many of my generation, I tend to turn to the 'usual suspects' when I want some jazz. Still, this is an undeniably enjoyable listen, if more than a little soporific due to the warmth and pace of the particular collection of tracks.
J G Harding