Paddy McAloon: From Langley Park To Memphis (And Back)
Prefab Sprout rose to fame in an era of indulgence and eye–watering studio budgets. These days, things are a little different...
"A lot of what goes on in a studio is on a sub–molecular level," says Paddy McAloon. "The sound bashing off the walls, the same old instruments that everyone uses, but being played in a real live atmosphere. I still think things from the '50s and '60s are the best–sounding records. If recording is done well, it will have that unique stamp. You listen to a Peggy Lee or a Frank Sinatra or a Beach Boys record, where they're done in what I assume to be rooms with well–designed acoustics, they have a sound."
After over 30 years trading as Prefab Sprout — previously the songwriter and leader of a four–piece band, he now uses the name in effect as a shop front for his solo career — McAloon knows what he likes to hear in the recording studio. Coming up through the indie world of the early '80s, when the best acts from small labels would quickly be snapped up by the major record companies, he subsequently enjoyed the generous production budgets of the era and made albums in top–flight studios on both sides of the Atlantic, before latterly settling into a more homespun recording approach.
"Y'know, the big studios that we were in, maybe to some degree we took for granted because we were young and foolish and all of that business," admits the 56–year–old in his gentle north–eastern English burr. "When I look at it now — and this isn't just old man's talk — I've thought about where it's all gone. Everything has gone into trying to recreate those sounds within the box."
The latest Prefab Sprout album, Crimson/Red, is a characteristically lush record, brimming with lovely, artful songs, recorded at McAloon's home in County Durham. Fascinatingly, the singer's working setup might have been frozen in the '90s, centred as it is around an Atari STE 1040 running C–Lab Creator–Notator and an array of outboard sound modules (more of which later). His recorded results were subsequently tidied up and mixed by Calum Malcolm (the Blue Nile, Simple Minds). "I wish I was more hi–tech," says McAloon. "Sometimes I do ache to make a beautiful–sounding Steely Dan–style record like in the old days. But it's not everything. So I kind of cut my cloth accordingly."
Never one for operating in an orthodox way, Paddy McAloon has always followed a highly individual path. Since Prefab Sprout's emergence in 1982 — the band comprising the singer/guitarist along with his brother Martin on bass, co–vocalist Wendy Smith and drummer Neil Conti — he has displayed a uniquely skewed approach to music. Debut album Swoon showcased his angular arrangements and cryptic lyrics to memorable effect. This first outing was recorded at Palladium Studios in Edinburgh and co–produced with David Brewis (of Kitchenware Records labelmates the Kane Gang). Paddy remembers the experience as an intensely steep learning curve.
"Well, we had aspirations," he says, "and we didn't really know how to do it, nor did we have too much time, combined with songs that had no ear at all to commerciality. I think there's a couple of songs on there, 'Cruel' and 'Couldn't Bear To Be Special', which could have been done as kind of more middle–of–the–road ballads if you were of a bent to do it. But most of the others, there's lots of odd chords and angles and strange things going on. Really, it was our first time in a studio, and I was into being as intensely yourself as you could be. A little bit different, as it were, to other people. And I think it reflects it."
Like many debut albums, Swoon was effectively the sound of a band bashing out their live set in the recording studio, with some basic sonic experimentation with guitars and keyboards going on in the overdubs. "All time told," Paddy remembers, "it couldn't possibly have taken more than four weeks. We nailed, in that haphazard, slapdash fashion, the drums and the bass in day one, for all the songs. Then we did overdubs on top of that. But I kind of don't sing it right. I didn't know how to sing in the studio. Didn't know how to sing full stop, if I'm being frank with you."
Others didn't agree, of course, as proven by the fact that Swoon was picked up by CBS Records and, upon its release, attracted gushing reviews. For its successor, the major label hooked Prefab Sprout up with Thomas Dolby, the synth–pop solo artist who was then branching out into production. As well as overseeing the band's second album, Steve McQueen, released in 1985, Dolby effectively became the fifth member of the group, augmenting their sound with creamy digital keyboard washes. "I'd read in a magazine somewhere that he was working with Michael Jackson, and I thought, 'That's good enough for me,' Paddy laughs. "I don't know whether that was actually true he'd met Michael Jackson. Tom had loved Swoon, but he thought he could be helpful in terms of unpicking the sort of tangled knots of amateur arrangements."
The songs for Steve McQueen were worked up in rehearsals with Dolby at Nomis Studios in West London in the autumn of 1984, before the sessions moved to Marcus Studios and the mixing was done at Farmyard Studios in Buckinghamshire. "It's taken me decades to try to absorb what it was that Thomas did," Paddy admits. "I mean, he had a great ear for individual sounds, he wasn't swayed so much by the things of the day. He had a Fairlight and a PPG Wave and he would use them sparingly, and he had no time for the Yamaha DX7 and the things that everyone else rushed out and bought. He was into synthesis really. He didn't make a big thing of it it was just what he did, in addition to having a good sense of structure."
The album yielded a major hit in the shape of 'When Love Breaks Down', but the much in–demand Dolby couldn't commit himself fully to the third Prefab Sprout album, having decided to work with Star Wars director George Lucas on the soundtrack for his 1986 cinematic flop Howard The Duck. At the same time, McAloon and Dolby failed to see eye–to–eye when it came to the demo of the band's next obvious hit, the clever Bruce Springsteen–lampooning pop of 'Cars And Girls'. "He said, 'You could get anybody to do that,'" Paddy recalls. "And I'm not sure what he meant by that. 'Cause I thought, Well, yeah, you could get lots of people to do any of them, but that's not the point."
In addition, McAloon had hatched what he now calls a "slightly bonkers" plot to make the album with a different producer for each song — an idea that was quickly torpedoed due to the massive expense it would have involved. Nevertheless, the resulting From Langley Park To Memphis was still a hugely ambitious affair, its credits listing no fewer than 19 engineers. The sessions were divided between London and Los Angeles, with four of its tracks produced by Dolby and the remainder produced by McAloon himself, sometimes in cahoots with Jon Kelly (Kate Bush, Deacon Blue).
Surely then McAloon must have at this stage felt far more confident as a producer in his own right? "No, I didn't," he confesses. "I feel as if I was there under false pretences. It could have been done an awful lot quicker. I've got to say I wasn't a record producer and it would take me a long time to understand really what goes on there. That's my take on it. I'm not being self–deprecating. I just think the truth is, we got through something, that's all."
Whatever the circumstances of its creation, From Langley Park To Memphis was Prefab Sprout's most polished offering and their best–selling record, reaching number five in the UK album chart, not least due to the naggingly catchy and knowingly daft Top Ten hit 'The King Of Rock & Roll'. There were many memorable moments for McAloon during the album's making, not least hiring an orchestra for 'Hey Manhattan!'; the parts were committed to tape at CTS Studios in Wembley, a favourite of John Barry's when recording the scores for the James Bond films. Elsewhere, Prefab Sprout's growing mainstream status was spotlit by the appearances on the record of Pete Townshend, who played acoustic guitar on 'Hey Manhattan!', and Stevie Wonder, who contributed his trademark melodious harmonica to 'Nightingales'.
Both of these cameo performances came about simply because Prefab Sprout happened to be using the same studios as the legendary musicians. McAloon remembers being ill with flu and absent from the sessions on the day he encouraged his bassist brother Martin to ask the Who guitarist to play on 'Hey Manhattan!'. "Our Martin said he walked past this room and Pete Townshend had this Ovation acoustic and he was shaking it over his head violently," he says. "Martin thought, 'God he even does it in private!' But then it turned out he'd lost his plectrum inside it, like a mere mortal, and he was trying to shake it out. So he did the part as a favour and it's just a straightforward, but beautiful, rhythm guitar with strange chords going on."
There was a tenser atmosphere, however, in Westside Studios on the day Wonder arrived to make his contribution to 'Nightingales'. "The young engineer on the session, Richard Moakes, looked at me just before he did it and said, 'Oh God I'm a bit worried I won't know how to get his sound'. I said, 'Well, look, we'll just see what happens'. And of course you put the microphone on him and you turn the fader up and he sounds like Stevie Wonder. You don't do anything."
It was an enlightening moment for McAloon. "For a long time, you have this chimera of a notion that someone can get you a great sound," he says. "But it starts with you, y'know. I thought, OK, you've seen how that works with someone like Stevie Wonder — he has his skills and you put a microphone in front of him and you will capture him. Unless you're doing something really silly, you'll get it and it will be identifiable. So I thought, OK, when you play a guitar, don't blame an engineer if you don't know what you're doing. I've heard people tell stories about Jeff Beck, that he can pick up any bent, out–of–shape guitar and he will make it sound like Jeff Beck, 'cause he knows what he's doing."
The venerable Atari is still central to Paddy McAloon's writing and recording.
It was around this time that Paddy McAloon's home recording setup began to develop, when he acquired a Fostex B16 half–inch tape 16–track machine and Seck desk to sketch out demos. After the double album Jordan: The Comeback in 1990, McAloon embarked upon the demos for its intended follow–up, Let's Change The World With Music using his newly purchased Atari STE 1040 and C–Lab Creator–Notator, only to have them rejected by his paymasters at CBS.
"With Jordan, they'd wanted a single album and I'd insisted on doing 19 tracks," Paddy explains. "So when I presented the demos for Let's Change The World With Music, there were about 16 songs on the DAT and I think [A&R boss] Muff Winwood thought, 'Oh God, I hope he's not gonna want to do all of these songs.' There was too much stuff to absorb and he just wanted it simpler. I think what Muff really meant was, 'Don't present me with a big pile of stuff. Give me nine or 10 songs and I'll just say, yes, go in the studio.'"
Instead, McAloon abandoned the album temporarily and embarked upon an even more ambitious project entitled Earth: The Story So Far. "To cut a very long story short, two years later I woke up one day and thought, 'You've now got 30 new fragments of music that you're still nowhere near turning into a record. They're all in the virtual world of C–Lab MIDI, no–one's actually going to want to hear this at the record company. You've strayed so far from the path, you better pull 10 ordinary songs out.' Which is what I did, and we did [1997's] Andromeda Heights."
Calum Malcolm.Photo: Linn Records
Around the same time, McAloon built himself a proper home studio, also named Andromeda Heights. He found it an entirely freeing experience. "Yes, it was a liberation," he says. "The room had formerly been some crumbling outhouses on the side of my house, which had at one time been a convent, and these were places where people would do the washing. It had all fallen down and it was dangerous really. The builders just gathered together everything that was there, all the rubble, and turned it into a studio and put a roof on it. Great, really."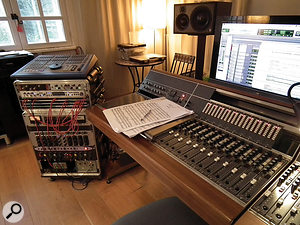 Calum Malcolm's studio is based around a vintage Neve desk and a deliberately small selection of outboard.
Andromeda Heights the album was the first McAloon worked on with Calum Malcolm, having been a fan of the spacious, atmospheric sound the engineer/mixer achieved on the Blue Nile's albums. "I knew that he would come from some kind of old–school environment in knowing how to mic things up," Paddy explains. "But also, although he knows how to do things the right way, he is no slave to tradition."
When in 2008 McAloon decided to return to the 1992–93 recordings for Let's Change The World With Music, he turned to Malcolm to help him complete the project. "It was made in what was basically the kitchen of my house, a very, very small, boxy room," Paddy explains. "It's an impossible recording environment in theory, but because I was using MIDI — there's only one bit of real guitar on it — and it was meant to be a demo, I could live with some of these restrictions. It was when Calum took it away and analysed it that he realised he could beef certain things up. He'd reinforce the snare with something more contemporary, or he'd add some bottom to the bass drum."
Back in the '90s, McAloon had bounced all of his MIDI parts for the album onto his Fostex B16. When Malcolm took the tapes away in 2008, he had them baked by FX Mastering in London and transferred to Pro Tools. "Disappointingly," says Calum, "when I got it back, the speed wasn't constant — Paddy's machine was presumably gradually slowing down. Elastic Audio had come out at that time and I used the varispeed setting to correct it. It's just gradually increasing or decreasing the speed, changing the sample rate slowly."
Malcolm does the majority of his mixing work in his studio at his house in North Berwick. "I have a very nice old Neve console," he explains."Decca had two of these built in the early 1980s, just after the 8078 — which is my favourite console — and they were kind of miniature versions. It's only got a simple three–band EQ, but that's fine by me. A very punchy, very big–sounding console."
Monitor–wise, Malcolm favours the ATC SCM25As. "They're a good size and ATCs are so neutral, you can hear the bad stuff. I do a huge range of music and they're spot–on. I trust them."
Where outboard effects and plug–ins are concerned, Malcolm chooses to work with a purposely limited palette. "For years," he says, "all I ever had and really loved was the TC System 6000 reverb and it's still great today. I don't really look beyond that, though I'm fond of the [Sonnox] Oxford Reverb plug–in. I used to have lots of plates and stuff and all the real things, but y'know, life's too short. Then reverb went out of fashion anyway. I'm more fond of delay on vocals, really. It means there's another rhythmic thing going on that's almost subliminal, but it creates space. But I'll use anything, whatever plug–in's on the go. There's so many of them and you can make them sound like anything, so I just use whatever's to hand."
The latest Prefab Sprout album, 2013's Crimson/Red, was originally born out of contractual obligation, when McAloon realised that he owed music investment company Icebreaker an album, and soon. "The springboard was panic that I would be sued," he laughs. "So I did it all in a hurry." Choosing 10 songs from his vast unreleased catalogue, McAloon got his head down and completed the record in an intensive nine–week period, using his trusty C–Lab program.
"I still use C–Lab for a number of reasons," he says. "The first reason would be it's like my old typewriter. You know that a word processor would be a lot smarter and a lot cleverer, but you know how the old typewriter works. And secondly I found a creative way of using it. Because I'm a guitar player, I'll enter note by note every stroke of every chord and I'll try and get the dynamics just so, so it sounds rhythmically like a guitar but the sounds you're maybe using with it are not quite right. Then I'll replace them with other things."
More unusually still, McAloon records his tracks section by section, layering parts and sounds one on top of another, as opposed to working on a whole song from start to finish. "The first thing I'll put down is a guide keyboard," he says, "and then the key element is the melody, which I record using a bad flute sample. The lack of quality is a great gift to the arranging process, because if you can get used to hearing your song as if it was playing in a lift, with a terrible instrument, and you build your arrangement around that, it's magnificent when you take the bad sample away — 'cause that's where your voice sits."
Among the outboard sound modules McAloon likes to use when choosing final sounds are an EMU Proteus orchestral unit, Korg TR–Rack and two Roland Sound Canvases. The results are recorded to his Tascam MX2424 hard-disk recorder. "I use a lot of sounds that I suppose were designed for dance music," he points out. "But I use them way out of context. I'll use one part of the sound and treat it, put it through a delay or put flange on it. I'm trying to disguise the lack of finesse that may exist in the original sound sources."
"He's still using those boxes," says Malcolm, "and it's an interesting palette of sounds and it is kind of him. But the same as with Let's Change The World With Music, I was aware that I was not keen to change very much of what he was doing. We could have started again and put on real drums and all that sort of stuff, but the consensus at the time was just, 'Let's just improve what's there already.'"
For the vocal recording, Malcolm lent McAloon his Neumann U47 and left him to get on with it. "I don't like judging my singing," says Paddy, "which means I sing too many takes. It's the thing that actually puts me off pushing the red button on a recording machine — the fact that I'm gonna have to judge my singing."
Having transferred the D2424 material to his Pro Tools system, Malcolm went through the painstaking job of assembling the constituent parts of the songs into seamless wholes and comping the vocals. "The vocals did take quite a while," says Calum, "just because of the way Paddy had recorded them. He might hit on a way of singing a line and then sing it six times in a row. At that point the comping becomes a bit more difficult. You're not just going vertically, you're going horizontally as well."
Given McAloon's health problems (see box) and his unconventional working methods, there's little chance of a reunion of the original four–piece Prefab Sprout. "My hearing is one of the reasons why I don't have anyone else playing," says Paddy, "because I might be insulting someone. Like, my brother could play bass, but I wouldn't know really how to process that too well. I wouldn't know the right amount of compression, and I wouldn't really know how to EQ it. I would have to put it in straight and flat. So in a way it's easier if I use the expertise of a Korean or a Japanese programmer who works on a Korg box."
Ultimately, though, it has to be said, on the evidence of Crimson/Red, Paddy McAloon is operating very well as one–man band. "I was going to credit the organ and harmonica parts to a fictitious character called Tommy 'The Cyclone' Dupree," he jokes. "But I thought, I can't really do that because some smart–arse like yourself will go straight on the Internet and say, 'Paddy's been telling porkies.' So if you want to say I got Tommy 'The Cyclone' Dupree on the record, I'll keep your secret."
Our lips are sealed.
An important consideration for Paddy McAloon in his approach to home recording is his compromised health: he suffers from acute tinnitus in his right ear and a degenerative eye condition, the latter informing his choice of a Soundtracs Topaz desk. "It's small enough for me to see," he states, with no little amusement.
Paddy McAloon's deteriorating eyesight was a factor in his choice of this Soundtracs Topaz desk. "The hearing affects me quite a lot. I'm flying on one engine in that department. I can hear with my right ear, but I don't get an accurate picture of the world. Certain bass frequencies are gone, which means if I'm trying to judge the tuning or even just a part that I'm playing with my left hand on a synth, I'm not sure if a 'B' is a 'B' or a 'C' or a 'C' sharp. So I program the part into the Atari, lifted up several octaves, and I do it as a flute part — which is ludicrous of course — and then I lower it down.
"And I do it all with a degree of care, y'know. I'll make sure that when I'm recording something I try to obey the rules of recording, where you don't have too many things fighting in the same frequencies. And if I can't hear those frequencies, at least I have the memory of what that means. I'll try not to have a piano part clashing with a guitar part, I'll try not to have the low 'cello clashing with the programmed bass.
Paddy McAloon's studio setup could have come straight from the pages of a late–'90s edition of SOS...I know in theory how this works. So, in a sense, I could make a record almost even if I couldn't hear, because I know how it's done and then I rely on Calum's expertise. Sensible arranging has a lot to do with it."
Paddy McAloon's approach to songwriting changed entirely when he started composing on keyboard as opposed to guitar, around the time Prefab Sprout signed to CBS in the early '80s. "A terrible time to discover that you can't think of anything to do on a guitar because you've been playing it for so long," he quips. "But I got a synthesizer, a Roland JX3P, and I programmed into it a variation on their string sound which you didn't have to hold down — you just hit the chord and put a long release on. It was this crunchy electronic sound which over my headphones I found quite inspiring and atmospheric. I used it to write a whole bunch of songs, almost everything for the best part of 10 years really, from 1984 onwards. I think I had a guitar on my knee when I was writing 'Cars And Girls', but I was doing the chords on the synth. I really enjoyed it, but I was just listening to it as kind of harmonic support, I wasn't really assessing it in terms of its synth–like capabilities as a tool."