Interview with Charlie Andrew
When Charlie Andrew began working with Alt-J, both were unknown. The resulting album would change everything...
Although there was a strong shortlist for the category of Breakthrough Producer at this year's Music Producers Guild Awards, it's hard to argue with the judges' eventual choice. The last year has been a remarkable one for the previously unknown Charlie Andrew. The very first album to bear his name as producer, Alt-J's An Awesome Wave, has been hailed as one of the most innovative rock-electronica hybrids for years, winning the 2012 Mercury Music Prize and being named BBC 6Music Album of the Year. Top that off with integral roles in the making of Madness's album Oui Oui Si Si Ja Ja Da Da — which, inevitably, turned out to be their best in years — and Eugene McGuinness's excellent The Invitation To The Voyage, and it's fair to say that it was a year when Charlie Andrew well and truly broke through.
As is so often the case, though, what looks like overnight success was actually built on solid foundations established over many years' training, experience and hard work. "When I was at school, I played saxophone and drums, and was heavily involved in the music department," says Charlie. "I was also a bit of a geek, and I was quite into my physics. My sister is a professional bassoon player. She's five years older than me, so while I was still at school, I could see the route that you had to take to become a professional player. It never appealed to me, really, and it was quite apparent that I was never going to be of that standard. However, I got quite fascinated by the idea of putting science and my love of music together.
"The school actually started a Music Technology 'A' level, but the teacher didn't turn up for a whole year, so we hung round in the studio and mucked around! I got an old Mac G3 with Cubase on it, and started cutting up loops and things like that, and getting involved in samplers and creating a track.
"When I left school I took a year out, and I was very lucky and managed to become a runner at Abbey Road. Then I went to the Tonmeister course at Surrey, and the third year of the course is a sandwich year, so I went back to Abbey Road. I did two years there, but after that, I decided I didn't really want to do the long hours of assisting and not get creative like I was at school. I didn't think I was a very good assistant, actually! I was a bit nervy, but I got a lot out of it, I met some amazing people and learned a lot about studio etiquette and how things work.
"When I finished university I didn't want to go back into a studio like that, so I ended up teaching the drums back at home. And that was paying the bills, which meant after a while I had built up enough lessons that I could move back to London, and luckily a warehouse space came up. I was sharing it with someone else, and because it was an open space we couldn't really work at the same time, but it was a nice big space with a lot of character. It was like being outside in the winter and on the equator in the summer, because it was so hot!"
Alt-J drummer Thom Green lays down a rhythm track in the live area at Iguana Studios. This photo shows both his unusual drum kit, with miniature snare drum and no cymbals, and Charlie Andrew's typical miking arrangement. The three Earthworks mics are visible overhead and on the kick drum, where an AKG D112 is also employed.
All this preparation meant that when Charlie's lucky break arrived, he was fully in position to make the most of it. And when that break came, it proved fruitful in two ways, eventually resulting in both the chance to work with Alt-J, and in Charlie's hooking up with manager Gareth White. "I had a very lucky meeting in a bar with an A&R scout who went to school with one of the guys in Alt-J, and he introduced me to them, and also to Gareth. He sent me a demo that Alt-J had knocked up on a laptop in their bedroom in Leeds. I instantly fell in love with it, because Joe's voice is so unique, full of character, the melodies were great, the beats were really unexpected and quite inspirational, and that's something I could focus in on because I'm a drummer and I could help enhance that. And then I loved all the little parts going on around it. I knew instantly that I would be able to record them and do it well.
"The first time I met them was at the door of my warehouse. We started working together there, but after a couple of years it was time to move on and get somewhere a bit more professional."
Somewhere more professional, in this case, meant a room at Iguana Studios in Brixton. Established about 10 years ago by Andrea Terrano, Iguana was featured in SOS in October 2005 (/sos/oct05/articles/readerzone.htm), and pioneered an increasingly popular model in which control rooms are permanently rented out to producers who have shared use of a single live area. Most of An Awesome Wave was thus recorded in the live space and mixed in Charlie's own room.
Charlie Andrew's control area at Iguana is connected to all the other rooms, allowing quite a lot of flexibility when it comes to recording. He works mostly 'in the box' using a Pro Tools HD rig; the small amount of outboard visible comprises multi-channel mic preamps, plus a multi-channel headphone amp (right) and monitor switcher (centre).
As well as Joe Newman's unique voice, Alt-J's sound is also the result of some very unusual instrument choices. Keyboard player Gus Unger-Hamilton makes innovative use of surprisingly humble home keyboards, while drummer Thom Green employs a kit that is very much his own. "He doesn't use cymbals," explains Charlie. "The only slightly cymbal-like thing he uses is the back end of a saucepan, which he uses for the hi-hat, and that in itself is quite a unique sound. That gives you a lot of space to mess around with the room sound for the drums without the cymbals going all over it.
"His snare drum is a tiny 10-inch thing. I don't know where he got the one we recorded from, maybe even a toy shop, but it's got so much character, you tune it up a bit and it's got so much 'crack'. With the room mics I was using, you can distort that quite a lot and it would really bring out the ring of the snare.
"For recording we used my Ludwig kick drum, which is a 20-inch from 1970. Most drummers, when they come in and hear that kick drum, they're like 'Whoa, that's horrible!' because it's a bit flappy, with loads of overtones. It's the complete opposite of the dead thud most drummers want, certainly for live — it's ringy, but I know how to get what I want out of it. You get the low thud but loads of character as well."
As soon as he heard Alt-J's demos, Charlie had an aesthetic in mind for the album, which he refined in discussions and rehearsals with the band. Fundamental to this vision was that the drum parts should have the dynamics of live playing, but with the timing precision that we associate with electronic drums. "I've always wanted the drums to imply a drum machine, but not actually be a drum machine. On the tightness side of things it's quite mechanical, but on a live dynamic it's his playing, which is really special, so it's really important to keep that.
"There is quite a lot of reference to the hip-hop sound in the album, but a lot of people say it's quite folky as well, and I think that's true. There's a lot of organic things going on, but with this hip-hop, to-a-click type beat. The timing had to be rigid: there was no room for looseness, and there was no need for it. There's some projects you do where it's all about everyone jamming together, but for the Alt-J sound, it's important to make sure that space is there for all the little subtleties to come out. There's little things in the album that happen every now and then — rather than being blatant, they only happen once in the song, but that's quite a special moment, so you need that space, really."
Alt-J's distinctive array of home keyboards was augmented in places by a more conventional Roland Juno 60 polysynth. The first stage of production was to finalise the band's arrangements. "It was important for me to hear them all together playing, so we could make sure the arrangement was working. Before we properly started tracking, we'd sit all in there and set it up like a live gig, with everyone stood around each other — I'd have to set it up with headphones, obviously, so we could hear vocals and stuff — and all five of us would make sure the arrangement was working first. For some of the songs, the arrangement was already done, and then there were a few that did needed some looking at, because they hadn't thrashed out the song yet. Then, once we were happy with the arrangement, we got on with tracking."
"With most of them, we laid down the drums first, to get that as a backbone. Quite often I'd get the rest of the band to play along, again to get that dynamic from Thom's drumming. Every song was done to a click, because, again, there is that drum-machine thing. Then I'd make sure it was nice and tight, make sure the right takes were there for the rest of the song to build from. Thom would do his thing, then the guys would go and play pool or whatever, while I made sure that I was happy with it, and the backbone was there, and messed about with the sounds a bit.
"The bass line would then go on, but these things would all be done with the others playing, and if we got an amazing take I'd keep it. Then there's an element of messing about with different keyboard sounds as the song starts to build, and seeing what parts could be enhanced, or if we need that part, or whatever."
Charlie Andrew's API Lunchbox contains the two modules that make up his main vocal recording chain: a Neve 1073LB preamp and API 525 compressor.
Charlie tended to graduate towards the same recording setup for most of the tracks, based primarily around his Earthworks drum-miking kit. "There's one mic designed to be put on the kick drum, with a pad which creates a lovely EQ curve — without the pad you can use it on most things — and just two omni overheads. And it sounds lovely. The stereo imaging is great. This ends up getting a lot of bottom end from the kick, a lot of welly, so I also use an AKG D112 to get some punch. There are 57s on the snare — I've got a Beta 57 on the top — and a pretty generic tom setup with 421s. And then probably an AKG C414 in omni in the room at the back [a spot within the live area where the low end comes together particularly well is permanently marked], and something like a [Neumann] KM84 on the hi-hat. I'm not fussy, really!
"I know my setup in that room with that kit. It works, and I know how to manipulate it in the ways that I want for various songs. So on some of the songs the room mics are fairly distorted, and there are different effects on the snare drum and things, but I know with my setup that it's quite versatile. Most of the sound's going to be coming from the room and the overheads anyway, so then the close mics just need a little bit of push. Sometimes I do take out the room completely, so you've just got kick and snare. I'm partial to quite a dry drum sound sometimes, I often like a nice dead snare that's quite big and fat, but I don't really like to have such a close hi-hat, so that will come from overheads generally. It depends on the song."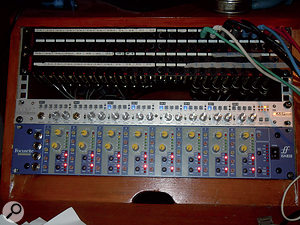 The Audient ASP008 preamp that got Charlie's studio started has since been joined by a Focusrite ISA828.
When it came to recording keyboards, bass and guitar, the Alt-J album benefited enormously from a '60s Vox AC30 and Ampeg B12 bass amp which Charlie has on long-term loan from Madness producer Clive Langer. "Gus had a Casiotone and a Yamaha something or other, a very cheap keyboard with basic General MIDI sounds on it — which were great! They did the trick. Quite often I'd run them through the old AC30, and bass would go through the Ampeg just to give it a bit of grit. The vibrato input on the AC30 brought new life to certain parts on the guitars as well. It makes it sound quite fragile, sometimes, which is perfect for some parts. For other parts we turned that off: for the big loud guitar break in 'Fitzpleasure', for example, that's through the amp but in the computer I've also run that through various drives as well, like [Sound Toys] Devil-Loc.
"The most synthy we got on that album was a [Roland] Juno 60 for the main hook on 'Dissolve Me' — but that's also mixed in with a steel-drum sample from Gus's Yamaha keyboard. It's all mixed up to make the right blend of keeping what they create together, what has been jammed through, so the original plot, but also giving it its own identity and a new character with a bit of fatness to it. There's a real naivete in that sound of the cheap keyboards and stuff, which I think is really appealing. If we'd got in all the classic big synths and everything, it might just start sounding more generic, like every other produced album.
"Whenever I tracked keyboards, guitars, whatever, there was always three tracks: the DI, the amp, and the room mic. And quite a lot of the guitar sounds are just the room mic, because you can start capturing the atmosphere then.
"For me, part of the beauty of the Alt-J album is that when there's silence, you can hear the amps hissing and cracking up and sounding like they're in need of repair. Which is beautiful, I think, and adds to the feeling of its being real, rather than its being totally processed, and for me that's necessary, to try to capture the little things of the live performance, like the amps hissing away in the corner, the unpredictable bits and bobs of it being real rather than an emulator on the computer. That all adds up to a more enjoyable listening experience. If you're listening to something that's perfect, suddenly it becomes very sterile, and there's nothing sterile about listening to a live gig."
The other major piece of the puzzle, Joe Newman's vocal, was tracked using that project-studio staple, the Neumann TLM103. "It just seemed to translate perfectly. I can't afford an 87 or anything fancier, but it does the job. That's been my primary mic for most of my recordings thus far. I can't claim that this album was made with loads of expensive gear, because it wasn't! For the early stages, I was just using my Audient preamps, which are lovely low-noise transparent preamps, but for the most part of the tracking, it was a Neve 1073 through a Universal Audio 1176."
A jubilant Charlie Andrew celebrates his MPG Breakthrough Producer Award with Clive Langer (left) and the author at the ceremony at London's Cafe de Paris. The award was sponsored by Focusrite in association with Sound On Sound.
An Awesome Wave was mixed entirely 'in the box' using Charlie's Pro Tools rig. "We did try out a bit of outboard, the Thermionic Culture Fat Bustard, but it was deemed not cost-efficient, because it wasn't making enough difference, and it gets more complicated with recalls and stuff, because you've got something where you need to remember where the knobs were! Having said all that, it does make a difference, so even though I didn't end up using it, I'd still like one of those, and various other bits and bobs.
"I was kind of mixing as the song was progressing anyway, so the final mix was more of a touch-up job on the final rides rather than getting back in and starting again. On the Alt-J record, the mix-bus compressor was hardly doing anything, it wasn't about driving it hard and making a loud record. If you can get it sounding good going in, then the mix is easy, because the arrangement's just there, it's done. For me, on the track 'Something Good', there was relatively little mixing going on there. I did give it a little mix and I think it lost something, so I went back to the monitor mix, because there was something very untouched about it, it had a very natural feel. Maybe it had to be brightened up in mastering a little bit, but it had a nice warmth and glow to it."
Charlie's mixes certainly had enough warmth and glow to convince Alt-J's record label to keep the faith, rather than farm out the final stage to a name mix engineer, and the results have more than justified their decision. The reception afforded An Awesome Wave means that Charlie is now in serious demand, and the next few months will see releases bearing his stamp from buzz artists like Darwin Deez, Rae Morris, Marika Hackman and Sivu. And the way things are going, you wouldn't bet against any of them becoming the breakthrough acts of 2013.  
Charlie Andrew's versatility is evidenced by the second major project he worked on in 2012: the 10th studio album from Madness, arguably Britain's best-loved pop group. "I was asked to go along to their rehearsals about two years ago. They were writing and rehearsing the new album, and they had come up with lots of new songs. I was asked to go along and program some loops for Woody, the drummer, to have in his in-ears, and get my head round Ableton, because that's what they use live to loop their loops up. It was quite a big opportunity for me to be in a room with one of the biggest bands in the country!
"This was in the Premises rehearsal rooms; they've got a studio upstairs, and they had it booked for the end of the week to lay down quickly all the tracks they'd been rehearsing as a demo. But the band were not all available at once to do that, so I put my hand up and said 'I can bring my rig in here, set up in here, and I'll track it while you're rehearsing.' I took my rig in with my mics and stands and the rest of it, and tracked them — when they were going for a take I gave them all headphones.
"I spent a bit of time back here making sure the mixes were as good as I could get them, added a few production ideas, which thankfully went down well, and it progressed from there. So every time they rehearsed throughout the year, they wanted me to come in with my rig and track it — and it ended up being tracking sessions, really. I did about 18 demos, but a lot of them felt almost finished.
"The idea was that they were going to be demos, and they got pushed to other producers who had always been in mind — people like Stephen Street and Owen Morris, who ended up doing a lot of the album — but for some of the songs we ended up using pretty much the recordings that we'd done. They came here to re-track a few bits, like we re-tracked the drums to try to get a warmer sound, and went to Assault & Battery to redo the keyboards with real pianos and organs, not just MIDI straight out of Mainstage, which was what we'd been tracking."
When things aren't working out at the mix stage, Charlie Andrew has a secret weapon at his disposal... "My wife's a professional violinist, and she's got amazing ears. Sometimes if I'm doing a mix, and I can't work out why something's not working, she'll give it a listen and say 'This is sticking out to me, try doing that.' She's not technical, but she'll know straight away. It's really handy being married to her!
"There was something the other day where it was literally a tuning issue — she just said 'Try nudging it in tune', and suddenly the space was there. If it's in time and in tune, you've got space. Sometimes in a mix you find yourself really having to struggle with the balance because you're actually trying to hide something that's just a bit off. But as soon as everything's right — you've got a good arrangement and performance and recording — it'll mix itself."