Andrew Coleman & Hovercraft Studios
It's not a bad gig being chief engineer to the world's hottest production duo, Pharrell Williams and Chad Hugo. But it takes a lot of hard work to keep up with The Neptunes...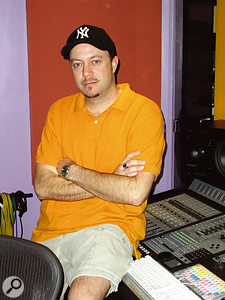 Andrew Coleman has what many would consider a dream job: primary engineer to hitmaking duo Pharrell Williams and Chad Hugo, better known as the Neptunes. And, as you might expect, he loves every minute of it, even though 15-hour days in the studio are not unusual, and Coleman logs as many miles as a touring musician, following the Neptunes between studios in Los Angeles, New York, Miami and their home base of Virginia Beach.
"It's been an amazing thing to be there in the middle of the creative process with Pharrell and Chad," says Coleman, 35, a native of Torrance, California, who learned recording as an apprentice at a small studio in the Pocono Mountains of Pennsylvania, where he went to college, before rounding out his education at the Full Sail academy in Florida. "I walked into that studio almost 15 years ago and said 'This is the coolest thing in the world. I have to do this.'"
He did. A blast of CVs after graduation in 1994 landed him a job at Master Sound, the largest studio in a small town on the East Coast, and a place that was about to become the world's busiest music factory.
Studio A control room at The Neptunes' Hovercraft Studios.
Coleman and the Neptunes became acquainted when the producers were clients of Master Sound, where he was a staff engineer. After their production of Noriega's 'Super Thug' in 1997 put them on the map, they began to spend more time in Virginia Beach, and they soon became one of Master Sound's regular clients. "I was their guy in Virginia," Coleman says of the early days of their collaborations. "They were using studios like Quad and Right Track in New York, South Beach Studios in Miami and Record Plant in Los Angeles. The travelling really started with [Neptunes band] NERD."
Ironically, however, it was the Neptunes' success and their proclivity to use studios all over the country that undermined them as a major client at Master Sound, contributing to the studio's failure as a commercial facility, and Master Sound Studios is now the private province of the Neptunes after they purchased it out of bankruptcy two years ago. The equipment and Coleman came with it.
Studio A's control room with Amek G2520 console and the JBL PA speakers used for loud monitoring.
Hovercraft, as it's now known, still has the same layout as the studio that preceded it. Three studios hold four Pro Tools rigs; the Amek G2520 console, one of seven prototypes made, is still in Studio A, with Digidesign Pro Controls in Studios B and C. The latter is also Chad Hugo's personal studio, and is filled with his seemingly infinite collection of Moog and other vintage synths. The monitoring arrangements could be described as eccentric: Studio A has JBL PA speakers with a pair of 18-inch subs under the console, for what Coleman calls "serious SPL" mix referencing. Hugo has small Genelecs as mains in studio C, and all rooms share several pairs of Yamaha NS10, Mackie and Proac nearfields. Hovercraft also has a new Studio Network Solutions system, with each studio connected via fibre-optic cables to a 15-drive RAID array.
A few spare keyboards.
Whether on the road or in the studio, Coleman acts as the technical hub for the hectic producer pair. During one stretch of several weeks, the Neptunes had all four main rooms at the Record Plant in Los Angeles churning as they worked simultaneously with Snoop Dogg, a Nelly/Christina Aguilera duet, Mariah Carey and new artist Slim Thug. "Everyone winds up on everyone else's record," says Coleman, who worked with another engineer, Brian Garten, to keep the wheels of a very busy machine rolling. "I would start a track and do vocals in one studio," he explains. "In another studio, Slim Thug would do vocals with Brian and they would get sent into the studio where we were working. We had a hard drive that was constantly floating from room to room. [Interscope Records president] Jimmy Iovine would stop by and see all of this going on and say 'You guys are crazy.' He couldn't believe what was going on there. But it was amazing productivity. And 14 hours of work zips by pretty fast when you're moving like that."
The mechanics of the process don't overwhelm the creative aspect, though, as Coleman stresses. "Pharrell is amazing. He has a vision for where each of the artists is going. He adapts to them, not the other way around. The artists aren't going into the same mould and coming out sounding the same at the other end." Williams and Hugo complement each other perfectly, he says. "Pharrell is pretty much behind the keyboards or doing vocals while I keep the technical end running," he says. "He's incredibly creative and he expects things to be able to happen when he wants them to, that moment. He doesn't want to have to think about the technical part, and I will travel to where the artist is, get the songs written and do the tracks and the reference mixes. Chad will usually stay in Virginia Beach and handle all the mixes as they come in, putting other touches on.
"It's funny," he adds with a wink. "You never see them in the same place together. Sometimes you wonder if they're the same person. But no one person could do that much work."
Watching Coleman work, one might say the same about him. To maintain workflow, tracks done on the bus or in remote studios are sent back to Hovercraft or wherever else mixes are to be done with a combination of CDs and DVDs via overnight express and FTP sites. "If a mix has to get started and Chad can't be there right then, the mix engineer will send a session file to him via FTP and Chad will do some level rides and muting, things like that, then send the file back with the changes and some notes. They'll go back forth like that before it's done. It's long-distance mixing, and it works."
Pharrell Williams's travelling keyboard rack, here at Hit Factory, consisting of master keyboard plus Korg and Roland sound modules.
The methodology definitely works: the hits and the Grammy Awards speak for themselves. The streamlined approach to vocals helps; Coleman will tell you that a good large-diaphragm condenser microphone like the C12 through the Avalon 737 is a pleasantly neutral signal path. Variations on the microphone are the one of the few slight adjustments he makes for different artists. On Justin Timberlake's 2004 Grammy-winning album that spawned 'Like I Love You' and 'Rock Your Body', Coleman used a modified C12 owned by producer Brian McKnight, which Timberlake brought to the session. "It had just a little more high end, a little crisper-sounding in the upper mids, to the point where I rolled some of that off for monitoring," he says. "But it recorded his voice beautifully." Timberlake is also very specific about how he likes his headphone mix. "He would want the doubles and triples split on the other side from the vocal he was doing then," says Coleman. "The new one on one side and the others on the other. Singers will often take off one side of the headphones for pitch, but Justin keeps both sides on. You have to be ready to pan as soon as he goes for the double, because he's fast."
NERD's recordings span hip-hop and rock techniques. On 'Rock Star' and 'Lap Dance', Williams will play a standard drum kit, then Coleman will cut 16 bars of it into a loop, before using the same method for other instruments including guitars the Neptunes will occasionally call on him to play. (That's him on the Papa Roach track the Neptunes produced for the film Biker Boys.) "Sometime they'll play the entire song down and I'll move parts in and out with multitrack edits," he says. "That's where a lot of the feel of their records comes from — it's not just machines and loops."
More of Pharrell Williams's mobile gear, including a healthy selection of vintage compressors and EQs.
The Neptunes very much complement the technology of their generation; speed is a hallmark of digital recording, and they are nothing if not fast. "I use Pro Tools as a console — I'll use the Pro Control sometimes, but I'm really a mouse guy," says Coleman. "We all come from the days of analogue but we try to keep those values alive while working in digital. We use a lot of analogue gear, like compressors and microphones, and analogue synths, to warm up the front end. We know which combinations work, like templates, so we can get there pretty quickly. I have all my busses preset and normalled, so I know exactly where to go for delays and other effects. Vocals are always on input one; the reverb sends is aux one and two; the delays are auxes three and four, and so on. Pharrell's favourite outboard equipment — Tube-tech CL1, Dbx 160, LA2A, Neve 9098 EQs, Summit EQ/compressors — are all normalled. It's not a whole lot — about 18 channels of [processing], plus plug-ins like Metric Halo's Channel Strip and Waves' Renaissance compressors and the Sony Oxford Compressor — but we know exactly what to expect from each combination."
Jimmy Iovine's reaction to the Neptunes' output is not surprising. Coleman says one of his regular tasks is to manage a vault of songs Williams and Hugo have written that now numbers into the thousands. He notes a session one night with Gwen Stefani that produced three songs inspired, written and tracked in the time just one was scheduled to be recorded. "I've had to come up with my own system to manage all of them, using colour codings for dates and genres," says Coleman. "Periodically, I'll go through the archives and try to reintroduce some of them when I think it's right for a session."
Somehow, Coleman manages all of it, and he and his wife have a new baby on the way. "It's a lot to juggle," he admits. "But it's all good."
Bruce Springsteen made Asbury Park famous, but even the Boss would have to work a bit harder to match the sales power that has emanated from another coastal town a little further south. Virginia Beach is a resort town, and from the hotels along its shores you can just about see Hampton Roads, the naval nexus of the US Atlantic Fleet. If you time it right, you can hear the roar of F14s and F/A18s when the carrier air groups are back on dry land at nearby Oceana Naval Air Station.
It's a little harder to pinpoint the locus of Virginia Beach's music cortex, but it has left its footprint all over the industry. In addition to the Neptunes, whose rap work in the late 1990s with artists like Wu Tang's ODB and Jay-Z helped them branch out into multi-platinum pop with productions for Britney Spears, N'Sync and Usher, as well as rap heavies like LL Cool J and Busta Rhymes, the city is also home to Timbaland, whose production discography includes hits for Aaliyah, Genuwine, Justin Timberlake, Ludacris and Snoop Dogg. Missy Elliott, the first lady of hip-hop, grew up in Virginia Beach and has recorded and produced there periodically since her star rose. Despite having cribs in LA and Miami, Elliott and other hip-hop artists seem drawn to the normalness of Virginia Beach.
The city is more than an accident of the music business, however. Elliott went to high school across the street from Future Records, the studio founded by R&B legend and 'King of New Jack Swing' Teddy Riley in the mid-1990s. It's easy to compare Riley to Chet Atkins, and Virginia Beach to Nashville: both cities have become destinations for a specific genre of music, and each created an infrastructure of people and facilities independent of the traditional major music centres. (It's a sad coda to the city's story that Future Records and Riley, who had produced hits for artists including Mary J Blige, Keith Sweat, Michael Jackson and Al B Sure, filed for bankruptcy several years ago, but that fact does not diminish the credit Riley deserves for developing Virginia Beach as a musical centre.)
"The Neptunes have deep roots in Virginia Beach," says Andrew Coleman. "Pharrell went to high school across the street from Teddy Riley's studio. They had a talent show at the school that Teddy helped judge and the winners were Pharrell, Chad and [future member of Neptunes spin-off NERD] Shea. So the city has kind of cultivated the scene in its own way for a while."
Coleman had done some of his early work here with Timbaland and Missy Elliott, and recalls that both of them came back to work in Virginia Beach around the same time that the Neptunes were beginning to create chart-toppers. "Back in the day, the 1990s, Virginia Beach was a place you could network," says Coleman. "The Neptunes and Tim and Missy were all in town and everyone would go to everyone else's place and check out what they were doing. You don't get that as much anymore now that Missy is living and working a lot more in Miami and New York. We [the Neptunes] even go up to New York to work at Right Track or LA for the Record Plant. But there's still a sense of community here, and those early days before everyone got so big were great and I believe they resulted in a lot of great music."
The Neptunes' custom-built bus-cum-recording studio.
NERD, the group formed by Williams and Hugo as an outlet for their own music, are more like a rock band than a hip-hop act, and tour aboard a bus that Williams ordered new from builders Entertainment Coach. While this bus would get a designer interior, it fell to Andrew Coleman to design and install perhaps its most important feature. The Neptunes' travelling recording studio takes up the rear third of the bus, and also doubles as Williams' bedroom. "It's console-free," says Coleman wryly. Instead, Desk Doctor active DI boxes, Coleman Audio and Avalon 737 preamps and am AKG C12VR microphone form a direct signal path to Pro Tools, with cabling prewired by Coleman as the bus's interior was being outfitted.
Coming in from the front of the bus, one enters a vocal booth just in front and to the side of the main rear cabin-cum-control room/boudoir. The rear wall of the room has soffited Genelec 1037A monitors. (The monitoring configuration is virtually identical to the wall of the B studio at South Beach Studios in Miami, a Neptunes favourite.) Keyboard modules and other outboard gear occupy a centre rack.
The bus is no audio scratch pad; during Jay-Z's Liquid Mix tour in 2003, NERD were the opening act, and each night after the shows the artist and the producers would return to the bus to write beats and record tracks for what would become parts of a Jay-Z LP. Tracks done this way would be finished at Baseline Studios in New York City.
DI recording obviates the need for isolation from road vibrations. Vocals are done while the bus is stationary and use the same vocal chain that Coleman set up there and uses at Hovercraft. "The C12 and the Avalon are the basics," he says. "But I do like to sit and talk with the artists for a while before doing vocals. You get an idea of what the sound of their voice is really like and make adjustments accordingly. A few weeks ago we had Robin Thicke in here and he loved the Telefunken 251. It's very rich-sounding and I had never used it before."