Music Production Software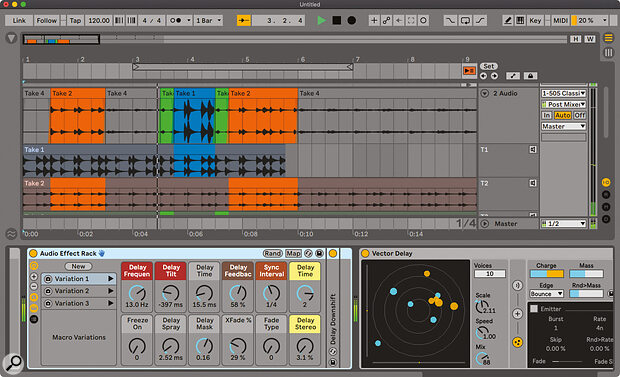 Live 11 introduces new features, improves some old ones, and throws in some exciting new rack devices for good measure.
As Ableton Live's release version finally goes to 11 in its 20th year, what improvements, refinements and additions does it deliver? There's no major visual overhaul as we saw in the upgrade from Live 9 to Live 10, and it's hard to tell Live 11 visually from its predecessor unless you know where to look. But this visual similarity hides some significant structural improvements: specifically MPE support, more versatility inside clips and device racks, and multiple take lanes in the Arrangement. Ableton have also had the builders in to work on the instruments and effects, with some upgrades to existing devices and some intriguing new additions.
Live's linear Arrangement view now supports comping: multiple takes for a track can be recorded at the same point in a song, and the best parts of each take can then be assembled into the final track.
In Live 10, recording over material in a track was essentially destructive — just like with tape. Record something new, and what was in the track before was lost, at least unless you hit 'undo' or reverted to a saved version of the project. In Live 11, Arrangement recording is always non‑destructive, although at first glance there's no difference in behaviour compared to Live 10: record a new section of audio, or MIDI, over an old one, and the old one is erased. However, something else is going on behind the scenes. Every Arrangement track accumulates a number of 'take lanes'. Start recording, and a new clip is laid down in the track, but a duplicate clip is also laid down in a take lane, which are created as needed. Record over the same part of the track, and the material in the main lane of the track is overwritten, but the old take lane preserves a copy of it.
A track can now contain multiple take lanes, from which a comp can be made.
Once you've assembled a number of takes, you can start assembling your final track from them, and there are convenient keyboard shortcuts for selecting regions within takes and copying them into the track. Although the obvious use of take lanes is to assemble the best possible track from distinct takes of the same musical phrase or section, there's nothing to stop you creating takes from completely different material and slicing them together creatively. Selection and editing is quantised to the grid by default, as you'd expect, and take fragments are sliced into the track with short crossfades to eliminate clicks or glitches. There's nothing special about take lanes compared to the main lane of a track: they contain clips, and you can cut, copy, paste and edit Arrangement clips whether they are in take lanes or not.
It's worth pointing out that take lanes only capture incoming MIDI or audio, not automation. So while input from MIDI controllers will be considered part of a take, automation input (from a Push controller, say, or a MIDI control mapped to a device parameter) will not — it will go into the main part of the track only, overwriting what's there. More generally, take lanes are not a bulletproof tool to prevent overwriting: if you make manual edits to a clip in the main lane of a track, and then record over that clip, it's gone. But you could use take lanes for manual backups.
Comping in the Arrangement view is complemented by another new feature: track linking. Two or more tracks, regardless of type, can be linked so that recording passes, editing and so on take place in all the tracks in parallel at the same time point. Manually select a time region in a linked track, and you're actually making multiple selections at once, as you'll see if you attempt to paste the selection into the Session view: multiple clips will appear. Edits across linked tracks are phase‑locked, making them handy for working with multitrack drum kit recordings as well as multi‑channel or surround audio that's stored as individual mono or stereo audio files. As with take lanes, track linking does not encompass automation data.
MIDI Polyphonic Expression (MPE), an extension to the MIDI protocol to allow per‑finger expression from a keyboard, arrived on the music technology scene around 2015 with the release of the ROLI Seaboard. Over the intervening years it has built up a solid following, with more controllers, soft synths and hardware instruments able to make use of it. The MPE specification was officially adopted by the MIDI Manufacturers Association early in 2018, and numerous DAWs support it, so Live was starting to look like something of a laggard. Now Live gets to come to the party, with full MPE support in Live 11.
By way of setup, controllers attached to Live have to be flagged as MPE‑capable or not. If an instrument (built‑in, or VST) is MPE‑capable, the label 'MPE' should appear in its title bar. In my tests, ROLI's flagship synth, Equator, responded to polyphonic pressure, slide and pitch‑bend without any fuss, as did FXpansion's Cypher2 and some of the new bundled Spitfire Audio instruments (see later).
Out of Live's built‑in instruments, the only ones MPE‑aware to date are Wavetable and Sampler. (It is sad that Operator doesn't — yet — make the cut, since FM would seem ideal for polyphonic expression.) Technically speaking, the entry level Simpler sample player is MPE‑capable as well, despite exposing no modulation controls, since Simpler can also act as a 'sealed' instance of a full Sampler preset. Wavetable's modulation matrix, and Sampler's MIDI routing page, cater for MPE gestures.
Ableton's release notes for Live 11 also claim that the Arpeggiator MIDI effect is MPE‑compatible. I had to experiment a little to work out what this meant: in essence, note‑specific readings of slide, glide and pressure are tracked and (re)transmitted as the arpeggiator triggers each held note. (I verified this by capturing the output of the Arpeggiator to another track and examining the MIDI data on‑screen.) Until now I'd never really thought about what it might mean to arpeggiate an MPE source,...
You are reading one of the locked Subscriber-only articles from our latest 5 issues.
You've read 20% of this article for free, so to continue reading...
Buy & Download this Single Article in PDF format

£1.00 GBP

$1.49 USD


For less than the price of a coffee, buy now and immediately download to your computer or smartphone.

Buy & Download the Full Issue PDF
Our 'full SOS magazine' for smartphone/tablet/computer. More info...