With newly designed drivers and Sonarworks integration, ADAM's new A series promises a lot of monitoring for your money.
It doesn't feel like 10 years since I reviewed (in SOS June 2012), and subsequently bought, ADAM Audio's A77X, a three‑way version of the company's two‑way A7X nearfield monitor. Much has happened with ADAM Audio in that time, including their purchase by UK‑based Focusrite PLC in July 2019. Focusrite CEO Tim Carroll said at the time: "With so much expertise between us in acoustics, sound reproduction, DSP, Audio‑over‑IP, and control, the opportunities are abundant." With the launch of the new ADAM Audio A series, which includes the A7V reviewed here, it would appear that at least two of those opportunities have now been very definitely seized.
The A7V's vertically oriented black cabinet features ADAM Audio's signature thick, deep‑bevelled baffle, which strengthens and stiffens the cabinet, helps minimise cabinet diffractions, and provides a stable mount for the monitor's high‑ and low‑frequency drivers. The baffle itself has an attractive aesthetic, with the front‑facing bass reflex port's large, flared twin apertures sitting beneath and on either side of the 7‑inch bass driver. It almost creates the appearance of a pair of cartoon eye sockets! The port and the internal profile of the flares are designed to optimise airflow and thereby to minimise port noise which, in practice, I found that they did very successfully.
The A7V features a new bass driver, the cone of which is made of MLM (Multi‑Layer Mineral), a unique blend of mineral fibres baked together to create a lightweight, highly stable composite material. In combination with a new magnet assembly, this new material not only enables the A7V bass driver to deliver high output levels with low distortion, but also makes for a great‑looking cone.
The A7V crosses over at 2.8kHz, at which point ADAM Audio's signature X‑ART (Extended Accelerated Ribbon Technology) high‑frequency driver takes over. Hand‑built in the company's Berlin factory, the X‑ART driver's pleated ribbon construction delivers precise transient response and highly detailed resolution up to 50kHz. In the A7V, a new 120x70° HPS (High‑frequency Propagation System) resin and glass‑fibre waveguide has been designed specifically to match the X‑ART's dispersion angle in the crossover region to its accompanying bass driver. In the horizontal plane, this matching, coupled with the waveguide's wide dispersion angle, results in a smoother off‑axis response and creates a larger usable 'sweet spot'. In the vertical, the HPS waveguide's 70° dispersion is designed to help reduce unwanted desk and console reflections.
Another feature of the HPS waveguide is that it can be rotated through 180°, which allows you to position the A7V horizontally or even upside‑down, thanks to the M8 inserts on the underside of its cabinet and using a series of mounts that will soon be released by ADAM Audio. Personally, I prefer to position two‑way loudspeakers horizontally whenever possible, as I feel that this improves the subjective integration of the high‑ and low‑frequency drivers but, as the saying goes, your mileage may vary.
In the A7V, amplification is supplied in a hybrid fashion, with a Class‑D, PWM amplifier providing 90W RMS to the MLM bass driver, and a 15W RMS Class‑A/B amplifier handling the X‑ART high‑frequency driver. Although these RMS figures may seem low to some, these amplifiers endow the A7V with a frequency response of 44Hz‑41kHz (‑3dB) at up to 108dBSPL (RMS) at 1m, which is going to be plenty loud enough for anyone using the A7V in the nearfield.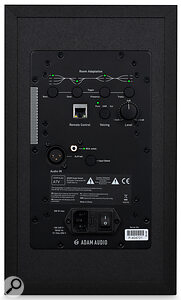 The rear panel houses controls for accessing the Room Adaptation and Voicing presets, as well as an Ethernet port for connecting to ADAM's A Control software.I work in a compact space in which my monitors are backed up...
You are reading one of the locked Subscribers-only articles from our latest 5 issues.
You've read 30% of this article for free, so to continue reading...
✅ Log in - if you have a Subscription you bought from SOS.
Buy & Download this Single Article in PDF format

£1.00 GBP

$1.49 USD


For less than the price of a coffee, buy now and immediately download to your computer or smartphone.

Buy & Download the FULL ISSUE PDF
Our 'full SOS magazine' for smartphone/tablet/computer. More info...

RECORDING TECHNOLOGY: Basics & Beyond
Claim your FREE 170-page digital publication
from the makers of Sound On Sound — CLICK HERE