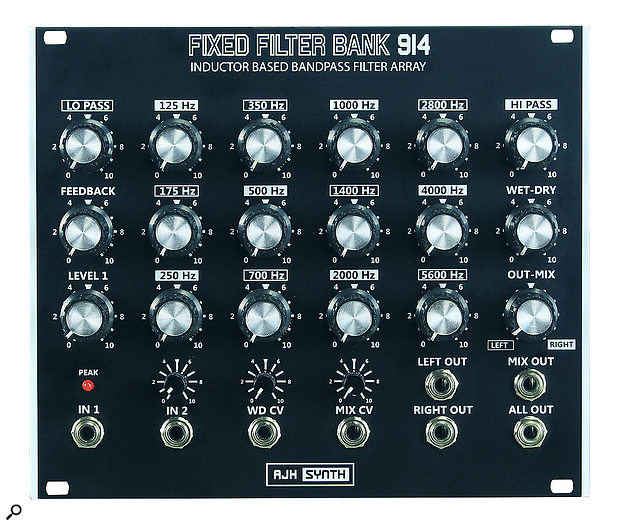 Fixed filter banks have been part of the synthesist's armoury almost since the appearance of the earliest Moog modular synths in the 1960s, but they remain misunderstood modules, often employed as little more than graphic EQs. This is understandable; notwithstanding the high and low shelving filters that bounded their frequency ranges, fixed filter banks such as the Moog 907 looked much like graphic EQs with knobs rather than sliders and, with no I/O other than a single audio input and a single audio output, they were little more than sophisticated tone controls — albeit rather euphonic ones. Even the later Moog 914 did little to dispel this idea; it provided 12 rather than eight filters within the high and low shelves but the principle remained the same.
As the name suggests, the AJH Fixed Filter Bank 914 is based upon the Moog 914 and offers the same 12 fixed-frequency filters spaced at approximately half-octave intervals, with roll-offs of 12dB/octave and centre frequencies covering a range from 125Hz to 5.8kHz. And again, a misnamed low-frequency shelving filter sits below this range, and a misnamed high-frequency shelving filter sits above it. (The error is...
You are reading one of the locked Subscriber-only articles from our latest 5 issues.
You've read 20% of this article for free, so to continue reading...
Option 1: Buy and download this single SOS article in Adobe PDF format
For less than the price of a coffee shop drink, buy this article now and immediately download the PDF file to your computer or smartphone.
Single article PDFs look identical to the printed magazine layouts (but exclude advertisements).
Note: Some shorter articles don't always have a PDF version.
Option 2: Buy a great value DIGITAL subscription (or Print+Digital) and open ALL web articles & Full Issue PDFs instantly!
It opens ALL premium web articles, plus our Tablet edition App, and now includes your monthly FREE Full Issue PDF download (worth

£3.99

$5.99

each).
Or contact our Subs staff to discuss an upgrade price to add Digital access to your existing Print subscription.
Option 3: Buy & Download TODAY the Full Issue PDF
From January 2018 edition, we began selling a FULL ISSUE PDF 'replica magazine' for the cost of a handful of single PDF articles. More info...
Try these FREE sample FULL ISSUE PDFs on us!