Valve Guitar Amplifier
A Fender Tweed Deluxe with a significantly lower noise floor — what's not to like?
Unfortunately, demand for the original Fender 5E3 Tweed Deluxe — allegedly fuelled in no little part by Neil Young's devotion to the little beast — has pushed its price into the stratosphere. Thankfully, then, the 5E3 is a relatively simple amplifier to build, and an absolute army of builders are now producing a massive range of variants ranging from obsessive 'right-down to the last crease in the tweed' clones, through variously tweaked versions, to a few builders who are genuinely aiming to do something a bit different, in order to find their own niche in what is becoming a very overcrowded market sector.
The latest to raise his head above the parapet and create something a little different is Allan M Gardner, an Oxfordshire-based musician and electronics engineer with many years of experience in servicing musical equipment, who has launched the Amgard Electronics Studio Tweed 20. This boutique, built-to-order 20W valve amp is based on Fender's 5E3 Tweed Deluxe and, as its name implies, the Amgard Tweed 20 is designed specifically with studio use in mind. It is said to feature "significant modifications to reduce the noise floor" without sacrificing any of the sound and feel of the original Fender model.
The Studio Tweed 20 arrived resplendent in its custom cover and impressed me at once with its build quality. This is evidently an amp built by someone who cares. The tweed-covered pine cabinet is of a high standard, as are the power and standby switches, the shafts of which are shielded in rubber — a safety detail that speaks to me of thought and experience.
The amplifier chassis is the expected chromed-steel affair, with a front panel carrying the power and standby switches, a fuse holder and pilot lamp, a single tone control together with the volume controls and dual inputs for the Bright and Normal channels. The rear of the chassis carries the jacks for the Tweed 20's 12-inch Jensen P12Q (alnico magnet and paper cone) loudspeaker and an extension speaker. A Celestion Greenback G12M is offered as an alternative, although Amgard say they will do their best to accommodate any alternative speaker.
The upper back panel carries a foil shield on its inside surface, which is connected to the amplifier's ground via a piece of copper screwed into the cabinet's panel recess. Since there's a fair gap between the back panel and the chassis, I have my doubts about just how effective an electromagnetic shield that foil is going to be in practice, but it will at least make a decent heat shield for the back panel.
Removing the panel reveals a neat, hand-wired interior that is a major departure from the tradition. Built on an Amgard-designed, hand-built turret board, rather than the eyelet board of the original, there isn't a cloth-covered wire or carbon composition resistor in sight. Capacitors in the signal path are by Vishay and all resistors are of the modern metal-film variety. Connectors are shrouded or covered in heat-shrink wherever possible, adding to the impression of care and thought being taken. Comparing the component layout of the Tweed 20 to that of the original SE3 Deluxe reveals the presence of some additional component and circuit changes, including a couple of very welcome internal fuses.
As on the Fender model on which this amp is based, the secret to its complex tonal palette lies in understanding the interaction between its simple controls.The chunky power transformer and custom-designed output transformer certainly look as though they are more than capable of supplying the Tweed 20 with what it needs and of handling what it produces. The valve complement of two 12AX7 (ECC83), two 6V6 and one 5AR4 (GZ34) rectifier comes courtesy of Ruby Tubes, whose selected Chinese-made valves have a good reputation. This valve line-up, replacing the original's first stage preamp 12AT7 with a higher-output 12AX7 and the 5Y3 rectifier with the higher-voltage 5AR4 first seen in the 1961 Brown Deluxe, is not uncommon in modern replicas.
Powering up the Studio Tweed 20 reveals an amplifier that has very little self-noise. Cranked to the max, its background noise level becomes apparent but in no way obtrusive — in fact, it is well below that of my own black-faced 1968 Deluxe Reverb at idle, so Allan Gardner's "significant modifications" have certainly had their intended effect.
The heart of getting your own sound on an original 5E3 lies in the interaction between the two volume and the single tone controls, the interaction being due to the fact that they all act on the outputs of the first preamp tube. In outline, turning up the level of the unused channel can scoop or boost the mid-range in, and raise or lower the drive from, the channel in use. The tone control (which is connected directly only to the Bright channel) can seem like another gain control, depending on the channel you're using and its level. You can also jumper the two channels together or use an A/B box to select between them. The end result is that you've got a wide range of sounds to play with, from sparkly clean to creamy, mid-boosted distortion with tons of sustain — and that's before you start really working the 5E3's touch-sensitivity with pick, fingers and your guitar's volume control!
The Tweed 20 delivers all these 5E3 possibilities and there are sweet spots to be found in it at all volume settings. Clean, it chimes beautifully and, depending on your attack and how you set the controls, crunches and distorts in a way that feels, for want of a better word, very natural. Although this is marketed as a 'studio' amp, it has more than enough volume for a small pub gig, and using a suitable DI box plugged into the Tweed 20's extension speaker jack would let you feed your sound to a PA for that stadium gig.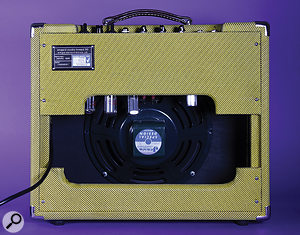 Amgard recommend a Jensen speaker, as fitted to the review model, but they are happy to build the cabinet around other speakers to meet the customer's wishes.The Bright channel is suitably brighter than the darker-sounding Normal channel, and I found myself preferring it overall, possibly because it sounds quite similar to, but not as loose as, the Vibrato channel of my Deluxe Reverb when I've got its negative feedback switched out. The Tweed 20's bottom end feels tight and well-controlled even when cranked up, which is not always the case in similar amplifiers. Tonally it feels very balanced and its two distinct channel voicings suited my tastes perfectly. Incidentally, Amgard feel that, like the original Tweed Deluxe, the Tweed 20 would make a very decent blues harmonica amp when fitted with a suitable speaker.
Overall, the Amgard Studio Tweed 20 is a responsive, well-voiced and tonally balanced amplifier with an extremely low noise floor. This amp is a pleasure to play through and rewarding to record. There's no doubt that Allan Gardner's "significant modifications" to the original 5E3 Tweed Deluxe circuit design have delivered the goods, and reflect his experience and the choices that he has made in designing and voicing the Studio Tweed 20.
Sound wise, the Tweed 20 seems to me to be a very 'controlled' amplifier — which is wonderful to find in an amp that's primarily designed for the recording studio. It is as touch-sensitive, dynamic, loud and raunchy as any 5E3 should be, but always delivers this with a sense of being in control of what's going on, which makes recording with the Tweed 20 a real pleasure.
A fairly healthy industry has sprung up to turn out 5E3 Deluxe clones and kits, but I've only come across two or three other companies who make versions intended primarily for studio use. Those that I've found appear to have gone beyond simply reducing the noise floor and have moved on to offer additional circuit modifications at additional cost.
The Amgard Studio Tweed 20 is a very fine amplifier that has been designed primarily for the studio guitarist, but that would more than hold its own in a live situation. If you're looking for a hand-built boutique valve guitar amp that will cover all the bases and that won't break the bank, then you really should get your hands on an Amgard Studio Tweed 20. I'm extremely tempted to hang on to this one!