The main, 'friendly' macro‑driven version of the graphic interface, showing the concept of morphing or blending between two sources. The optional fold‑out panel is for setting up various global options, and configuring MPE.
When is a piano not a piano? When it's been 'augmented' by Arturia...
Augmented Grand Piano is the latest in Arturia's Augmented series of virtual instruments, which reinterprets and deconstructs familiar types of sounds. Like its recent forerunners, dedicated to Strings and Voices, Augmented Grand Piano (or AGP, as I'll call it from now on) employs sample playback as well as various types of synthesis, so the timbral range is broad and not easy to summarise. But the presets provided do tend towards the complex, multi‑layered and occasionally cinematic; they're sometimes dusty and distorted, though just as often clean and sparkling. Some have a serious wow factor when you play just one note, although many are conventionally playable and expressive in nature, as with a real acoustic grand piano.
So what's going on here, in this novel take on the piano? Actually, AGP's main graphic interface (shown above) gives a pretty good clue. Two pianos form an intriguing visual backdrop, one wooden and knocked about, the other computer‑generated and clean, and both 'exploded'. Between them a large Morph knob references their colours. So a dual‑layer aspect, morphing or blending between two different sounds, is literally front and centre. Seven more macro knobs, four of which refer to effects processing, also invite experimentation. With about 300 presets to get you going, it might take you a while to proceed from here...
In the Advanced view the full synth architecture is revealed, with its dual‑layer, four‑engine design, and modulation sources visible in the lower part of the window.
To really understand it though, an Advanced button lifts the lid (as it were) and exposes AGP's extensive underlying architecture. Now there are five alternative panel views: Layers, Modulation, Arpeggiator, Effects and Macros. And it's in the Layers panel we most clearly see the multitimbral aspect of AGP laid bare.
Two layers, A and B, correspond to those orange and blue, old and new pianos of the simpler, macro‑driven interface. Each has two sound engines, for a potential total of four running in parallel for every note played. The otherwise very clear and precise PDF user manual might lead you to believe that any combination of sample and synth engine (eg. four synths) is possible, but in fact it's strictly two of each that can be enabled. You get to configure how they're deployed between the layers via a friendly drag‑and‑drop. So in fact the 'old and new' idea of the simple interface is ultimately misleading, but it's a useful starting point.
Staying a little bit longer with this bird's‑eye view of AGP's architecture, it turns out that each pair of sound engines outputs into an independent stereo filter and dual effects slots. Then both layers are finally mixed through another two master‑level effects processors. So in many ways AGP is two synths running in parallel, albeit with a sophisticated modulation scheme (again, more on that coming up) shared between them.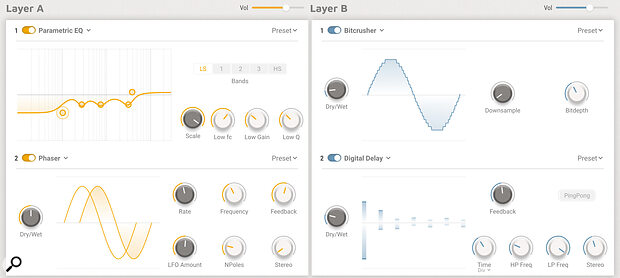 There are no fewer than six effects slots per sound: two per layer, and two master level effects. The effects quality is really good, and the graphic depictions of parameter settings genuinely helpful.
As you swoop down, however, a lot of impressive stuff reveals itself. Far too much to cover in much detail in this review, sadly, but here are the highlights.
The sample replay engines offer a choice of about 50 factory sample sets, grouped in three categories: Real Pianos, Processed Pianos and Additional Samples. All of these recall, after a second or two, stereo multi‑samples laid out across the pitch range, so there's never a chipmunk effect of single samples being massively transposed, and almost all serve as mini‑presets in their own right. Indeed, from an 'init' starting point, with a single sample engine (and no effects) enabled, I was able to conjure up some ravishing sounds within seconds. A promising start...
Amongst the Real Pianos are some delicious felt‑hammer options, as well as intriguing timbres in which the strings have had ping pong balls balanced on top or paper inserted beneath, are plucked, or 'bowed' with twine. Listening carefully to the most natural‑sounding 'Pure' acoustic sample I could believe every MIDI note has discrete samples, and they also vary in brightness (as well as level) with velocity. Whether that's...
You are reading one of the locked Subscribers-only articles from our latest 5 issues.
You've read 30% of this article for free, so to continue reading...
✅ Log in - if you have a Subscription you bought from SOS.
Buy & Download this Single Article in PDF format

£1.00 GBP

$1.49 USD


For less than the price of a coffee, buy now and immediately download to your computer or smartphone.

Buy & Download the FULL ISSUE PDF
Our 'full SOS magazine' for smartphone/tablet/computer. More info...

RECORDING TECHNOLOGY: Basics & Beyond
Claim your FREE 170-page digital publication
from the makers of Sound On Sound — CLICK HERE