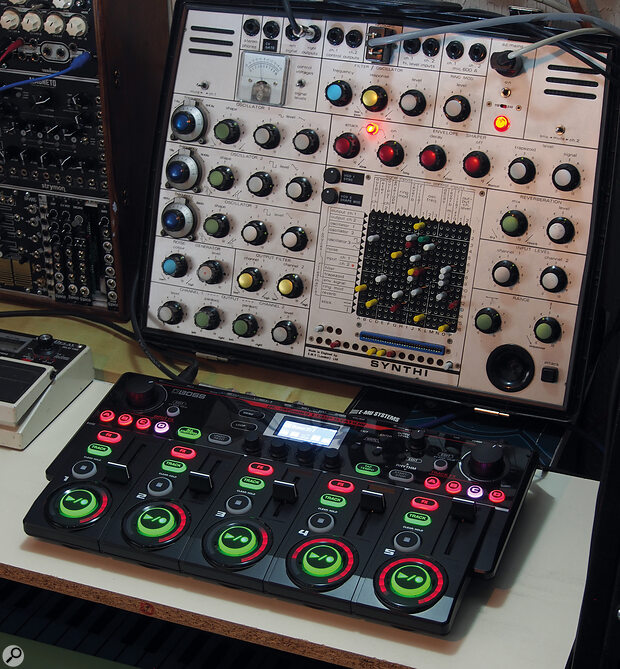 Boss's best‑in‑class looper just got even better.
It's almost a decade since Boss gave us the RC‑505: a fresh take on looping based around five stereo tracks, effects, plenty of memory and reliable MIDI synchronisation. Most eye‑catchingly, its large buttons and tabletop format marked a clean break from pedals with small metal buttons and guitar fixations. After several years in service, it received a free update increasing the memory even further and boosting the effects and remote control abilities. A lot of people were very happy indeed.
It was therefore a pleasant surprise to hear there would be a new chapter in 2022. Reassuringly called the RC‑505 MkII, this model features updated hardware and extra dollops of pretty much everything. We can surely forgive original owners a certain amount of anticipatory drooling, but this could also be an opportune moment for others to discover what all the fuss is about...
As you excitedly unbox, it's plain the RC‑505 MkII is going to grab a significant acreage (420 x 234mm) of desk space, although it weighs less than 2kg. If your live or studio rig has been gradually shrinking over the years, now could be a timely reminder that large doesn't necessarily mean bad — it might translate to a more direct, welcoming interface. Of particular note are the sliders: at almost double the length of the earlier model's, they are fully capable of meaningful, responsive mixing. This is just as well, because this model can bounce down and consolidate tracks, and print effects, a feature that was probably high on many users' wishlists. Speaking of effects, there are a total of 49 choices for the input stage and 53 to transform track playback, with four of each type available simultaneously. Further bonuses include storable effect combinations and step sequencers.
Each track has gained an 'FX' button that serves as a top‑level toggle for effect status, and while this, too, has increased the footprint, it's so darn convenient it never feels unwarranted. Dedicated buttons are offered for key functions, such as starting/stopping the entire machine or the rhythm section — a built‑in 'super metronome'.
The LCD is a simple monochrome affair of 128 x 64 pixels and beneath it are four black encoders that, along with some of the buttons, blend mysteriously into the black background, a design trend only Douglas Adams could have predicted. Many menu pages feature text along the display's bottom row, relating to encoder function. While text and encoders don't exactly line up, I was more concerned about the viewing angle: unless you look more or less directly downwards, the bottom row isn't always readable. Neck aches aside, it's so much faster adjusting four parameters at once, and the new Edit buttons mean that tweaking before effect activation is actually quite slick now.
The front panel is partly composed of shiny black plastic, of a type best suited to those who never sweat. Backlit buttons and intelligent use of colour ensure you can always tell what's going on. I've long been a fan of the large round pads used for recording, playback and overdub; they make perfect sense at almost any level of intoxication.
While the first model featured two 'proper knobs' for microphone and instrument levels, these functions are now found in menus and under encoder control. It's not an ideal swap but is understandable, given there are now a total of six inputs — two for XLR microphones (with phantom power), plus two pairs of inputs for synths, mixer sends, and so on. On stage these might even eliminate the need for a mixer. In general, the I/O really delivers — joining the main stereo and phones outputs are two assignable stereo subs. EQ is provided for inputs and outputs, with a compressor available to each microphone. If that isn't enough, an optional final glue in the form of a master reverb and compressor can be assigned to the main or either sub output.
Internally, the recording capacity has been jacked up to a staggering 13 hours of total audio, with up to 1.5 hours on each track! These 32‑bit recordings are sharp and clean, and if you don't already have a conversion app (say, to import them into a DAW), Boss Tone Studio is a free download. Suffice it to say the RC‑505 MkII should appeal across the board, whether you like to prepare loops in advance or simply wish to grab the moment, without worrying if it turns into an indulgent, unhurried jam. A total of 100 patch memories are provided, each ready to hold loops, effect setups and functions you've assigned for remote control.
The packed rear panel sports two assignable pedal inputs, plus standard MIDI In and Out sockets, the latter optionally a soft Thru. The USB port has similar MIDI functionality but can serve for backup and restore purposes when required. And, in common with many recent Roland/Boss products, the RC‑505 MkII can serve as a USB audio interface, which can...
You are reading one of the locked Subscriber-only articles from our latest 5 issues.
You've read some of this article for free, so to continue reading...
Log in - if you have a Subscription you bought from SOS.

Buy & Download this Single Article in PDF format

£1.00 GBP

$1.49 USD


For less than the price of a coffee, buy now and immediately download to your computer or smartphone.

Buy & Download the Full Issue PDF
Our 'full SOS magazine' for smartphone/tablet/computer. More info...

RECORDING TECHNOLOGY: Basics & Beyond
Claim your FREE 170-page digital publication
from the makers of Sound On Sound — CLICK HERE