Virtual Modular Synthesizer
My first Voltage Modular patch using some built-in modules.
Clearly believing that more is more, Cherry Audio's Voltage Modular combines a user-friendly interface with a very generous selection of modules.
Voltage Modular is a virtual modular synth environment that promises to break through common usability barriers. Like its peers Softube Modular, Reaktor Blocks and VCV Rack it presents a rack environment, with interchangeable modules, patch cables and a simulation of Eurorack-standard control and audio voltages.
Cherry Audio offer two starter packages. Ignite is ostensibly the entry-level bundle at $50, but includes all the basic components (45 modules!) for classic synth patching. For the full experience the Voltage Modular Core + Electro Drums bundle ($99) comes with over 100 modules, including a full set of analogue drum voice modules and a drum sequencer.
Voltage Modular can run stand-alone or as a VST, AU or AAX plug-in. The main application and plug-in are all you install yourself. The modules that you own as part of your bundle — or that you buy as extras — will automatically download and install when you sign into your account inside the software. The module browser has a Store tab where you can make in-app purchases, which are downloaded and installed without requiring a restart. This is exactly the kind of friction-free user experience Cherry Audio are talking about.
Similar to Softube Modular, Voltage Modular has a fixed panel of I/O controls embedded in its virtual rack. This provides a set of Eurorack-standard CV sources derived from incoming MIDI. Additionally, a virtual MIDI port lets you connect MIDI directly into modules that support it. Clock and transport inputs provide synchronisation with a host DAW (curiously, you need to use a dedicated MIDI Clock converter module in stand-alone mode). Then there are audio connections that route to and from your plug-in host, or your audio interface.
The main window can be resized freely in both stand-alone and plug-in modes (take note Softube!) and you can also scale the size of the rack and modules. A Library column slides in from the side of the main work area and provides access to your modules. Partial patches can also be stored here as 'Cabinets' but full rack snapshots are managed in a separate, searchable Preset menu at the top of the window.
There's a fair selection of presets if you want to use Voltage Modular as a synth without wading too far into programming. The patch library is also a resource for exploring what's possible and unpicking other people's patches.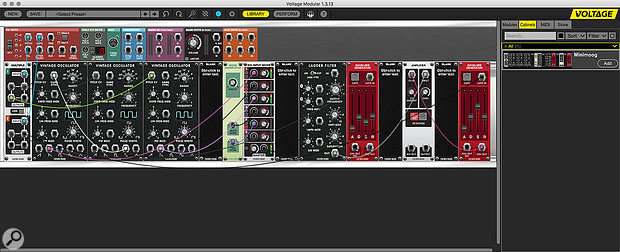 Individual rack rows can be saved as 'Cabinets', like this Minimoogy patch.
Having had a look around it was time to tinker with the modules and build something from scratch. The large amount on offer in even the basic starter pack can be overwhelming, but the Library tab can be searched, sorted and filtered, and there's a Favourites system. The Library's thumbnails are a bit too small, but if you click and start to drag a module you'll see its full-size panel before you decide if/where to place it in the rack.
I love the way you can simply slide modules into position and re-order them later, with modules politely shuffling out of one another's way. I get frustrated in VCV Rack and Softube Modular shifting things one at a time like a sliding tile puzzle.
Inevitably I started with a 'Subtractive Synthesis 101' patch using the Oscillator, Filter, Envelope Generator and Amplifier from the core module collection. Graphically, Cherry Audio use a design language of chunky skeuomorphic controls and jacks on colourful panels. The...
You are reading one of the locked Subscriber-only articles from our latest 5 issues.
You've read 20% of this article for free, so to continue reading...
Option 1: Buy and download this single SOS article in Adobe PDF format
For less than the price of a coffee shop drink, buy this article now and immediately download the PDF file to your computer or smartphone.
Single article PDFs look identical to the printed magazine layouts (but exclude advertisements).
Note: Some shorter articles don't always have a PDF version.
Option 2: Buy a great value DIGITAL subscription (or Print+Digital) and open ALL web articles & Full Issue PDFs instantly!
It opens ALL premium web articles, plus our Tablet edition App, and now includes your monthly FREE Full Issue PDF download (worth

£3.99

$5.99

each).
Or contact our Subs staff to discuss an upgrade price to add Digital access to your existing Print subscription.
Option 3: Buy & Download TODAY the Full Issue PDF
From January 2018 edition, we began selling a FULL ISSUE PDF 'replica magazine' for the cost of a handful of single PDF articles. More info...
Try these FREE sample FULL ISSUE PDFs on us!